Wednesday Writs: South Bay United Pentecostal Church v Gavin Newsom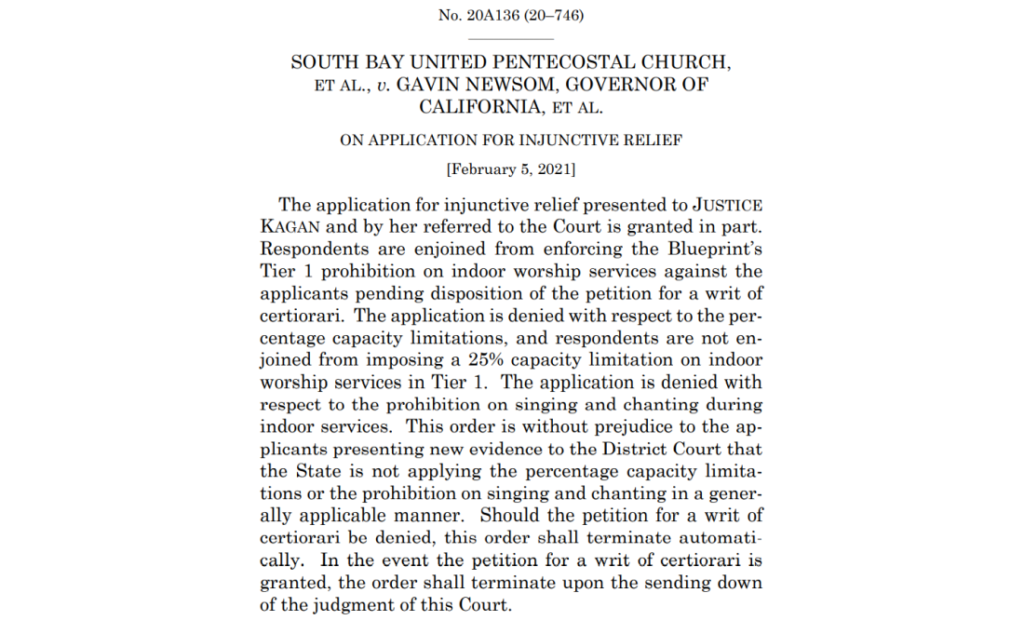 L1: The ongoing court battles pitting the Free Exercise Clause against Coronavirus restrictions produced its most recent SCOTUS decision last week in South Bay United Pentecostal Church v Gavin Newsom, Governor of the State of California, our case of the week. The decision, actually an Order on Application for Injunctive Relief, granted much of the relief sought by the church from the dictates of the state's "Tier One" restrictions on indoor worship. The Court, far from unanimous, permitted the state to impose a 25% capacity limit and to leave in place the prohibition of singing and chanting, but enjoined the state's order that no indoor worship services be held in so-called "Tier One" zones, areas with high rates of Covid infection. The injunction is temporary while the case awaits certiorari, at which time it would terminate and give way to whatever the Court's ultimate ruling is.
The order is per curiam, and thus unsigned. However, four of the justices, joined in various configurations by their brethren and sistren, wrote their own separate statements in concurrence with or dissenting. The Chief went first, writing alone, and very briefly.
Chief Justice Roberts began with a reminder that this is the second time the Court has ruled on South Bay's case. The first was back in the early days of the Pandemic, May 2020, when the Court ruled in favor of the state. He notes that while he sees validity to the prohibition against singing and chanting due to the transmission caused by such activities, the state's determination that "the number of adherents who can safely worship in the most cavernous cathedral is zero" is based on no proffered scientific evidence or expertise.
Gorsuch's concurrence was not so brief. Joined by Thomas and Alito1, he began by stating that while some cases involving religious freedom involve subtleties and are challenging to analyze, that is not the case here. Rather, he says, California has clearly imposed heavier burdens on churches and worship during the pandemic than on business and secular activities. While the order bans indoor worship in most of the state — a stricter prohibition than anywhere else in the country, he notes — retail and other businesses are allowed to operate at 25% or 50% capacity.
California's argument for why its disparate treatment of religious activity withstands strict scrutiny is that it is different from other activities, because it involves "(1)large numbers of people mixing from different households; (2) in close physical proximity; (3) for extended periods; (4) with singing." Gorsuch concedes the point that these activities can increase the transmission of the virus, but maintains the state has not shown that there is not a less restrictive means to achieve their objective, nor proven that these activities are always present in church. Gorsuch points out that the state ignores the fact that large numbers of people from different households are present together in retail shops or other businesses not effected by the ban, or the fact that a person may be the sole worshipper inside a church. Furthermore, the state offered no explanation to the Court why a decreased capacity plan, rather than a ban, would not work for churches as it does in other, secular places.
California also argues that folks in church will seek to be in close physical proximity to one another, but doesn't explain why physical closeness is not an issue for hair salons, for example. The state argues that people are together for relatively long periods of time in church, but has not implemented time limits for patrons in other places not subject to outright ban. The state has not explained why other measures taken elsewhere — masks, plexiglass, social distancing requirements — would not work in churches.
Gorsuch takes issue with the majority's decision to uphold, for now, the ban on singing and chanting, which also applies to non-religious indoor gathering places, such as restaurants. Gorsuch's issue here is that the state has made an exception for Hollywood, allowing the entertainment industry an exemption from the "no singing" edict. He questions why the rules do not allow even a lone singer behind a mask and shield or in a separate location inside the church.
Gorsuch sums up his statement:
As this crisis enters its second year—and hovers over a second Lent, a second Passover, and a
second Ramadan—it is too late for the State to defend extreme measures with claims of temporary exigency, if it ever could. Drafting narrowly tailored regulations can be
difficult. But if Hollywood may host a studio audience or film a singing competition while not a single soul may enter California's churches, synagogues, and mosques, something
has gone seriously awry.
Next came the concurring opinion of Justice Barrett, her first since joining the Court joined by fellow newb Justice Kavanaugh. Barrett wrote only one paragraph, in which she expresses her agreement with Gorsuch, save one aspect. Barrett thought the church had not met their burden to show that the ban on singing had not been neutrally applied to both religious and secular activities. Gorsuch alluded to this argument in a footnote which concedes the guidelines are unclear as to their applicability, but notes the state did not deny as much in its briefings.
The liberals joined in dissent in a statement written by Justice Kagan. The dissent offers important information not mentioned in any of the majority's writings: houses of worship are not the only places subject to the harshest restrictions. Political assemblies, lectures, and theaters are among the places that can be limited to outdoor gatherings if infection rates in their areas cross a certain threshold. They have not been singled out for harsher treatment – but, Kagan says, they are being singled out for more preferential treatment than non-religious activities with the same level of risk, as determined by experts (whose opinion is not contested in this case.)
The reaction to this ruling was predictably split, but some in the legal community were particularly alarmed. They believe the Court's order contradicts important case law established some 30 years ago in Employment Division v. Smith.
Smith concerned two men fired from their jobs at a drug rehabilitation center — for using peyote, a hallucinogen classified as a Schedule I controlled substance. The men were both members of the Native American Church, and the use of peyote was an integral part of their religious practice. A denial of unemployment compensation based on a finding of "work related misconduct" led the case to SCOTUS. The men argued that their First Amendment right to exercise their religion was violated by the state's refusal to grant unemployment compensation based on their ceremonial use of peyote. Ultimately, the Court ruled in an opinion authored by Justice Scalia that the illegality of peyote was neutral; it was a law of general applicability and such laws did not violate the First Amendment. From the syllabus:
Although a State would be "prohibiting the free exercise [of religion]" in violation of the Clause if it sought to ban the performance of (or abstention from) physical acts solely because of their religious motivation, the Clause does not relieve an individual of the obligation to comply with a law that incidentally forbids (or requires) the performance of an act that his religious belief requires (or forbids) if the law is not specifically directed to religious practice and is otherwise constitutional as applied to those who engage in the specified act for nonreligious reasons.
In deciding Smith, the Court compared the facts and circumstances to those in previous Free Exercise cases. One such case was the 1963 case of Sherbert v. Verner, in which Ms. Sherbert, a Seventh Day Adventist, was denied unemployment compensation because she refused to work Saturdays, in accordance with her faith. Sherbert won her case. The Smith Court found Sherbert inapplicable; refusal to work on Saturday is not a crime, unlike the use of Peyote in the state of Oregon. Unlike Smith, Sherbert was not asking for an exemption that would permit her to break a law that was generally applicable to everyone.
It would be true, we think (though no case of ours has involved the point), that a state would be "prohibiting the free exercise [of religion]" if it sought to ban [acts or refusals to act] only when they are engaged in for religious reasons, or only because of the religious belief that they display.
The Court found that peyote was not criminalized to keep it from being used specifically in religious ceremonies. That it imposed an incidental restriction on a religious practice did not render a law of general applicability unconstitutional.
Applying the Smith rationale to South Bay yields both distinction and similarity. Like not working on Saturdays, attending church or singing in a choir are not illegal activities for which the church seeks an exemption from the law. However, as Kagan notes, the regulation is not exclusive to houses of worship but rather to a class of activities which involve similar physical properties (large groups of people in relatively close proximity for an extended period of time, singing or chanting or otherwise expelling droplets.) This is in a gray area somewhere between a restriction that targets religion and a law of general applicability.
Does South Bay overrule Smith? Not directly — watch for Fulton v Philadelphia2 to do that — but it also does not seem to give it much consideration.
L2: The Rose Bowl and the Tournament of Roses Parade has been nearly synonymous with the City of Pasadena, but this year's game was played in Texas. Now, the relationship has soured over who owns the trade names, and the Tournament of Roses is suing the city
L3: It was a weird year for the bar exam for new law grads around the country, but the results are in. How did online test-takers do compared to those who sat in person?
L4: New rules in Arizona permit non-lawyers to invest in and manage law firms – an even represent clients in certain matters. What could go wrong?
L5: There's a joke in here somewhere about a new sitcom pitch, but I bet this lawyer who accidentally appeared as a cat during a Zoom hearing doesn't think it's funny. Also…
Funny story about Rod Ponton, the "Zoom cat lawyer" that everyone's talking about today.

I reported on him in 2014, when he was a local prosecutor used the power of his office — and roped in federal law enforcement — to harass a former lover. https://t.co/fIuK4hbHfJ

— Anthony L. Fisher (@anthonyLfisher) February 10, 2021
L6:
Presented without further comment:
— Bad Legal Takes (@BadLegalTakes) February 10, 2021
L7:
Debate: The 5 Best & 5 Worst TV Lawyers Of All Time
Personally, this list is invalid…not having Perry Mason, Alan Shore, Matlock, or Dianne Lockhart — among others — is just not a serious list.
L8:
Schools love to promote their alumni that make good, and this is certainly an alumni making good as Christian Menefee was sworn in as the newest Harris County (Houston, Texas) attorney, making him the youngest at 32 years old and the first African American in the seat.
L9:
Lawyers and power: A Brief Soliloquy
Boston Legal - Denny Crane undefeatable
---
Alito also said that he would have stayed the decision on capacity percentages and singing bans for 30 days, to allow the state to show there was no less restrictive alternative