Saturday Spins: Arlo McKinley Die Midwestern
I can't quite get away from the roots/country sound this week. When I posted my "Best Albums of 2020" piece on this very website, I shared it far and wide as I always do. Usually, I post stuff to any number of groups on Facebook.1 A lot of people were shocked, SHOCKED, that I left this week's record off of my list. Well, part of Saturday Spins is about discovery, and I love discovering new music for my ears to enjoy.2 Anyway, now it's 2021 and I am covering records from 2020 like some sort of tardy music critic.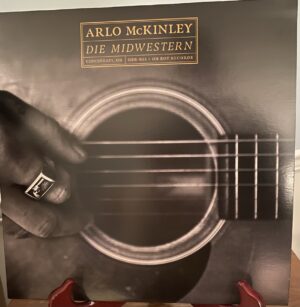 Arlo McKinley
Die Midwestern
2020
Commentary
Arlo has always struck me as a cool name. I mean, there is Arlo Guthrie who is cool and now retired, and then there are fictional Arlos like Arlo Givens, the world's worst dad from one of the best television shows of all time, Justified. Arlo McKinley is here to be one of the many artists to pick up where great folk/roots artists like John Prine left off. As a matter of fact, McKinley was Prine's last signing to his independent label, Oh Boy Records.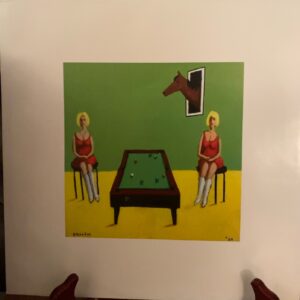 The artwork on this one is pretty simple, acoustic guitar on the front, artist closeup portrait on the back. The inner sleeve contains art from a "D. Reeder," who is more than likely Arlo's labelmate, Dan Reeder. A good musician in his own right, and also has some excellent merch and artwork. My personal favorite is the t-shirt that says, "The Future Looks Like Shit."3
Arlo lined up an excellent set of musicians to play on this record, there is Ken Coomer of Uncle Tupelo and Wilco fame, Will Sexton, brother of Charlie Sexton who is Bob Dylan's longtime touring guitarist, and Reba Russell a Memphis-based blues musician who played with Johnny Cash.
Front to back, this is a solid and sublime LP. I am deeply appreciative of all the internet folks that yelled at me to listen to it and update my list. It's too late to update the list, but I figured Arlo getting his own Saturday Spin is a good consolation prize.
Track by Track
1. We Were Alright
Gonna start things off right with a maudlin-sounding breakup song. Every breakup song and/or record is like a short film, if the songwriter is good, they are able to paint a picture for the listener so the movie will play in your head. Arlo is a great songwriter, so this song does an excellent job of depicting the start and end of a relationship in a short four minutes. He describes it as a dream.4
Turned the radio on
And heard 'Luckenbach, Texas'
And you said it was your favorite song
Girl, you started singing along
Arlo Mckinley, "We Were Alright," // GemsOnVHS™
2. Die Midwestern
"Die Midwestern" was my gateway into Arlo McKinley. Not only is it the title track of this, his sophomore record, but it's the first notes of his music I ever heard. I was instantly hooked. Written like a man who has a real problem with his hometown (he does), "Die Midwestern" is a honky-tonk rocker through and through. I don't even like the state of Ohio, the northern part is a desolate wasteland that ends with the mistake by the lake and the southern portion has basically been overrun by hillbillies, this song covers a city in the latter portion.
Arlo McKinley - "Die Midwestern" (Official Video) - Die Midwestern
3. She's Always Around
At first this song sounds like a love song where the singer pines for a lost love. If you do a little deeper digging into many of the themes of this LP itself, and if you study the lyrics closely, you'll be able to ascertain that this song is actually about addiction. I only came to this realization after watching the video and reading along to the lyrics.
She's always around
Hanging out in those dark corners
'Cause she knows the one I love won't let me hold her
She's always around
Hanging out in the same places
'Cause she knows that I'll come crawling
Evеry time I'm breaking down
I even did a bit of further digging and found that he made the video with a message and a call for donations to Healing Appalachia, an organization striving to end addiction in the Appalachian region. In a nutshell, Arlo McKinley has already done more for all of Appalachia with one song than J.D. Vance did with his shitty book.
Arlo McKinley - "She's Always Around" (Official Video)
4. Bag of Pills
In a similar fashion, "Bag of Pills" is a song about drugs and addiction bookended by a longing for love. I'd say it is somewhat of a drug dealer anti-anthem. It's a good song that one can tell was written with a lot of emotion behind it and with more beneath the surface to be discovered.
5. The Hurtin's Done
Anytime I put this record on, it drives my wife a little bonkers because many of the songs are very sad and not very upbeat. This one, like the couple before it, is another example of that. It is a slow-tempo country song with a lot of piano and some eerie pedal steel or slide in the background. It ends with an excellent guitar solo, though. It's mostly about personal struggles with addiction, depression, anxiety, etc.
6. Suicidal Saturday Night
A great outlaw country song. I would say this is probably my second favorite song on the whole album. Of course, I enjoy the thing played all the way through.
No one said that this was gonna be easy
We've been dying since the day we were way born
I don't know why I thought that it would be easy
Being criminals on the run
We should take some time and find our way back home
7. Once Again
A soulful little country song with a tear-in-my-beer kind of feel. McKinley does a good job of crafting songs in such a way that makes you want to just chill out and listen, even if some of the subject matter is sad or triggering w/r/t to various addictions. This one is sad, but hopeful in the end.
8. Whatever You Want
A ballad about, well, giving someone whatever they want. It's a simple song and somewhat rough, but the sound engineering is top notch because they surround McKinley's barroom croon into an epic ballad. There's even a bit of organ tucked in there during chorus that brings it home.
9. Gone For Good
An apology song filled with memories and regret. Arlo is apologizing to an unspecified girl about mistakes he made throughout their relationship which eventually led to its downfall. I am not gonna lie to you, this song sounds a lot like it was influenced by early Uncle Tupelo. 5
I know I'm gonna wake up in a puddle of my tears
Forced to realize you're gone for good
I'm sorry that I stole from you so many of those years
I swear, I'd give them back, girl, if I could
Arlo McKinley - Gone for Good (Official Video) - Die Midwestern
10. Walking Shoes
A fitting end to this album--a song about moving on.
I could follow you down if you want me to
But we both know that would be a mess
So I'm putting on my walking shoes
Goodbye
Wish you the best
---