Wednesday Writs: Malicious Prosecution In Imbler v Pachtman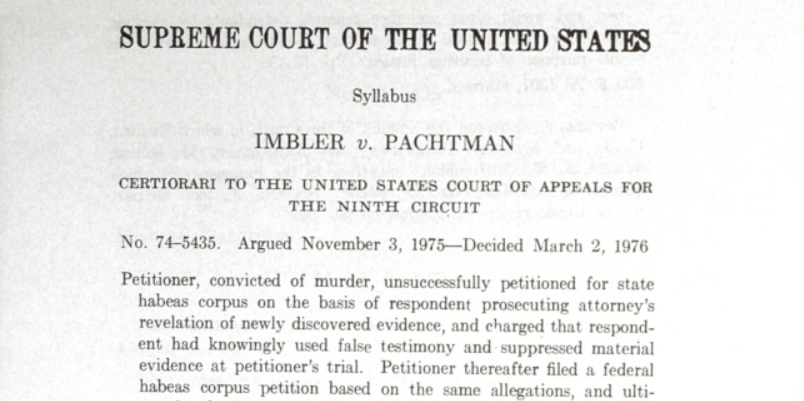 L1: We talk a lot here about qualified immunity for law enforcement, particularly the evils thereof and in relation to excessive or lethal force. But lives can be ruined just as easily in a less violent way: the unscrupulous prosecutor, who is actually even more insulated from repercussions than the police are.
Full disclosure: the inspiration for this week's choice of "case of the week" came from a question on Twitter:
"If Trump is vindicated, can he start a class action suit for malicious prosecution against Pelosi, et. al.?"
Notwithstanding the many ways in which this question is legal nonsense (Trump is a person, not a class of people, and an impeachment is not a criminal prosecution), and notwithstanding that this person did not actually want an answer so much as validation, it seems a good springboard to discuss prosecutorial immunity.
In Southern California in 1961, a man named Paul Imbler turned himself in for his role as an accomplice in 1 of 2 attempted grocery store robberies. The first robbery, to which Imbler did not admit, resulted in the death of the store owner, a Mr. Hasson; the second, in which Imbler implicated himself, resulted in the death of one of the perpetrators. Authorities believed Imbler was involved in both incidents and charged him with first degree murder in Hasson's death.
At trial, the prosecution presented eyewitnesses to the shooting and subsequent get away, several of whom identified Imbler. At least one testified that Imbler shot at him while fleeing. The shopkeeper's wife saw her husband's shooting and though she could not ID the shooter, she was able to identify co-defendant Leonard Lingo – one of the men Imbler admitted to committing the second robbery with.
Imbler denied his involvement in the Hasson robbery. He claimed he was barhopping at the time, and only met Lingo the morning of the second robbery. Nevertheless, the jury convicted Imbler and sentenced him to death. The 9th Circuit affirmed.
However, not long after the appeal concluded, the attorney who prosecuted the case, Richard Pachtman, wrote a letter to the Governor of California revealing that he became aware, post-trial, of evidence that would have been favorable to Imbler. The evidence supported Imbler's alibi and implicated the trustworthiness of one of the state's key eyewitnesses. Imbler filed a writ of habeas corpus challenging his conviction. At a hearing before a "referee" on the motion, the eyewitness recanted his identification of Imbler and admitted to lying about his background. The defense argued in its brief that the prosecutor knowingly presented false testimony and suppressed evidence at trial.
The referee rejected the defense's arguments and found that the witness's recantation was less credible than his trial testimony, and that the newly discovered alibi witnesses likewise lacked credibility. The California Supreme Court adopted the referee's findings and denied the habeas petition. In 1964, however, Imbler's death sentence was reversed on other grounds and rather than re-try him, the state agreed to a sentence of life in prison.
Three years later, Imbler filed a new habeas based on the same grounds as the first, this time in District Court. Unlike the state court, the federal court found 8 instances of misconduct by the prosecutor in the case: 6 related to the shady eyewitness and 2 related to suppressed evidence, including fingerprint evidence. The Court found that these 8 instances warranted gave the state 90 days to do it. The state appealed to the 9th Circuit and lost, and decided to release Imbler rather than retry him.
In 1972, Imbler filed a federal lawsuit against Pachtman, members of the LAPD, and others, for violations of his civil rights under color of law (a.k.a., a 1983 action), including conspiracy to wrongfully convict him. He sought $2.7 million in damages, plus attorney fees. Pachtman immediately moved to dismiss, citing the immunity enjoyed by prosecutors for their official acts, to which the District Court agreed. Imbler appealed to the 9th Circuit, who agreed with the District Court's decision that the prosecutor could not be held liable for "prosecutorial activities which can only be characterized as an integral part of the judicial process." The US Supreme Court granted cert in our case of the week, Imbler v. Pachtman.
Justice Powell penned the unanimous decision of the Court. To begin, the Court cites the 1951 decision in Tenney v. Brandhove, in which the plaintiff attempted to sue his state legislators for allegedly violating his civil rights (by calling him before congress for the purposes of intimidating him into keeping quiet on an issue of public policy.) The legislators claimed immunity, but Tenny argued that the text of Section 1983 makes no allowance for immunity on its face. The Court, however, ruled that such immunities were an established part of common law not abrogated by the statute itself. Legislators were immune from tort liability for actions that are part of their official duties, "regardless of any unworthy purpose animating their actions." Likewise, judges had been held to enjoy absolute immunity for their official acts. Imbler's case, however, would be the first time SCOTUS looked at the immunity of prosecutors to Section 1983 actions.
The Court discusses cases involving prosecutorial immunity in other torts, the most obvious of those being malicious prosecution. The first case on this issue ruled upon by SCOTUS was Griffith v. Slinkhard in 1896, in which a prosecutor put a defendant's name on an indictment, despite a grand jury's vote not to convict. Despite what appears on its face to be obvious malfeasance, that prosecutor was nonetheless granted immunity for his actions. This holding became the prevailing view in these cases, including blatantly malicious actions.
One can see why this policy, counterintuitive as it is, makes practical sense. Without it, prosecutors would spend time doing nothing but defending themselves in lawsuits for every person they attempt unsuccessfully to prosecute. It would also create a perverse incentive for prosecutors to avoid dismissing a case when justice would otherwise require, for fear that the dismissal would be used as evidence that prosecution was in bad faith to begin with. Finally, there is concern of the tremendous litigation burden that courts and jurisdictions would face without prosecutorial immunity. It is expected that the voters will oust elected prosecutors who act unethically, or fail to discharge any lawyers in their offices who do. Furthermore, their licenses to practice law are not protected by immunity, and state bars are free to act on complaints as well.
Having reached this assessment of immunity from malicious prosecution torts, the Imbler Court then turned to the question of whether such absolute immunity was applicable to Section 1983 cases. They answered in the affirmative, for the same reasons:
The ultimate fairness of the operation of the system itself could be weakened by subjecting prosecutors to § 1983 liability. Various post-trial procedures are available to determine whether an accused has received a fair trial. These procedures include the remedial powers of the trial judge, appellate review, and state and federal post-conviction collateral remedies. In all of these, the attention of the reviewing judge or tribunal is focused primarily on whether there was a fair trial under law. This focus should not be blurred by even the subconscious knowledge that a post-trial decision in favor of the accused might result in the prosecutor's being called upon to respond in damages for his error or mistaken judgment.

We conclude that the considerations outlined above dictate the same absolute immunity under § 1983 that the prosecutor enjoys at common law. To be sure, this immunity does leave the genuinely wronged defendant without civil redress against a prosecutor whose malicious or dishonest action deprives him of liberty. But the alternative of qualifying a prosecutor's immunity would disserve the broader public interest. It would prevent the vigorous and fearless performance of the prosecutor's duty… Moreover, it often would prejudice defendants in criminal cases by skewing post-conviction judicial decisions that should be made with the sole purpose of insuring justice.
Justice White concurred in the judgment as to the use of perjured testimony, but wrote separately joined by Justices Marshall and Brennan to express his view that absolute prosecutorial immunity should not extend to prosecutors who willfully and knowingly suppress evidence. In his view, the immunity for presenting false testimony makes sense, because otherwise a prosecutor who believes a witness but knows his or her credibility will be questioned should be shielded from being sued for a potential bad judgment call. He saw no such justification for the willful suppression of evidence. While the justice system could be compromised if prosecutors fear civil damages for putting forth a witness who may turn out to be untruthful, he saw no such danger in prosecutors erring on the side of putting forth more evidence than needed to avoid a claim of willful suppression of evidence.
L2: A Michigan couple had their embryos frozen as a precaution when the woman went through breast cancer treatment. Two weeks ago, a surrogate carried and birthed the couple's biological twins -to whom Michigan courts say the couple have no legal rights. If they want to raise their own biological children, they will have to adopt them, due to a 1988 state law making all surrogacy contracts null and void.
L3: A state legislator in South Dakota has introduced a bill to make changes to the state's death penalty statute, limiting the punishment to those who are directly responsible for killing a police officer or first responder. The legislator happens to be a judge who has sentenced a man to death, which is a unique perspective for proposing such change. (While I personally agree with any bill which limits capitol punishment, I'm not so sure I am comfortable valuing some lives over others in this way.)
L4: Trump finally gets a court victory after his long string of recent losses. Unfortunately for The Donald, its only because he lost the presidency: the emoluments suits against him have been dismissed as moot.
L5: This week marks the one-year anniversary of the death of Kobe Bryant, his daughter Gigi, and seven others. The tragedy spawned 9 lawsuits, the first one filed on the day of the Bryants' memorial.
L6: Senator Marco Rubio has introduced a constitutional amendment to prohibit court packing, making the current count of 9 justices permanent. President Biden has stated his discomfort with court packing but has failed to flatly declare he won't try to increase the number of justices during his administration.
L7: Trump legal buffoon Lin Wood was once a respected lawyer who had a court room named after him at Mercer Law School (after donating a million dollars). The school is ready to rename the courtroom and Wood wants his money back. His attempt at "defending" himself via Zoom did not go well.