Food, or Eating Your Beans and Cornbread Thankfully Like An Adult
I must be careful sometimes to not just give in to the baser human nature, hunch myself up, and growl at folks  in my best impression of Anton Ego's Peter O'Toole-fueled growl "I don't like food, I looooooove it."
Food has long been a happy place for me. I like eating it, I like cooking it, I like talking about it, I like sharing it, I like watching programs about it, I like reading recipes about it, I like the history of it, I like the creativity of making something new.
I love food.
Thing about food is, like many things in life, there are tiers to it, and societal sorting that lends to there being a snobbery at the top of culinary endeavors and a shocking lack of basic humanity at the bottom. Leave it to humans to take the most basic of needs and make a caste system out of it. Like anything else, food and culinary can fall anywhere on the spectrum from daily chore, to hobby, to scientific endeavor, to religion, to obsession.
Consider, if you will, Allium Sativum, the sulfur-containing compounds allicin, ajoene, diallyl polysulfides, vinyldithiins, and S-allylcysteine; as well as enzymes, saponins, flavonoids, and Maillard reaction products, which are not sulfur-containing compounds. Especially that allicin, which creates all sorts of big wordy-word science terms I won't even pretend to understand when crushed, chopped, or otherwise abused in the cooking process to transform those chemicals and properties into wonderful flavors, lingering aromas, and regrettable breaths of unsuspecting dinners.
See, even with that you can just use a whole bunch of words to make something sound all hoity toity when "garlic" will do just fine and everyone instantly knows what you are talking about.
I thought of this as one of those daily social media debates raged over a photo and a comment that brought together my worlds — that to be honest are never far apart — of culture and food and social observation.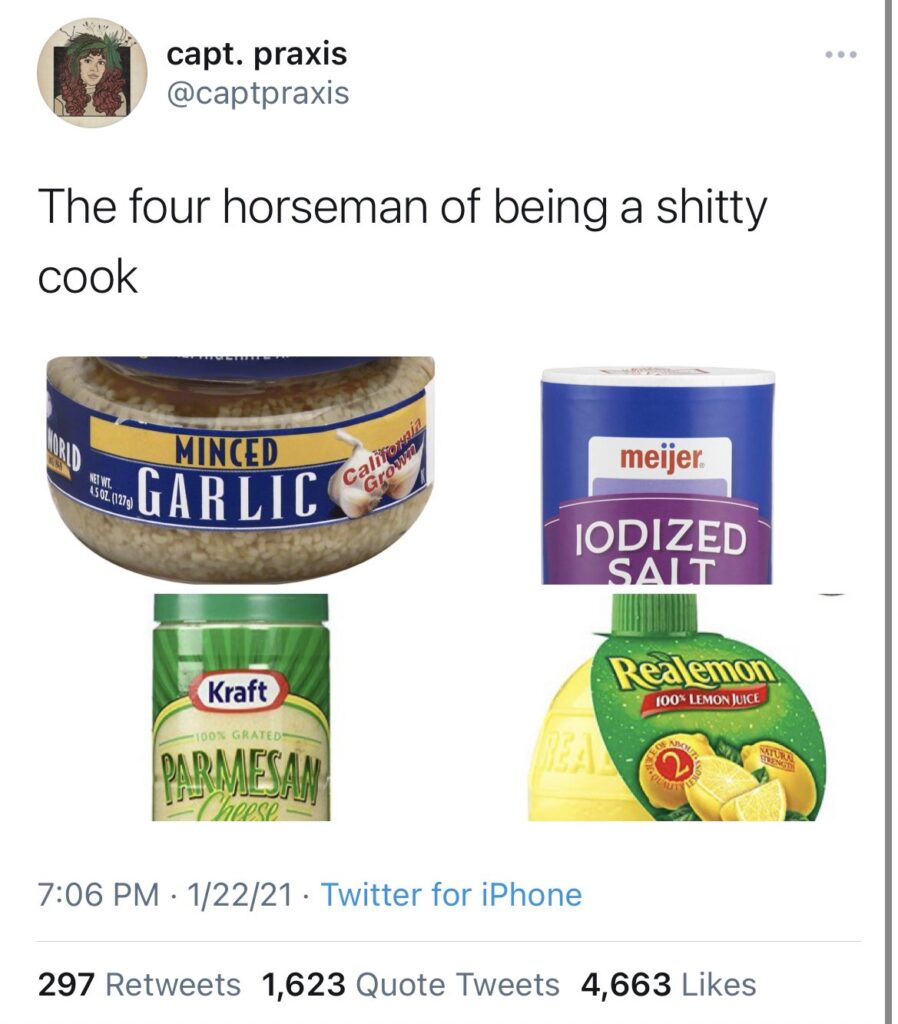 Oh, dear…
First of all, I humbly submit that these things, which are staples in the fridge and cupboards of many homes, are just fine and given these and a few other things even the amateur foodie that I am I can make a fine meal out of it without too much trouble. But for the sake of not talking politics for once, let us indulge ourselves of this for a moment.
"Garlic is divine," wrote the late Anthony Bourdain in his career-making best seller Kitchen Confidential: "Few food items can taste so many distinct ways, handled correctly. Misuse of garlic is a crime…Please, treat your garlic with respect…Avoid at all costs that vile spew you see rotting in oil in screwtop jars. Too lazy to peel fresh? You don't deserve to eat garlic."
Maybe not, but hard-boiled as he could be even Bourdain evolved from his New York City food snobbery roots to become a beloved cultural figure who ended his tragically self-shortened life eating anything anywhere with anyone and preaching the Gospel of Shared Food Humanity to all who would listen.
"I feel like we need to talk about dairy in general," interjects T.J. Klune in The Extraordinaries: "Who is the first guy who decided to squeeze the thing hanging off an animal and drink whatever came out? Because you KNOW it was a guy – a woman would never be that dumb. Do you think he was dared to do it by his caveman friends? Like, they started with cattle, and then worked their way to a sabertooth…" Let's just stop right there before things get weird. Luckily, the stuff coming from the ubiquitous green shaker cylinders has less to do with questionable conduct of udder disregard and has more in common with the table most folks eat off of, since a cellulose filling made from a wood pulp derivative is added to keep grated cheese from clumping and to stay shelf stable.
Salt, of course, runs the gambit from the philosophical musings of Pythagoras dishing out "Salt is born of the purest parents: the sun and the sea" to the somewhat less erudite "die mad, you salty (insert no-no bad word that goes between "That" and "Carole Baskins" in the common vernacular.) It is the most basic of ingredients, quite literally a rock, but essential to both life itself and getting any semblance of taste from food.
Of course, lemon juice is the stuff of legend. The metaphorical mauling that the "when life gives you lemons…" saying alone has instructed everything from lemonade, to planting orchards, to shoving them where the sun don't shine. But perhaps the old MAD magazine joke holds up this noted citrus nectar in the proper light. "We live in a world where lemonade is made from artificial flavoring and furniture polish is made from real lemons."
Which, of course, is what food snobbery is. It's polish on a veneer.
I know in my head that the broccoli and ravioli in scampi bouillon at Joel Robuchon's is superior to my mother's Velveeta-powered broccoli casserole of my youth in every conceivable way, but I know that I only ate either on the good graces of others. The highest of high-end dining on the invitation and graciousness of a host to dine in the purple palace opulence of one of the best chefs the world has ever seen and his vision of culinary heaven. The soul and belly-filling goodness of suckering an obstinate child into eating broccoli by baptizing it in enough manufactured cheesy goodness to end all arguments. Both veneers to something simple like eating, both things to brag about depending on the audience you want to impress, both things I'll never forget. But only the latter do I long for, have I never managed to re-create in my own kitchen just right, to recapture that feeling once again. It isn't the technique, or the ingredients of course. More than any ingredient, it is the chasing of a ghost, of recreating a recipe remembered for its ability to fill and comfort, and rolling back the clock for that kid of my memory that makes replication impossible to my own palate.
In our family the Fourth of July is the big family reunion, a week-long celebration where the clans gather Up Yonder. All sorts of activities commence but each morning starts with Aunt Nora's crack of dawn breakfast for all to consume before embarking on trail rides, or hikes, or the lake, or whatever else is going on that day. Each evening ends in a mass meal and more fellowship. The climax, of course, is lunch on the Fourth itself, where the food offerings stretch for 40-odd feet of serving tables. But among those nightly meals before the biggest of shindigs on the family's yearly calendar, there is always a certain evening set aside. The meal is brown beans and cornbread, and the evening is spent with music, singing, and fellowship. For my mother's generation, on this land she grew up on and which was originally signed to her ancestors as a land track and commission to operate a ferry crossing from colonial times till the first bridge in 1903 finally ended the need, it's a reminder. A reminder that my generation of the family was the first not to grow up in crushing poverty going back as long as the family has records. A reminder to be thankful for the simple things, like a warm bowl of beans and a song in your heart you can sing with loved ones. Of the simple joy of having a warm fire on a cool night on top of a mountain that has been home to generations.
Up Yonder is a lot fancier now than when we first started meeting up there under jury-rigged tarps on rough log polls. The fields that once were rutted out for potatoes are fairly smoothed down now after years of mowing and passage of time. The latest expansion of the family picnic shelter on top of our mountain now contains a full kitchen for feeding the masses of family, friends, and whosoever wills to find their way up there. Whether coming from afar or camping out up there, if they go in the kitchen, they will find screwtop minced garlic, and iodized salt, and green shaker cheese powder, and lemon juice. You will not find the padded opulence and refinement of a Michelin-starred restaurant.
But you won't go hungry. They care too much — friend, family, or stranger — to ever let that happen on their watch. Folks to whom squirrel gravy wasn't a joke about hillbillies but a testament to surviving and wasting not a single edible thing and being thankful for it laid a foundation of food being far more than ingredients. You can complain about anything you want on our mountain: politics, the state of culture, the weather, each other. But don't you dare complain about the food, lest you are quickly, swiftly, and with extreme prejudice reminded how good you have it to have anything at all, how your forbearers often did not, and how if you don't handle your business it could be so again.
Upon being asked to give remarks on Thanksgiving, Walt Whitman turned his poets skills inwardly:
We Americans devote an official day to it every year; yet I sometimes fear the real article is almost dead or dying in our self-sufficient, independent Republic. Gratitude, anyhow, has never been made half enough of by the moralists; it is indispensable to a complete character, man's or woman's—the disposition to be appreciative, thankful. That is the main matter, the element, inclination—what geologists call the trend. Of my own life and writings, I estimate the giving thanks part, with what it infers, as essentially the best item. I should say the quality of gratitude rounds the whole emotional nature; I should say love and faith would quite lack vitality without it. There are people—shall I call them even religious people, as things go?—who have no such trend to their disposition.
I'll confess to not liking brown beans very much. I do love me some cornbread. But that one day a year, on my mountain, Up Yonder, encompassed by so great a cloud of witnesses of family, friends, the full weight of history and the responsibility of both remembering and teaching in my mind, I eat them joyfully while thanking the hands and folks that prepared it.
And God forgive us if we ever complain about what kind of ingredients they used to do so.