Fox News Shouldn't Have Called Arizona When They Did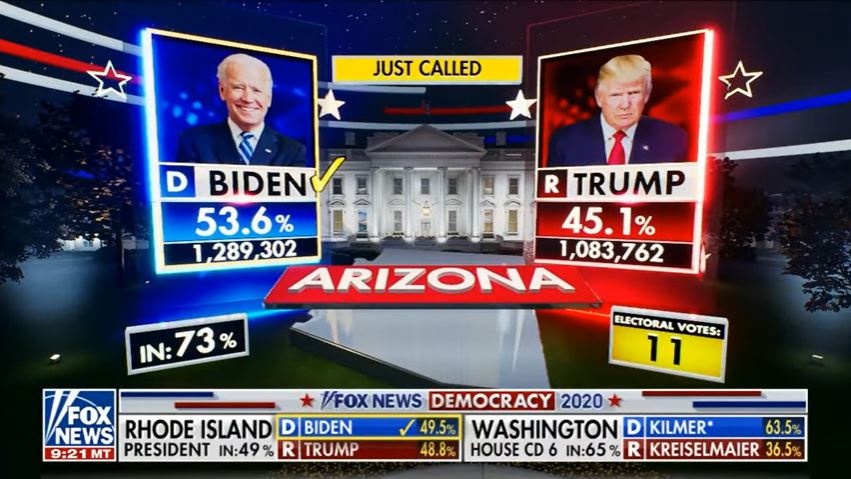 Fox News was the first network to call Arizona for Joe Biden, and Fox has just fired the people that got it right.
Two senior leaders of Fox News's reporting division are exiting the network as the cable channel replaces some news programming with right-wing opinion shows and tries to lure back viewers who balked at its coverage of the 2020 election and its aftermath.

On Tuesday morning, Fox News fired Chris Stirewalt, the veteran politics editor who was an onscreen face of the network's election night projection that Joseph R. Biden Jr. had defeated President Trump in Arizona, according to three people with knowledge of the matter.

Fox News was the first news outlet to call Arizona for Mr. Biden, a move that infuriated many of its regular viewers — including Mr. Trump, who denounced the network as insufficiently loyal and urged fans to watch Newsmax and One America News instead.
Well, that sounds bad. It sounds like they fired good prognosticators because their accurate predictions made people mad. And they call themselves a news station?!
That may be exactly what happened. I don't know. What I firmly believe, however, is that the Arizona call was very premature, not justified when they called it, and nearly a disaster.
At the time Arizona was called, Joe Biden lead Donald Trump 1,316,185 votes to 1,128,103 votes. He had a seven-point lead with 27% of the vote uncounted. By the time the counting was over, that 200,000 vote lead was down to 10,000 votes and .3%. Stirewalt and Arnon Mishkin, who lead the decision desk, argue that their position was simply that Trump would not make up the votes and he didn't. Their prediction was, after all, correct!
Calling a state, however, is not just a prediction. It is declaring it over. So that position becomes that the model allowed for Trump to make up roughly 7% of the vote but there was no way for him to make up 7.4%. This might actually be reasonable depending on how much of the vote was left to count, but with over a quarter of the vote to count that is an awfully precise position to take. It is unlikely that the forecasting they do is anywhere near that precise. If it were, more states would be called earlier as a general matter. There is presumably a line somewhere that error cannot pass, but if we had the precision to know that within one third of one percent of the vote, projections would be a lot better than they are.
The difference between the percentage of the vote that Trump picked up, and the percentage of the vote that he needed to win, was only 1.1%. In other words, if Trump had gotten more than 1.2% more of the remaining vote than they were expecting, he would have won. While it is possible that what happened was at the very outer boundary of the margin of error, but if you are skirting that close to the outer boundary that is at best cause for humility. To be honest, though, the idea that their model allowed for a 199,000 vote Trump gain but not a 210,000 vote Trump gain defies credibility. Voting patterns just aren't that predictable.
Nowhere else did Fox or anyone else demonstrate that kind of confidence in such a close-margin race. The list of states that landed within a half-point that were called with more than 10% (much less over 25%) is short and if any such cases exist, they likely involve better voter files than they are here. The most reasonable explanation is that they were not expecting it to be such a close-margin race. As it happens, they gave us specific reason to believe this would be the case roughly an hour after they called it.
While their overall prediction did pan out other things they said did not. First, Chris Stirewalt said that polling had proven to be very accurate when it really hadn't in any useful way. I realize this is a controversial statement to some, but I will explain further in another post how polling got more states more wrong than in the past. Even if you don't believe me there, Decision Desk Arnon Mishkin was irrefutably wrong on key points that explain their confidence at the time and also why they were wrong even if they were right.
When defending their call to Bret Baier, Mishkin said:
"What I think we've heard from the White House is that they are expecting – they need to get just 61% of the outstanding vote and there are 870,000 outstanding votes and they'll be getting that. That's not true. The reality is that they're likely to get only 44% of the outstanding votes that are there."
Decision Desk pollster Darrin Shaw would echo the same number about an hour later:
The estimates we've heard from the White House – and we have heard them – is that the president needs to get about 61% out of the remaining vote. We think that's right! That estimate is actually pretty consistent with what we're seeing. However, our estimates are online to get about 44-45% of the remaining vote, which leaves him well short of what he needs.
In fact, Trump got 60% of the remaining vote1. They were just shy of what they needed, which in a state they only barely lost makes a lot of sense. It's true that Team Trump's projection was off by 1%, but Mishkin's was off by 17%. He would later say specifically that Trump would not come "anywhere near" 65%, but he came significantly closer to that than he did 44%. Mishkin's position might be more defensible if he had said that Trump would make up the vote but just not enough, which is what happened. But his position – and almost certainly key to their confidence that Biden would win the state – was that the outstanding vote favored Biden. He even explained (immediately prior to the above quote):
"[Arizona] has been in the category we call 'knowable but not callable' for about an hour2. We finally called it right now. Yes, there are some outstanding votes in Arizona. Most of them are coming from Maricopa County where Biden is currently in a very strong position and many of them are mail-in votes where we know from our Fox News voter analysis Biden has an advantage. We don't know exactly how many mail-in votes there are…"
In other words, because the outstanding votes were in an area favorable to Biden, and involved mail-in votes that were also favorable to Biden, the outstanding vote favored Biden. That is entirely consistent with Trump getting 44% of the vote (slightly less than he had at that time, 45.6%). It was also consistent with what was happening in other states with Biden votes coming in last.
That was a reasonable prediction. It just wasn't true. I could not tell you why the late-counted votes so heavily favored Trump, but they did3. That they wouldn't, however, was clearly a part of Mishkin's rationale for calling the state. But while that was a reasonable basis for a prediction, calling a state is not merely a prediction. A much greater degree of certainty is needed4. The only way to make a prediction when there is more than a quarter of the vote outstanding is if you have a strong idea of what the remaining votes will be, which they didn't.
It is critical that states be called correctly even if that means delays. Other news organizations took this to an absolutely absurd excess, but that doesn't mean that Fox wasn't reckless in how early it was called. I don't doubt they did the best with the information they had, but the explanations of Fox and AP for why it was so difficult this year and why they didn't see the gap closing as it did should be cause for greater trepidation. Both of these two (but none of the others) relied heavily on the AP VoteCast to supplement the vote count. It appears that the Votecast painted an inaccurate picture of where the overall electorate was in Arizona5
Should they have been fired? I don't really have a position on that. I suspect they wouldn't have fired them if they had gotten it wrong in the other direction, but that says more of my opinion of Fox News than the right and wrong of the situation. My inclination is towards "You screwed up but got lucky, don't let it happen again." If they maintain that they did nothing wrong, however, and would do it all over again, I don't believe I could trust them or their analysis going forward.
Mistakes happen, but they're only corrected if they are acknowledged.
---