I Love My Country, But Let's Not Kid Ourselves.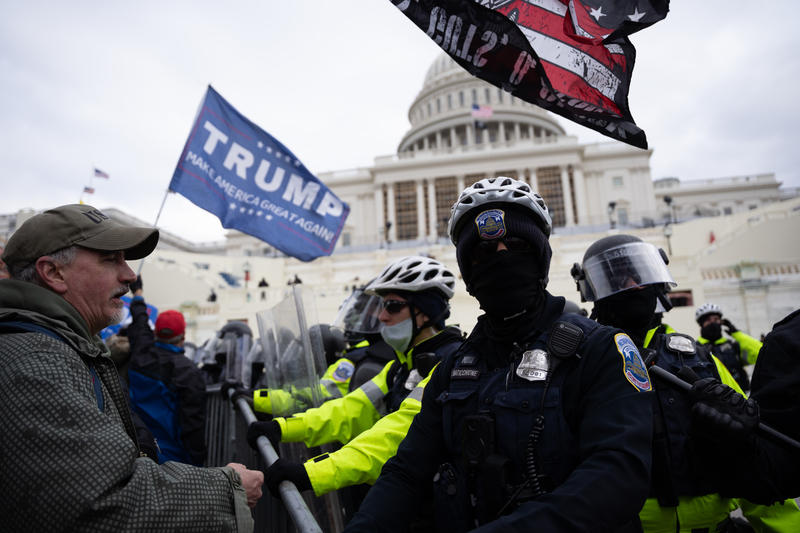 "This isn't who we are."
President-elect Joe Biden said these words in the aftermath of Wednesday's assault on the US Capitol. Politicians like to say this during events like this. I believe that President-elect Biden and others who use that phrase mean nothing but good. They want to say that as Americans we aspire to higher goals and that what happened is something that is uncharacteristic of who we are as Americans.
This phrase comes from a good place. It's also incredibly wrong. This is who we are. This is who we are as a nation.
African Americans, Native Americans and other persons of color are more aware of the dark sides of American history, where people are not treated equally. Those dark sides still continue to this day. It is not too far fetched to say that white Americans and persons of color had two different views as they saw the mostly white crowd running amok within the walls of the US Capitol. White Americans think "this isn't who we are." But African Americans and other persons of color shake their heads and say "This IS Who we are." We say that because we know that this event wasn't just about crazy Trump supporters. It was about race. President Trump wanted to overturn a fair election by invalidating the votes of millions of Americans in six states, many of which have substantial African American populations. While America is a better place for African Americans than it was in the 1950s and earlier, there are still challenges and that includes what happened on January 6.
It's important for me to say that I love my country. I am proud to have an American passport so that wherever I go in the world, people know that I'm an American. I know that this nation is a beacon of hope to people living in despotic regimes and to immigrants looking for a better life. The words found in the Declaration of Independence and the Constitution matter. They aren't just words; they retain an almost sacred quality to us all centuries after they were written.
It is because I love my country that I must say, let's not kid ourselves. There are dark corners to our history. There is a lot of history to share, but I will bring up two. It was in 1920 three African American men were lynched in Duluth, Minnesota under trumped-up charges of rape. Notice I said Duluth, Minnesota and not Duluth, Georgia. Later this year, we will commemorate a century since the Tulsa Race Massacre which killed an untold number of African Americans in what was called Black Wall Street.
Contrary to the 1619 Project, America is not one long dark history of oppression. Racism and prejudice is who we are, but it isn't all of who we are. But Americans have to wrestle with the whole of American history. We are not just an idea as some like to say, but an actual nation with an actual history that isn't always sweetness and light. Buzzfeed spoke to a number of African Americans on the Capitol Hill police and the stories they tell are shocking. The officers "were forced to endure racist abuse — including repeatedly being called the n-word — as they tried to do their job of protecting the Capitol building, and by extension the very functioning of American democracy." One of the cops tells how he couldn't keep it together at the end of the day:
At the end of the night, after the crowds had been dispersed and Congress got back to the business of certifying president-elect Joe Biden's victory, the veteran officer was overwhelmed with emotion, and broke down in the Rotunda.

"I sat down with one of my buddies, another Black guy, and tears just started streaming down my face," he said. "I said, 'What the fuck, man? Is this America? What the fuck just happened? I'm so sick and tired of this shit.'"

Soon he was screaming, so that everyone in the Rotunda, including his white colleagues, could hear what he had just gone through.

"These are racist-ass terrorists," he yelled out.
We saw the dark side of America on Wednesday. But we also saw the light as well. Earlier in the day, now Senator-elect Raphael Warnock gave his victory speech. An African American man winning a Senate seat in Georgia is a big deal. In the early morning hours of January 6, he said the following:
"The other day, because this is America, the 82-year-old hands that used to pick somebody else's cotton went to the polls and picked her youngest son to be a United States senator," Warnock said in the heartfelt address. "The improbable journey that led to me to this place in this historic moment in America could only happen here."
It would be easy to focus on Warnock's story and say, "this is America." And it is. But you can't understand this address if you don't understand the many, many times when America has fallen short and treated African Americans and others as less than Americans. You can't understand why Eugene Goodman, an African American Capitol Hill policeman who led the mob away from an open door leading into the Senate chamber during the insurrection if you don't get the racial politics behind Wednesday's events. In America, you can understand the good without learning about the bad.
One of my favorite poems is "Let America Be America Again" by Langston Hughes. The poem is a back and forth between two voices, one talking about the wonderful thing America is, the other reminding the first voice that things were not always great. At the end, the two voices combine, offering a voice of not of cheery optimism, but of a hard-won hope:
O, yes,
I say it plain,
America never was America to me,
And yet I swear this oath —
America will be!

Out of the rack and ruin of our gangster death,
The rape and rot of graft, and stealth, and lies,
We, the people, must redeem
The land, the mines, the plants, the rivers.
The mountains and the endless plain —
All, all the stretch of these great green states —
And make America again!
We saw America on January 6. It was dark and ugly. But there is hope. Because while America is an angry mob rampaging the Capitol, I believe that out of this evil will arise a hope that might be battered, but isn't deterred.
This is who we are as well.
---