Saturday Morning Gaming: Crying Suns
1979 LEGO Classic Space Commercial
Crying Suns is available at the Epic Games Store *FOR FREE* until, let me copy and paste this: "Sale ends 1/14/2021 at 9:00 AM" (I assume the 9AM refers to Mountain Standard Time).
This is one of those games that was always on the periphery of my attention but I was never pushed over the edge to say "yeah, I oughta pick this up."
But, you know, "Free" is a tough thing to argue against so I picked it up as part of the Epic Store's Free Giveaway Thingy that they do every week.
I'd compare it (favorably) to FTL (a game we talked about way back in 2012).
You're a guy. Well, a clone of a guy. A clone of Fleet Commander Whatshisname and the Robot Thingy wakes you up and says "Hey, I think something has gone amiss."
And so now you're playing an FTL clone. It's your job to get from this corner of the galaxy to *THAT* corner of the galaxy. Along the way, you'll encounter a whole bunch of stuff. Colonists who are upset. Colonists who are content except for just one thing that they want before giving you some information. Former colonists that want to blow up your ship and sell the scrap. Former colonists who want to blow up your ship because that's the best way to separate you from your silly attachment to material items.
Maybe I'm getting ahead of myself. If you've never played FTL, you probably have no idea what I'm talking about. So let's start over.
Crying Suns is a tactical rogue-lite. That is to say, it's a game with tactics flavoring that is intended to be played multiple times over and over again before you are given the tools you need to beat the game. (But, like, not in a malicious way. Part of the joys of playing the game come from overcoming the frustrations of losing it and noticing that you lost because of mistakes you made… so play again and QUIT MESSING UP).
The beginning of the game starts with Admiral Ellys Idaho being awoken by a Helpful Robot Pal, you are quickly brought up to speed, and you go out and explore and find out what happened in the duration that you were asleep. How long were you gone? What happened to make the robot wake you up? What are the bad guys doing with their elbow room in the power vacuum left behind by whatever happened? Goodness gracious, what are the good guys doing with their elbow room?
So you grab your handy-dandy star map and you go out and start exploring the various sectors.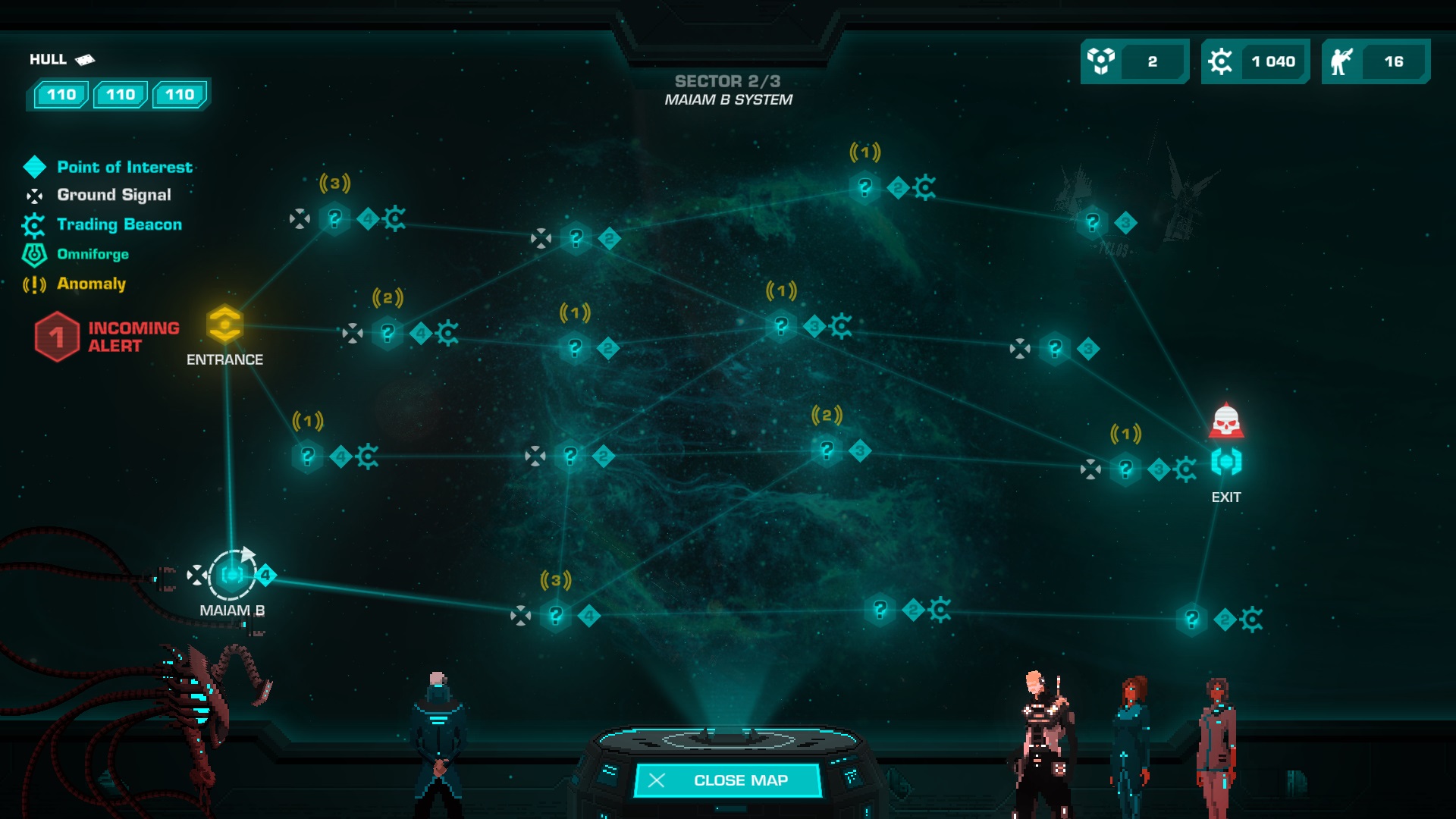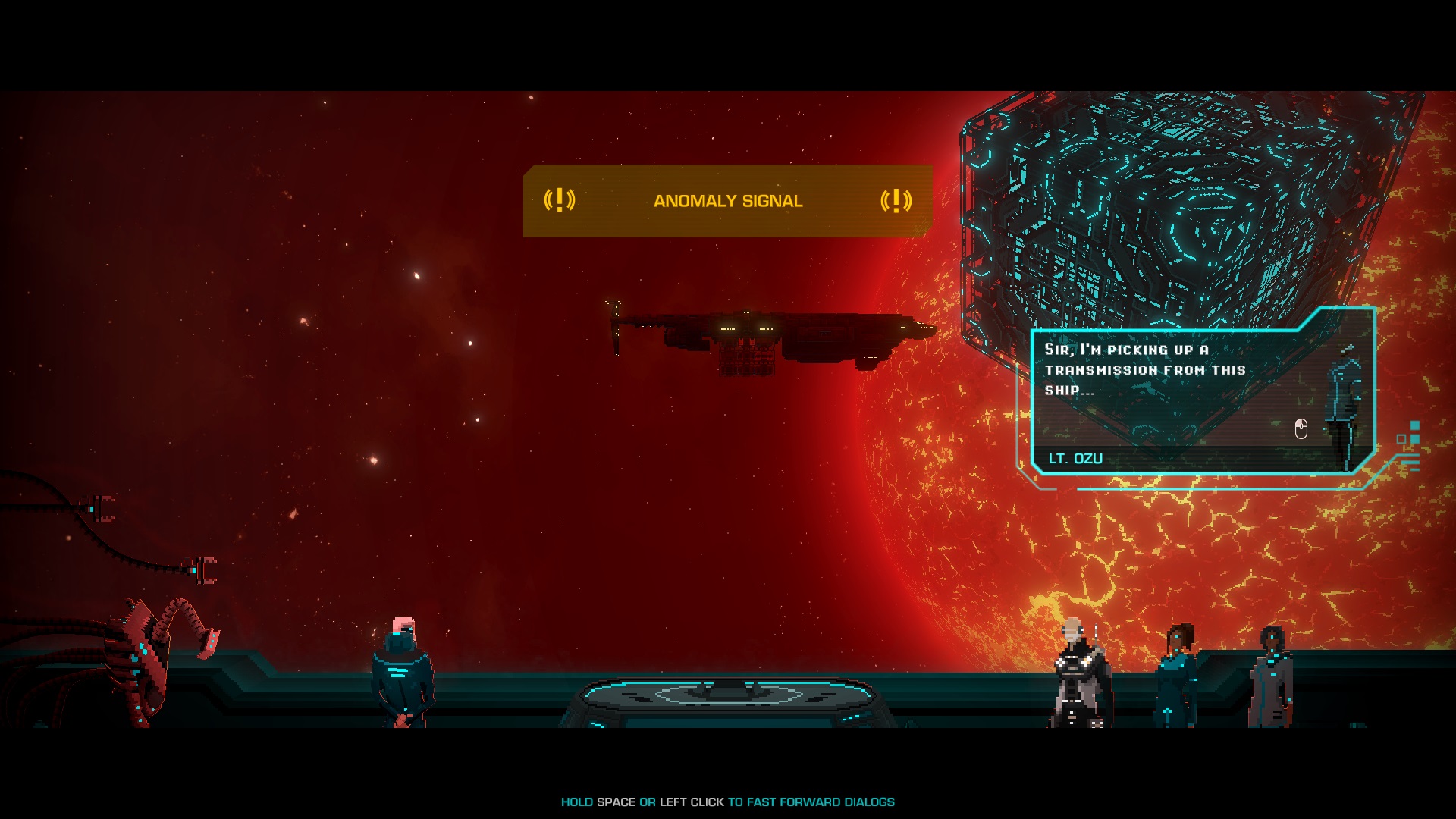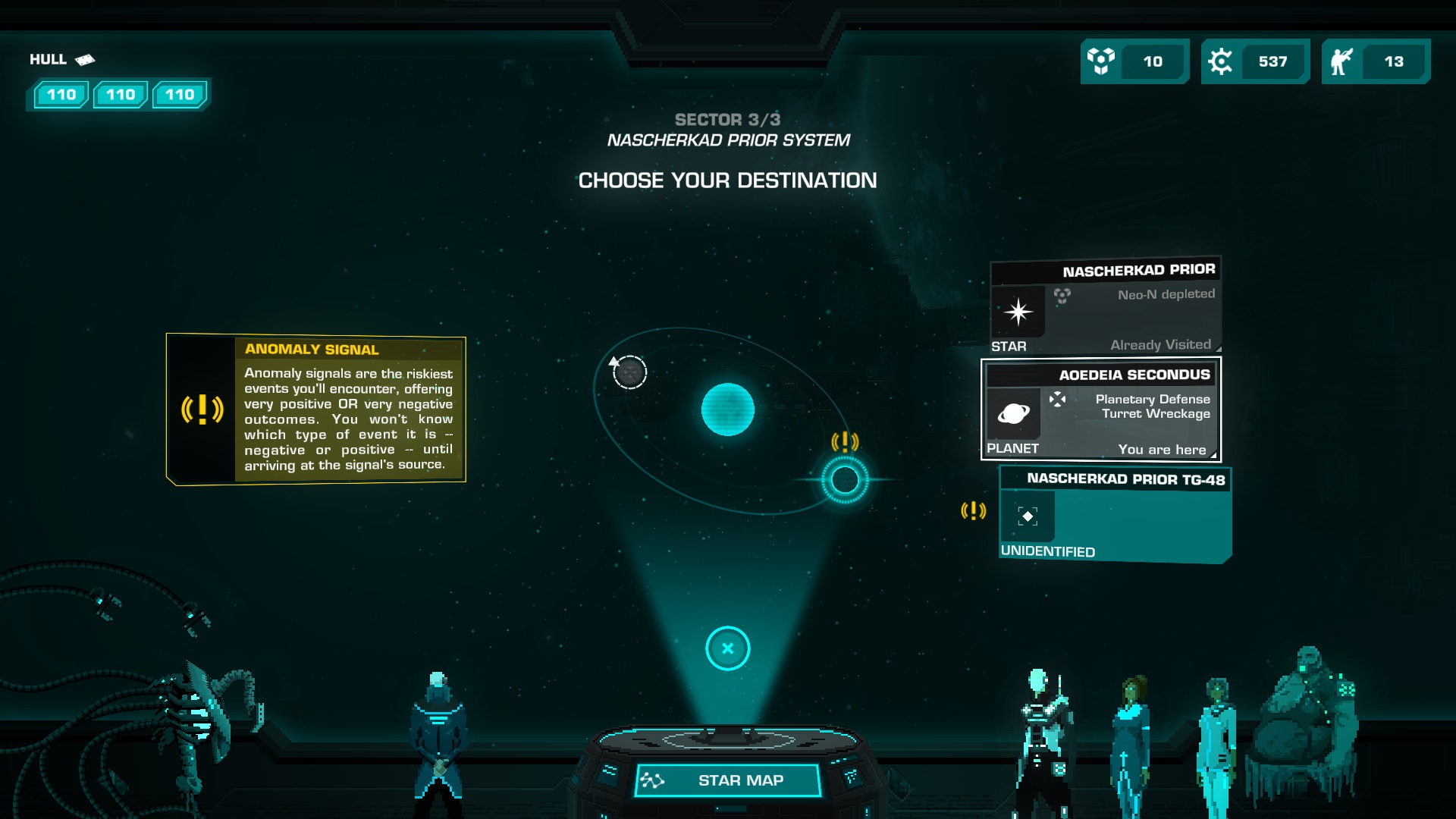 Along the way, you gather expendable resources, have encounters with people who might want to kill you, people who might want to sell stuff to you, and people who might need your help to do stuff. If you're familiar with FTL, you're familiar with all of that. You'll see an "anomaly" signal and you'll get excited. Will it be a good thing? A bad thing? Depending on how well you've been doing, you might be excited to go, dread having to go, or feeling like your choice is between going and losing. Just like FTL! Where Crying Suns differs, however, is in its combat. FTL had combat take place ship against ship. There were a handful of weapons and a handful of different ways to think about attacking the other ship but, primarily, it was ship vs. ship.
In Crying Suns, your emphasis is on creating fighters to attack the other ship while the other ship will create fighters of its own. Destroy the other ship's fighters then destroy the other ship (or, at least, hit it until its taken enough damage to make you an offer of fuel/scrap in exchange for the fight ending).
Additionally, you'll sometimes have opportunity to go down on a mission to a planet and try to scavenge up some fuel, scrap, or other resources. This isn't interactive beyond picking which officer you're sending down there with your commandos. You'll see them encounter a buncha stuff and, depending on the officer's skills, they'll either overcome it or not and, if they have the required skill and it's good, you'll get some salvage. If the required skill is there against something bad, you'll avoid consequences. So too with skill failures… you'll miss out on good stuff and have to put up with bad stuff (including loss of commandos and your officer taking damage… don't lose all your hit points!).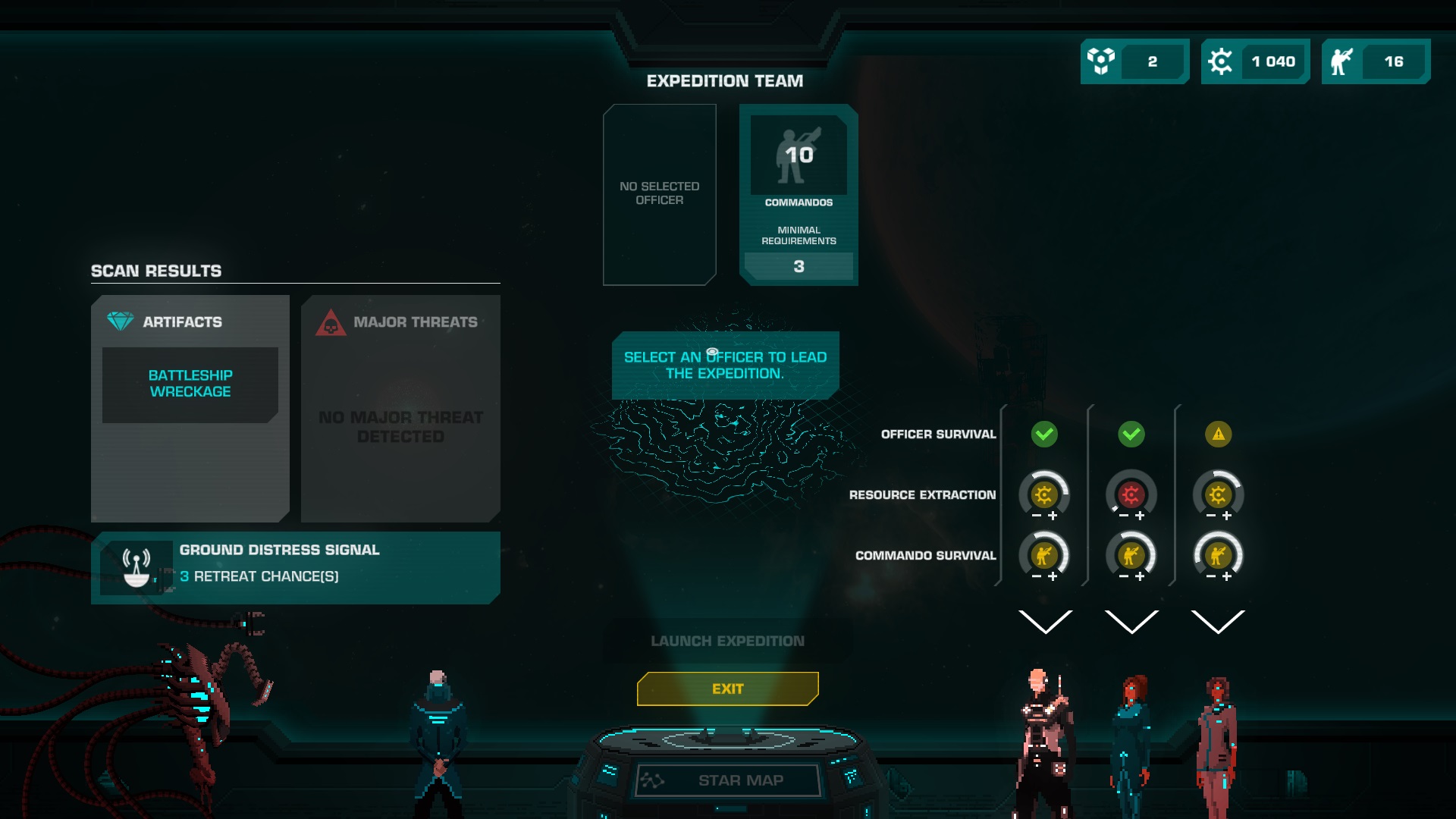 And you've got a ticking clock mechanism with the bad guys chasing you as you travel from the left side of the map to the right side, and when you get all the way to the right, you'll face the final boss of the map… and that fight is going to be a tough one. Along the way, you learn more and more of what happened before you fell out of the clone jar. And, as you continue to play, you'll unlock more ships and more officers and more of the story.
The game is pretty good. I can see why someone would prefer FTL to Crying Suns but, hey, it's not like they're making an FTL II. So if you want to play an FTL clone, Crying Suns is a dang good FTL clone (and if you prefer tactical combat to FTL's somewhat pared down fights, I could see you preferring Crying Suns). That said, it's a game where, if you loved FTL, I could see it easily being worth the $25. (And, if it was on sale, I'd say "definitely get it".)
But, and let me say this again: It's Free for the next few days. Pick it up. "Free" turns it from "a pretty good game" to "an amazing one".
So… what are you playing?
(All Crying Suns screenshots taken by the author.)