New Year's Fright: "The Apple Tree"
It seems almost inappropriate when scary stories take place in summer; winter is the right time for dark and eerie stillness, for things dead in the frost. Coleridge sums it up in his poem Frost at Midnight with the lines: "Tis calm indeed! so calm, that it disturbs/ And vexes meditation with its strange/ And extreme stillness…" On a winter night, you feel like out of place just existing. Which is probably why we defy the winter nights with our holidays and our celebrations: to banish the eeriness and assert that we're still here among the living.
At one point ghost stories were as much a part of the holiday traditions as the goose and candles. The Victorians were particularly fond of eerie tales around Christmastime, publishing dozens of them in journals every year, a tradition perhaps connected to the Yule festival and Winter Solstice; the darkest day of the year is perfect for gloomy chills.
Luckily, the independent publisher Biblioasis has kept the tradition alive with their "Seth's Christmas Ghost Stories" series: Seth is an award-winning cartoonist from nearby Windsor, Ontario, and the series are small, affordable paperbacks. Last year, I read the Christmas classic "Sir Gawain and the Green Knight", a tale of yuletide beheadings. This year, I read "The Apple Tree" by that great English writer of the paranormal (and evident favorite of Alfred Hitchcock) Daphne du Maurier.
It's a delightfully nasty piece of work about a happily widowed husband whose wife has recently departed, leaving him free to peace and quiet. Midge was one of those long-suffering wet blankets with a distinct martyr complex. Perhaps you've known one of these types who always answers the question of how they are with a sigh and a moan about how terrible life is, but they'll get by… Everything brings them down; nothing brings them joy. Life is suffering punctuated by toil. Having worked with a number of Eastern European immigrants, I know the type very well.
The husband apparently stayed with Midge out of habit, but then the miracle happened: pneumonia and a quick death. He's free of guilt and can do as he wishes. There's just one thing: an apple tree on his property, which he never really noticed before, with a stooped-over posture that reminds him an awful lot of his departed spouse. Is it just his imagination? Should he have his gardener do away with the old tree? And why does everyone else seem to admire this weather-beaten withered and woody old thing far more than he does? Why do its fruits taste good to them and rotten in his mouth? Why does its wood burn with a sickly smell in his fireplace, but not theirs? And why are they all acting as if he's gone mad?
Even worse, the tree is shading a younger sapling that reminds him of a young girl who worked for the couple years ago, who he once kissed in a moment of abandon that he never forgot. Why should this sickly tree choke out the light to that younger tree? How is this fair?
As you can guess, The Apple Tree is only a little chilling and very entertaining. I liked that the story never quite crosses the line to the supernatural; we strongly suspect the dead woman's spirit inhabits this tree, as does the widower, but never know for sure. The tension builds and the atmosphere grows more eerie, and the end is sufficiently spine-chilling, probably appropriate for the end of 2020!
Now, for a little announcement! I enjoyed reading through the works of Paul and Jane Bowles this year, so I think I'm going to kick off 2020 by rereading a writer who is e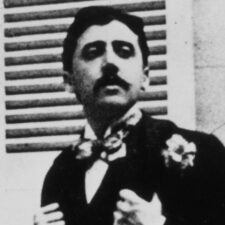 ither my favorite or damned close: Marcel Proust. In fact, I think I'm going to spend the next few months on À la recherche du temps perdu/ In Search of Lost Time, a "novel" many consider the best ever written. There's an old line that you reach middle age when you realize you'll never read "In Search of Lost Time" (a.k.a. "Remembrance of Things Past"); I've no idea what it says about me that I've read it twice: once in university and once while married. Now, I really am middle-aged, so I'm curious what I think of it this decade.
Won't you join me? I won't be reading a volume a week or anything crazy. And I might try luring J.L. Wall into joining along, since he recently mentioned the same inclination to return to Proust. It needn't be in French either; I can recommend the Modern Library's translations by Kilmartin and Enright in the revised edition by D.J. Enright. I may or may not be reading the Folio French editions, but I will refer to that translation when necessary.
And, let me mention that you really gotta read Proust! I don't know if he will "change your life," but once you're fully absorbed in the languorous pace and contemplative sentences, you'll find yourself calmer and more introspective yourself. And isn't that what we all need right now?
Here's wishing you all a HAPPIER NEW YEAR!