Christmas Spin: Keith Richards, Chuck Berry, and Run Rudolph Run
Ho Ho Ho! A special Christmas spin is just what the world needs right about now. Better yet, a Christmas spin of a song popularized by the father of rock-n-roll and covered by many many others. That is what I have here for y'all today, one of the more famous covers of this song. Originally released as a single in 1978, this song will have you tappin' your feet on Christmas morning.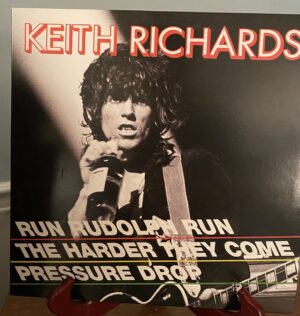 Keith Richards
Run Rudolph Run
1978 (2018 RSD Reissue)
Commentary
Chuck Berry originally performed this song when it was written in 1958 by Johnny Marks. It has since become a staple Christmas song. However, I did leave it off of my list of non-traditional Christmas songs. Anyone that has ever read Life by Keith Richards knows that Berry was a huge influence on his music. You may also remember that Chuck Berry treated Keith like garbage when they met and performed together.1 Hear it from the man himself:
Ask Keith Richards: Why did you decide to record the Run Rudolph single?
Fun fact: I own that exact same X-Pensive Winos shirt. This LP came to me by way of 2018's Record Store Day. Nice and shiny Rudolph's red nose red vinyl and two additional songs from the original LP, "The Harder They Come" and "Pressure Drop" with Toots and the Maytals. The artwork is pretty simple, has a photo of young Keef looking cool as hell on the front, track listing on the back, and with this release, the inner sleeve has a picture of each iteration of the album cover ever released.
The Song
I am gonna save everyone a bit of time and just cover "Run Rudolph Run" which is, as I noted before, a great track. What I like the most about the song is the lyrical references to cool era-defining things like "rock-n-roll electric guitars" and "Saber Jets." It's a good spin on a mythical reindeer story that doesn't involve reindeer games. I am still unclear as to what a reindeer game is. Here is the Keith Richards version to play while you open gifts.
Keith Richards - Run Rudolph Run
The other two songs are good too, as many people know, Keith is not a one dimensional dude, he is really into reggae and funk as much as he is rock-n-roll. If you have listened to any X-Pensive Winos, then you have also heard those two additional tracks as well. If you've never checked out or heard any stuff by the Winos, check it out, perhaps it will be covered here on Saturday Spins very soon. I would be doing everyone a disservice by not including the Chuck Berry comic video version here as well.
Chuck Berry - Run Rudolph Run (Official Video)
Fun Stuff
Included with the RSD version of this LP is a signed Christmas Card with a messaged from Keef.  The message says, "Gold Rings on you all one love." Anywho, Merry Christmas, and Happy New Year to all of the the readers, commenters, and lurkers. Here's to hoping that 2021 brings more new music and less weirdness.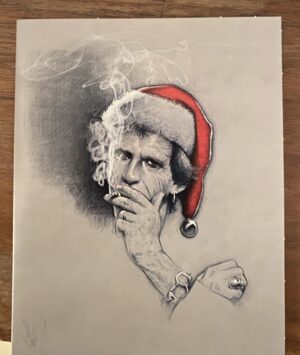 ---