President Trump Uses Veto on National Defense Authorization Act
Citing his desire for FCC "Section 230" repel and the re-naming of military bases that are currently honor Confederate Generals, among other reasons, President Trump vetoed the NDAA: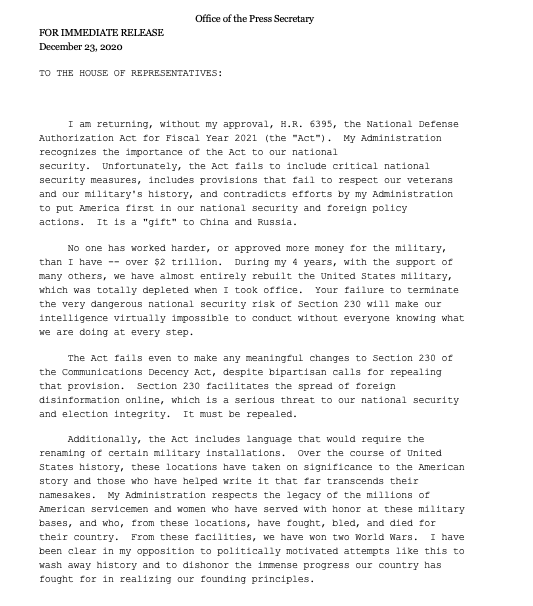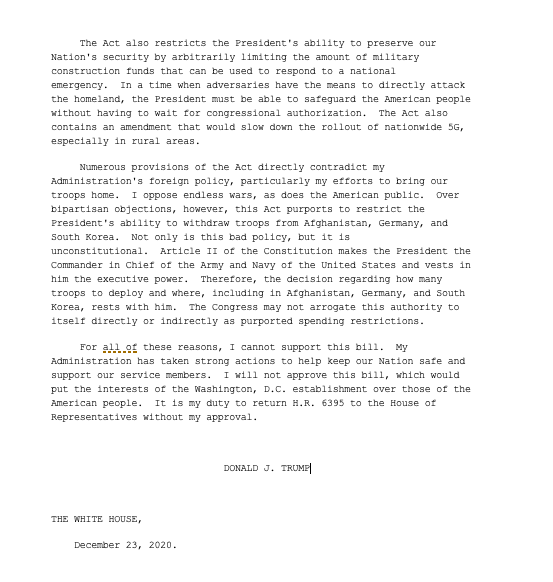 President Trump made good Wednesday on his repeated threats to veto a $741 billion defense spending bill, setting up what is expected to be the first successful veto override of his presidency during his last weeks in office.

The House and Senate each passed the bill earlier this month with strong veto-proof majorities, rejecting Trump's insistence that it be changed to meet his oftentimes shifting demands. Both chambers are expected to sustain the two-thirds majorities needed to override the president's veto.

In his veto message, Trump complained that the legislation includes "provisions that fail to respect our veterans' and military's history" — a seeming reference to instructions that the Defense Department change the names of installations commemorating Confederate leaders. He also scorned the bill as a " 'gift' to China and Russia," slammed the bill for restricting his ability to draw down the presence of U.S. troops in certain foreign outposts, and excoriated lawmakers for failing to include an unrelated repeal of a law granting liability protections to technology companies that Trump has accused, without significant evidence of anti-conservative bias.

Congress has until Jan. 3 at 11:59 a.m. — a Sunday — to override the veto and force the defense bill to become law. If they do nothing, it will expire along with the end of the two-year congressional session at noon that day. The House is planning to reconvene on December 28 to hold a veto override vote, while the Senate is expected back in Washington on December 29, and will hold its veto override vote thereafter.