Paging Dr. Kübler-Ross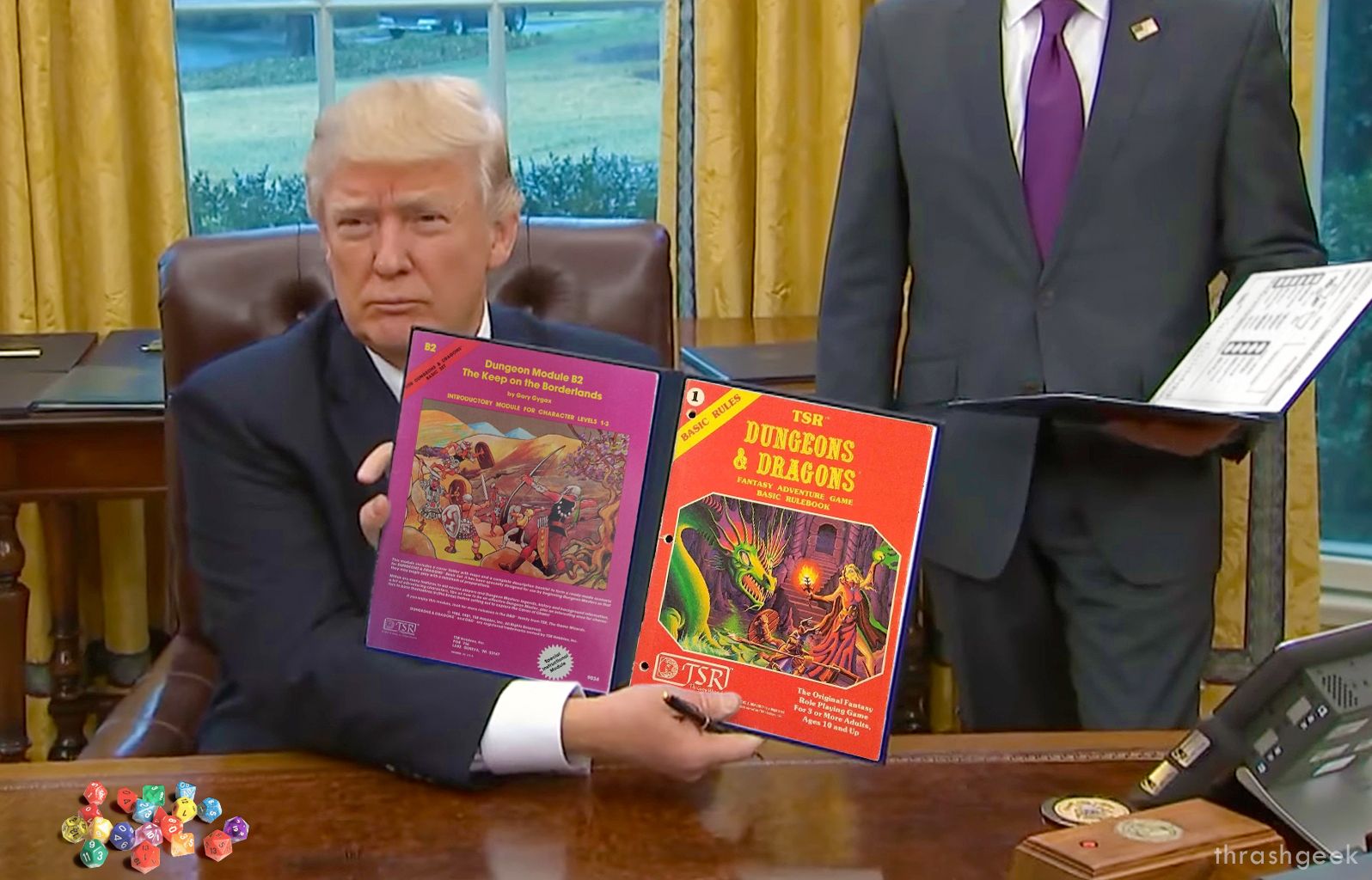 The knowledge originally researched and published by Drs. Elisabeth Kübler-Ross and David Kessler have become relatively common knowledge. Most people are aware that grief at a profound loss, such as the death of a loved one, moves through five phases: denial, anger, bargaining, depression, and ultimately, acceptance. While they most often manifest in this order, individual experiences might come in varying orders, omitting certain phases, vacillating back and forth between them. In most cases, they end with depression moving on to acceptance.
I suppose it makes sense that for people who found fundamentally emotional reasons to support Donald Trump's candidacies for President, his loss in November of this year would constitute an emotional loss triggering grief. I'll spare the armchair psychoanalysis of how one or another person might have got there. Suffice to say, for a percentage of people, the lame duck period is a time for grief.
Play The "Pence Card"!
Well, "denial" and "anger" and "bargaining" under these circumstances are forming a potent cocktail of alternative reality narratives. Take, for instance, this:
America, @VP @Mike_Pence MUST do this, tomorrow!

To defend our Constitution from our enemies:

Foreign: China, Russia, Iran

&

Domestic: BigTech Censorship, MSM Censorship, Corrupt Officials at the Federal, State, and Local levels!

Let him know! pic.twitter.com/GvBAlzeGFg

— "Activate Emergency Alert System!" Ivan Raiklin (@Raiklin) December 22, 2020
Which for many reasons (Let's start with "Why would anyone want the current state of affairs in this nation to persist?") leaves me invoking Ramona Flowers.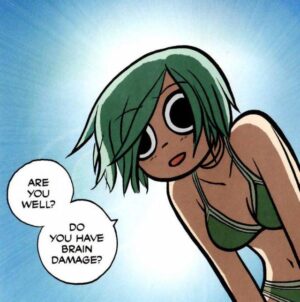 And in case the fellow eventually takes it down, here's the tweet's memorandum of law, following the classic law school IRAC format, setting forth someone's best attempt at a last-ditch means by which Donald Trump might somehow remain president after 12:01 p.m. on 20 January 2021: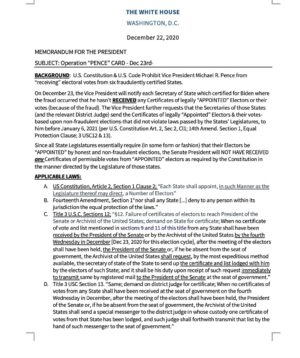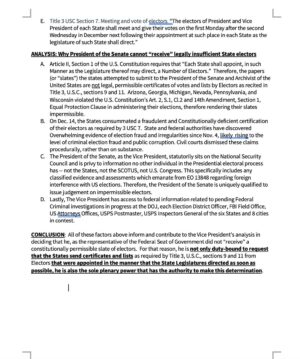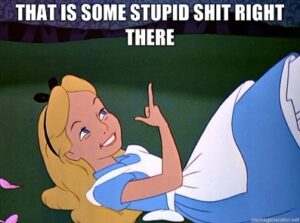 Why do I mock the memorandum so? It does, after all, correctly quote a variety of laws including the Constitution, and they are arranged in what appears to be a logical order.
The Kraken That Wasn't There
First of all, the whole thing is predicated upon the notion that there was MASSIVE FRAUD™ in only the relatively close states of Arizona, Georgia, Michigan, Nevada, Pennsylvania and Wisconsin. There are several reasons to be skeptical of such a claim on its face:
The states where this MASSIVE FRAUD™ allegedly occurred were won by Joe Biden and were relatively close votes (all under 3%; Georgia was around a quarter of a percent). But for some reason MASSIVE FRAUD™ seems to have not occurred in other close states like Florida or North Carolina (which were won by Donald Trump, by 3.36% and 1.35% respectively). Anyone who was paying any attention at all knows that Democrats wanted to carry those states too and tried hard to do so.
Organizing a conspiracy of three people is dicey enough; organizing the hundreds if not thousands of election workers needed to fabricate the results of not one but six different states' elections has somehow yielded no squealers, no evidence of actual chicanery, and really awful testimony from election monitors who didn't bother to show up for orientation or whose testimony was so awful it made people laugh out loud and required insistence from the witness that she wasn't drunk.
For some reason the organizers of the MASSIVE FRAUD™ engaged in tremendous, subtle, and difficult efforts to just barely carry six critical states to the Democratic candidate for President, but while they were phenomenally competent at doing that, they were also insufficiently competent at manipulating down ballot races that appeared on the same ballots, resulting in Democrats failing to secure control of the Senate and losing seats in the House of Representatives. The conspirators can't be ultra-competent and incompetent simultaneously.
Despite former Trump campaign attorney turned free-radical legal actor and two-legged FRCP 11(b) violation Sidney Powell 's promise to "Release the Kraken" and demonstrate MASSIVE FRAUD™, the lawsuits of her "Kraken" have wound up being laughed out of court, often as not by Trump-appointed judges or Trump-endorsed judges. Trump and his allies and his supporters have had over fifty bites at the apple and haven't yet found anything to back up the claims.
Attorney General William Barr, quite possibly Trump's biggest and most important political ally and henchman, has stated that the U.S. Department of Justice has looked hard but found no evidence of election fraud. Possibly at the cost of his own job.
We should look upon the factual premise of this memo with substantial skepticism. It is what Kübler-Ross would call "denial:" a refusal, or at least a failure, to acknowledge that the election was as clean as any of our elections ever are, and to what should have been no one's great surprise, Trump lost.
Why ought anyone be surprised about that? Biden was consistently leading in the polls and the projections. Trump has been visibly disinterested in doing the job of Presidenting from the beginning of his term. Trump got impeached for corruption and obstruction of Congress, and his defense wasn't "I didn't do it," it was "You didn't serve enough subpoenas (which I claim you don't have a legal right to serve) to be able to adequately prove I did it (even though I admitted doing it)." Trump badly mishandled the outbreak of COVID-19 and offered only lies in his own defense. Unemployment reached figures unseen since the Great Depression because of it, and our growing (albeit not particularly robustly) economy tanked because of it; we still haven't recovered fully and won't for a long time. The surprise is that the voters didn't treat him as though he were Walter Mondale or George McGovern.
And Trump's supporters are, it seems, following the cues of Trump himself, the protagonist of a 46-minute long Facebook video offering nothing but debunked conspiracy theories and rants, and rather pathetically seeks out anyone who might tell him there is a chance he can hang on to power. So, these fantabulists are simply following the cues given them by their leader. And he is very good at projecting both Kübler-Rossian denial as well as Kübler-Rossian anger.
Then, there's the rather inconvenient fact that 49 of the 50 states submitted Gubernatorially-certified slates of electors to the appropriate authorities on or before the statutory "safe harbor" deadline of six days prior to the actual vote of the Electoral College. As the linked article indicates, Wisconsin missed the deadline because of pending Trump nonsense litigation. But as we shall see, this basically seals it even if you think there were problems with the vote.
Rutherford Hayes Needed A Safe Harbor And Didn't Have One
Where does that "safe harbor" deadline come from, anyway? Why does that tie the hands of Congress and why is Mike Pence supposed to be such a critical player all of a sudden? It comes from the Electoral Count Act, codified mainly in Title 3 of the U.S. Code. This law was passed in the wake of the utter clusterfuck that was the 1876 election dispute of Rutherford Hayes against Samuel Tilden. Tilden got more popular votes, but Florida, Louisiana, and South Carolina submitted two competing slates of electors, one for Hayes and one for Tilden, and it's entirely likely that each competing slate was thoroughly tainted by corruption. Congress deliberated for days and eventually reached a compromise: it would find Hayes' slates of electors to be valid, and in exchange, Reconstruction in the southern states would end, allowing Democrats to take back power in those areas.
So, after needing to do that, Congress said, "Nope, not again," and now there are formerly obscure provisions of Title 3 which govern how electoral votes are counted.
One of those provisions is 3 U.S.C. § 5, where the "safe harbor" is found.
If any State shall have provided, by laws enacted prior to the day fixed for the appointment of the electors, for its final determination of any controversy or contest concerning the appointment of all or any of the electors of such State, by judicial or other methods or procedures, and such determination shall have been made at least six days before the time fixed for the meeting of the electors, such determination made pursuant to such law so existing on said day, and made at least six days prior to said time of meeting of the electors, shall be conclusive, and shall govern in the counting of the electoral votes as provided in the Constitution, and as hereinafter regulated, so far as the ascertainment of the electors appointed by such State is concerned.
"But Burt!" the guy who's posting above might protest. "You're missing the point! 3 U.S.C. § 12 gives the President of the Senate – that's Mike Pence – until the fourth Wednesday in December to say, "Hey, I haven't received any valid slates of electors!"
Well, no. You're doing what Dr. Kübler-Ross would call "bargaining." Trying to come up with some sort of transaction or thing you might do to change something that has both already happened and now has become immutable. The statute says … well, let's just quote the damn statute in full, so we know what we're talking about.
When no certificate of vote and list mentioned in sections 9 and 11 of this title from any State shall have been received by the President of the Senate or by the Archivist of the United States by the fourth Wednesday in December, after the meeting of the electors shall have been held, the President of the Senate or, if he be absent from the seat of government, the Archivist of the United States shall request, by the most expeditious method available, the secretary of state of the State to send up the certificate and list lodged with him by the electors of such State; and it shall be his duty upon receipt of such request immediately to transmit same by registered mail to the President of the Senate at the seat of government.
So, if nothing has been received by either the President of the Senate or the Archivist of the United States (see below) beginning on the fourth Wednesday in December, either of those officials may are to request slates from (in order) that state's secretary of state (per 3 U.S.C. § 12), or to the U.S. District Judge sitting in that state selected by the Governor to hold a copy of the slate (per 3 U.S.C. § 13). If they don't do it, they have to pay a fine of $1,000 (per 3 U.S.C. § 14). The author of the "Pence Card" memo won't accept any of those slates either, because those slates are going to suffer from the same problem as the gubernatorially-certified slates that have actually been transmitted (viz., Kraken-itis, aka MASSIVE FRAUD™, as evidenced by the fact that these states voted for Joe Biden).
But it's not up to the Vice President to ascertain whether a purported slate of electors, or the votes of those electors, are valid. 3 U.S.C. § 6 states that a Gubernatorial certification of the identity of Electors is conveyed to the Archivist of the United States, a Presidentially-appointed civil servant within the General Services Administration. The current archivist, David Ferriero, keeps an official blog, so he's all right in my book! And this has happened as to 49 of the 50 states, and the District of Columbia. Even not counting the one state that missed the safe harbor deadline, Wisconsin, Biden's victory is now legally sealed. It can't be stopped; at most, it might be delayed.
In particular, I call your attention to 3 U.S.C. § 15, which governs the actual counting of the electoral votes. I shall edit the punctuation to make its turgid text somewhat easier to understand, by way of inserting paragraph breaks where commas and semicolons appear in the original.
Congress shall be in session on the sixth day of January succeeding every meeting of the electors. The Senate and House of Representatives shall meet in the Hall of the House of Representatives at the hour of 1 o'clock in the afternoon on that day, and the President of the Senate shall be their presiding officer.

Two tellers shall be previously appointed on the part of the Senate and two on the part of the House of Representatives, to whom shall be handed, as they are opened by the President of the Senate, all the certificates and papers purporting to be certificates of the electoral votes, which certificates and papers shall be opened, presented, and acted upon in the alphabetical order of the States, beginning with the letter A;

and said tellers, having then read the same in the presence and hearing of the two Houses, shall make a list of the votes as they shall appear from the said certificates;

and the votes having been ascertained and counted according to the rules in this subchapter provided, the result of the same shall be delivered to the President of the Senate, who shall thereupon announce the state of the vote, which announcement shall be deemed a sufficient declaration of the persons, if any, elected President and Vice President of the United States, and, together with a list of the votes, be entered on the Journals of the two Houses.

Upon such reading of any such certificate or paper, the President of the Senate shall call for objections, if any.

Every objection shall be made in writing, and shall state clearly and concisely, and without argument, the ground thereof, and shall be signed by at least one Senator and one Member of the House of Representatives before the same shall be received.

When all objections so made to any vote or paper from a State shall have been received and read, the Senate shall thereupon withdraw, and such objections shall be submitted to the Senate for its decision; and the Speaker of the House of Representatives shall, in like manner, submit such objections to the House of Representatives for its decision;

and no electoral vote or votes from any State which shall have been regularly given by electors whose appointment has been lawfully certified to according to section 6 of this title from which but one return has been received shall be rejected,

but the two Houses concurrently may reject the vote or votes when they agree that such vote or votes have not been so regularly given by electors whose appointment has been so certified.

If more than one return or paper purporting to be a return from a State shall have been received by the President of the Senate, those votes, and those only, shall be counted which shall have been regularly given by the electors who are shown by the determination mentioned in section 5 of this title to have been appointed, if the determination in said section provided for shall have been made,

or by such successors or substitutes, in case of a vacancy in the board of electors so ascertained, as have been appointed to fill such vacancy in the mode provided by the laws of the State;

but in case there shall arise the question which of two or more of such State authorities determining what electors have been appointed, as mentioned in section 5 of this title, is the lawful tribunal of such State, the votes regularly given of those electors, and those only, of such State shall be counted whose title as electors the two Houses, acting separately, shall concurrently decide is supported by the decision of such State so authorized by its law;

and in such case of more than one return or paper purporting to be a return from a State, if there shall have been no such determination of the question in the State aforesaid, then those votes, and those only, shall be counted which the two Houses shall concurrently decide were cast by lawful electors appointed in accordance with the laws of the State,

unless the two Houses, acting separately, shall concurrently decide such votes not to be the lawful votes of the legally appointed electors of such State.

But if the two Houses shall disagree in respect of the counting of such votes, then, and in that case, the votes of the electors whose appointment shall have been certified by the executive of the State, under the seal thereof, shall be counted.

When the two Houses have voted, they shall immediately again meet, and the presiding officer shall then announce the decision of the questions submitted.

No votes or papers from any other State shall be acted upon until the objections previously made to the votes or papers from any State shall have been finally disposed of.
Whew. That's a lot. But, let's give the Congress of 1887, which wrote this monstrosity of statutory spaghetti, a break. The Hayes-Tilden election was a big mess that they really didn't want to repeat. And now we don't ever have to.
Here's How It Really Works
After the general election is done, it's up to an individual state to determine, under its own laws, which candidate's proposed slate of Electors shall represent that state in the Electoral College. If any such dispute can be resolved sufficiently that the Governor of that state (or such other executive as state law may designate like a Secretary of State or a Commissioner of Elections, but by default it's the Governor) will certify to the Archivist of the United States that "these people are our Electors for this election," by six days before the date of the Electoral College actually meeting and voting [per 3 U.S.C. § 7 that was 14 December 2020 this cycle], that's it. Per the clauses I reprinted in bold above, there are no other competing slates of Electors that Congress may recognize.
And in 2020, 49 of 50 states, plus D.C., managed to get this done by the "safe harbor" deadline of 08 December 2020, despite the barrage of frivolous litigation trying to throw chaff up against this. Also, every state has by now conveyed one, and only one, document to the Senate and to the Archivist setting forth slates of Electors and the Electors' votes.
Pretty pieces of paper in pretty envelopes, one (and only one) from each of the 50 states and one from the District of Columbia, has already been sent to the National Archivist. This has already happened. No amount of denial, anger, or bargaining will change that.
"But wait, Burt!" a Trumper fantabuslist might protest. "There were alternative, Republican electors who met in places like Georgia and Pennsylvania! They preserved Trump's bid for re-election! There are competing slates!" No, my dude, there aren't. None of those so-called slates have been conveyed by the Governors of those states, nor certified as the votes of the states' Electors, as described in 3 U.S.C. § 6. They don't count. And under 3 U.S.C. § 13, Congress cannot consider them at all. When those would-be Electors met, that was Constitutional cosplay, not a legally significant event. Kübler-Ross would call this more "bargaining," and it isn't helping you come to acceptance.
How We Count The Count
Now, as they're going through the states, alphabetically, if at least one Representative and at least one Senator is willing to file a written objection to a given state's purported vote, that objection is to be resolved immediately. Alternatively, it might be the case that two or more documents are received by the Archivist that both purport to be certified slates of Electors, or a state's votes are the subject of an objection.
In either such event, the House and the Senate split up and vote separately to resolve the dispute. They don't vote by state delegations, but by membership. Democrats have a majority (slimmer now) in the House and Republicans have a majority (slimmer now) in the Senate.
If the two Houses don't agree on an objection, the objection fails. If the two houses don't agree on which of two competing slates of electors to recognize, the slate certified by the Governor prevails.
Congress can't move on to count the next state's votes, until the dispute over the state at issue is resolved. And because of what parliamentary procedure is, it appears to me that once the Electoral College count begins, Congress can't consider anything else at all. It can't adjourn, it can't pass legislation, it can't meet in committees other than for consideration of the Electoral College.
So, the "Pence Card" fails because Pence, in his capacity as President of the Senate, can't lawfully go to any state other than Wisconsin and say "Hey, I think there's a problem with this here thing that looks like an Electoral College slate." It's certified by the Governor and that's dispositive. If he tries that with Wisconsin, Wisconsin's Democratic Governor Tony Evers will inevitably say back, "No, Mr. Vice President, you got the right one. Would you like another copy?" And that will be dispositive.
What Forcing The Issue Will Yield
And as North Carolina attorney T. Greg Doucette points out in this video, explaining essentially what I've run through in text above, if either Nancy Pelosi or Mitch McConnell anticipate their body voting in a way they don't like, they can simply refuse to hold a vote at all and bring the process to a standstill. See below for how that plays out.
Van Jones is WRONG: the Laws Governing the 2020 US Presidential Election
There's one other thing Mike Pence might try to do. As was graphically demonstrated for America about four and a half years ago, good faith discharge of Constitutionally-manded duties is simply not a thing when winning is on the line. So, what if it goes like this:
Teller: Here's Alabama's envelope, sir.

Mike Pence, as President of the Senate: [Opens envelope] Looks like 9 votes for Trump and 9 votes for Pence.

Teller: Here's Alaska's envelope, sir.

Pence: [Opens envelope] Looks like 3 votes for Trump and 3 votes for Pence.

Teller: Here's Arizona's envelope, sir.

Pence: [Puts envelope in pocket] Envelope? What envelope? I don't see any envelope. Arizona? Never heard of it.

Senator Kristen Sinema: What the actual FUCK?

Pence: What's the next state, Arkansas? I predict 6 votes for Trump and 6 votes for Pence. Will the teller please hand me Arkansas' envelope, please?
That isn't going to work. He can't move on to Arkansas until Arizona is resolved. He can stand there all day long and pretend like he's never heard of a magical place called "Arizona" before in his life even as Arizona's senior senator jumps up and down in front of him waving her purple hair everywhere and its junior senator says "Remember when you did this?" but it's probably the case that no one has the power to compel him to take that envelope out of his pocket.
More realistically, a Senator and a Representative would at that point interpose an objection. Remember, once the Electoral Count has started, Congress may consider no other business. And Congress may not proceed past the interposition of an objection. And so now, Nancy Pelosi, Mitch McConnell, and Mike Pence all have to agree that the count should proceed. And at least one of them in this scenario doesn't want to proceed, because the result would be adverse to their side.
And so, they would sit there. All of Congress. Doing nothing. For fourteen days.
Why fourteen days? Because this would be happening on 06 January 2021, the date prescribed by the first sentence of 3. U.S.C. § 13 for the Electoral College Count, and at noon Eastern time on 20 January 2021, Mike Pence's term of office as Vice President of the United States will expire. 3 U.S.C. § 101. At that instant, he will cease to be Vice President, and therefore he will also cease to be President of the Senate. In fact, in the case of Mike Pence, he will become a private citizen, as he has been elected to no other office at all. Presumably, he would accept being escorted off the floor of the House with dignity, but if not, the Sergeant at Arms would remove him.
In a case where there were an objection or a disputed slate requiring resolution, if either Speaker of the House Nancy Pelosi (a Democrat) or Senate Majority Leader Mitch McConnell (a Republican) didn't like how their body would vote, they could simply refuse to schedule a vote at all, and again, the electoral count would grind to a halt then and there.
There would, at that point, be no President and no Vice President. So, per 3 U.S.C. § 19, the Speaker of the House would at that point begin serving as Acting President of the United States, and the President Pro Tempore of the Senate would begin serving as President of the Senate. The Speaker of the House on 20 January 2021 will be, as it is today, Nancy Pelosi. The President Pro Tempore of the Senate on 20 January 2021 will be, as it is today, Chuck Grassley.
Grassley would then have two options. He could resume the electoral count — which would necessarily result in Joe Biden winning and becoming the forty-sixth President of the United States — or not, in which case Nancy Pelosi would serve as Acting President of the United States. And if Nancy Pelosi didn't like anything, she too has the power to halt things and assume the powers of the Presidency herself.
One way or another, a Democrat will be holding the power of the Presidency at 12:01 p.m., 20 January 2021. This is now inevitable.
There are no lawful scenarios in which we have either President Donald Trump or President Mike Pence or President Mitch McConnell. None. Can't happen, not lawfully. In theory Congress might change these laws that I've quoted and analyzed elaborately above, but that too requires the Democrat-controlled House of Representatives to agree, and why would it?
The only way Donald Trump stays on as President after noon on the 20th is by extra-legal, extra-Constitutional means. In other words, he has to instigate a coup.
I say he doesn't have the balls to try it. This is a guy who fires people by Twitter rather than by looking them in the eye. This is a guy who's put over a dozen businesses through Chapter 11's rather than face creditors with bills he can't pay. Vladimir Putin said something mean to him at the Helsinki summit in '18, and spent the rest of the time there as servile to the swaggering Russian as if he'd been a beaten dog.
Even if he were to try it, it's pretty clear to me that the military won't go along with it. I have a fair amount of faith in the young women and men with guns who are ultimately, the dispensers of force on behalf of the government. They're all pretty damn clear that their oath is to the Constitution, not to a person, and that they will not obey an illegal order. "I declare the Constitution suspended" is as obviously an illegal command as could possibly exist. The Marine Guard and the Secret Service would politely but firmly escort Former President Trump out of the White House and the Biden Administration would move in and that would be that.
And if all that fails, and Trump really gets enough of the military behind him to successfully declare the Constitution suspended, we have way bigger problems than what Mike Pence does with some pretty papers stuffed into some pretty envelopes. Elie Mystal in The Nation put it pithily:
Well, what's our plan for that?

My dude, I don't have a plan for "nothing matters anymore." The end of democratic self-government is not a thing one has a legal plan for. That's like asking what my plan is for closing a demonic hell mouth that opens in my backyard. Die. My plan would be to die. I'm not Keanu Reeves.
This is the right attitude. Don't waste a lot of time being anxious about a coup and the civil war that would follow. But do know that Trump is a bully, and bullies are at the end of the day cowards. Like the Proud Boys who stormed the Capitol in Salem, Oregon earlier this week, once faced with the reality of actually confronting people who could do them harm, bullies always back down.
Talk about a "Pence Card" or other bizarre quasi-legal theories are just Constitutional cosplay. It's LARPing the law, a political pornography intended to excite and please a particular kind of audience, but which is not in any meaningful way a reflection of the way things actually are. Donald Trump is, at long last, out of saving throws.
It's time to move on to acceptance. Four weeks from now, Joe Biden is going to be the next President of the United States. The only thing anyone can do about it now is maybe make Nancy Pelosi the Acting President of the United States for a little while, and from the perspective of someone who preferred Trump, that's hardly an improvement.
Like a lot of other things about the real world, you don't have to like it, but you do have to come to terms with it.