Winter is Here
Valentine's Day approacheth; I hear the strains of Barry White thumping off in the distance, and the smell of very cheap foil-wrapped chocolate hearts being mass-produced in a factory somewhere in Asia hangs heavy in the air.

As you may recall, the past couple years I've done a project where I examined the greater cultural meaning of romance novels. In order to do that again for 2021 (even though I swore I wouldn't, I was starting to think that maybe I would), I have to start my writing process now to have my pieces complete by mid-February, or in some cases, mid-March.

Well, screw that. 2020 seems like a highly unromantic time to be alive, with the thrilling possibility of burgeoning lust squelched by riots and disease and a seemingly never-ending quarantine that not even the horniest among us should violate.

I am just not feeling the love.
According to Joe Biden, it's going to be a dark winter, and even though dark winters often lead to overcrowded maternity wards nine months later, they are not synonymous with romance.

So I got to thinking, what's something else I'm very passionate about? Something, perchance, that has to do with dark winters, mad kings, the machinations of insanely ambitious first ladies, heartbreaking isolation, sociopaths, irreconcilably divided nations, mysterious foreign illnesses that people are very anxious about contracting, copious amounts of interpersonal violence, and a downright pathological shortage of toilet paper?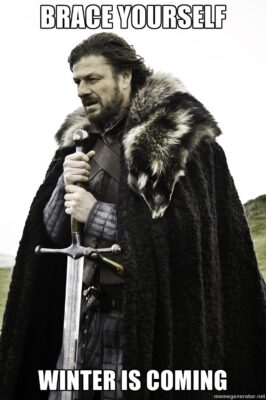 That's right, rather than bringing you a brief hectic season of Valentine's Day articles, I have decided to bring you a whole leisurely winter of Game of Thrones articles instead, unless I get bored with it, which is entirely possible.

I'm just saying, I did not see a SINGLE roll of toilet paper anywhere in Westeros, not even when Tywin Lannister got offed in the loo.
Game of Thrones IS the quintessential program for 2020.

No toilet paper. No toilet paper at all. Only the burning rage of a million irritated a-holes, suddenly crying out in anguish and then being silenced realizing OMG Game of Thrones creators David Benioff and DB Weiss are like, seriously, the worst writers ever. Yet the corporate lackeys at HBO – HBO, supposedly known for the quality of their television programming – unquestioningly handed this pair of unprepared, untalented schmoes complete control of a property that in the hands of, oh, I don't know, some chimpanzees with typewriters other than them, could easily have been one of the finest shows ever made.

(seriously, read this thread in which D + D outline how little they cared that they were complete hacks who didn't understand what they were doing! READ IT! (Game of Thrones' creators confirm that they had no clue what they were doing – BGR)

And may I just say, in HBO's defense, they actually TRIED TO GIVE THESE MORONIC TWITS MORE MONEY AND MORE EPISODES and the dumb clucks were like "nah, we got this" as if they were playing some twisted version of Name that Tune or something. "I can ruin this show in 8 episodes!" "I can ruin it in seven episodes!" "I can ruin this show in SIX episodes!" "Ok, David Benioff and DB Weiss, RUIN THAT SHOW!"
Toilet paper aside, nothing illustrates the ol' 2020 spirit of dysfunctional inept authority figures chronically mismanaging valuable and beloved cultural institutions into oblivion quite like Game of Thrones.
I've actually watched Game of Thrones twice. The first time was right after it was completed and everyone was saying how crappy it was. For some reason, probably the spectacle I was seeing, coupled with the fact that I kept dozing off during those interminable scenes in Mereen and thus missed the worst excesses of Euron Greyjoy, I thought the claims of extreme badness were possibly a bit exaggerated.
I mean, Seasons 5-8 obviously weren't anything near the caliber of the first four seasons, but meh, what are you gonna do. I'm disappointed by like 98% of the stuff I watch. It's a rare show that not only meets, but exceeds my expectations. (I insist you drop everything you are doing and watch The Queen's Gambit immediately.)

Thus I chalked up much of the GoT hate to general Internet groupthink, like hating Nickelback and liking Benedict Cumberbatch and liking Chris Pratt but then hating Chris Pratt. And I gave it no more thought.

Then the other week my husband innocently suggested, "I was thinking we should rebinge Game of Thrones, because I really want to see how it all fell apart and if it was as bad as I remember." This was probably because he was sick of hearing me rage about the Baby Yoda Incident, and even more probably because boobs, but I took him at his word and agreed. Firstly because I have found that there is nothing more instructional for a writer than forcing yourself through something that sucks, repeatedly, and secondly because Shirtless Momoa is always welcome upon my television screen.

And oh my ever-lovin' Lord of Light (who apparently is nothing more than a sadistic mindf*cker) was it ever awful. With novelty and sleepiness removed from the equation, I found much to my surprise, even the first four seasons of Game of Thrones which I'd originally thought were fairly ok had some pretty significant flaws, and the last four seasons were freaking terrible.
I have been muttering under my breath ever since.
It's been said that the writing in the last couple of seasons of GoT resembled fanfic, in which every "cool" character does cool things with ultimate levels of coolness and then characters that are less cool wander around aimlessly with nothing to do except for when they're needed as plot devices for the cool characters.

I can't disagree with this interpretation, not at all. By the way, apparently, in the way Benioff and Weiss interpret the Game of Thrones universe, Tyrion – TYRION – is somehow not a cool character, reduced to moping around being Dany's bitch, and for reasons I will never comprehend, they apparently believed Ramsey Bolton IS a cool character, deserving of what felt like endless hours of screen time, aka torture porn.

Thanks, I hate it!

My second binge of Game of Thrones was like the only time in ever the Internet was actually right and something was WORSE than I thought. Usually it's so totally the other way around!

I now loathe Game of Thrones so much I'm rereading the books as a palate cleanser, even though I have a lot of other more pressing things to do than reread massively long tomes I've already read three times. Like writing massively long tomes about things people have already written about quite a lot already – such as the suckiness of HBO's Game of Thrones.

It's true, people have already gone over all this ground before, ad nauseum. Game of Thrones is more churned up and trodden over than the path to Cersei Lannister's bedroom, if you know what I'm saying. But I'll try to put my good ol' atomic spin on it for ya, and maybe I'll find something heretofore undiscovered.
Or not, but at least I'll feel better for getting it all off my chest. Maybe I'll stop wandering the house at 3 am gesticulating wildly, delivering a tirade about how ridiculous it was that Uncle Benjen, or as I like to call him, Uncle Deusexmachina, appeared twice just at the perfect second to save his nephews.

NOT JUST ONCE BUT TWICE.

So come with me, and we'll be, in a world of pure imagination, surrounded by hordes of murderous ice zombies, murderous religious fanatics, murderous backstabbing plotters, murderous bastards, and me ranting murderously about all of it.

But hey, as I look around the actual world, a world of pure imagination, even an extremely mediocre one, kind of feels like an improvement.