Sunday Morning! "The Bells of Christmas" by Henry Wadsworth Longfellow
In certain years, the holidays seem like the finish line of a very long and grueling race: less an occasion for celebration than for surrender and collapse. I think many of us are experiencing that feeling of exhaustion in this particularly grueling year. We've seen loved ones contract a horrible virus, or we've contracted it ourselves, and in some cases we've lost loved ones. Many of us have lost our businesses or homes, and with them our simple sense of purpose. We've been failed, in too many cases, by weak and venal bosses, leaders, and more than a few old friends. It's been an isolating, lonely year too; when it felt like we most needed each other, we were all declared to be potentially infectious. And then, throughout most of the year, we all watched as the most powerful nation on earth, the place of my birth, seemed about to collapse into dysfunction and civil war for the second time in its history. 
In many ways, the nation's soul was made, and nearly lost, in the last civil war. I grew up, near the Bull Run battlefield, hearing stories from people, men mostly, who seemed to have never recovered from the trauma of a war they couldn't possibly have seen, and which never seemed quite settled in their minds. It was the year following the second battle of Bull Run that a somewhat more desultory battle was fought not so far away in Orange County, Virginia, that nevertheless ended hostilities in the Eastern front for about a year. The Battle of Mine Run was noted for its low casualties and for having concluded to no one's real satisfaction.
One of the soldiers who was severely wounded in the battle, however, was Charles Appleton Longfellow, son of Henry Wadsworth Longfellow, already a famed professor, translator, and poet. The elder Longfellow was also a devoted abolitionist, although he hoped for a peaceful reconciliation of the states, and he was terrified of the madness of battle. His son, therefore, joined the Union Army without getting his father's blessing and was nearly killed. He would recover, but his military career was effectively over. His father received the news right before Christmas.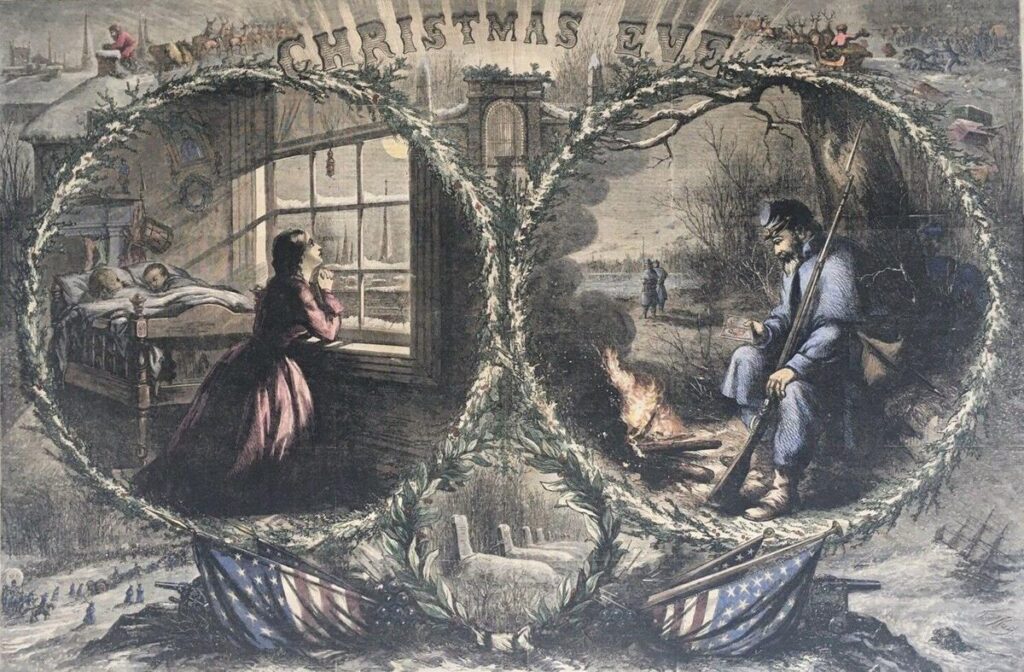 It is hard to imagine a poet having greater professional triumphs than Henry Wadsworth Longfellow. He was born in what is now Portland, Maine, to a family that traced its line back to the Mayflower. He was a precocious boy who began school at three, was enrolled at the Portland Academy at six, had his first poem published at thirteen, and was soon fluent in Latin. He studied at Bowdoin College, where he made fast friends with Nathaniel Hawthorne. By the time he graduated, 40 of his poems had been published and he had delivered the commencement address. He returned to teach there, but only after making a three year tour of Europe, at great expense to his father. Before long, he transferred to teach at Harvard.
His poetry was fluid and lyrical and drew from European literature, then in the heat of Romanticism. It is easy to see why his epic poems like "The Song of Hiawatha" and "Evangeline" were so well-regarded; they're musical and visual, moving and memorable. But it's also understandable that Longfellow's reputation declined after his death. His poems are simple in a way that suggests either shallowness or reserve- all indications point to the latter. They can feel slight and unchallenging. Or, they can seem like the barest point of Hemingway's iceberg. There was clearly much going on below the surface. He's holding something back.
It is also hard to imagine a poet having greater personal tragedies than Longfellow. His first wife, a childhood friend Mary Storrer Potter, died from a miscarriage while they were traveling abroad so that he could study foreign languages. She was 22 and he was grief-stricken. He wrote the poem "Footsteps of Angels" about her and those lost in his youth, with its lines:
They, the holy ones and weakly,
  Who the cross of suffering bore,
Folded their pale hands so meekly,
  Spake with us on earth no more! 

And with them the Being Beauteous,
  Who unto my youth was given,
More than all things else to love me,
  And is now a saint in heaven. 
He would eventually marry Francis Appleton, the daughter of a Boston industrialist, after an intense, frustrating, and passionate courtship that lasted seven years. She finally relented and they had six children- Charles was the first. By all accounts, she was the great love of his life. It's also hard to imagine anything more terrible than what happened to Francis. As the New York Times reported:
While seated at her library table, making seals for the entertainment of her two youngest children, a match or piece of lighted paper caught her dress, and she was in a moment enveloped in flames. Prof. LONGFELLOW, who was in his study, ran to her assistance, and succeeded in extinguishing the flames, with considerable injury to himself, but too late for the rescue of her life.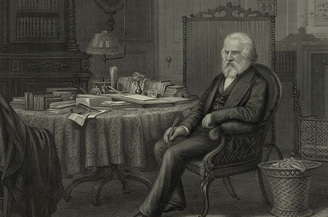 Longfellow was of course devastated by her death and never really recovered, coping with isolation and the regular use of Laudanum, a derivative of opium. He was known throughout his life for a reserved and sweet disposition, but also suffered severely in ways that he largely kept secret. Similarly, the long beard by which we know the poet was grown to cover his burns from the fire.
So, if anyone had reason to dread Christmas in 1863, when his firstborn son was lying severely wounded in Virginia, just two years after his wife's horrific death, it was Longfellow. Nevertheless, he wrote the poem "Christmas Bells," which we all know, of course, as the song "I Heard the Bells on Christmas Day." 
In the first stanzas, it's as if the sound of the bells are rolling towards the listener and poet. But, knowing the context, gives them a chill:
I heard the bells on Christmas Day
Their old, familiar carols play,
     And wild and sweet
     The words repeat
Of peace on earth, good-will to men! 

And thought how, as the day had come,
The belfries of all Christendom
     Had rolled along
     The unbroken song
Of peace on earth, good-will to men! 

Till, ringing, singing on its way,
The world revolved from night to day,
     A voice, a chime,
     A chant sublime
Of peace on earth, good-will to men! 
It took me until very recently to realize that, for the triumphant tone of these early verses, at first that tone is only coming from the bells. They are rolling out the unbroken, sublime song, but the poet is, at first, only numbly registering the sound. And it's soon challenged by a louder sound.
Then from each black, accursed mouth
The cannon thundered in the South,
     And with the sound
     The carols drowned
Of peace on earth, good-will to men! 

It was as if an earthquake rent
The hearth-stones of a continent,
     And made forlorn
     The households born
Of peace on earth, good-will to men! 
These verses, it should be noted, are frequently left out of the song. However, they would have made sense to anyone reading the poem when it was published in 1865. It's as if the poem stages another battle, between the sacred bells and blasphemous cannon fire, in which the soul is won or lost by the ears. And then Longfellow reaches the point I think every one of us has been to, particularly this year. This more perennial verse is generally included in the song:
And in despair I bowed my head;
"There is no peace on earth," I said:
     "For hate is strong,
     And mocks the song
Of peace on earth, good-will to men!" 
But then the bells respond and the poem, at least, reaches a conclusion that is harder to imagine, but very easy to hope for:
Then pealed the bells more loud and deep:
"God is not dead, nor doth He sleep;
The Wrong shall fail,
The Right prevail,
With peace on earth, good-will to men."
It is a conclusion of quiet optimism: the battle is not over, and we might not be ready for peace on earth, just yet, but we will get there, the poem says. It's hard to imagine having this kind of faith. I'm not sure I could get to that point, frankly. I'm not sure Longfellow could get to that point- after all, the bells are talking, but is he really hearing them? And, after a year like the last one, I'm not sure how many of us could heed the call to peace or good will. But, we made it to the holidays and the end of this wretched year is fast upon us. So, maybe, with luck, we'll get there.
So, what are YOU listening to, reading, pondering, playing, or praying for this weekend?