Saturday Spins: John Prine's Common Sense
This week I visit the third release from a singer-songwriter that left us this year due to complications from Covid-19. I think I had mused in an earlier piece about how I never pulled the trigger on purchasing this dude's albums, despite having some chances to do so. Now, the market has calmed down a bit due to some reissues flooding the market. Last week we all took a journey though the soul sounds of Leon Bridges.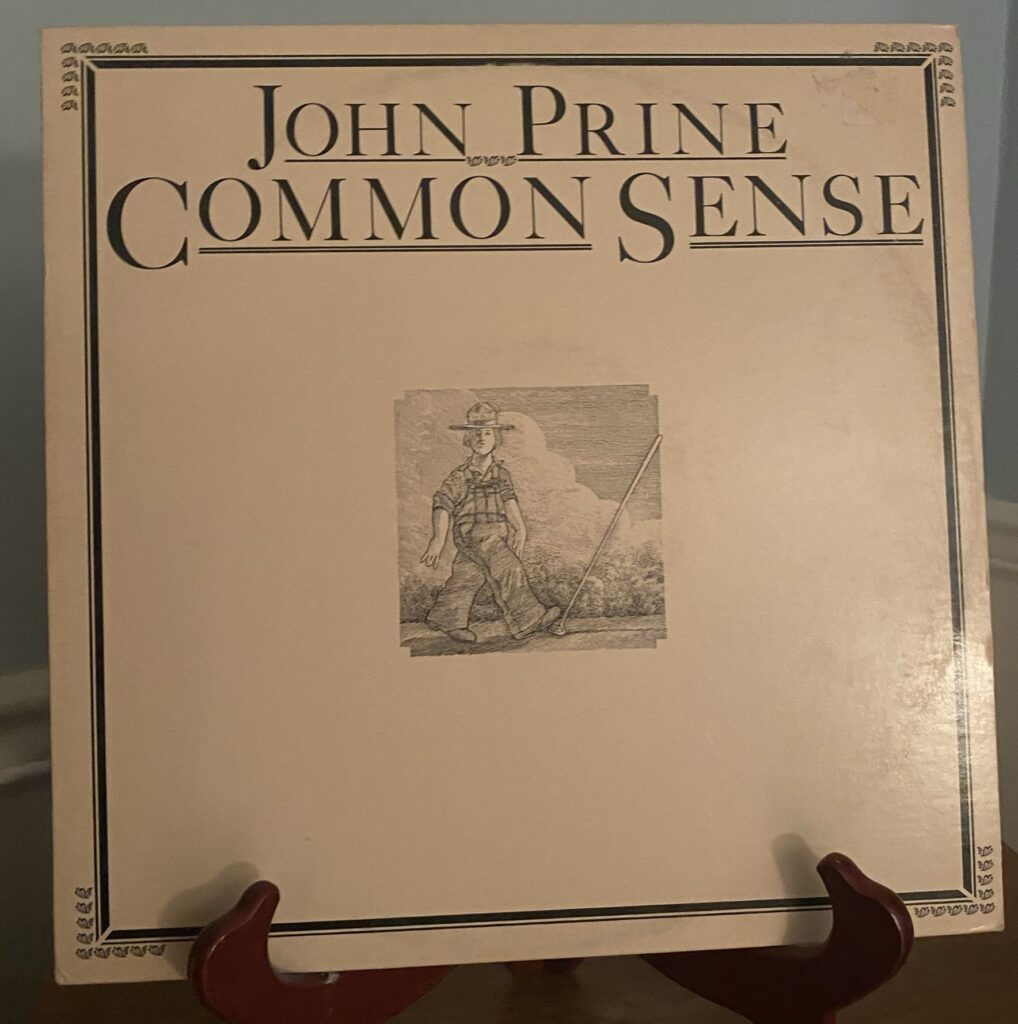 John Prine
Common Sense
1975
Commentary
Of the three Prine LPs I own, this is the only one that isn't a reissue. Common Sense is the third albums of the four in the so-called "Atlantic Years." On a Record Store Day "drop" this year they had a box set of the first four Atlantic albums--unfortunately I was unable to acquire one of the 2000 pressed. Now they go for about, uh, a lot on the secondary market. I was able to snag this on a Facebook auction for a lot cheaper than it usually goes for.
I paid reasonable prices for the new reissues of both John Prine and my all-time favorite, Sweet Revenge, when Rough Trade records put them up for preorder in September. It's unfortunate that we lost John Prine this year, especially because his death was probably wholly preventable. He is up there on my singer-songwriter Mt. Rushmore with Dylan, Petty, et. al.
The artwork is pretty simple, it features a humorous depiction of a dude stepping on a rake under the apt title of the album. A lot of cool personnel played on this album, Glenn Frey, Jackson Browne, and Bonnie Raitt all have credits.
Track by Track
1. Middle Man
Prine is a folk artist, well, kind of like a folk-country artist. On this album though, he kind of brings the funk on a few tracks. Some are more classic Prine country ditties with clever wordplay, but others are more of a crossover to funk rock. "Middle Man" kind of straddles the line between those two descriptions. Still with the great lyrical content though:
If I could get the money in that coffee can
I could open me up a lemonade stand
Send all the kids off to Pakistan
Make Flo happy, if I can
2. Common Sense
The title track is a classic Prine ballad with a little country tinge. A lot of critics complained that the music drowned out Prine's vocals on this LP, but not on this song. It is the perfect mix of some acoustic guitar, some pedal steel, piano and even light synth in there. Much like the times we currently living in, "It don't make much sense/That common sense/Don't make no sense no more.
3. Come Back to Us Barbara Lewis Hare Krishna Beauregard
That is a quite a title. The song itself is about the casualties of the 1960s hippy culture. It may have been a lot of free love, dancing, and drugs, but the cultural movement did produce a lot of casualties, whether they be ones that died, or ones that lost everything to live a nomadic lifestyle--some even falling victim to a certain religion movement…
4. Wedding Day in Funeralville
Probably one of my favorites on this one because it is classic John Prine. Although the pre chorus sounds a little kitschy with the background vocals, the end lyrics makes it all worth it, "It's a wedding day in Funeralville/What shall I wear tonight?"
5. Way Down
A sneaky song about depression. It has Prine singing through the seasons with little hints that the song subject is paralyzed by depression and anxiety in a couple of different ways. It sounds like a typical folk song at first listen, but a deeper listen and you can tell he was hurtin' in some way when he wrote this one.
6. My Own Best Friend
Here is a song that I feel like would have been better suited in a slower tempo with just an acoustic guitar. However, they made it work with a bigger rock sound. I am a bit disappointed that the guitar is so dampened though, because there is a slick little lead that is played at the tail end of the chorus.
7. Forbidden Jimmy
This song is noticeably out of place on this album. It almost sounds like a music for a cruise. It does feature clever Prine lyricism, but the weird Caribbean sound and the background singers make it seem kinda weird.
8. Saddle in the Rain
This one is that funk-country crossover I discussed earlier. It's a song about being disappointed in friends and family. It sounds like it belongs on the soundtrack for a disco western. Other than "Barbara Lewis…" above, "Saddle in the Rain" was featured on a compilation of the best songs from the Atlantic years.
John Prine - Saddle In The Rain
9. That Close to You
Sometimes these LPs, despite being meant to be played front to back without skipping, contain songs where the artist just doesn't seem like he or she is really in it 100%. They might be "phoning it in" as they say. That is how I feel about this song, which is pretty homogenous as far as the rest of the songs on the album.
10.He Was in Heaven Before He Died
This song id partially about Prine's father who died in 1971. It is a very good acoustic guitar driven track with a very slight pedal steel lead playing in the background with an eerie and soft melody that befits the song's subject matter. It's really an underrated song.
11. You Never Can Tell
As written by Chuck Berry, but covered by John Prine. He does it justice as Bob Seger did as well. One of my favorite songs of all time. Prine gives it a more of a rockabilly sound as an homage to Berry, while Seger does a pure rock version. I must say, I do prefer the Bob Seger version, though.