Saints, Sinners, and the Limits of Public Policy
Covid-19 hit the national consciousness in February and has rocked almost the entire world ever since. Despite various claims that "the pandemic is over" it very much is not. Not just as a matter of public policy, but also global economy apart from public policy. The world divided into Covid Hawks and Covid Doves. Those who advocate a strong response to the virus, and those that would let it run its course1.
From the start, though, I have believed that one of the errors we have made quite regularly is that under-rating simple luck as a key component. For various reasons, we held to this idea that the virus itself has moral agency. That it is watching us, judging us, and behaving accordingly.
And so we have divided the world, and the country, into saints and sinners. Despite some early missteps, Andrew Cuomo went on TV and said that the southern states were struggling because they "played politics with the virus and lost". The US was depicted as a unique failure because of Trump and because we didn't "do the work" and "Follow The Science".
This dynamic was riding high in early summer. But while nobody was looking, it started falling apart thereafter. What was originally "The United States is the only country to fail so badly" gave way to "many other countries have succeeded" which gave way to "Look at these two island nations and these Asian countries we could have been them."
Examples picked for good states and bad states, good countries and bad countries, have had to become more specific and are starting to take on a more cherry-like appearance. Okay, that's not quite fair, but examples are continuously chosen to accentuate differences and other examples that conflict with that narrative are ignored. And explanations given for performance have been reduced to policies… whatever those policies happened to be.
Let's Talk About Sweden
Because they are such a policy outlier, Sweden has been everybody's favorite example. When Sweden was doing poorly, they were a cautionary tale. Then they were doing well, and they were an example than the other side had to explain away. Now they're doing poorly again, and they're a cautionary tale again.
Until recently, Sweden's policies hadn't really changed. But during the summer, when they were doing well despite leaving everything open and eschewing masks with limited test-and-tracing, their limits on group gatherings were singularly cited as the reason they weren't struggling. The other things didn't matter so much because of that. Limiting gatherings is "doing the work." Now it's a different matter, and everything else caught up with them. Compare them with Norway and Finland, after all.
Oh, by the way, Norway and Finland are similarly lax in their policies and have been throughout. So what's the difference? Well, different levels of mask adherence. That must be it. Masks make all the difference. Masks, now, and not limiting gatherings, is "doing the work."
Eventually it starts to sound a lot like Sylvania is struggling with the virus even though they wear masks because they left restaurants open, while Freedonia is doing well because even though they left restaurants open they have good mask compliance.
Find the difference in outcomes. Look for the policy differences. Attribute the difference directly to that policy difference. Rinse. Wash. Repeat.
Let's Talk America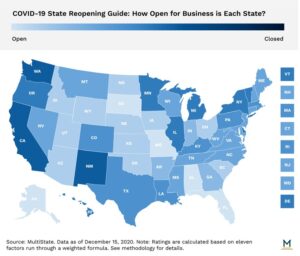 There is a similar morality play in the United States, both internally and projected internationally. The Villain in our play is South Dakota, with their loud and intractable governor who waved the flag and bible as her citizens died at astonishing rates. South Dakota had bad policies and people died.
I don't believe, for what it's worth, that this is wrong. Insofar as with better policies, more South Dakotans would be living today. But South Dakota's policies were not uniquely bad, and places with similarly relaxed policies have done as well as places with stricter policies.
The Midwestern Plains
As luck would have it, South Dakota's neck of the woods is the easiest place to see it because you have states with populations over two million people existing side-by-side with dramatically different policies. What difference did they make? Let's take a look.
Two of these states had strict policies (Minnesota and Illinois), and three had relaxed (Iowa, Missouri, and Indiana). Can you tell which is which? (You can click on the images to see. All US-specific data from the Covid Tracking Project)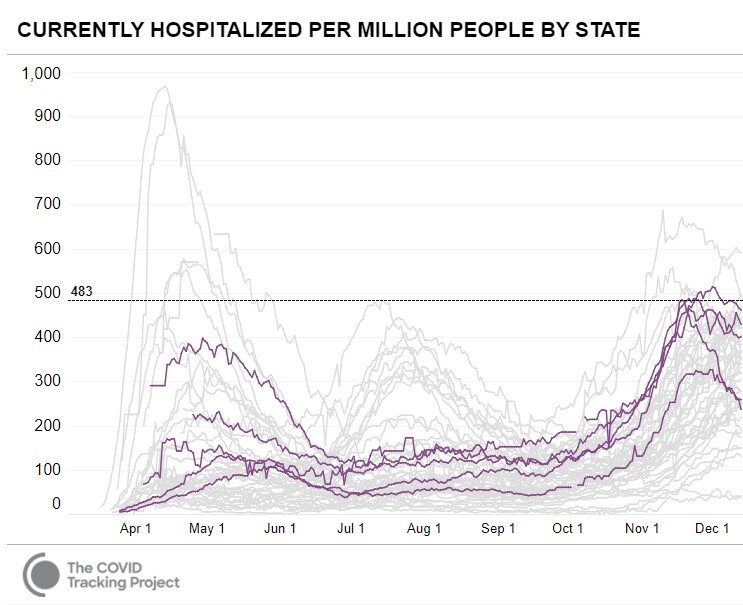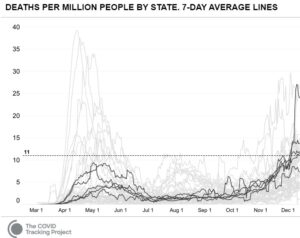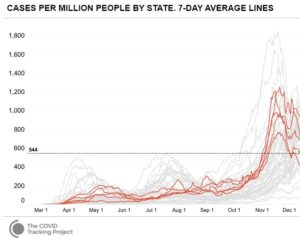 On the hospitalizations graph, Minnesota is an outlier. Since Minnesota is one of the stricter states, does that show us something? Well, not according to the other graphs. And Illinois doesn't look good in any of them. Iowa is the high death state, which may prove a point, except that case counts and hospitalizations aren't noticeable.
I highlight hospitalizations because it is my preferred metric in general. Caseloads can be a product of increased or decreased testing. Deaths also have a lot more confounding variables in terms of state health care system and quality. But pick whichever metric you think is most illuminative. Just be sure you are not doing so to further your point. They are all relevant. The lack of consistency between them is as important as anything. The data is muddy.
But what about the Dakotas? Am I cherry-picking by leaving them off? No. I consider lower population states to be less instructive in general, which is why I focus on their more populous neighbors. With smaller states, it's easier for things to go really wrong when they go wrong, whereas an outbreak in Minnesota is balanced out a bit by all the parts of the state not experiencing an outbreak.
My view is that the best way to look at the Dakotas is what happens when you have an intersection of policy, luck, and other confounding issues. Not holding a giant biker rally seems like good policy advice2, but it's of limited use to states that never planned on doing so.
A confounding factor to all of this is that these states are next to one another and state borders are by their nature porous. So Minnesota and Illinois having strict laws is like having a no-urination-allowed end of a swimming pool. This may be true to an extent, but that would more likely mitigate differences than seemingly all but eliminate them. If Missouri's and Indiana's lax policies are the cause of Illinois's problems, you'd expect Illinois to be less bad because there'd be less spread within its own borders.
Our Biggest States
One way we can investigate this is by looking at our biggest states, which as luck would have it are almost perfectly well spaced. We have California on the west coast, Texas is the southern central, Florida on the far southeast, New York in the northeast, and Illinois in the northern central. Further, we have three strict states and two very relaxed ones. Here is what we have from them: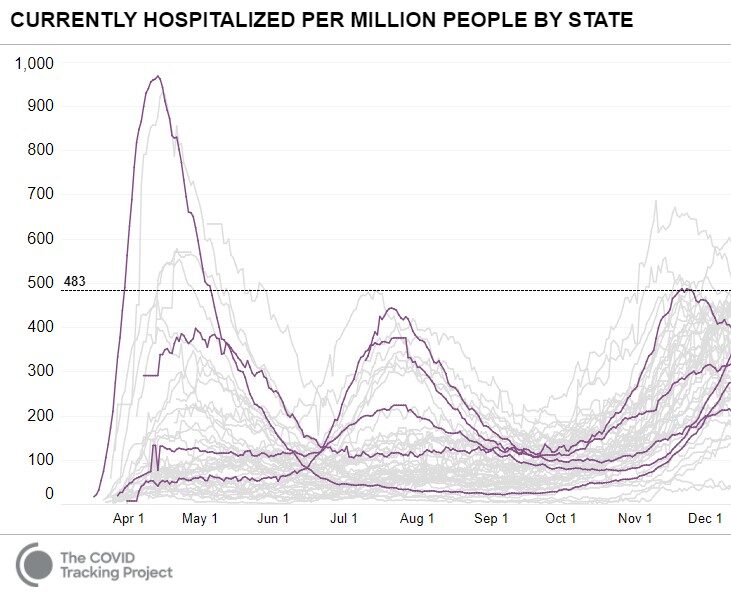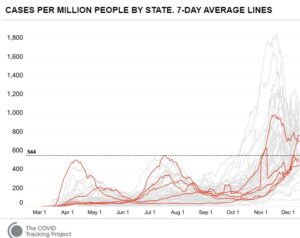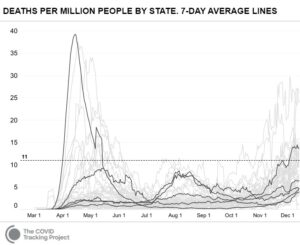 Can you tell which are strict and which aren't? You can probably identify New York in the spring (and we can cut them some slack because they were hit so early). You can also see Texas and Florida having a tougher summer. The two outlier states with the high case count are California and Illinois. Illinois is the outlier at the top of deaths and hospitalizations.
This data appears even murkier than the midwestern plains data. If the primary input is policy, this is simply not what the data should look like.
So Why Is The United States Doing So Poorly?
We have some of the most lenient policies, worst administration3 and the worst outcomes, right? That hardly seems like a coincidence. We are worse than almost all of the nations mentioned in the international section except Sweden, which also had lenient policies. How much more QED do we need? Looking at states is a distraction because it's all under the national umbrella!
I think the best way to look at Covid in the US is primarily as a regional matter. Our national numbers go up or down mostly depending on outbreaks occurring at various places even while other places are often holding steady or improving. The fact that the southern states got hit so hard over the summer sure does seem related to the warmer weather driving people indoors4 and it does look like colder weather is doing the same in the north. Not universally, but somewhat.
What's noteworthy, though, is that two of the countries often cited as having the best response had responses decentralized like ours (although also not like ours). There is a case to be made that the provinces of Canada and the landers of Germany acted with better support from their national government than what our states had, but it's not the case responses must be national in nature.
But it's important to note that other countries are doing poorly, too, and this matters. For example, with the exception of Canada, the United States isn't doing that poorly in the Americas. Only recently have we darted ahead of the other populous nations. Canada, not the US, is the most significant outlier (though we are becoming more of one and they are become less of one). To be blunt, doing better than Latin America is the minimum we should aspire to. But the data here also points to climate issues being significant yet again.
With the exception of a few weeks a couple of months ago we have been doing a lot worse than Europe. One of the arguments for why Europe has gotten worse is that they lightened up. This is true, but it assumes that permanent lockdown (which I was told was a strawman) was a viable alternative. Of course they were going to loosen up. Over the summer we were told that they could have nice things because they were saints while we sinned in the late spring and early summer. If the lesson is no loosening up, nothing was ever going to go differently in the United States. Or, for that matter, Europe.
But while even though they are not as bad off as we are, that they are struggling is important precisely because it indicates that keeping this thing suppressed is not simple or easy, as we were told it was, for us and our peers. It also demonstrates a degree of fallacy in "We can't open schools now because we didn't do the work earlier in the year." A lot of Europe is well above the infection rates people were saying we needed to keep schools closed. "Skip Thanksgiving to save Christmas" was never going to work because skipping Thanksgiving wouldn't, if Europe is any indication. And so on.
That Europe went deeper into lockdown than us for longer likely did play a role in their success. Better administrations over there are also probably helping somewhat. Climate is probably also a factor.
More fundamentally, though, the United States has numerous structural disadvantages. Even compared to Europe, but especially compared the handful of countries currently held up as exemplars.
What About Islands and Asia?
Since things in Europe faltered, one of the new lines is that Australia, New Zealand, and Asia beat the virus because they are the ones that "did the work" and "followed the science". Pointing out that each success story falls into one of two categories (or both) is treated like some sort of defeatist copout. But it's a pattern that is really difficult to deny, and there are logical and intuitive reasons why this might be the case.
Asia has much more extensive experience with this sort of thing. That's likely a point in favor of "Public policy matters a lot!" but it also demonstrates what an uphill climb that was going to be in the US and Europe. Not just because of Republican intransigents, but getting even Democrats on board with what things they agreed to pretty quickly. We're new at this and I think that was always going to hurt us no matter how many plans we had drafted up. We could have just listened to them, but our institutional constraints are different than theirs, and some of the things we didn't listen to them on (such as masks) were not right-wing US affairs.
Being an island does not seem in itself that big of a deal, except that it frees up a lot of public policy levers that are more difficult for everyone else. The one state to implement a strict quarantine program in the US? Hawaii. Coincidence? Probably not. Hawaii has the lowest prevalence of any state, followed by Vermont. If we count territories as states, Guam, Virgin Islands, and Puerto Rico would be ranked #2, #3, and #5. Every island territory we have appears to be doing well. I can count on one hand the number of states where forced quarantine was a viable option.
But what you really need is the ability to keep people out and keep them still. Which the United States of America in particular is very ill-suited for. In some ways, our system of federalism is the worst of both worlds. The decentralization prevented a more national response that might have helped (or might not have). While EU countries could close their borders and nationally act in a coordinated manner, we are a sprawling, interconnected country without the capacity to act nationally and also without its constituent parts being able to lock down. Some places try, and have continued to try, but it's hard and to a constitutionally curtained in scope.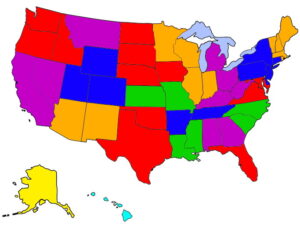 Meanwhile, in Canada, the maritime provinces all but closed their borders. I actually drafted what some state bubbles would look like in the US, but it was extremely hard and almost all of the options would have involved splitting up integrated metros. I tweeted it, and the response I got was that it was not viable.
The successful places had options that we didn't. Though, even if we did, I'm not that optimistic we would have done what needed doing. Because nobody really wanted to.
Nobody Wanted To Do What It Would Have Taken
Early on, one of the things that made me feel better is that it seemed like even marginal steps added up, from a policy standpoint. Scalable action is extremely helpful for a decentralized country with a lot of pressure points when it comes to personal freedoms.
It turns out I was wrong. Half-measures don't result in half-success. They matter on the margins, but only just. A lot of Covid hawks realize this when they say things like "We were never really in lockdown." To the extent that this is true, it ultimately indicates that lockdown is not a policy lever available to us. Not on the scale needed to be successful. It actually makes me less, rather than more, amenable to shutting things down. Not just because of Republicans.
Why do I say that? Because when I look at the things that would have helped the most, nobody wanted them. Nobody of note advocated them. Many that say we didn't go far enough argued against them. Sadly, I have to admit that I was one of the ones who didn't want to do it.
The number one thing we could have done was shut down all incoming flights, subject to strict quarantine. The person that came closest to advocating this was President Trump, but this is one of those full-measure-only things and he didn't want to do that. Instead he gave Americans abroad, including those with the virus, an opportunity to come home and then shut things down. There was no support for a more comprehensive travel ban from the opposition (quite the opposite) or public health.
The next big thing would have been grounding flights. I was really afraid of this because my wife works across the country and flies back and forth, but it was never really discussed nor advocated for by people in power. My opposition to this is one of my bigger regrets. We should have just moved west for a while, to be near her job.
The most effective things we could have done almost all involved travel, travel, and travel. But instead we let New Yorkers and northeasterners infect the rest of the country. Andrew Cuomo gave his "You played politics and lost" speech to states he was (ineffectually) banning from entering NY without a quarantine, but he threatened to sue the states that took similar action against New York. President Trump threatened to completely isolate New York and people responded with horror. It may have been the most effective proposal put forth, but it was by then too late, not serious (more punitive and meanspirited than epidemiologically-driven), and we just didn't have the stomach for it.
There is an attempt to downplay it now, but what the people actually did was pretty extraordinary in my view, given the givens. There is an argument that we could have done more if we had just paid people to stay home and I agree with that to an extent. I have found that the people who say that dramatically overestimate what was ever possible, however. The reasons it burned out were not solely or even primarily economic. Europe couldn't hold on to it indefinitely either. The successful Asian countries didn't even shut down.
As it is, the severity of our response is not appreciably different from peer countries.
Where Does This Leave Us?
I'm sure this piece sounds nihilistic and maybe it is, to an extent. Our response was mishandled by hawks and doves, by the administration and by public health. And while I believe we could have done much better than we did, I don't believe we were ever going to be like the model countries that people like to point to. Our policy arsenal is more limited. I don't think we were ever going to be as successful in combatting this as Europe, much less Asia, the island nations, or Mars.
The importance of public policy compared to the multitude of other factors, though, is that it is the thing that we have the most control over. We can't legislate climate or demographics or geographic location. We can decide what government measures to take, and which not to take.
But one thing I have become convinced we need to do in the process, however, is to disassociate Covid mitigation/suppression success with grit, wisdom, morality, or "doing the work". Among other things, it can lead to sacrifice for the sake of sacrifice because that becomes the first instinct, which is unnecessary, unsustainable, and counterproductive. Important things become instead things we have to "earn".
It may well be the case that states run by Democrats do better than states run by Republicans, but there is enough statistical noise for a good deal of humility. If you can squint your eyes and tilt your head, you can see echoes of policy effects in the graphs I put above, but that isn't what the policies have been sold as.
But I don't have much beyond that. Because I don't have a good list of politically feasible things we can do to smash the curve on more than a temporary basis, nor can I say that we should just let it rip because policy doesn't matter5 I don't even have a whole lot of faith we will be able to do an honest appraisal of what worked and what didn't.
I would like to think that in the future we may put more thought into which policies work, rather than more policies. As a general matter, our policies were not significantly less severe than other countries. Can you identify which one, chosen from a list of countries discussed in this post, is the United States?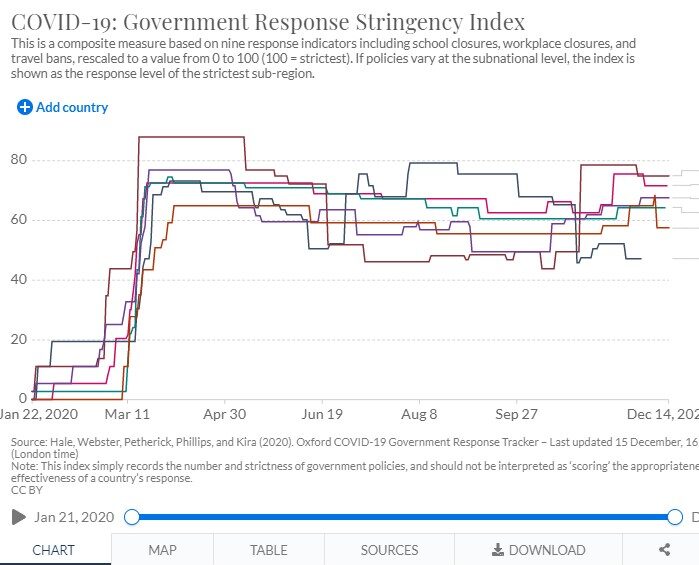 If it's a matter of mitigating smarter instead of mitigating stronger, I'm not sure if we can implement what we need to (if we can identify it in the first place. But at the least, we need to be realistic about what we're getting back for what sacrifices we're asking people to make.
---