Saturday Spins: Son Volt's Notes of Blue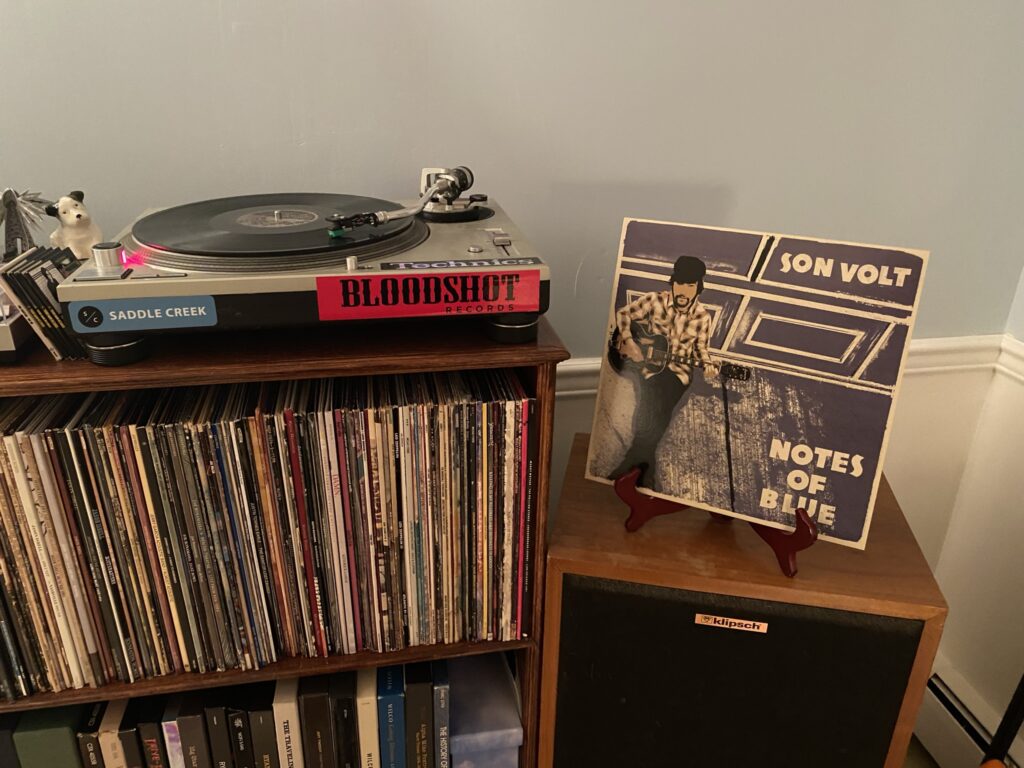 Last week featured a delightful spin in honor of the Thanksgiving holiday. That band (The Band) were performing in an epic sendoff concert of their own design. This week, I sent Saturday Spins' fate back to the Discogs randomizer. Wouldn't you know it, it spit out a band that was born from another band that was torn apart by competing personalities.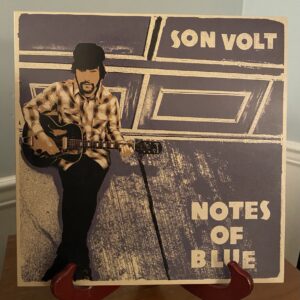 Son Volt
Notes of Blue
2017
Commentary
Son Volt was born out of the breakup of Uncle Tupelo in the mid-1990s. I have already covered the other band that was born of this break up on more than one occasion. I must say I am team Wilco/Tweedy by a long shot, however Jay Farrar, the creative force behind Son Volt, writes some pretty good songs. My big problem with Son Volt is the refusal to evolve. Wilco evolved from sounding like a more polished version of Uncle Tupelo to the somewhat Avant Garde soft rock they are today. Farrar, however, never grew as a musician in my opinion. Son Volt's debut album, Trace, is a classic alt-country album. Everyone should own a copy.1 Unfortunately, if you listen to Trace, that's what every other Son Volt album sounds like.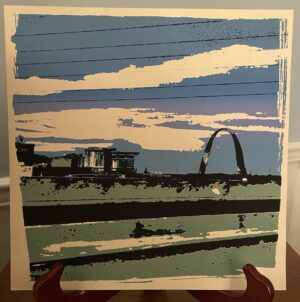 I read Jeff Tweedy's autobiography back in 2018 when it was released. He doesn't go into a lot of the end of him and Farrar's creative relationship, but spends a lot of time discussion their early dealings and music making. I mean, their collaboration birthed an entirely new genre of music. That's not easy to do. My point is, Tweedy has great respect for Farrar and his musicianship and songwriting. Farrar comes from a family of musically inclined people.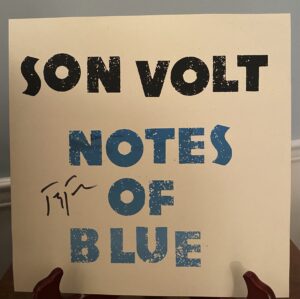 Anyway, this record was snagged at a local shop back in 2017 when it was released. I was lucky enough to get one of 500 copies that came with a signed art print. The artwork itself is a cool shot of St. Louis on one side and the other side being like a title card with Farrar's signature. I need to get it framed despite having no connection to or desire to ever visit the city of St. Louis.
Track by Track
1. Promise the World
The songs on this LP vary from country to blues with some doing a bit of both. This one starts right off with some pedal steel and some acoustic guitar before Farrar begins to sing in his smooth midwestern voice. So, countryish. There's even a little bit of fiddle in there. It's a slow song with a positive message.
We'll be damaged, there will be hell to pay
Light after darkness, that is the way
2. Back Against the Wall
My favorite song on the album by far. Mostly due to its uptemponess and catchy hook. If Farrar was in the business of making straight rock songs, he'd have a million clones of this song right here.
Son Volt - Back Against The Wall (Live on KEXP)
3. Static
A very blues in theme, but blues rock in sound song. A heavy distorted guitar riff with Farrar singing about mortality.
We all go down
Before we're ready
I feel like my time…
My time ain't long
4. Cherokee St.
Allegedly inspired by a real stretch of road in St. Louis filled with taco trucks on every corner, record shops, and artists, Farrar is back to the blues rock sound here. Not quite as heavy sounding as the previous track but still has that beat. If you check out the linked article, there short blurb from the Wall Street Journal about how this vibrant street in St. Louis inspired this song.
5. The Storm
What's a song filled with the blues without a little bit of travelin'? This one is a very soft, fingerpicked, little ditty. It's basically about a heavy drinker and womanizer. He spent all his money on women and whiskey and is now taking a train out west to California where he will be "fine." Which probably means more women and drinking.
6. Lost Souls
A country-rock song that sees a return of the heavy guitar. It's a real foot-tapper, and seems to be about people lost to the streets. Homeless, vagabonds, etc. "The world won't give us the time." You can tell this one was written and is performed with feeling.
Son Volt - Lost Souls - Official
7. Midnight
You know when you're dealing with the blues, you're gonna have to eventually deal with the devil. This is a dark song, and it is definitely sung from the point of view oof someone in a deep depression and/or angst. Each verse has the same, familiar, refrain, "It's always midnight way down in hell."
8. Sinking Down
The heavy guitar comes ripping back with a familiar bluesesque foot-stomping beat. Yet again, we hear another song about mortality with the same trope of drinking and paying the price.
Soon it will be my time
Must atone for the women and wine
9. Cairo and Southern
This one is my least favorite song on here. It is slow, makes no sense unless you're Jay Farrar, and is somehow about moonshine. I did a little googling, there is a Cairo in Missouri, but it's not very close to St. Louis. Furthermore, he pronounces it "cay-row" which really grinds my gears.
10. Threads of Steel
I don't know what this one is about, the devil? Maybe? A contract killer? Perhaps. A samurai? "He's got a samurai blade for pickin' teeth and cuttin' nails" It's a good song to close the album out with, very bluesy with a bit of a country tinge.
His car's the color of his clothes, he cracks a hundred-proof smile
Doesn't dance, doesn't sing, keeps the world on a string
He's all threads and steel, he doesn't know the world "shame"
There's a man goin' round, takin' names