Saturday Spins: Dwight Yoakam's Guitars, Cadillacs, Etc., Etc.
Outta the mosh pit and into the line dance this week on Saturday Spins. The randomizer spit out one of the best country albums ever made. You often hear me rail against what is coming out of Nashville these days; well, it has been bad for a while. Back in the 80s, this guy could not get anyone to record his music in Nashville because they were all obsessed with that pop-country Urban Cowboy sound. He had to travel to Los Angeles to play his brand of honky-tonk at rock and punk clubs before getting his big break.
Dwight Yoakam
Guitars, Cadillacs, Etc., Etc.
1986
Commentary
This album was originally recorded as kind of a demo EP under the same name in 1981. It was only after a lot of hard work and a lot of punk rock clubs that Dwight was able to rerecord it with more focus and four additional songs. Yoakam is kind of a combination of Earl Scruggs and Bob Dylan with a dash or two of Johnny Cash. As I kind of alluded to before, the 80s country music scene was dominated by absolute garbage, until Dwight Yoakam and Steve Earle came around and reintroduced America to what Yoakam referred to as, "hillbilly music."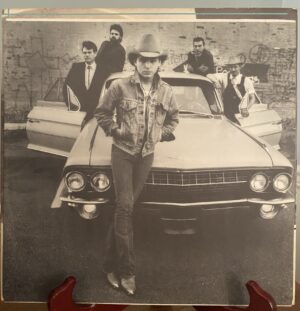 The LP itself features pretty simple artwork, kind of gives off a Rocko's Modern Life aesthetic vibe to me. It makes me happy, as a Cadillac owner, seeing the various antique Caddy's depicted on the inner sleeve and the back of the album.1
As with many country/americana/folk albums, this one features a few covers, three to be exact, including a famous Johnny Cash track which was originally written by June Carter. If you do some sleuthing on YouTube, you'll find that Dwight has done some excellent covers, like of "Suspicious Minds" and of course his revival of "Streets of Bakersfield" which included Buck Owens, who made the song famous.
Track By Track
1. Honky Tonk Man
Originally written and recorded by Johnny Horton, Dwight puts a true honky tonk spin on this rockabilly/country classic. The fun fact about this one, though, is that it has the honor of being the very first country music video played on MTV.2
Dwight Yoakam - Honky Tonk Man (Official Music Video)
2. It Won't Hurt
Ahhh, the old familiarity of a country song about sadness and drinking. The thing about Yoakam is, he actually makes you feel the emotions in the song.
3. I'll Be Gone
This one is kind of a departure from the honky tonk into a more of a bluegrass-rock sound. Yoakam, and to a similar extent Steve Earle, separate themselves from other country artists purely due to their songwriting chops.
The sun intrudes and throws
Across the room its golden tracks
Shake the dreams, now it's back to facts
As I turn to leave I know you had what so many lack
Maybe someday that'll bring me back
4. South of Cincinnati
'Ol Dwight is a Kentucky native, and I can forgive him for that I suppose. This song isn't strictly about Cincinnati, but it is a love song that is about a man who tells his former love that he will be hers if she ever gets south of Cincinnati, the Mason-Dixon, and the Ohio River. It features a great fiddle solo, which you have to hear through headphones.
5. Bury Me
In a similar vein to John Prine's "Please Don't Bury Me" and any other song where the writer asks to be interred in a certain place or certain way. This song is a duet with Maria McKee about the narrator wishing to be buried under the blue Kentucky sky along the "Big Sandy."
6. Guitars, Cadillacs
This was my Dwight Yoakam gateway drug right here. I like guitars, I like Cadillacs, and depending on what one considers "hillbilly music," I like that too.3 Some brilliant songwriting here that seems to be semi-autobiographical: man moves to Hollywood, and the only thing keeping him sane is guitars, Cadillacs, and hillbilly music.
Dwight Yoakam - Guitars, Cadillacs (Official Music Video)
7. Twenty Years
A country album is not complete without an outlaw song with some heavy fiddle and some badass pickin'. Here is some lyrical content that I think we can all agree is some grade A wisdom:
Listen well, all you young rounders
Heed the lesson poor old Henry never learned
That even hell with all its fiery power
Hath no fury like a woman's scorned
8. Ring of Fire
I truly believe there are varying levels of cover songs, especially of very well-known songs. One level is just pure tribute, with similar melody and a sprinkling of the covering artist's own style; that is what this version of the Johnny Cash classic is.4 The next level is complete retooling with the covering artist's style that is universally loved, even by the original artist, i.e. Hendrix's "All Along the Watchtower." Finally, there is this:
9. Miner's Prayer
This bluegrass diddy is a tribute to Yoakam's grandfather who was a Kentucky coal miner. We took a trip down that road recently with Steve Earle's Ghosts of West Virginia which was by and large about the Upper Big Branch Mine Disaster. This song is, and others like it, were precursor tributes to that hard and dangerous line of work.
10. Heartaches by the Number
The third cover song is a well-known country song originally written by Harlan Howard in 1959. Dwight does a pretty straightforward rendition, with a sprinkle of his own "hillbilly music" sound. Some other luminaries that have covered this song, Buck Owens, George Jones, Rosanne Cash, Jerry Lee Lewis, Waylon, Willie Nelson, Bing Crosby, Martina McBride (Feat. Dwight Yoakam), and as recently as 2016, Cyndi Lauper.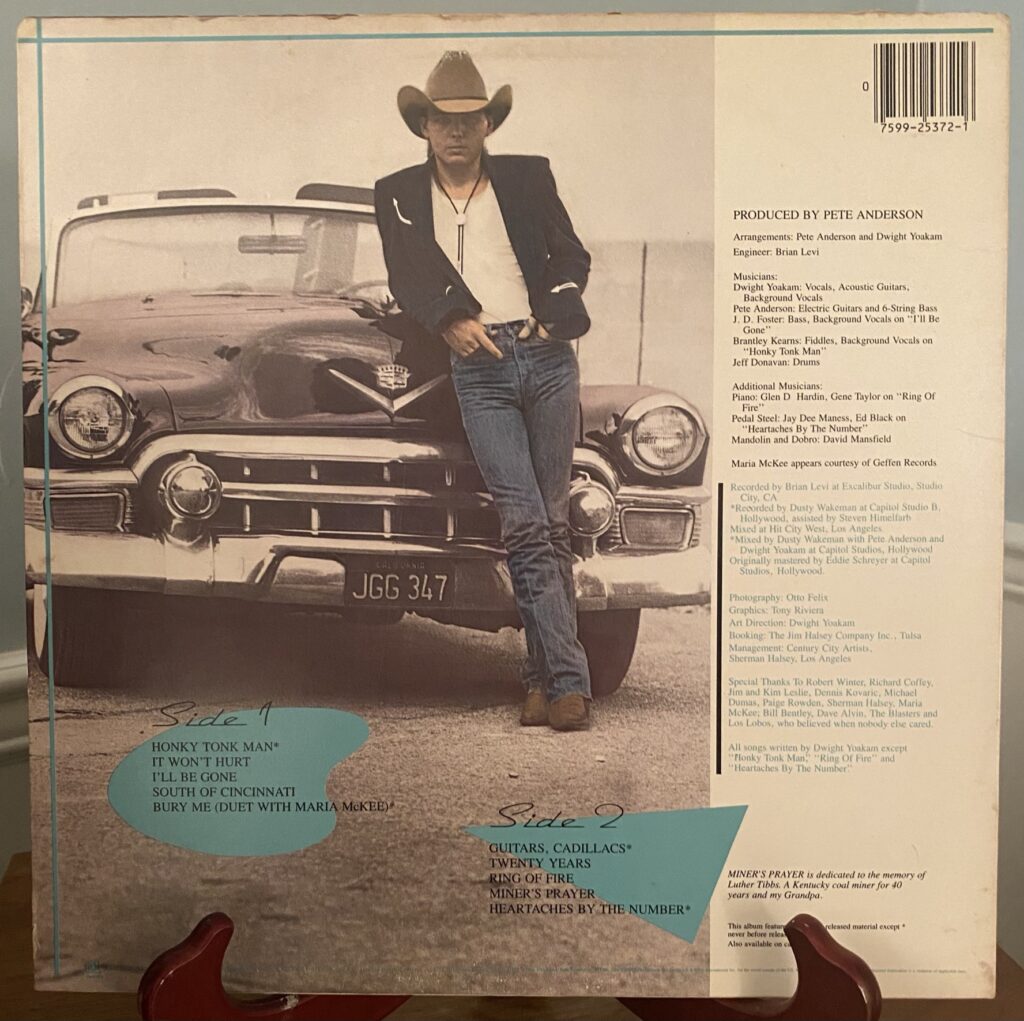 ---