Newsroom [R]Evolution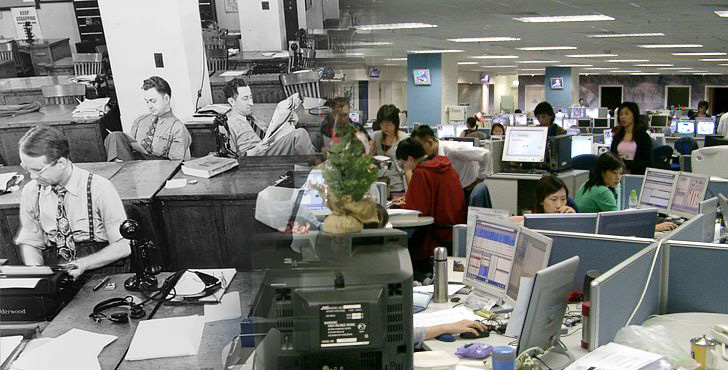 The media industry has long skewed young, educated, and New Yorky. But digital disruption trends have made it more so than ever before. Daily newspapers published in mid-sized cities and small towns are weaker and less significant. A lot of reporters born in the 1960s and 1970s have left the industry as it has shrunk and few of them work at digital native startups.

Separately from that change, national politics has been polarizing around age, educational attainment and population density in an unprecedented way. A group of young, recent college graduates living in Brooklyn would've skewed left in 1990 but this was an era when Al D'Amato could win statewide in New York and Democratic presidential campaigns would win in West Virginia. Today a demographically identical group skews much further left than it used to. None of this is really an outcome that anyone particularly wanted or intended. But it's put a big thumb on the scales ideologically at the exact same time that economic trends have turned against the startups.
This tracks with a couple of observations I've had.
First, how much of our student loan discourse has revolved around a particular kind of edge case. You see a number of interviews and profiles that racked up six figures of debt, often in private school and frequently with degrees that aren't especially career-ready. Critics of student loan forgiveness point to this as a reason not to forgive debt. Spoiled little rich kids who were too good to learn something useful and all that. Meanwhile, a more sympathetic case for student loan forgiveness has been sitting there the whole time: People who went to school — often vocational school to learn something "useful" — but didn't finish. Most of the debt, little of the wage premium. They owe less individually, but there are more of them and they have a harder time paying it back (so something like student loan forgiveness would be of particular help).
So why does the media keep going to the six-figure private school graduate? Is it because there are no sympathetic cases? As indicated previously, no. Is it because they want to hurt the cause of student loan forgiveness? No. Are they generating hate-clicks the same way CNBC does whenever it runs those absurd budgeting pieces wherein people burn through a whole lot of money in a way that is completely disconnected from its readers' (even its more privileged readers') experience? I don't think so.
I think the main reason the media has stuck to this narrative is that it describes them and people they know. They and their cohort disproportionately went to private school, got a lot of debt, and (especially in the media itself) are not making the kind of money that makes it easier to pay back. They are far less likely to know the person that got $20,000 deep and coming up short on an airplane mechanic degree from DeVry. They might even be unsympathetic to that individual, but I suspect it's mostly that they are out of sight and out of mind. They get write-ups sometimes, but in a different genre of article about how for-profit schools are bad (and sometimes with the implication that more people should go to real schools, like the authors did).
The other observation is that media competition has led to a content dynamic and process that leads to certain outcomes. One of the things I have been taking note of lately is how many outlets are actually the same outlet. Deadspin was a "sports" site only in the loosest sense. Vice kept running articles about how careful we should be about what we do and say. Wired would run pieces that were about technology but actually mostly about getting mad at your dad about Facebook. Yglesias's former Vox which started off an explainer site but ended up mostly another op-ed site. I came to the conclusion that this was primarily about writer pools. They're all hiring the same writers. It takes a certain kind of person to enter such a competitive industry with such little opportunity for good money. Especially if you have a college degree, which helps get the job. So, all the sites end up hiring these people. Due to the fact that investigative journalism is expensive and doesn't bring in revenue, they end up writing more navel-gazey things. The fact that they are paid so modestly, and their editors are paid so modestly and there are fewer of them (editors are expensive) and are often writers as well, one of the perks is getting to write about what you want to write about. So, if you're writing a Playstation 5 review, why not talk about Trump vs Biden? Who's going to stop you? The editor who is also a contributor and is also dying to share their thoughts on the presidential race? Readers that tune up to it?
I hadn't even considered the newsroom-adjacent people that Yglesias talks about. Programmers and developers who could be making more elsewhere. The same could be true of the writers themselves, believing that writing what they want is part compensation for the more money they could be making somewhere else. Unlike developers I am less sure what their other job prospects are, but since people tend to graduate out of the industry as they get older (thus the writer pool stays young) I would assume it's not nothing.
None of this applies to Ordinary Times.
For one thing, we're not young.
But seriously, one of the things that lead me to the dynamic is my experience here. We are a generalist site for multiple reasons, one of which is that we have to be. We don't tell our writers what to write about or what not to write about, for the most part1. Since they're unpaid, it has to be something they want to do. It has to be rewarding in ways that aren't monetary. I am thinking that it may not be so different in the industry itself because while they do (often) pay money, they are relying on a talent pool that wants to be there for other reasons. If you want the more talented people writing for you, they have to be able to pursue their own thoughts and interests while doing so.