Saturday Spins: Rage Against The Machine's The Battle of Los Angeles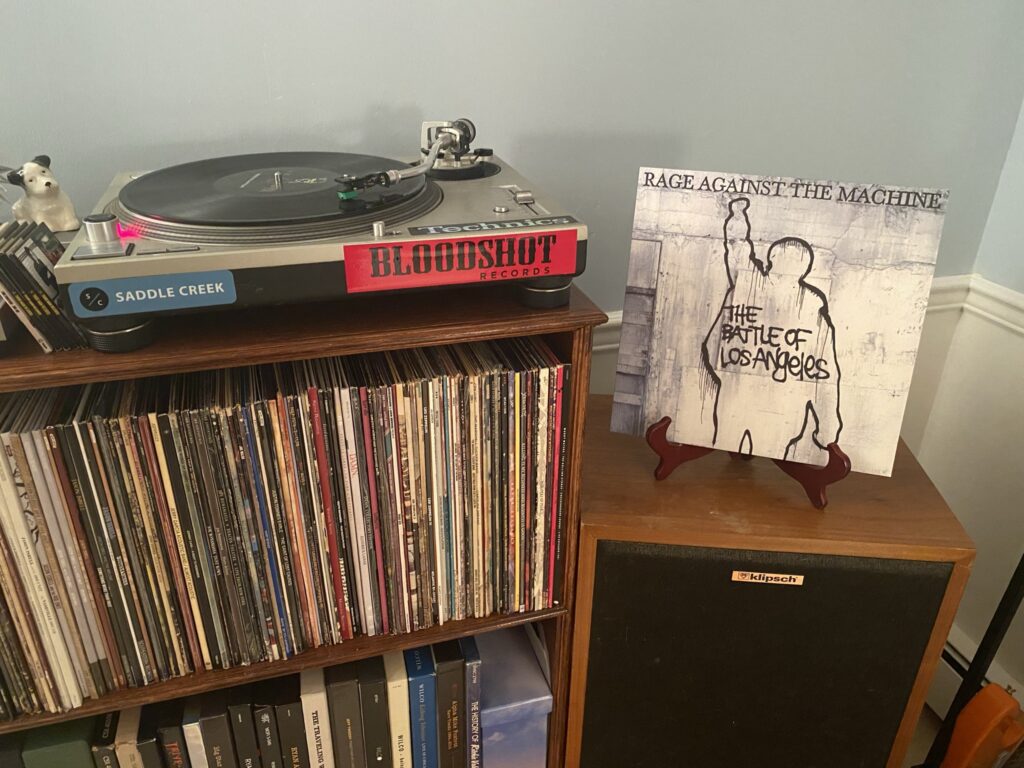 In a huge post-electoral sigh of relief, I took last week off. Prior to that, I covered the 10th Anniversary Edition of Dawes' debut album. Sort of a calm before the shitstorm. This week the randomizer was in a bit of a mood and spat out an excellent record from my youth. While not the landmark LP that this band put out for their debut, this one is still filled with classics.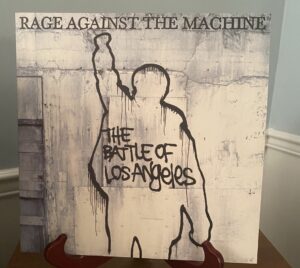 Rage Against the Machine
The Battle of Los Angeles
1999
Commentary
One of my favorite things about modern Rage Against the Machine discourse is when right wingers discover that they are a band that preaches extremely radical politics. I mean, listen to whatever you want, man, but try some introspection. This was technically their last full-length album, but before they broke up in 2000, they put out Renegades, a collection of covers.
A couple of months ago, I gave the readership a choose your own record thing. While I did not get many entries, the one that was picked was Evil Empire.1 I think I mentioned that I am a huge fan of Tom Morello, and one of the first riffs I learned was the one in "Sleep Now in the Fire." We'll get to that song later.
As always, there are no samples, no pro-tools, just guitar, bass, drum, and vocals. The art was created by a Los Angeles based artist, Joel Jaramillo. Since it was y2k mania in 1999, bassist Tim Commerford is credited as "Y. tim K. 2000 was also the year he got smashed and attempted to scale the stage scaffolding at the MTV Video Music Awards.
Track by Track
1. Testify
The video2 for this song contains a series of clips from the 2000 election demonstrating how closely related some of Bush and Gore's political positions were. It also contains some pretty prescient Orwell prose, "Who controls the past (now), controls the future. Who controls the present (now), controls the past."? Also present is the theme of our reliance on oil with a quick flash to some gas prices that will make your head explode with De La Rocha singing, "Mass graves for the pump and the price is set."
Rage Against The Machine - Testify (Official HD Video)
2. Guerilla Radio
The first RATM song I ever heard was "Guerilla Radio." Probably the most commercialized RATM song, it was featured on several video games and it even won the band a Grammy for "Best Hard Rock Performance." The beauty of this track is that it is a hard rock song, a rap-metal song, and a funk song. Another underrated factoid about this one is that it was used by Michael Moore when goading Alan Keyes into a mosh pit. It did garner Keyes the coveted Michael Moore endorsement though.
The Awful Truth - Election Mosh Pit
3. Calm Like a Bomb
A slow, yet hard, jam with a solo that really shows off Morello's skill with the whammy pedal. It was also featured in the ending credits of The Matrix Reloaded.
4. Mic Check
"Mic Check" discusses themes ranging from extreme poverty to police brutality. It is a fairly decent rap track with some reggae and funk overtones. It has a very LA rap sound, especially with the solo.
5. Sleep Now in the Fire
My favorite song on this album by far. With themes about imperialism, genocide, greed, and war crimes, a lot of ground is covered. The video was directed by Michael Moore, who really hasn't done anything that great film wise since this period with RATM. Not that I was a fan to begin with. They all got arrested for trying to rush the New York Stock Exchange. Anyway, featured above is a still from the video where some dude held up a sign in support of Donald Trump's 2000 presidential campaign. Ha ha, what a stupid dumbass moron, no one would ever take a Donald Trump presidential campaign seriou--
6. Born of a Broken Man
A tribute, in a way, to Zack De La Rocha's father, Beto, who was an artist of some repute in southern California. He created many of his works under the specter of mental illness. This song autobiographical and is about how Zack won't let his artistry and activism consume him mentally, like it did his father.
7. Born as Ghosts
This song is about how a city like Los Angeles reckons with having so many different races, religions, and economic difference among its populace. A child born in one neighborhood may not have the same opportunities as a child born a few blocks away. It strips the myth of the so-called "American Dream" bare and drags it through barbed wire.
8. Maria
There is some great guitar work on this track that allows one to just rock out. However, the song has a much darker meaning. It is about an immigrant who is victimized in the usual way, given the chance at "a better life," Maria is instead made a slave and trafficked and realizes that her better life is just as bad, if not worse, as the one she had back home. She ends up killing herself.
9. Voice of the Voiceless
Without popping off a discussion of the Mumia Abu Jamal case, I think I will just stick to the music on this one. That is what this song is about, though. Overall, it is a good song, and once again shows off the bands' prowess at making complicated sounds with a minimalist setup.
10. New Millennium Homes
What was true then is true now, "hungry people don't stay hungry for long." Maybe not so much here in the US of A, where we are led to believe everything is always hunky dory, however, there have been uprisings throughout history, some good, and some very bad. This song is about that/them. It also covers the massive prison-industrial complex we have here, which was bad in 1999, and is even worse now. For-profit prisons are a huge problem, and I think that is something 99% of us can agree on.
11. Ashes in the Fall
Another critical track of the so-called "American Dream." This one is a bit more focused on the home front, where De La Rocha raps about how we are fed just enough, or kept just happy enough to ignore the various problems beneath the surface. Mainly, how the system is designed to keep poor people poor. I can't say I blame RATM for profiting off of activism, since that is the board were given to play on, but I will credit them for at least trying to use their art to point out the various inequities that exist.
Ain't it funny how the factory's doors close?
'Round the time that the school doors close?
'Round the time that the doors of the jail cells
Open up to greet you like the reaper?
12. War Within a Breath
On New Year's Day 1994, the Ejército Zapatista de Liberación Nacional, or EZLN, known to us 'mericans as "The Zapatistas," rose up in the Mexican state of Chiapas and took back land belonging to the indigenous people of that region. The chorus in this song is "Everything can change on a New Year's Day," because it did. The Zapatistas managed to make enough noise to get the Mexican government to the bargaining table and were granted an autonomous zone in Chiapas. Of course, it was a lot more complicated than that, "a lot of ins, and a lot of outs," as the Dude once said, but still an interesting uprising that still persists in some ways to this day. This song is about that.
Bonus!
On the Japanese version of this album, the song "No Shelter" is included. You may remember that song from the soundtrack of 1998's Godzilla where [insert preferred pronouns here] laid eggs in Madison Square Garden. Anyway, the song is about mass consumerism and entertainment in America, and the song actually pokes fun at the film.
Coca-Cola is back in the veins of Saigon
And Rambo too, he's got a dope pair of Nikes on
And Godzilla, pure mothafuckin' filler
To keep ya eyes off the real killer
Rage Against The Machine - No Shelter (from The Battle Of Mexico City)
---