Election 2020 Chapter 6: The End Of The Road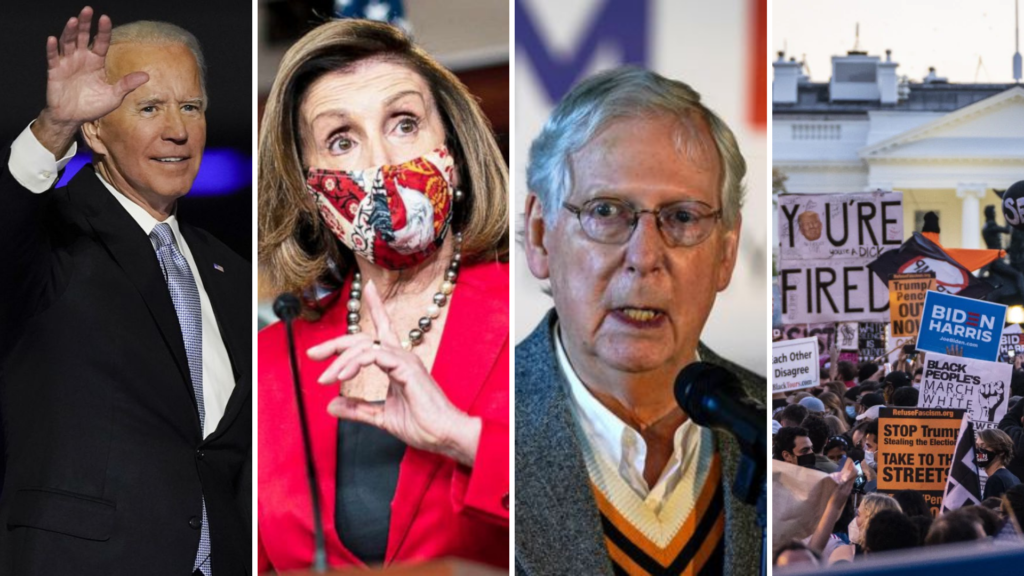 It feels like forever ago when I first decided to sit down and begin writing about Joe Biden's chances at the Democratic nomination, something which at the time was a hot topic of debate as many expected him to ultimately wither and give way to a new face for the party. Instead my instincts that he had the name recognition, the right sort of coalition, and the aura of electability to win all ultimately won out. And after a roller coaster of a campaign, but incredibly stable polling and forecasts, he is about to become the 45th man in 46 presidencies who can say he's been President of the United States; plus he'll also become the first in 28 years that can claim he did so by defeating a fellow member of that exclusive club.
Historically he is an outlier in many ways among those who have become President. He is the eldest man we've ever elected, the first who will have won with a woman on the ticket, the first to come from the state of Delaware, and only the second Catholic President we've ever had. But he's also pulled off something that is rare in that he was favored to win the nomination from start to finish (save for a few weeks between Iowa and South Carolina) and was the favorite in the general election from start to finish as well. The country (at least on the presidential level) made up their mind sooner than later and were ready for a change.
But that's a simplistic view of things. As we know the reality is a little more complicated than that. We had a stable race in the polls…but the polls ended up missing in 2016 type fashion again. We had a candidate who was favored from start to finish…but his party had a mediocre performance down the ballot. The President's unpopularity has cost him the White House…but he may not have ever been as unpopular as we thought. There's so much to cover with the results of this election and I won't be able to hit on all of them in this final piece. My goal is instead to hit on what I believe are the important things running through my head as we assess the results and come to grips with the reality of a President-elect Biden and a Republican party that wasn't rejected as badly as some thought they would be.
When it comes down to it, I believe the best way to understand these results comes in three parts. First, the polling miss and what it means for forecasters and pollsters. Second, the fundamentals of the race and how the results actually made perfect sense when looking at those instead of the polls. And lastly, we have to start wondering about what this could mean for the short-term future of American politics and a coming Biden administration.
Part 1: The Polls Miss Again
I think I mostly predicted plenty right of what I was willing to predict in the last chapter of this series. I was right about Democrats continuing their popular vote streak, the Democrats keeping the House, and a record modern turnout. But I was wrong that Democrats would increase their House majority, that we'd know the winner by election night, and my biggest whiff was on the polls doing as bad (if not worse) as 2016. After polls did just fine from 2017 to 2019, the feeling was pollsters and their weights on education had fixed the issue of the 2016 poll miss. Now after a miss that saw down ballot Republicans who were supposed to lose win, and a presidential election that was closer than many polls teased, the polling industry is back to square one and debating amongst themselves as to what went wrong again.
For my part, while I never expect polls to be perfect and I thought some election junkies on Twitter were starting to get a little too obsessed with the 413 electoral votes for Biden probability, I also didn't ever imagine polls would be as bad as 2016. Pollsters and political scientists alike have spent years trying to figure out and learn from the 2016 polling debacle and it turns out there's still a lot to learn from. The theories have already begun, though it will take diligent work by those unwilling to give up in trying to get a good gauge of public opinion to try and make this a rarer event again. I've seen everything up to the potential that COVID implications set things up so that Democrats stayed home to answer polls while Republicans weren't taking the threat serious and were out and about with no time to answer polls.
My personal early theory is that this is an issue that doesn't go back to 2016, but actually goes back to 2012 when President Obama overperformed polls and did rather well for a Democrat with these white working-class non-college educated voters. These tend to be what pollster David Shor calls "Low trust" individuals who will be the hardest to reach to get a poll from. Thus, the President's strength in both 2016 and 2020 with them (Which was already big to begin with) was even more understated. And given these sorts of voters turn out in greater numbers during a Presidential cycle than a midterm cycle, it would make sense why midterm polling seems to have less error than presidential polling. It's an early theory and it still needs to overcome the question of Republican overperformance down the ballot, but I believe it's a theory worth exploring. How that is fixed is something I don't envy pollsters trying to figure out; but I'd point out that Ann Selzer, the woman known by many as "the best pollster in America", once again nailed Iowa results and I think it'll be worth looking into her methods which include putting some weight to enthusiasm.
I also think it's fair to point out that while polls were off, they weren't off everywhere. The average poll margins in key states were way off, especially in states like Wisconsin, but Biden did about as well as expected in states like Maine (Even with Collins' big overperformance in the Senate race) and Minnesota. The poll error seems to have taken place the most in certain regions of the country than others. On top of that, poll-based forecasts and polling aggregators will ultimately end up getting on average about two states (Florida and North Carolina) wrong. That's not half bad given the mediocre data that was being put into them.
Biden's win regardless of the poll miss though is something that doesn't surprise me. As I and others kept pointing out, the former Vice President was hitting 50%+ in key polls and there were much less undecideds this time around than 2016 (There is some early evidence the President did well with late voters again), and forecasts were high on Biden because he had built up enough of a lead to survive a miss. My own personal average of polling found that the President would have had to win literally every close state in the polls to win a close one, and pulling off that kind of sweep is not easy. So, I don't think the forecasts are to blame, if anything they should be commended for still getting the presidential mostly right even with bad data for them to feed off of.
But while the polls have much to answer for, the fundamentals won big…
Part 2: The Fundamentals Don't Miss Again
While Trump stunned the polls in 2016, political science-based forecasts showed he arguably underperformed the fundamentals. That year was an open seat race after eight years of the same party in power, and based on that and other factors scholars' models showed Trump should have done even better than he did – even some predicting he'd win the popular vote. The story this time was a lot different. The President's unpopularity and the political environment around the pandemic and economic troubles said the President was an underdog with a few academic forecasts that were favorable to him in 2016 flipping against him this time around. However, those same models were very bearish on the Biden landslide talk that would sometimes creep up. In fact PollyVote, a site that collects and aggregates all sorts of forecasts, had Biden only winning the popular vote by about four even as some national pollsters had him up double digits. In other words, based on the fundamentals of the race, the President was always in trouble, but a landslide was still going to be tough to pull off against a sitting incumbent.
And you can also look to historical trends as a whole. History says sitting incumbents are very hard to beat and have won more than they've lost – but if they do lose its likely because that incumbent has become unpopular. In a previous chapter for this series I put up a table showing the approval ratings for incumbents by election day. Those who were hitting 50%+ won while those under that lost. Trump was then averaging the exact same approval (44%) that I had found was the average approval rating for incumbents who get the boot from voters. The President's unpopularity was always going to be an anchor around him, and it was one of a few reasons why he will be the first one termer in almost three decades. After all the projected call of your defeat setting off celebrations in cities across America as if we were living at the end of a Star Wars trilogy probably means you angered a lot of people who wanted you gone. However, the President didn't get blown out because if you paid attention to his approval ratings, they were actually HIGHER in 2020 than 2018, at 44-46% this year versus 42-44% that year.
Another consistent historical trend is that houses of congress very rarely flip in a presidential year. A house of congress hasn't flipped since 1980 when Reagan's landslide brought with him the Senate for his party (2000 doesn't count as the upper chamber changed hands post-election). Furthermore, the last President who defeated an incumbent to earn the job also saw his party have a mediocre showing down the ballot. It's just not an easy task to flip a house of congress during any year we're electing a President and on that front the trends and fundamentals beat out the polls.
Whereas pollsters are trying to figure out what went wrong, I don't think anyone who teaches or studies what effect certain political factors have on election results will have any reason to question the worthiness of what they're teaching or learning. Unpopular incumbents lose re-election bids for President and changes in who controls what house of congress are rare in a presidential cycle regardless the result atop the ticket. The results we got made sense in that respect.
Part 3: And So A New Era Begins…
There's already finger pointing and recriminations going on from both sides as the results become clearer. On one hand Democrats have to be very displeased that with a potential anti-White House party midterm coming up they're going to have such a weak majority in the house. They also have to be wondering how they've let the Senate slip away once again barring a miracle sweep in the Georgia runoffs (Which in my opinion are plausible, but not probable). My personal guess is that while President Trump has his detractors, some of those include moderates and sort of conservative leaning types that held their noses for Biden to stop Trump but decided they wanted a check on the incoming President as well. I think there's a good argument to be made that Democrats peaked early and by the final stretch as more and more voters started to realize Biden could win this thing they went with the check on power. Democrats spend tons of money, but it takes hard work and actual campaigning as well – and we know both parties found themselves campaigning very different from the other thanks to COVID. That also could have played a role.
If I were Democrats, I would be very concerned about the swing to the right among Latinos groups across the country. This is where shedding the socialism label is so important. In my home state of Florida Democrats have been making gains in swingy central Florida but it hasn't meant much as they've bled support in the Miami region. I'd also be very concerned that even some Biden voters were scared enough by the socialism labels and the slogans like "Defund the police" to break away from them. And without Trump around, they will now be the party in defense mode. Furthermore, the electoral college and popular vote gap seems to have only widen, and as much as some of us wish it would, the electoral college isn't going away any time soon. Democrats have to keep expanding the map like they're doing in Arizona and Georgia to take back that advantage and that will take hard work and determination to keep chipping away in places like North Carolina and Texas.
But as much as the Democrats are getting blasted for their bad showing down the ballot, I think it's sort of foolish to ignore the GOP's own problems. They're about to lose the White House even with a one billion dollar head start, a President that could and did campaign more aggressively than his challenger, not having held the White House for more than four year offsetting the same party in power fatigue factor in similar environments, an electoral college advantage that just got bigger, having a swing in their favor from nonwhite demos, and a base that will probably literally crawl over broken shards of glass to support the President. All that and they still lost the top prize. Why?
Well they scared off independents who went from backing the President four years prior to backing Biden this time, and they have bled in the suburbs where they alone are responsible for some big Biden wins in places like Pennsylvania and Wisconsin. They also managed to lose those protest voters from 2016 who backed Biden this time around, and the bleeding with the younger generations continue – a problem that will be harder and harder to ignore the more time passes. If Republicans can't get these voters to snap back to them and these hardcore Trump base voters don't show up when he's not on the ballot anymore, they won't be out of the woods just yet. And the President may not even go away to begin with, complicating matters in trying to keep their base happy and dealing with the seventy-five million plus who chose to have a change in leadership after just four years. Republicans have lost the popular vote for President seven out of eight times; they should keep that in mind as much as Democrats should how many times, they keep losing these down ballot races.
Looking ahead towards the future for both parties I still see a polarized country with each party having their own electoral concerns to deal with and their own electoral bright spots to expand on. Democrats should prepare ASAP for a midterm that will be a knife fight for the House. Republicans need to prepare for the possibility President Trump will continue to be a shadow over them and freeze the 2024 field. My guess about the future for both candidates is that Trump will spend years teasing he's running again, he may even formally file – but ultimately he'll probably pass (and that's if he doesn't get himself into some legal troubles). As for the new incoming President, I think Biden will probably just govern for a term. But perhaps that's me being a bit ageist, so what if I'm wrong and he runs again? Well it'll be as simple as Trump's fate was. If four years from now Joe Biden is a popular President with a fairly happy country, he'll get a second term. If he's as or more unpopular than Trump was this year and the country wants change at the top, he'll be sharing the same fate as the very man he defeated.