Sunday Morning! "The Book of Disquiet" by Fernando Pessoa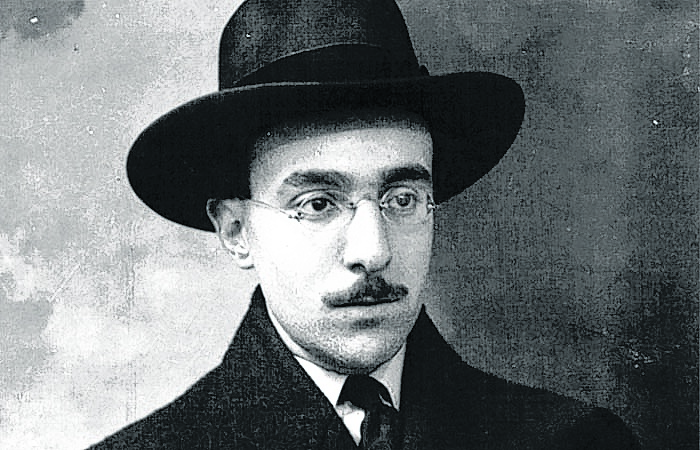 In his posthumous Book of Disquiet, Bernardo Soares meditates on some lines by the Portuguese poet Alberto Caeiro:
"I am equal in size to whatever I see.
Not hemmed in by the size I am.
After he reads these lines, Soares tells us:
"I go to my window that looks onto the narrow street. I look up at the great sky and the many stars and the beating of the wings of a splendid freedom shakes my whole body."
And we believe it. * Soares was a meager assistant bookkeeper in Lisbon who wrote these words in 1930, and for him, the night was the time of freedom and art. He was an isolated man, by choice and character; much of the book is about this isolation. Yet, reading the words 90 years later- and there's no doubt more of his writing will be available when we've reached the centennial- I feel connected to the little man in Lisbon who refuses to be hemmed in by his small size. In truth, neither of us is very large. In truth, none of us are.
The 20th century was great for producing this sort of epic hero- the tiny and anonymous man who contains multitudes within him, and who can only exist and fight his meager battles within the smaller scale frameworks that were increasingly hard to come by in that century. For this was a century in which tiny men were slotted into unthinkably massive and inhuman frameworks: the Nation, the Market, the Race- and then sent off to do battle for men other than themselves. The heroes of this era turned inwards: instead of the Religious Crusader heading off to the holy Land, we get Kafka heading off to the insurance office, Eliot heading off to the bank, Vivian Maier cleaning others' homes, and * Soares in his tiny office writing about the tiny people around him.
*Or, more accurately, Fernando Pessoa writing, but hey what's in a name?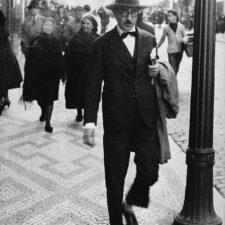 Bernardo Soares was Fernando Pessoa; Alberto Caeiro was Fernando Pessoa. In fact, when he died in 1935, the freelance correspondence translator Pessoa was only remembered, slightly, for a book of poems published under his own name the year before. It was already understood though that he had published poems under three other names, including Caeiro. It was then gradually realized he had published three other books in English and done quite a bit of writing for various journals under alter egos he called "heteronyms"- more than pen names, they had biographies, imagined lives, philosophies, and distinct characters. In fact, Pessoa had, at least, seventy-two distinct heteronyms. Much of his posthumous reputation comes from their work. Like so many solitary creators, after his death, a trunk was found; inside, there were approximately 25,000 written works.
And writing on every topic under the sun. As one of Pessoa's translators summarizes, he had, at least, started: "dozens of short stories, twenty or more plays, detective novels, philosophical treatises, sociological and psychological studies, books on Portuguese culture and history, a tour guide of Lisbon, pamphlets about sundry political and economic issues, astrological works, essays on religion, literary criticism, and more." Many of these were admittedly unfinished at the time of his death, including the Book of Disquiet. And often, his heteronyms commented on each other: one description we have of the introverted Pessoa comes directly from Soares, in the Book of Disquiet. At one point, one of Pessoa's heteronyms was writing to literary professors to gossip about another heteronym's work. This was a man with a very busy imaginary schedule.
But, maybe, the Book of Disquiet, a very personal journal of a very private life, is Pessoa's true testament. He confesses:
All I've ever done is dream. That, and only that, has been the meaning of my existence.
With such an active imaginary life, he did not need close friends, and apparently only had one brief and unreturned love. Nevertheless:
I had a whole world of friends inside me, each with his or her own real, defined, and imperfect life.
There is a type of person who can sit for hours in isolation dreaming of imagined worlds. Indeed, the main appeal of my own job as a university cleaner is I can spend hours per day alone, often in a tiny closet, reading books and writing stories. The work is socially-isolating and, my friends, that is pure bliss. Other people are nice, in theory, but in reality most of us, I think, feel a pull towards others that oscillates between loneliness, when we're fully isolated, to boredom, when we're not. So, I can relate to this man who has great affection for the barber and the tobacconist, and the stars and roads and houses around him, but would rather keep them at a distance. I think I understand Pessoa.
But, maybe it's not Pessoa, and this is Soares's confession. Identity is a tricky thing. At the least, Soares is considered the most autobiographical of Pessoa's characters, and this novel, written as a memoir, is considered his prose masterpiece. There are plenty of examples of thinly-veiled autobiographies in literature; probably the most notable being the narrator "Marcel" in In Search of Lost Time, who Proust tells us cheekily he's only called "Marcel" the one time the gives the name because that's what we all expect to hear.
And this is something we all do with our lives isn't it? We tell ourselves largely fictionalized stories about imaginary characters we name after ourselves. To fiction is to fashion and we make our lives out of whatever we find around us, even if those things are meager. We stick to our stories, no matter how unreal they are.
These imaginary lives are steeped in and birthed from tedium. At points, Soares claims tedium as his real topic, saying he's the first one to write about it this way, which is somewhat hilarious. Tedium, or its close companion ennui, has probably been the great theme of the last three centuries of literature. And Pessoa is not the first to take pleasure in the sensuous quality of tedium, the way that sticking to simple, boring, repetitive schedules can bring out the luminous qualities of the smallest things around us. But he's perhaps the best at it.
When the world around us is flattened out and made repetitive, and our will is limited to what color tie we might put on in the morning, it is very easy to go into the dreamland. Pessoa often alludes to the Romantics, whose literature came most often from the tension between reality and the imagination that yearns to transcend reality. Like them, he sees modernity as a time in which actual spiritual transcendence is impossible:
"I was born at a time when most young people had lost their belief for much the same reason that their elders had kept theirs- without knowing why.
He would transcend his life by faith, were it still available to him, but it is not. A man of his generation, he cannot believe. This was, of course, the major theme of the Romantics: the tension between yearning for transcendence and never achieving it.
The difference between Pessoa and the Romantics of the 19th century, exalting in their imagination and wallowing in ennui is a matter of finances. He admits: "I imagined myself another Chateaubriand but brought myself up sharply with the realization that I was neither a viscount nor a Breton." The dispossessed noble can sit in his empty chateau, dreaming, or travel the Orient, but a modern of lesser means dreams in drabber surroundings, like Walter Mitty, or better yet, Emma Bovary, that tragic believer in romantic chimeras. Or us. There is a tragic, melancholy quality to Pessoa's writing, a sense that, underneath it all, the world really is quite small.
Or, as small as our imagination. The greatness of Soares's writing is in taking the small things and insignificant people around him and making them much grander. In reality, it's not that he is equal to their size, but he raises them up to his.
So, what are YOU reading, pondering, playing, imagining, or watching this weekend?