Election Day Jour Cinq, Pour Certaines Raisons: Biden Finally Wins and More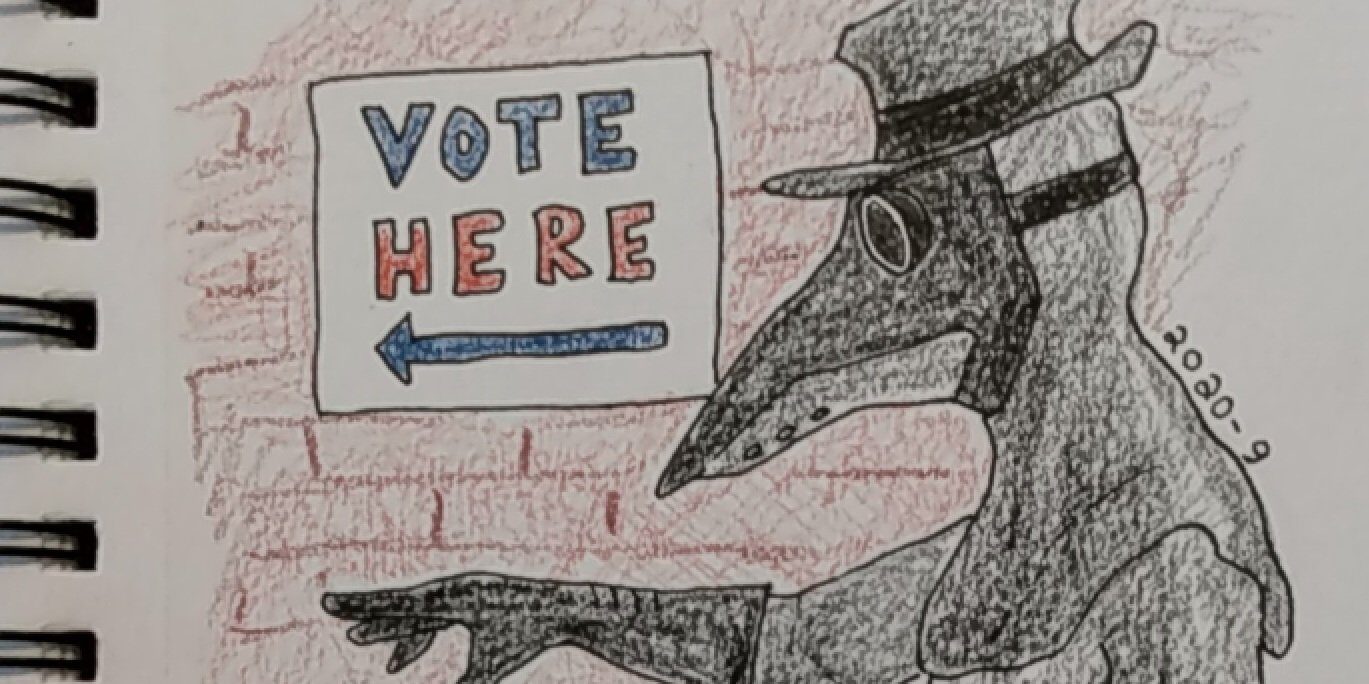 UPDATE 11:25 BIDEN FINALLY CALLED THE WINNER
NBC, CBS, CNN all call the race for Biden.

— Damon Linker (@DamonLinker) November 7, 2020
[ED1] Let's start with soon-to-be President Elect Biden who emerged to give some remarks last night:
Tune in as I address the nation on the current state of the race. https://t.co/w0er4issEk

— Joe Biden (@JoeBiden) November 7, 2020
[ED2] Meanwhile, at the White House:
While President Donald Trump's legal strategy to challenge the election results is being shaped at the highest levels by familiar, experienced hands, his legal team on the ground hasn't seen the involvement of a top-tier team of the caliber George W. Bush had during the 2000 Florida recount.

And as former Vice President Joe Biden's lead has come into focus in recent days, Trump has been asking why his legal team doesn't seem more put together, suggesting he doesn't believe they are up to the task of defending him in the courts and asking for his team to find better lawyers, according to one person who has spoken to him.

The public-facing effort has been headed by Rudy Giuliani and former Florida Attorney General Pam Bondi, Trump loyalists whose credibility has been diminished among the type of elite legal talent that a presidential campaign might turn to during an election challenge.

On the legal team, Trump's efforts to contest election results in states such as Pennsylvania, Arizona, Georgia and Michigan have been guided by lawyers who have been by the President's side for years, including Jay Sekulow, the conservative lawyer who helped lead Trump's defense in special counsel Robert Mueller's probe of Russian interference in the 2016 election, and is helping to orchestrate some of the legal challenges filed in Pennsylvania.

Also involved is William Consovoy, who has spearheaded Trump's long-running — and thus far successful — effort to block access to his financial records as part of a criminal investigation by the Manhattan district attorney. "What a campaign needs to do to staff one statewide recount, let alone multiple recounts, is overwhelming," said Benjamin Ginsberg, a top Republican election lawyer who served as national counsel to Bush's campaigns.

"Bush v. Gore was one state. We put out a call and hundreds of lawyers, political operatives and many others responded," Ginsberg said. "Even with that, it taxed the Party to its limits to do just one state. It is at best unproven that the Trump campaign can command the sort of infrastructure they would really need to pull this off."
[ED3] Under the radar, trouble brewing for the Democratic Party back at the various states…
State house races are extremely important every cycle — they can decide to expand Medicaid, pass restrictions on abortion, enact criminal justice reform, or any array of policy decisions. But every 10 years, their importance is magnified after the census is taken and they are tasked with the process of redistricting legislative and congressional boundaries (which can decide partisan control of state legislatures and the US Congress for the next decade).

This year, banking on a blue wave, Democrats staked out an ambitious map aiming to spend $50 million to win legislative majorities in GOP-held chambers and gain control of key chambers in advance of next year's redistricting fights. The Democratic Legislative Campaign Committee (DLCC) targeted both chambers in Arizona, North Carolina, Pennsylvania, and Kansas as well as the Iowa and Michigan Houses and the Minnesota Senate.

In the end, Democrats raised $88 million to Republicans' $60 million — but they don't have much to show for it.

Votes in Arizona are still being counted, but if those chambers remain in GOP hands, Democrats will have failed to flip a single state chamber. In fact, the only chambers that will have changed hands are the New Hampshire House and Senate, which flipped to Republican control. This is a surprising defeat for Democrats — particularly as New Hampshire voters overwhelmingly reelected Democrats to the US Congress and voted for former Vice President Joe Biden by a wide margin.

According to the NCSL, this means that out of 98 chambers (not counting Nebraska's unicameral and facially nonpartisan body), "59 are held by Republicans, 37 by Democrats." And when it comes to unified control — meaning one party controls both the legislature and the governorship — Republicans have the edge holding 23 states to Democrats' 15.

Democrats likely weren't the only ones surprised by this outcome. In its October overview, Cook Political Report wrote: "ominously for Republicans, the GOP holds 14 of the 19 vulnerable chambers on our list. This suggests that the Democrats are well-positioned to net up to a half-dozen new chambers this fall, and more if it's a genuine blue wave." Cook pointed to Biden's "strong" running in key states, expecting this to "boost down-ballot candidates."

But that didn't happen.
Legal Moves by the Trump team, all from CBS News:
[ED4] Georgia
Together with the Georgia Republican Party, the Trump campaign filed a lawsuit in the Superior Court of Chatham County, Georgia, alleging the proper chain of custody for absentee ballots was not followed.

According to the suit, a poll-watcher with the Georgia GOP "witnessed absentee ballots that had not been properly processed apparently mixed into a pile of absentee ballots that was already set to be tabulated." The Trump campaign alleges 53 late absentee ballots were added to the stack of on-time absentee ballots.

The Trump campaign and GOP claim it's unknown whether the absentee ballots were received by the Chatham County Board of Elections before the polls closed on Election Day or whether they were stored in compliance with state law.

The Republicans asked the court to order the Chatham County Board of Elections to collect and store all absentee ballots received after the Election Day deadline and provide an accounting of those ballots.

Following a hearing Thursday morning, Judge James Bass, Jr., dismissed the challenge, saying "the court finds that there is no evidence that the ballots referenced in the petition were received after 7:00 p.m. on election day, thereby making those ballots invalid." Bass also wrote in a one-page order there is no evidence either the board of elections or the Chatham County Board of Registrars failed to comply with the law.

Biden now holds the lead in Georgia, overtaking Mr. Trump in votes early Friday morning. The former vice president is ahead 1,560 votes.
[ED5] Pennsylvania
Mr. Trump and his campaign charged forward with several legal battles in Pennsylvania, a state that is crucial for the president to win if he wants a second term in the White House, in addition to the dispute over the mail-in ballot deadline that ended up before the Supreme Court.

First, the Trump campaign and Republican National Committee filed a lawsuit in state court against Secretary of State Kathy Boockvar and the commonwealth's 67 county boards of elections, claiming Boockvar violated the state election code by extending the deadline for absentee and mail-in voters to provide missing proof of identification.

The deadline for voters to provide such identification under Pennsylvania's election code is "the sixth day following the election." In guidance issued to counties regarding mail-in ballots received after 8 p.m. on Election Day and before 5 p.m. Friday — which are being segregated due to the existing legal challenge — Boockvar said voters have until November 12 to provide proof of identification.

The campaign asked the court to prohibit the counties from giving absentee and mail-in voters the chance to provide missing proof of identification after November 8. They also want the court to prohibit counties from counting absentee and mail-in ballots from voters whose proof of identification wasn't received and verified by November 9.

Mr. Trump also appealed an order from the Court of Common Pleas for Philadelphia County on Election Day over the closer observation of the canvassing of ballots. A poll-watcher for the Trump campaign at the Philadelphia Convention Center reported he was at least 20 feet from a table where ballots were being handled, making it difficult to see the markings on secrecy envelopes and whether they were completed correctly.

On Thursday, the Trump campaign declared victory in the battle, as a judge for the Commonwealth Court of Pennsylvania issued a one-page order requiring that poll watchers, candidates or candidate representatives be permitted to watch all aspects of the canvassing process within 6 feet. The Philadelphia Board of Elections has appealed to the Pennsylvania Supreme Court.

The president's campaign has taken the issue of poll-watchers to the federal courts, as well. On Thursday, his campaign asked the judge to halt counting in Philadelphia while Republican observers are not present. Mr. Trump's lawyers claimed the Philadelphia County Board of Elections refused representatives and poll-watchers for the GOP and Trump campaign access to observe ballot counting.

Judge Paul Diamond denied the Trump campaign's request, citing an agreement between the two parties.

Biden has taken the lead in Pennsylvania and is ahead of Mr. Trump by 9,746 votes. It's likely, however, that the state is still receiving mail-in ballots due to the extended deadline to receive and count them.
[ED6] Michigan
Filed in the Michigan Court of Claims, the lawsuit was brought by the Trump campaign and Eric Ostergren, an election "challenger" who allegedly was excluded from watching the absentee ballot review process. Michigan law allows "challengers" to monitor the absentee ballot process and challenge ballots that may not comply with state voting procedures.

The Trump campaign claims that Michigan is not complying with state law, as its absentee voter counting boards are being conducted without inspectors from each party being present. The also allege the state is violating the state constitution and election law by allowing absentee ballots to be processed and counted without letting challengers observe video of ballot boxes where the ballots are placed.

The campaign and Ostergren asked the court to order Michigan Secretary of State Jocelyn Benson to halt the counting and processing of absentee ballots until an election inspector from each party is present at each absentee voter counting board, and until video is made available to election challengers.

In response to the lawsuit, Benson told CBSN that the suit does not have merit and the state is confident in the process of counting all votes. Michigan Attorney General Dana Nessel said "every legally cast ballot will be counted in accordance with the law."

Following a hearing Thursday afternoon, Judge Cynthia Stephens rejected the Trump campaign's request for the vote counting to be halted, noting in part that its lawsuit was filed late Wednesday afternoon, at which point vote counting had largely proceeded. The "essence of the count is completed," she said.

Stephens also said Benson had already issued a directive to ensure compliance with state laws, which included instructions for providing access for poll-watchers.

CBS News projected Biden will win Michigan, where he leads Mr. Trump by 146,896 votes.
[ED7] Nevada
Mr. Trump has routinely made claims of voter fraud despite little evidence such widespread fraud exists. When given the opportunity by judges in prior lawsuits to present proof that certain situations would lead to fraud, his campaign and the GOP have failed to do so.

Still, the Trump campaign and Nevada Republicans announced they plan to sue in federal court to force election officials in the state to stop counting "improper votes." The lawsuit, filed Thursday on behalf of a Nevada voter and two congressional candidates, claims there have been "irregularities" in Clark County.

The lawsuit alleges there were "lax procedures for authenticating mail ballots and over 3,000 instances of ineligible individuals casting ballots," that ballots have even been cast on behalf of dead voters, and the public has been kept from observing the processing of mail ballots."

The lawsuit calls for the court to block elections officials from using its signature-verification software system and allow "meaningful access to the ballot counting process."

A federal judge denied the Trump administration's requests following a hearing Friday.

"Public interest is not in favor of disrupting the completion of the processing and counting of the ballots," Judge Andrew Gordon said, adding that there was "an interest in not disenfranchising" potentially hundreds of vote "against one improper ballot."

Biden's lead over Mr. Trump has widened as the state reports more vote totals, to roughly 20,542.
[ED8] The Scaping of the Scapegoats, Part 1
Per Current Vote Count:
GA: Trump -4k. Libertarians won 61k
PA: Trump -27k. Libertarian 77k
WI: Trump -20k. Libertarian 30k
AZ: Trump -29k. Libertarian 47k.

Absolutely blood boiling. I hope these voters are happy.

— Scott Ruesterholz (@Read_N_Learn) November 7, 2020
[ED9] The Scaping of the Scapegoats, Part 2
And if they spent it all (yikes) then they should consider using their fundraising juggernaut to get resources to those orgs.

— Alexandria Ocasio-Cortez (@AOC) November 7, 2020
[ED10] The Scaping of the Scapegoats, Part 3
As the City Clerk of the City of Rochester Hills, this is my response to the inaccurate statement of @GOPChairwoman. https://t.co/TdxyIvEZ2J pic.twitter.com/t5C1VvGR01

— Tina Barton (@TLBsStory) November 7, 2020
[ED11] The Scaping of the Scapegoats, Part 4
The guy who called Arizona for Fox News donated to Obama/Biden in 2008.

Fox News (and the AP) should RESCIND their call of Arizona for Biden.@realDonaldTrump will WIN ARIZONA and be re-elected. https://t.co/ahjp3rkhdp

— Tim Murtaugh (@TimMurtaugh) November 5, 2020
[ED12] The Scaping of the Scapegoats, Part 5
The time to STAND UP for @realDonaldTrump is RIGHT NOW!

Republicans can't back down.

This loser mindset is how the Democrats win.

President Trump has fought for us, we have to fight for him.

We won't forget. Trust me. https://t.co/rN83otNxZd

— Marjorie Taylor Greene 🇺🇸 (@mtgreenee) November 6, 2020
[ED13] Since we've been co-opting the French this week…
A map of the electoral college that might make things easier for some of us. (Nebraska and Maine are the only states with split electoral colleges.) https://t.co/v7BrvqBYM8

— Barry Purcell (@solo1y) November 7, 2020