Election Day, Jour Quatre et la Grosse Dame: UPDATED Recap, Open Thread, and Latest News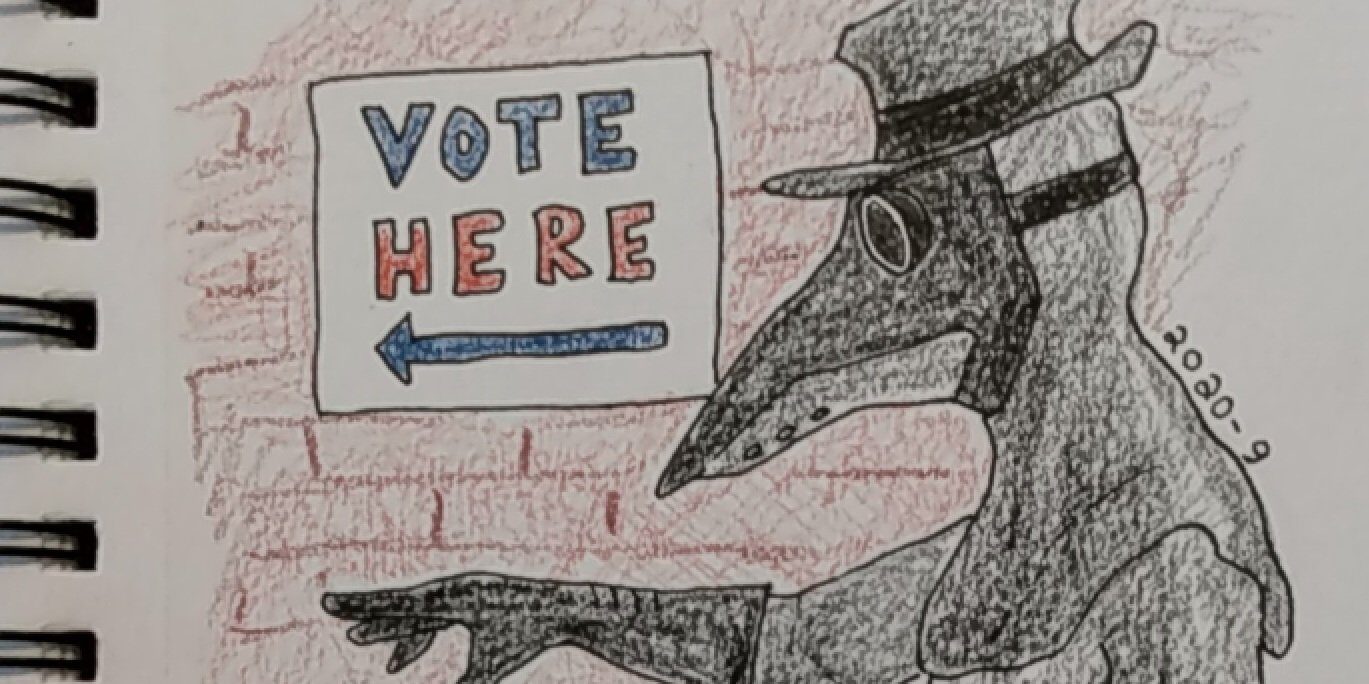 12:30pm EST Biden to address nation at 8pm, expected to declare victory
.@edokeefe reports Joe Biden is making plans to speak later on Friday to declare victory if the presidential race is called in the afternoon https://t.co/muaB5VhVsz pic.twitter.com/QMC6ANK2cP

— CBS News (@CBSNews) November 6, 2020
10:45am EST There will be a recount in presidential race, along with Senate run-offs in Georgia
"With a margin that small, there will be a recount," Georgia Secretary of State Brad Raffensperger says, as race between Biden and Trump is down to thousands of votes

"The final tally in Georgia at this point has huge implications for the entire country" https://t.co/fxHKy8hSEp pic.twitter.com/um03Yn3unW

— CBS News (@CBSNews) November 6, 2020
8:50am EST Biden takes Pennsylvania
Decision Desk HQ projects that @JoeBiden has won Pennsylvania and its 20 electoral college votes for a total of 273.

Joe Biden has been elected the 46th President of the United States of America.

Race called at 11-06 08:50 AM EST

All Results: https://t.co/BgcQsEyt3j

— Decision Desk HQ (@DecisionDeskHQ) November 6, 2020
Original Post Follows:
ICYMI Last Night:
President Trump's comments at 6:40pm EST Thursday
LIVE: President @realDonaldTrump delivers remarks https://t.co/Oa13t7CxaC

— The White House (@WhiteHouse) November 5, 2020
Meanwhile:
Former Vice President Joe Biden opened up a narrow lead over President Donald Trump in Georgia early Friday morning as absentee ballots continued to be counted.

Biden led by 917 votes after Clayton County counted more absentee ballots. Biden won 87% of ballots tabulated between late Thursday night and Friday morning in Clayton, located south of Atlanta.

Biden chipped away at Trump's lead since Election Day as more absentee ballots were counted. Biden trailed by 118,000 votes on Wednesday morning but steadily gained ground as over 237,000 absentee ballots, many of them from Democratic-leaning counties, were counted since then.

The race to win Georgia — and the presidency — isn't over.

Thousands more absentee ballots will continue to be counted Friday, including 4,800 in Gwinnett County. In all, about 10,000 absentee ballots remained to be tallied, in addition to a few thousand military, overseas and provisional ballots.

Secretary of State Brad Raffensperger has emphasized that every legal ballot must be counted. County election offices have until a Nov. 13 deadline to certify their results.
Pennsylvania
Two Stories from 6ABC in Philadelphia
After former Vice President Joe Biden appeared to trail President Trump by hundreds of thousands of votes in Pennsylvania on Election night, the days-long count of mail-in ballots reduced the president's lead to fewer than 20,000 by Thursday evening.

As of Friday 1 a.m. in Pennsylvania:

*6,639,262 ballots have been counted.

*95% of the total expected vote has been counted
*63 percent of the counted ballots are election-day ballots, and 37 percent are mail ballots.

Trump: 3,286,171 (49%)
Biden: 3,267,942 (49%)
——–
Gap: 18,229

* Statewide, 93 percent of all 2,622,681 mail ballots returned so far have been counted. At least 175,880 more mail ballots need to be counted.

* 76 percent of mail ballots counted so far are for Joe Biden.

* In Philadelphia, 358,644 absentee and mail-in ballots have been returned so far. 84 percent of those have been counted, and 58,642 more need to be counted.

* Votes counted in the suburban counties: Delaware (92%), Bucks (93%), Chester (98%), Montgomery (99%).
Philadelphia police are investigating an alleged plot to attack the Pennsylvania Convention Center in Philadelphia on Thursday night.

Action News has learned that police got a tip about a group driving up from Virginia in a Hummer to unleash an attack at the Convention Center where votes are being counted in Philadelphia.

Police tell Action News they found a weapon and two people were transferred to Central Detectives.

However, it's unclear how or if the people are connected to the investigation.

Early Friday morning, the Hummer was still on 13th Street near Vine. The vehicle had a window sticker and a hat with the logo for the internet group QAnon known for spreading conspiracy theories.
The FBI has labeled them a domestic terror threat.

At least 24 congressional candidates in this current election have endorsed or given credit to conspiracy theories promoted by the group.

No injuries were reported.
While all that is going on, the courts are busy:
Updated at 10:17 p.m. ET

President Trump's campaign has unleashed a multipronged legal offensive directed at states where vote counting continued Thursday based on unsupported allegations about fraud and irregularities in the election.

Attorneys for the Trump campaign sought intervention from the U.S. Supreme Court and also filed suit in Pennsylvania, Georgia and Nevada seeking remedies they hoped would help their prospects in those places. In some instances, that included requests for counting to cease altogether or at least pause for a time.

In Wisconsin, the campaign said Wednesday it would request a recount after unofficial tallies showed Democrat Joe Biden leading Trump by about 20,000 votes. The Trump campaign alleged, with little evidence, irregularities in the vote. A recount can't begin until the state officially certifies the results, which are due by Dec. 1.

In particular, Republicans have complained their observers are not being granted access close enough to observe vote counting and filed a flurry of lawsuits around the issue. In Nevada, a lawsuit also objected to the state's decision this year to send absentee ballots to all active voters.

Trump made his objective clear with posts on Twitter, including one that sought to "STOP THE COUNT."

…

A Georgia judge summarily dismissed a Trump campaign lawsuit on Thursday afternoon that alleged ballots received after a 7 p.m. Election Day deadline were mixed in with legitimate ballots, according to The Current, a nonprofit newsroom in Georgia that partners with NPR member station Georgia Public Broadcasting.

"The court finds that there is no evidence that the ballots referenced in the petition were received after 7:00 p.m. on [Election Day], thereby making those ballots invalid," Judge James F. Bass wrote.

Later Thursday, a Michigan Court of Claims judge ruled against a challenge filed by Trump's campaign as to how absentee ballot counting was handled, reported Rick Pluta of NPR member Michigan Public Radio Network and Abigail Censky of member station WKAR in East Lansing, Mich.

Trump's campaign alleged it was not getting enough access for its poll challengers in counting sites. Judge Cynthia Stephens said the Trump campaign failed to make its case, and that it's too late to grant the remedy requested.

"On this factual record, I have no basis to find that there's a substantial likelihood of success on the merits as relates to this defendant, nor am I convinced that there is a clear legal duty on behalf of anyone who is properly before this court to manage this issue," Stephens said.

The legal merits of Trump's various other challenges appeared thin to many legal analysts.
Back on the political ranch, the president's evening statement did not go over well with chunks of his own party, while being cheered by President Trump's more ardent supporters:
As Trump's closest allies backed his unfounded claims, some other Republicans defended the election process and the poll workers who are still counting hundreds of thousands of legally cast ballots.

Maryland Gov. Larry Hogan (R), who did not vote for Trump, said there was "no defense" for the president's misleading speech.

"America is counting the votes, and we must respect the results as we always have before," the Republican governor said in a tweet. "No election or person is more important than our Democracy."

Romney said in a statement that "counting every vote is at the heart of democracy."

"That process is often long and, for those running, frustrating," he added. "The votes will be counted. If there are irregularities alleged, they will be investigated and ultimately resolved in the courts. Have faith in democracy, in our Constitution, and in the American people."

Reps. Denver Riggleman (R-Va.) and Adam Kinzinger (R-Ill.) called for the president to present evidence of his claims and "respect the democratic process that makes America great."

"STOP spreading debunked misinformation," Kinzinger tweeted. "This is getting insane."

Sen. Marco Rubio (R-Fla.) similarly reassured the public that continuing to count legally cast ballots is "NOT fraud," though he also suggested that Trump was within his right to challenge any votes "cast after the legal voting deadline." (No evidence of late voting has been publicly disclosed.)

Sen. Patrick J. Toomey (R-Pa.) offered a more tempered stance, but still raised the specter of election irregularities.

"All votes that comply with Pennsylvania law must be counted, regardless of how long the process takes," Toomey said in a statement Thursday, adding that a recount "should be immediately granted" if the vote count meets the threshold for one.

"Once a final count is reached and certified, all parties involved must accept the outcome of the election regardless of whether they won or lost," he added.

Many other Republicans, including some former governors and governors-elect in states still counting votes, also urged the public to remain patient and ignore unfounded allegations.
Somewhat lost in the noise, the Democratic Party House Members had a bonkers — and contentious — conference call that went more than three hours over the GOP gaining seats in congress. It isn't election news without a "Dems in Disarray!!!" piece of course. This isn't quite that, but Speaker Pelosi hasn't had a great election:
An angry dispute erupted among House Democrats on Thursday, with centrist members blasting their liberal colleagues during a private conference call for pushing far-left views that cost the party seats in Tuesday's election that they had worked hard to win two years ago.

The bitter exchange, which lasted more than three hours as members sniped back and forth over tactics and ideology, reflected the extent to which the 2020 campaign exposed simmering tensions in the party even as its presidential nominee, Joe Biden, stands on the brink of achieving their biggest goal of the year — ousting President Trump.

Party leaders had expressed certainty that Trump's divisiveness and mishandling of the pandemic would help them expand their majority with wins in GOP-held districts — and yet they lost at least a half-dozen seats and failed to retake the Senate. The explanation laid out by centrists, according to multiple people who were on the call and spoke on the condition of anonymity, is that Republicans were easily able to paint them all as socialists and radical leftists who endorse far-left positions such as defunding the police.

"We need to not ever use the word 'socialist' or 'socialism' ever again. . . . We lost good members because of that," Rep. Abigail Spanberger (D-Va.), who narrowly leads in her reelection bid, said heatedly. "If we are classifying Tuesday as a success . . . we will get f—ing torn apart in 2022."

Other centrists, including Rep. Marc Veasey of Texas, made similar points. Rep. Debbie Mucarsel-Powell, a Florida Democrat who suffered an unexpected loss to a Republican challenger, argued through tears that the party's infighting on Twitter needs to stop.

Liberals, meanwhile, fired back. Rep. Pramila Jayapal (D-Wash.), co-chairman of the Congressional Progressive Caucus, argued that Democrats shouldn't single out people and ideas that energize the party base. Rep. Rashida Tlaib (D-Mich.), a self-described democratic socialist, grew angry, accusing her colleagues of only being interested in appealing to White people in suburbia.

"To be real, it sounds like you are saying stop pushing for what Black folks want," she said.

Democrats are poised to hold the smallest majority in 18 years, undercutting the leverage of House Speaker Nancy Pelosi (D-Calif.). The rancor on Thursday's call is certain to be more pronounced next year as the party faces the tougher task of uniting to pass legislation.

During the call, Pelosi sought to reassure her members that the election wasn't as bad as it seemed. Democrats, she argued, have held on to about 70 percent of the 30 Trump-carried districts they won in 2018 — and she predicted they would capture the White House.

"We held the House. Joe Biden is on a clear path to be the next president of the United States," she said. "We did not win every battle, but we did win the war."

Pelosi even held out hope of taking control of the Senate, pointing to two likely runoffs in Georgia where Democrats will be severe underdogs. Majority Whip James E. Clyburn (D-S.C.), however, cautioned that if Democrats run on socialized medicine and defunding the police, "we're not going to win" those races.

Congressional Democrats' high hopes dashed as GOP clings to Senate majority, scores unexpected gains in the House

In the aftermath of their unexpected losses, Democrats argued that the party needs to come to terms with a bigger problem: Republicans have successfully cast the most vulnerable Democrats as "socialists" and tied them to liberal ideas, including Medicare-for-all, the Green New Deal and cutting police budgets.

It didn't matter that Biden, House Democratic leadership and most members have rejected calls to "defund the police," a position that got lost in attack ads.

The attacks, moderates warned, have proved salient and powerful — and Democrats need to figure out a way to address them now.

"Democrats' messaging is terrible; it doesn't resonate," Rep. Kurt Schrader (D-Ore.), a member of the Blue Dog Coalition, said in an interview. "When [voters] see the far left that gets all the news media attention, they get scared. They're very afraid that this will become a supernanny state, and their ability to do things on their own is going to be taken away."

The blame game extended beyond the liberal members. Several moderate Democrats said in interviews that Pelosi should have made a deal with the Trump administration on a coronavirus relief package. Many moderates had been pushing her to compromise, fearful that constituents would blame them as Democratic leadership was unwilling to give Trump a legislative victory before the election.

Pelosi has said she was holding out for a better deal and that politics had nothing to do with it. Trump, she argued, wasn't backing policies that address voters' needs — but to centrists, that was just an excuse to say no.

"It made us look like obstructionists instead of those up for the challenge the country needs," said one lawmaker, who spoke on the condition of anonymity to talk frankly. "That was a huge mistake. Trump was like, 'I'm ready for a deal, make it bigger!' and Pelosi was obstructing."

Rep. Cheri Bustos (D-Ill.), the chairwoman of the Democratic Congressional Campaign Committee who nearly lost her seat, is also facing members' wrath. On the call, Bustos defended her operation, arguing that Republicans were forced to "spend tens of millions of dollars playing defense, deep into their territory in Arkansas, Montana, Alaska, Missouri, Indiana, western North Carolina, and more." But she also offered sympathy.

"I also want to say the thing we're all feeling: I'm furious," she said. "Something went wrong here across the entire political world. Our polls, Senate polls, gov polls, presidential polls, Republican polls, public polls, turnout modeling and prognosticators all pointed to one political environment — that environment never materialized."

She added: "I want answers, and my team is already planning how we go and get those answers. I look forward to talking them through with you."
Updates will follow as warranted.