Election Day, Le Troisième Jour: UPDATED Recap, Open Thread, and Latest News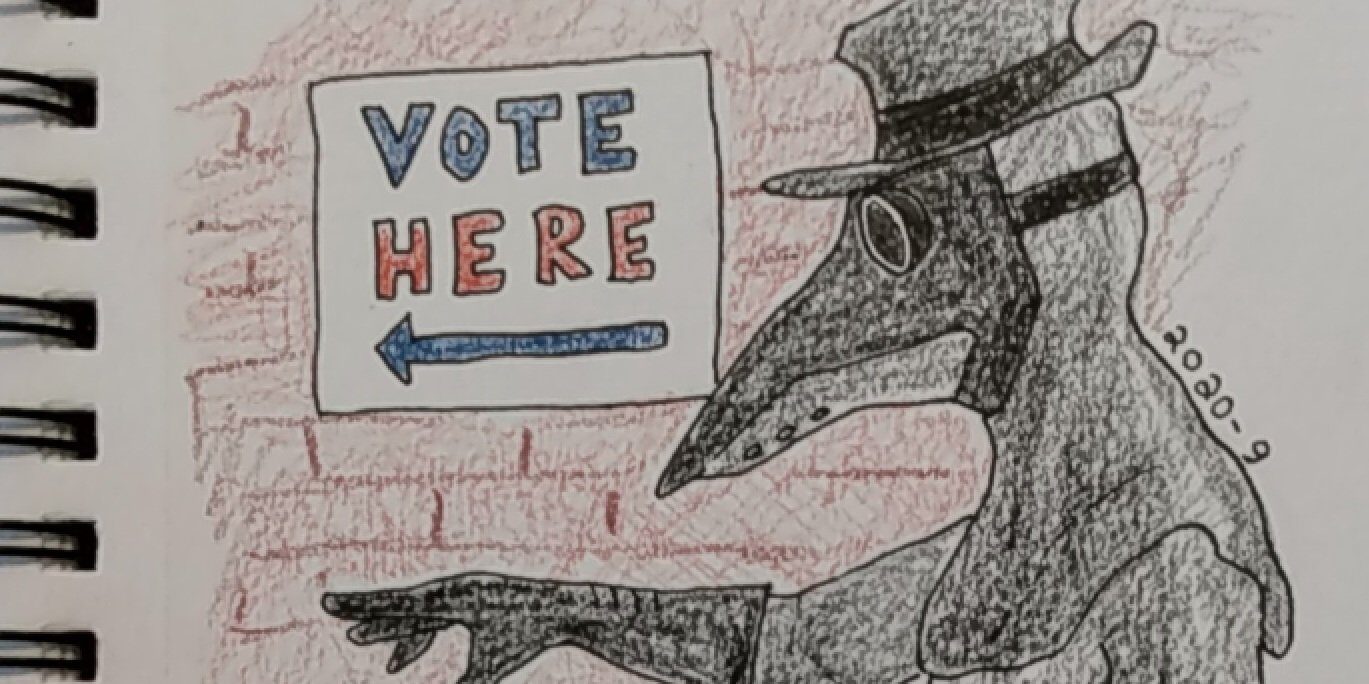 UPDATE: President Trump's comments at 6:40pm EST Thursday
LIVE: President @realDonaldTrump delivers remarks https://t.co/Oa13t7CxaC

— The White House (@WhiteHouse) November 5, 2020
Original post below:
First, let's back up for a second and cover why the "calls" are all over the place. For example, here The Guardian lays out part of the problem:
As the US election slowly draws to its conclusion, one of the areas of confusion is that different media outlets are showing different results for the electoral votes.

The president is elected by winning at least 270 electoral college votes, not the outcome of the popular vote. Because there is no centralised federal election system, it has become tradition in the US that "decision desks" at media organisations make a call that states have been won by one candidate or the other when enough votes have been counted. States that are too close to call – such as Nevada and Georgia at the moment – remain in the balance until a network "calls" them.

The Guardian uses the data collected and analysed by the Associated Press (AP) news agency as the source for when we will call election results. There are a number of other highly reputable election decision desks in US media, including NBC, Fox News and others. They may call races earlier or later than AP. US networks obviously use the decisions from their own desks – other channels may chose to follow one, or wait for two desks to call a state before they count it.

This year, Arizona has shown this into sharp relief. Our current total of 264 electoral votes for Joe Biden includes the fact that AP has called Arizona for the Democratic nominee. Not all decision desks have yet.

AP has issued this guide to all of the states it has called. This is what it says about Arizona:

The AP called the race at 2.50am EST Wednesday, after an analysis of ballots cast statewide concluded there were not enough outstanding to allow Trump to catch up. With 80% of the expected vote counted, Biden was ahead by 5 percentage points, with a roughly 130,000-vote lead over Trump, with about 2.6m ballots counted. The remaining ballots left to be counted, including mail-in votes in Maricopa county, where Biden performed strongly, were not enough for Trump to catch up to the former vice-president.

The Trump campaign disagrees. Biden's lead is currently down to about 68,000 votes in the state – or less than three percentage points – with 88% of the votes counted.
No additional Nevada General Election results will be released (Wednesday). The Nevada Deputy Secretary of State for Elections, Wayne Thorley, told 8 News Now's Vanessa Murphy earlier in the day that his office was hoping to release more results Wednesday afternoon. Thorley later confirmed that this would not happen.

Thorley says the next update will be tomorrow morning at 9 a.m. He also told us starting at 9, election results will load one county at a time on the website.

The I-Team also asked if there was any evidence of voter fraud in Nevada so far, to which Thorley replied:

"No. No evidence whatsoever of coordinated, widespread voter fraud. We have received a handful of complaints and allegations, and they're just allegations at this point, unproven, that we're looking into. But no. No evidence of voter fraud."

He says less than 10 allegations are being investigated and that law enforcement is involved.

As we reported yesterday, 30 polling locations were ordered by a judge to stay open an extra hour. The Trump campaign and Nevada Republican Party filed a lawsuit to keep polls open after they got a late start due to technical issues.

We asked Thorley how that affected the election. He wouldn't comment on lawsuits, but he did say the results were then reported about an hour later.

Clark and Washoe counties also had conflicting information throughout the day, by Wednesday afternoon, according to both county registrars, no more results had been or would be released.

Wednesday morning, the Elections Division of the Nevada Secretary of State's Office tweeted: "That's it for election results updates until 9:00 am on Nov. 5." The full tweet is below:
That's it for election results updates until 9:00 am on Nov. 5. Here's what has been counted so far:

All in person early votes
All in person Election Day votes
All mail ballots through Nov. 2

1/2

— Nevada Elections (@NVElect) November 4, 2020
With President Donald Trump leading Joe Biden by 196,000 votes and 12 percent of the estimated vote still uncounted, Pennsylvania Democrats and Republicans spent Wednesday working out the rough math surrounding the as-yet-uncounted mail-in ballots.

There were more than 1 million mail ballots left to be counted as of 2:35 p.m., according to Pennsylvania's Department of State. So far, 78 percent of mail ballots have broken for Biden and 21 percent have been won by Trump.

If that pace continues — and it's a big if — Biden would take the lead. Looking at the amount of mail ballots Biden is winning as well as the places still to be fully counted, some Democratic elected officials and consultants, including Sen. Bob Casey, estimate Biden will carry Pennsylvania by about 100,000 votes in a tight race.

"Biden has been winning the absentee votes by a fairly steady margin, so the math is pretty simple," said J.J. Balaban, a Pennsylvania-based Democratic strategist. "There's no reason to think that there is going to be a big change in the uncounted mail-in ballots from the ones that have been counted."

Democrats also point to the fact that Biden is performing better than Hillary Clinton in places such as northeastern Pennsylvania's Lackawanna County, where he was born. And he's ahead of Trump by less than half a percentage point in Northampton County, one of three counties in the state that flipped to Trump in 2016 after twice voting for President Barack Obama.

But all of that depends on whether Biden continues on the current track. There is another scenario, laid out Wednesday by Trump's campaign and state Republican strategists, predicated on the idea that Trump will perform more strongly in the mail ballots left to be counted because many are from areas where he is popular.

They projected early today the president would receive 30 percent of the vote in the remaining areas still counting mail ballots with the exception of Philadelphia, where they would take 5 percent — a number Trump campaign manager Bill Stepien said "a very, very conservative estimate."

The Trump team's rationale is that as of Wednesday morning, some of the counties with mail ballots left to count included Trump strongholds in western and northeastern Pennsylvania. Some are sparsely populated, but others are larger counties such as Westmoreland. Under that scenario, the Trump team claimed this morning that the president would defeat Biden by 40,000 votes.
As Maricopa County released the results from 140,000 more ballots on Wednesday night and Thursday morning, President Donald Trump received almost the exact share he would need to charge back to win Arizona's 11 electoral votes and potentially reelection.

Trump won the batches of ballots from Maricopa County counted Wednesday and early Thursday by a roughly 57-40 margin over former Vice President Joe Biden.

Those votes — likely early ballots sent to the county on Monday and Tuesday — narrowed Biden's lead over Trump in Arizona to 68,000 votes, when his lead had been more than 90,000 votes earlier Wednesday.

Paul Bentz, a Republican pollster with the consulting firm HighGround, said Trump needs to win 57.6% of the 470,000 votes that The Arizona Republic estimates remain to be counted.

"That's almost exactly what he got in the first batch," Bentz said. "He could do it."

But the problem for Trump is that he needs to replicate that performance across all of the remaining 470,000 votes left to count in the state. And he needs to do it across all Arizona's 15 diverse counties, which include areas that are very blue: Pima, Coconino and Santa Cruz counties.

Trump needs to repeat that performance "with every single batch, with every single ballot, with every single day," Bentz said. "The first step in the long journey was a successful one in Trump's tightrope walk."

The president also needs to maintain that vote margin through different batches of ballots that include those that arrived in the mail before Election Day, early ballots dropped off at the polls on Election Day, and provisional ballots that voters cast because they didn't have the right form of identification or went to the wrong polling place.
UPDATE: Interesting note:
Take MI: the Trump camp's lawsuit is very thin on particulars. They claim election challengers have been denied access to absentee voter counting boards and drop box surveillance video, but they offer no facts or details to that effect. See for yourself: https://t.co/MyUHxANh9e

— Kevin Daley 🏛 (@KevinDaleyDC) November 5, 2020
UPDATE: Well, that didn't take long…
BREAKING: Georgia judge dismisses lawsuit by Trump campaign, AP reports https://t.co/4rI9IAF24c pic.twitter.com/mUGmfFhLsu

— Bloomberg (@business) November 5, 2020
La vie en rose - Louis Armstrong