Best Meal Ever Week: Jurassic Cart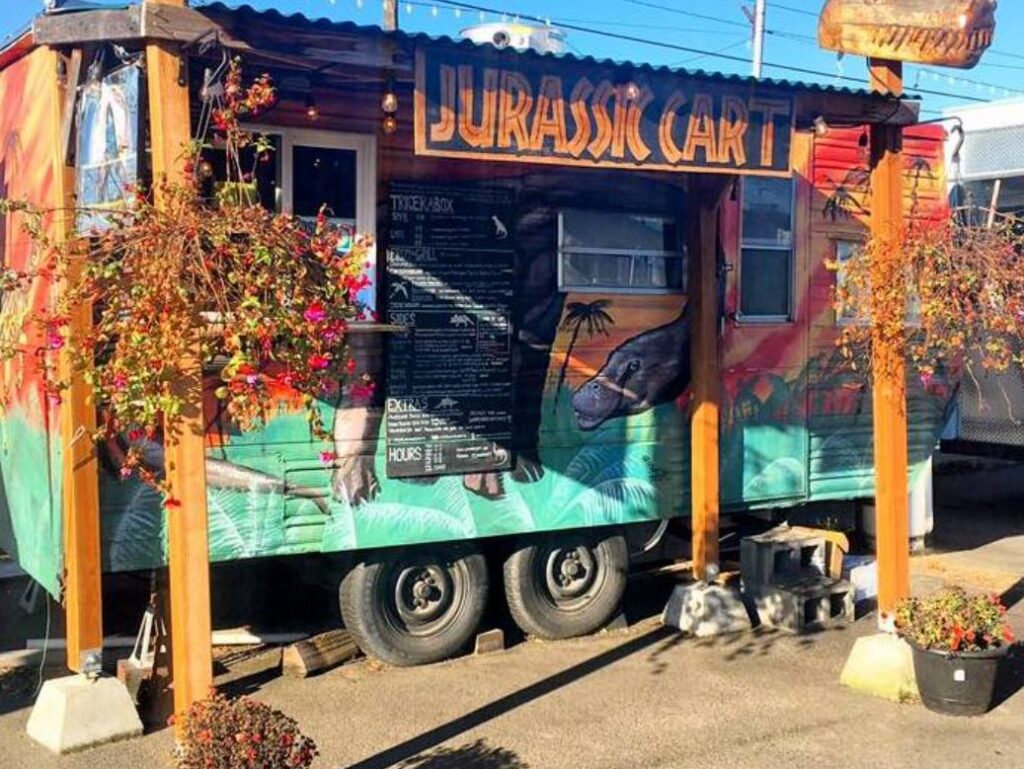 I'm pretty sure it was a Wednesday. The cart was closed on Mondays and Tuesdays. Hey, everyone needs a day off. And there weren't very many of the free weeklies around. So, it must have been a Wednesday.
The moving truck had arrived that morning, but it had only taken an hour or so for the crew to walk all my stuff into my new home. I directed where the big furniture should go, and the various boxes had been properly labeled. After tipping the movers, I logged back into my home office computer, now on an actual piece of furniture, and resumed working for Major British Insurance Syndicate.
It had been only three days since I'd moved into my new home in Portland, Oregon. A tumultuous year of 2016 had seen death in my family, a dead-ending of my career ambitions, the loss of a beloved dog, the depressing election of Donald Trump, and worst of all, an emotionally painful divorce. I'd wrestled with depression, and had set out to change the flow of my career and my life and ultimately (with a little help from some friends including here on these pages) wound up in Portland, Oregon. It had taken at least one false start for a geographic relocation before that, a rather longer amount of time to sell my home in what I'd been assured was a then-hot real estate market, and some complex logistics to coordinate, but here I was, sitting on the upper floor of a nice, clean, and now ready-to-unpack home. Back in the good old days of 2018, the ability to work at home seemed a novelty and a privilege. (Oh, how things have changed in oh so short a time!)
What I didn't have, and didn't consider a particularly high priority, was a car. And by the time night fell and I logged out of my online work-at-home 8-to-5, I was quite hungry. So it was that I came to inaugurate what became a nearly year-long habit: I plugged in my handsfree speakers for my phone, started playing a podcast, and set out on foot to go explore my new city. On that first day of this new habit, my feet took me to the east; I was hoping to catch a glimpse of Mt. Hood at sunset.
As it turned out, I was disappointed. There are a lot of tall trees and two-story buildings around my neighborhood, and I wasn't at that point quite sure precisely where to look to find the volcano. But trying to find places where streets might open up and afford me a look took me out to a street that cut diagonally through the general grid of the southeastern quadrant of Portland: Foster Road. And there on the other side of it, near a strip club advertising "gluten-free lap dances," was one of Portland's trademark food cart pods.
Other places have food trucks. Portland had food carts, which in some cases are actually the very same trucks that other cities and areas have, and in other cases are either trailers or small sheds with kitchen equipment inside. For whatever reason, the local shibboleth is to refer to such a small, informal restaurant as a food cart, and in various locations around the city, an owner of an otherwise vacant or under-developed lot could rent spots out to food cart owners, set up a few picnic tables, and presto! the resulting assembly of various tasty, affordable, very casual meal purveyors is termed a food cart pod. Here was one not that many blocks away from my own home!
At this pod just off of Foster Road, there was a broad variety of food available — a burger cart, a fish-and-chips cart, a Japanese noodles cart, a barbeque cart, a taco cart, a fried chicken cart. Over time I'd sample them all. But the one that caught my eye first was one selling paleo food, and its name was "Jurassic Cart." Pursuing the theme suggested by the clever name, the cart had been painted with cartoonish dinosaurs. I wound up ordering a "Tricerabox," a combo plate of a skewer of grilled chicken, chipotle-flavored sweet potato mash, a green salad with roasted and chilled cubes of yellow squash, a gluten-free biscuit which was not only light and fluffy but richly buttery-flavored, and a "dino egg," which turned out to be half of a grilled avocado filled with a scoop of riced cauliflower. It came with a small plastic toy dinosaur; I think that one was an allosaurus made from green injection-molded plastic.
A separate cart adjoined a beer garden, and within a few minutes, I had a cold draft apple cider and a piping-hot box full of paleo food. I found one of the free weekly newspapers and read through the listings of bands and other live entertainment rolling through town. The skewer had been grilled gorgeously and the sauce was spicy and tangy. The stars came out while I ate. The air smelled crisp and clean. Groups of young people joked and laughed amongst themselves, and I could feel confident that although I was new in town, I too would make friends and with them, enjoy nights of outdoor food and drink and shared fun. I felt full, relaxed, and energized all at the same time, and had purchased tickets to my first live show in town, a taping of one of my favorite podcasts.
It was, quite simply, a definitively Portland experience, the exact sort of thing I had hoped to find upon relocating to the Rose City. And the food was so damn good, it ranks as at least one of the best meals I'd ever had.
Over the next several months, I eventually stopped working for Major British Insurance Syndicate in favor of pursuing self-employment, but didn't stop exploring the city on foot to find cool and fun places to eat and drink. Jurassic Cart became one of my favorite local hangouts and I have nearly a dozen toy dinosaurs from various meals in my desk at home, although there were at one point so many awesome places to eat and drink that I simply couldn't list them all and needed the assistance of apps on my phone to keep track of everything I'd discovered.
The owners of Jurassic Cart rented a brick-and-mortar space not very far away from the cart pod and were all set to open up a sit-down restaurant in February of 2020; apparently they did open for a few weeks before the quarantine orders started. Quite possibly the worst timing imaginable. But how could anyone have known? I haven't seen or heard anything of them since; their web pages suggest that the entire business is closed permanently.
Eventually, someone will buy the cart and come up with their own idea. Eventually, the pandemic will end, and we will recover from the recession. Hopefully, the owners of Jurassic will recover from the blow these grand events laid upon them and come back onto the Portland social and dining scene. This is the way of things, after all.
I'll not soon forget that evening in September of 2018. After a lot of setbacks and a lot of effort, I'd found circumstances for life to deliver up the kind experience that I had wanted: something new, something delicious, something healthy, something readily at hand. It was a symbol that after a lot of life changes, things were starting work out for me again.