A Non-Partisan's Case For Straight-Ticket Voting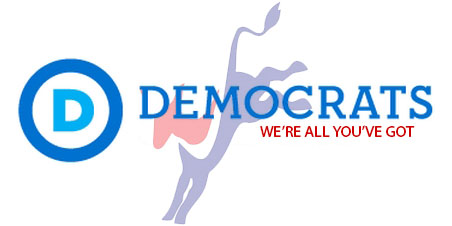 When it comes to politics, I've never really been a good soldier. Even when I was at my most partisan as a Republican, I still voted for Democrats and if I ever voted straight-ticket it was specific to the specific slate of elections. I had my preferences, and they did tend towards Republican, but bad apples are bad apples, and I am suspicious of unfettered partisan control. And at no point has either political party been so bad that the other side gets my vote simply by virtue of their political party.
And then came Donald Trump.
I could go over the reasons that Donald Trump is bad, though at this point you have heard them all.
If politics were a series of checkboxes of political positions, he might not be so bad. A lot of them are pretty standard Republican. But then we would run into the extent that he takes them. Being against illegal immigration is one thing, but the smashmouth approach to destroying the families that try to come here is not something I can really get on board with. There is some overlap between what Obama did and what Trump did, but most of the actions of Obama were incidental or trying different things, often a failure to maintain control over his own people. With Trump it was deliberate, targeted, and simply preferred policy. Not the lesser of evils, but considered a good unto itself. I discussed it briefly in an Arc Digital piece on ICE (one, incidentally, generally critical of the left):
One result from all this is we get a clearer picture of what immigration policy looked like before Trump got into office. Many stories and pictures that critics of this administration brought forward to condemn it actually turned out to predate it. This was then used by supporters of the administration to suggest moral equivalence and to charge critics with partisan-fueled hypocrisy, the gravest of all political sins.

The situations, of course, were not at all equivalent. While the Trump administration was creating a wave of unaccompanied children, the Obama administration was largely responding to a spontaneous one that resulted, at most, from a misunderstanding of policy. It's easier to have patience with an administration that's responding in good faith than one that is actively pulling families apart.
And of course, there is the question of competence and administrative capacity. Most recently this has come up with regard to the Covid-19. I can deal with a president that gets things wrong. I have a harder time with a president that doesn't care about getting things wrong. One that even shows indications of enjoying the suffering caused by getting it wrong, as long as the desired people are the ones sufferings. Or just an inability to see that not caring at least looks bad. This separates him from other Republicans, to at least some degree. Mike Pence is a reasonable counterfactual and given a task force to look at the virus they came up with a series of recommendations for a national response. Which Team Trump promptly disregarded. One of the "defenses" of President Trump is the suggestion no one else would have done better. I find that unlikely for several reasons, not the least of which is that not only would Hillary Clinton have done better1, but any of the 16 other Republicans who ran against him in the GOP primary would have done better. One of the reasons I believe this is that Trump himself, for all of his faults, could have done better. He just chose not to.
But this isn't about policy and administrative performance. One strange area of convergence between a lot of Trump supporters on the right and broad left is to dismiss any criticism but the above as being shallow. "You just don't like the tweets". As though policy or competence are the only basis for reasonable opposition. But even setting aside the above, the tweets matter. In the case of the virus, they were life and death. If he had done nothing differently from an executive standpoint, a more serious tone taking it seriously would have saved lives. Talking up masks as soon as the evidence pointed in that direction would likely have saved lives. A simple decision by his administration not to verbally ratfish any and every attempt to take this seriously would have lead his people to take it seriously, which would have saved lives2. Governing is hard, but this is the easy stuff. And he got it wrong. Deliberately. Over and over again.
Which has been part and parcel to his presidency in the overall. There are examples here and there where I believe he was taken out of context or his comments have been mischaracterized, but more common has been where he makes an ambiguous comment, people suggest a more benign interpretation, and he doubles down on some variation of what people were accusing him of meaning in the first place3. At best, he has declined to truly and consistently clarify his comments to address concerns. He leaves comments as ambiguous that should not be ambiguous and inserts ambiguity into what used to be considered shared values.
He does this for a variety of reasons, one of which (cited often by his supporters in particular) is that he and his folks like making people who are not them upset. If his immigration policy (among other things) can be characterized as "the cruelty is the point", then this can be characterized as "the outrage is the point." Politics was already divisive before he entered the scene, but he has taken it to a new level in modern politics. Not just as a side effect of his politics, or a biproduct (even a happy biproduct), but as its central rationale.
Right now, there is a video floating around of a dustup on the road between a Trump car and a Biden car around a Biden bus. The original video looked like the Trump pickup trying to run the Biden auto off the road. Then some subsequent suggest that the Biden car had changed lanes without appropriate caution. But this doesn't matter. None of these matters. Trump supports the pickup even (and perhaps especially if) they are trying to run Biden cars off the road. This isn't something that they refused to denounce. This is something they have actively celebrated. Trying to litigate traffic physics is beside the point. They will stand by the worst set of facts. And this is their politics.
And after 1300 words, I get to the final point of it, which is that the Republican Party has signed on to all of it. I mean, there's been a terse word here and there. There have been "I don't approve of everything he says but" prevarication. But almost all of them have endorsed him and have backed him. Not just voting for a policy that President Rubio could have gotten, or a judge President Cruz would have appointed, but with few exceptions have run interference for him in every way that has mattered. They've gotten their judges, a few of their policies, and perhaps most important to them ducked primary challenges and the wrath of the party.
In some cases, they have been loving it. This is exactly what they want the Republican Party to be. In other cases, they're taking their medicine out of fear. Most are likely somewhere in between.
Martha McSally is the junior senator from Arizona. Her record and history suggest that she is not a Trumpian by nature. She has nonetheless jumped with both feet into embracing Trump. She made the calculation that she simply couldn't win by getting on Trump's bad side. If you're not with Trump, you are likely to lose more Trump supporters than you gain in Trump critics. Jeff Flake lit his career on fire failing to get in line and left office with something like a 25% approval rating because Republicans hated him, and it wasn't enough to win the love of Democrats. Lisa Murkowski's approval ratings are low right now for similar reasons. Susan Collins looks poised to finally lose in no small part due to the same phenomenon.
The McSally Calculation is fundamentally correct. It is absolutely in their best interest to go along.
They are, to some degree, overtaken by events. It's easy for us to sit here and condemn them when for the most part we don't know what we would do if we faced the same tough choices that they do4. Believe it or not, I am sympathetic. And also, I don't care.
There is a scene in the movie Brigham City where the sheriff, who is also the bishop (which in the LDS church is more like "pastor") is going house-to-house searching for evidence of a serial killer. He goes into someone's house who is shifty and obviously hiding something. It turns out it's just a boring stash of pornographic VHS tapes. He tries to explain, and the sheriff is having none of it, explaining that he has bigger things to worry about at the moment than the sobbing sinner's mortal soul. And that's where I am with McSally, Sasse, and others. I don't envy their situation, but we have bigger things to worry about than whether they would be better people under better circumstances.
Next to the defeat of Donald Trump, the most important thing in politics right now is that people who enable him pay a price for having done so. As much of one as possible. The more correct the McSally Calculation is, the less likely it is they will ever see the better circumstances in which they may be better people. They have demonstrated that they will go along as long as they need to. As long as it is the path of least resistance. If the Martha McSally's can't win by going against the grain, it needs to be that they can't win by going along, either.
The counterargument to this, usually, is that if you take out those who aren't true believers then you're left with a more radical party. People like McSally and Cory Gardner are necessary, the reasoning goes, so that it doesn't become the party of Ted Cruz, Tom Cotton, or whoever. Such reasoning would be more convincing if they had added even a modicum of friction to the Trump agenda, but it's not clear that they did. But really, what this calculus overlooks is that the biggest group of senators are the impressionable ones who respond to incentives.
There has been a curious phenomenon on Twitter and in other places where people who don't especially care for Trump but have for a variety of reasons nonetheless run interference for him have tried to simultaneously argue that NeverTrump have entered a false dichotomy wherein if you oppose Trump you have to oppose all of the Republicans and at the same time arguing that Republicans that deviate from Trump when they do are signing their political death warrant. In fact, the latter assertion imposes the very dichotomy that the first assertion denies. To oppose Trump you do, in fact, have to oppose Republicans. Or, at least, any Republican so politically constrained.
As it is with Trump the individual, it is with the politics that he embodies. A politics that came before him and a politics that will not automatically leave after he is gone. With rare exception, you have to oppose the GOP to oppose Trump. Likewise, if you oppose what Trump represents and his natural successors, you must continue to oppose them after he is gone.
The party doesn't immediately reform after Trump leaves office. It doesn't become the party of John Kasich or Massachusetts Governor Mitt Romney in any event. But it also won't stay something that can't win. A lot of people on the left are giddy at the prospect of decades of rule as they run against a Republican Party that can't reform to win, but that's not going to happen. A lot of people have talked themselves into this idea that the party won't change if it can't win, but losing sucks. Being in the minority in congress sucks. Nobody really would rather have thirty true believers in the senate than a majority. Especially in the post-bipartisan era, being in the minority is to be irrelevant. People don't go into politics to be irrelevant. If they lose enough, they'll adapt. I don't know to what, and whether it would be anything I'd vote for, but away from this and there is a number more paths to travel in the direction of better than worse.
My own congressman seems to have already be pivoting from the Trump era. Everything I got from him the past two cycles has been about standing with Trump. There were Trump/Mooney signs everywhere. This year it's been about making schools better, hospitals better, and making things generally better. It's encouraging, if not sufficient.
But if they don't lose, they won't adapt.
So, in 2020, I am voting for Joe Biden. I will be voting against my congressman. I will even be voting for the wide-eyed lefty running against Capito for the senate.
The next step will be 2022, when the Republicans will likely be crossing their fingers and hoping that the rhythm of election history – the one where the out-party makes gains in midterms – takes over and puts them back into power. I'll be voting for Democrats then, too. We'll see where things stand in 2024, but I'm not super optimistic. After that, we'll see. But for as long as it takes, I am voting by party at the national level.
If you're like me and tend not to line up exactly with either side, or tend to prefer divided government, I urge you to shelf that instinct for the time being. The current GOP mentality and voting coalition cannot be allowed to be a winning one.
---