Best Meal Ever Week: Three Wonderful Sandwiches
Before I knew anything at all about food, my idea of a good meal was one that gilded the lily. If 8 ingredients was good, then 13 would be better but 18 would be even better than that! A good sandwich meant a Dagwood. You know, something like this: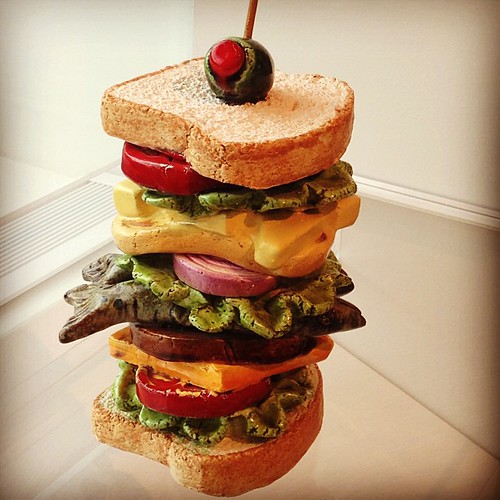 Almost too big to put in your mouth, three kinds of bread, ham and turkey and roast beef and salami and pepperoni and three kinds of mustard and two kinds of onions and lettuce and tomatoes and some American Cheese! The whole thing was a firehose of flavor!
I look back and I shake my head. Youth is wasted on the young.
Things changed when I worked at a little French Bistro as I went to college. The owners were amazing food artisans. He was a classical French Chef trained by Paul Bocuse. She was a pastry chef. They met at Epcot France and fell in love and got married and said "we should have a restaurant!" and she drove around the country and found that Colorado Springs was the city that was most likely to grow by leaps and bounds over the next few decades that also needed, goodness how it needed, someone who knew how to cook.
What I learned from the guy who learned from Paul Bocuse was this: very few ingredients, very fresh ingredients, very flavorful ingredients, and fat. Fat, fat, fat. Olive oil, butter, heavy cream. Additionally, give little nudges to the ingredients. Don't just give someone bread. Toast the bread for a few moments. If you're serving something with cheese, don't just slap the cheese on there. Put it under the salamander for 30 seconds to bring the oils to the surface. If you're making a sandwich? Sprinkle some olive oil on the lettuce and tomato. Heck, put some butter on the bread and grill it and make it toasty and golden brown. Put the sandwich next to a bowl of soup and make it a creamy soup. A tomato bisque, maybe (with heavy cream). A potato leek soup, maybe (with heavy cream). Cheesy broccoli soup? Put some cream in it too. *HEAVY* cream.
And, you know what? Holy cow. The food had very few ingredients… but it was amazing. Each flavor danced in your mouth and worked together and made new flavors.
Ratatouille - Synesthesia - HD - FX Animation by Michel Gagné
The toasted french bread, the grilled chicken breast, the brie cheese, the romaine lettuce, the roma tomato, the purple onion. Some olive oil and vinegar splashed on the rabbit food in the sandwich. Dip it in the soup when no one is looking.
That sandwich is easily the most expertly crafted sandwich I've ever eaten and it was made by someone who had made thousands of them.
Probably not the sandwich I was happiest eating, though.
That one happened a million years ago, back when Hold'em Poker was inescapable (ESPN had poker tournaments! Not ESPN 8! ESPN! This was *NUTS*!). Back then, Maribou and I went to Vegas about once a year to visit a friend who dealt poker there, do some light gambling, see some shows, drink some drinks, and eat at some of the fancy-schmancy restaurants. One year, we went out at Thanksgiving because, holy cow, you wouldn't believe the deals they offered on flights and hotels that week. Go on Monday, fly home on Friday, it was like $80 bucks airfare per person and $40/night at a *GOOD* hotel. Well, Treasure Island. Since I grew up thinking that Motel 6 was the average hotel and Motel 8 was the upscale one, Treasure Island was unimaginably luxurious.
Anyway, Vegas knew how to do Thanksgiving Dinner. We went out to one of the pinky-extended buffets on Tuesday and they had the "Traditional" feast set up for everybody. Turkeys the size of a VW beetle getting carved with miniature chainsaws, every single Thanksgiving side you've ever heard of made by master chefs (these minimarshmallows were carefully placed on top of these sweet potatoes by someone trained by someone trained by Paul Prudhomme!), and a dessert section that had everything from Amandine to Zwetschgenkuchen.
Oh, we ate until we almost burst. And then we napped. And then we hit the town because, hey, baby. Vegas. Come Thursday, we were pretty much partied out. We didn't want to do anything but sit in our hotel room and nurse our respective hangovers. Come suppertime, we invited our poker-dealing buddy over and called a local delivery place he knew about that was run by the Russian Mafia. We ordered Philly Cheese Steak sandwiches. And we sat in the room and laughed and talked about the week and poker theory. I was finally a grown up, doing grown up things, on a grown up vacation. Hanging with my friends and transgressively eating delivery on Thanksgiving Day. That sandwich is easily the sandwich that I associate with happiness.
But if you asked me about the best sandwich I've ever had, there's just one. Nothing intellectual that makes me consider expert craftsmanship. Nothing particularly emotional tying a good sandwich to good memories of good friends. When it comes to the sandwich that made me close my eyes and say "this is the best sandwich I've ever had", I have to go back to 1992. Ohio. This was a year that I spent experimenting with consciousness altering and I had just concluded yet another experimentation with a mind-altering substance and ordered a chicken sandwich that, now that I think about it, was pretty minimalist. Grilled chicken breast, lettucetomatoonion, vinegar and oil, salt and pepper. After the first bite, I closed my eyes and said "Oh my gosh. This. Is. So. Good."
When I think about "the best sandwich I've ever had", my mind always wanders back to that one. That was the best sandwich I've ever had. Seriously, it was SOOOOO good.
And now, when I get sandwiches that are really good, I think about those three sandwiches. And enjoy them, a little, again.
---
("Dagwood Sandwich" by Coloring our Moments by Mickey Destro is licensed under CC BY-SA 2.0)
(Featured image is "Madeleines and Vintage Tin" by French Tart and is licensed under CC BY-ND 2.0)