The Antifa Case for Voting Trump
I remember the first time I knew we were screwed.

Duck Dynasty.

You may remember back in 2013, a year which feels like several lifetimes ago now, how one of the dudes on Duck Dynasty got fired for saying problematic stuff in an interview with GQ. I had just had my fifth baby which didn't leave much time for reality tv, so I had never even heard of Duck Dynasty before the whole kerfluffle. But for a couple days there the brouhaha was well-nigh unignorable; I couldn't help but pay attention because Duck Dynasty opinions were EVERYWHERE. My family and friends were debating about it on social media, the media never shut up about it. Even George Takei had a hot take.

It felt so peculiar to me because it was the liberals who were saying things like "private companies should have the right to do business with whomever they want to" and the conservatives were all like "nu-uh, freedom of expression is what really matters".

Puzzling. I adamantly felt that had the tables been turned, and someone gotten fired from Fox News for saying something pro-gay-rights, the liberals would have been shrieking about the importance of free speech, and the cons would have been all private enterprise, hurr de durr. After all, we'd just endured CakeGate, and the debate had broken precisely along those lines. Liberals claimed society had a right to inflict popular values on business owners in the name of civil liberties, and conservatives were adamant that businesses have a right to engage only with customers and employees they choose.

The Duck Dynasty controversy was utterly bizarre to me. Seven long and grueling years later I still think it was bizarre, how completely left and right switched talking points, and how fast it happened. But while it definitely gave me tummy rumblings which have now developed into a full blown case of political dyspepsia, the media reaction alone wasn't enough to make me wake up to the fact that we were in a slow slide to hell. Politicians gonna politic, pundits gonna blather, and the media will do anything to get clicks.

No, I realized we were doomed because when I tried to explain it all to people, inviting them to join me in saying "huh, that's kinda weird, don't you think? Did everyone have a brain transplant or something?" no one knew what the fudge I was talking about. The people on the right seemed blind to the weirdness of it all, and the people on the left seemed not only blind, but deaf and dumb too. Even as I watched words that any conservative would have proudly said only weeks prior flying out of liberals' lips and off their fingertips, even as I watched my leftie friends who despised capitalism sticking up for the "rights" of a multimillion dollar corporation with the smarmy fervency of a speaker at CPAC, I was the only one who noticed. It was like standing at the 50 yard line during a football game, shirts vs. skins, and the shirts suddenly took their tops off and gave them to the skins and the whole game continued without the ref even blowing the whistle.

Now I, like many of you, have noted that at times, what Republicans claim to believe and what they actually DO with those beliefs are…hmm…shall we say, not exactly in lockstep with one another. But liberals? I had always believed them better than that. Maybe not the rank and file; there are fringe-y wackos in every movement, but the intellectuals, the philosophers, the voices of reason. They were better people, I just KNEW they were.
As the days progressed I kept waiting and waiting for a liberal pundit or comedian to make an insightful joke of it all like they would have back in the 80s and 90s, but there was nothing coming from the left but an arrogant moral certitude that I didn't like, didn't like at all, but sadly have in the years since become all too familiar with.

Up until that moment I had really, truly, always believed that liberals were more consistent, more reasonable, more logical – actually better people. Thanks to Duck Dynasty, I had to look the reality in the face that maybe, just maybe, we were dealing with Red Team and Blue Team and no one meant what they said at all, it was all just means to an end, and that end was winning at all costs. In order to win, Red Team and Blue Team would do anything, change anything about themselves, and nothing they said or did really meant anything.
Seven years later, and nothing has changed.


Just as alarming to me as it was seven years ago, is how no one on the left appears to notice the stunning hypocrisy in their own ranks. The same people who bemoan the time that Obama was criticized for wearing a tan suit have no compunction about gloating that Donald Trump's pants are too big and his tie is too long. The same people who decry slut shaming and gay bashing happily
raked Melania over the coals
for doing a little soft core lesbian porn back in the day. Same people who pooped their pants a little over 'birtherism' had no compunction about implying Melania was an illegal immigrant. Same people who thought it was shameful that Obama was criticized for eating Dijon mustard gleefully attacked Trump for eating ketchup. Same people who (
rightfully
) celebrate Tess Holliday on the cover of
Cosmo
call Meghan McCain fat and berate her for not being active enough during pregnancy. Same people who called out Trump for lying constantly just had themselves a series of debates in which their candidates told lies at a rate that I couldn't even clock with a stopwatch.
I could go on and on, but I already have the title for longest
Ordinary Times
piece ever.
Conservatives may be unprincipled hypocritical pieces of crap willing to do anything to win, but so are the liberals. That was the lesson of
Duck Dynasty
. Just because the Democrats had some principled people on their side for a couple minutes there didn't make their movement principled any more than the principled cons who exist here and now redeem the Republican Party for their sins. 
The liberals never were good, were never honest, never were better than that, and they never actually rose above anything. All those noble causes I thought liberals really bought into like free speech, anti-war, anti-corporation, pro-personal freedom were just ploys to suck in the gullible ninnies like me. And the principled people on the left appear to be gone now, consumed by the raging flames of TDS, or maybe, like Nat Hentoff and Stanley Crouch, the iconoclasts all just up and died. Liberals – not only garden variety, rank and file liberals, but the intellectuals, the leadership – demonstrate how deep into the morass of the moral low ground they've sunk every day on social media and in various formerly-respectable news organizations.
Liberals were never about sticking it to The Man; they WERE The Man, and they're The Man now more than ever.

I may be just a simple country woman, but it 'pears to me liberals were just USING the moral high ground till they won, and once they won, it was no longer politically expedient to hold the moral high ground, so they wasted no time in dispensing with it. Hell, the "liberals" were just using LIBERALISM till they won, because as I have pointed out repeatedly lately (sorry) "liberalism" is anything but liberal these days.
So forgive me if I look at Joe Biden, playing all calm and sensible at the head of an army of lying, gibbering, unhinged, Woke Fascist zealots foaming at the mouth, burning down cities, and literally calling for my death, and say "Begging ur pardon, Mr. Biden, but I don't believe what you say, because not only has your entire party proven itself willing to stop at nothing to win, not only have you demonstrated to me time and again that the stuff you claimed to believe in was nothing more than a bait and switch, you have an army of actual people behind you who never shut up. I hear what THEY say, and none of it is good. Think I'll take a hard pass, and by the way, could you please stop sniffing my daughter?"

Behind the facade of this doddering harmless old codger named Joe Biden, the Democratic Party has gone full fascist. The most popular piece I've ever had on my personal blog is See Guile? in which I lay out the full case for Woke Fascism, and I heard from people across the entire country who read it and wrote to me to say they'd seen the exact same fascist trends swirling and shared my concerns. I won't repeat them here, but I hope you read it, so you can follow those bread crumbs that led me to the following conclusion: Liberalism is no more, all that exists now is Woke Fascism. Woke Fascism ate liberalism from the inside out. Woke Fascism is lumbering around wearing liberalism's skin and imitating liberalism's voice and it knows the right words to say, but something just isn't right.

This is the part of the movie where our hero(ine) looks up at that person who they thought was a friend, and realizes it's a shapeshifter or an alien or an evil android and they're calling from inside the House.  And the Senate.

Joe Biden is the candidate of fascism. I don't care if Democrat voters found the most neutered, tame, somnolescent automaton they could dredge up from the depths of the Clinton Machine to put at the head of their fascist movement. Joe Biden is the equivalent of the wolf putting on Granny's jammies and trying to trick Goldilocks into getting close enough so she can be sent on a one-way trip to Tummysville.

Well, I ain't going, at least not without putting up a fight. You will not bring fascism into this country with my assistance, by which I mean my vote. Although my family has already sacrificed more than our fair share to stop fascism, with one of my grandfathers dead before his son, my father, was even born, and the other reduced to a shell of a man in constant pain from a shattered hip who self-medicated with copious amounts of alcohol and set off every metal detector he ever went through since his pelvis was held together by hundreds of metal pins, I will happily do it again. All I need is a pen. It will hurt me real bad, voting for Donald Trump, but not as bad as a bullet to the crotch.

So what if I have to cast a vote for someone who I do not personally like and make some fascists who already didn't like me, dislike me some more? 
It doesn't bother me that much. 

What we need here and now, today, is antifa. Anti-fascists to stand against the Woke Fascists. By "antifa" I don't mean the nasty little umbrella-toting brownshirts out in the streets smashing innocent people's livelihoods. And I don't mean the online warriors with their casually-issued death threats and modern day witch hunts. I mean real antifascists, those who, like me, actually despise fascism and plan to do whatever it takes to stop what is happening, starting with casting a vote for an Orange Grosso.

People like me – those who see the truth and act on it even though it makes us less popular with our families and friends and coworkers and fellow writers on Ordinary-Times.com – are the actual antifa. People like me are the ones who have drawn the line in the sand and push back against fascism while the "liberals" hum and hurr and handwave and complain about the other guy instead and say things like "Antifa isn't real because they don't have membership cards" (forgive me for repeating myself yet again, but this was, of course, actually said to me by someone affiliated with this infernal site).

And why do such entirely lovely people like my liberal friends choose to live in denial? Because they want their team to WIN!!! Not peaceful coexistence, not compromise, not meeting in the middle, but they want to win fascist-style – they want every other viewpoint to be wiped completely and totally off the map. They want this to happen because they cannot take the chance that another worldview will become popular and push back against theirs even just a little.

There's a word for that – totalitarianism – and it is rapidly approaching. I look around the good ol' US of A, and I see Woke Fascists in charge of some hugely important things, like Hollywood, the media, the tech industry, medicine, education, most major corporations, and more than half of the government, both Federal and local. 
Brief aside- the president…particularly a widely despised president…is NOT "the government" in its entirety, not even close. All the people who keep screaming in my face about how "The American government is under control of a fascist madman!!!!!!!!!" whilst dousing me in several buckets of tepid spittle, are either shameless liars or are trying to distract me with a fake argument so I don't notice how neatly Woke Fascism has worked its trick of getting a good chunk of the US government into philosophical bed with Hollywood culture and the school system and the corporations and the media.
The last time I checked, government operating hand in hand with entities that are meant to be independent and/or privately owned, IS A HALLMARK OF FASCISM.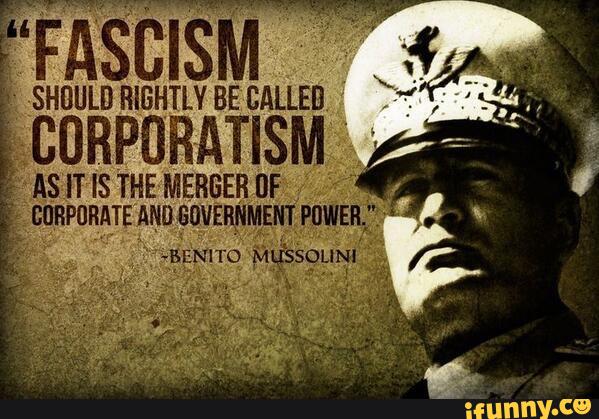 I used to believe that the only thing necessary for evil to rise is for good men to do nothing. But now I realize that a whole lot of good men and women in every instance fascism rose, did things, said things, wrote heartfelt pleas and gave impassioned speeches, attempted to convince their stupider more gullible peers, tried everything in their power to stop the toxicity, and the rest of the people simply believed what they wanted to believe instead.
I realize this because I am watching it happen with my own two eyes here today. The school system is indoctrinating kids in Woke Fascism. People are being forced to attend Woke Fascist re-education programs in their workplace. People – including elected officials – are being forced to perform public acts of contrition for opinions that only a few years ago were perfectly mainstream. The press has proven itself willing to blatantly and unapologetically lie in service of this sinister agenda. Hollywood has been working for Woke Fascism with the dedication of a hundred-thousand Leni Riefenstahls for my entire lifetime. The tech agencies that control a huge, vast swath of our culture and have my ability to earn a living in the palm of their hand bow down to Woke Fascism and operate by its dictates, just this week preventing not only Internet randos, but an actual news organization, from sharing a news story about possible government corruption on social media. 

Yet I am being told – told by people I otherwise like, respect, and even a few that I love – that there is nothing to see here. I am being told that me pointing this out marks me as a flawed and dangerous person who needs to "do more reading" and "educate myself" by people who have read far less than me and are completely uneducated about history, economics, philosophy, and who don't even remember things that happened two months ago which is why I opened with that seemingly pointless Duck Dynasty vignette.

Forget good men doing nothing. The only thing necessary for evil to rise is for good men to be ignored. God, you guys, wake up!  Can you please wake up now? 

But Donald Trump IS a fascist, I hear some of you cry.
Is he, though? Is he really?

Fascism is NOT "anyone on the Right who I do not like." Leftists may rush to redefine words to suit their agenda (which is, of course, another hallmark of totalitarianism, but I digress) but most people define fascism a particular way. One fairly pithy definition I kinda liked was this: Fascism is a movement that promotes the idea of a forcibly monolithic, regimented nation under the control of an autocratic ruler or rulers. Anything that might interfere with this spirit of national "unity" has to be gotten rid of, even if it takes violence to do that. The persecution of minorities grows OUT of that need for unity; anyone disruptive to that sense of "unity" will therefore be subject to violence.

"It's ok to punch Nazis," said the Woke Fascist, who subsequently declared himself the arbiter of who is and who isn't a Nazi. "Kill the TERF," said the TRA, who claimed that words are violence as they burned JK Rowling in effigy. Tumblr continues to allow Kill All Landlords after banning even tasteful, artistic nudity. "Looting is reparations," said BLM. "And anyway, don't worry, the capitalist pigs have insurance." Bill deBlasio and Andrew Cuomo are openly, OPENLY blaming Jewish people for spreading coronavirus and arresting Orthodox activists, and a good chunk of folks on the left are shrugging and saying "but they ARE spreading it, so it's all totally justified." 

The nails that stick up are being hammered down in the name of "unity". And liberals say nothing. Even liberals I like are saying nothing. I suppose they'd justify their silence by telling me that Trump is just that uniquely bad that he has to be stopped at all costs.

Most of the time we define fascism as being based around a "cult of personality" and while I certainly don't love the wild-eyed passion of some of the MAGA crew, it occurs to me that you can build a cult of personality around HATING a particular figurehead just as much as you can loving them. Donald Trump IS the figurehead of Woke Fascism whether he wants  btoe or not, because they coalesce around despising him just as much as any nation ever coalesced around loving a dictator. It is still a cult of personality, just that the Woke Fascist cult is centered around despising their figurehead rather than adoring him.

Regardless of how much you personally hate him, what did Trump do that was so terribly fascist, anyway? Have an eagle (the symbol of America) at a political rally? Deregulate some businesses? Protect the federal government's property? Try to keep people from entering the country illegally till we had a better, safer, and fairer system in place for dealing with them (not only for the sake of the American people, but for the benefit of the people coming into the US, who die in droves attempting to cross the border)? Have some supporters who don't want to be forced to close down their business when the government tells them to? Make European nations pay for the military protection they received and had agreed to pay for? Bring US soldiers home from overseas? Stop "white fragility" indoctrination programs in the Federal workplace? Fill some judge seats that Obama declined to fill? Support maintaining the rule of law over mob justice? NONE of those things strike me as inherently fascist. You may not like them, but they aren't fascist.
It's ironic to me that Trump could have done a lot of fascist shit over the last year and probably gotten applauded for doing so. He could have sent in the Army to quell the rioting immediately. He didn't. He could have nationalized the means of production to take over the coronavirus response. He didn't. He could have taken over the USPS or the voting system and nationalized them. He didn't. He left those things in the hands of the cities and  states and bureaucracies, even though many of the cities, states, and bureaucracies were completely inept, complicit with the Woke Fascist agenda, and directly working to undermine him.
In a time of crisis like 2020 has been, Donald Trump could likely have BEEN a dictator if he was sneakier, nicer, less weird looking, and Tweeted less. He didn't even try to do those things, stayed admirably in his lane, and the funny thing is, he was then criticized for his "weak National response", like he wasn't being fascist ENOUGH by relying on the states to actually do some of the heavy lifting – which they are supposed to do because it is the states' jobs to do some of these things. 

Under a Joe Biden administration, we are being told, we would have had a STRONG NATIONAL RESPONSE. Biden would have responded with a stern guiding hand! Biden would have SAVED US from the mean viruses!!! Under Biden, we wouldn't have rioting in the streets (because they work for him, LOL), and not a single solitary soul would have died from Covid-19! The problem is Trump! Donald Trump, who the last time I checked was simply one not-terribly-effective dude in a Federal government comprised of around 2 million people. Let alone all those in state, local, and various non-Federal agencies, many of which are completely under the control of Woke Fascists and their Democrat lapdogs. But somehow, this one man is somehow magically in charge of the whole entire government and has the ability to bend a nation of 328 million people (over half of whom hate the guy) and our entire legal system to his will. If only he would have acted with strength and conviction like Joe Biden would have, and made everyone do the right thing even if they didn't want to and screw their civil liberties, like…like…some sort of a dictator or something!

Apparently eroding legal, cultural, journalistic, and political norms in literally every single way you possibly can while screeching about Trump tweeting, is justified because this guy – this supposed weakling who refused to step in and take over the responsibilities of the states – MUST BE STOPPED FOR SOME REASON. Despite having been in government for like 15 minutes compared to Biden's Cretaceous Period of "public service", somehow Trump is so unbelievably powerful that everything that happens is caused by him and could have been cured by him too if only he had had the will to do it.
Believing one man has that kind of power, my friends? Now THAT is a cult of personality. 

Remind me again who the fascists are?

Donald Trump isn't a fascist, he's just a loudmouth who got real lucky. Fascists don't turn down power when it's offered to them. Fascists seize power when they get the opportunity. Trump had every opportunity this past year to play strongman and he declined the offer. Trump being some sort of genius Svengali Hitler figure was the media lying to you because they make money off of lying to you and because their puppetmasters benefit from keeping the American people at Defcon Five constantly. And in the meantime the puppetmasters are sneaking real live fascism through the back door while liberals shrug and show me the lack of an antifa card in their wallets.
Look around. No one is getting oppressed. No one is going to a concentration camp. And no one ever was. That was your fantasy, leftists, your delusion, cosplaying the Holocaust like it was a Halloween party that lasted four goddamn years. Only when the Woke Fascists throw a Halloween party, everyone gets a rock in their trick or treat bag, not just Charlie Brown. And by rock I mean "Molotov cocktail" and by trick or treat bag I mean "window".
If you're on the same side as the FBI, the CIA, the NSA, and every major corporation except Papa John's Pizza and the My Pillow folks, YOU'RE ON THE WRONG SIDE. Your movement is not liberal any more if you have the intelligence agencies, most of the entirely bloated, corrupt, oppressive, and systemically racist government bureaucracies, greedy multinational corporations including many that are actually exploiting SLAVE LABOR for profit, big banks and predatory credit card companies, tech agencies who are literally spying on the American people and harvesting our data in order to sell it to the highest bidder, on your side. Your movement is not liberal any more if your answer to a global pandemic is to want to give up your every freedom to crawl into your nearest strongman's lap and let him lovingly affix a mask to your tearstained face.
You're a fascist, no matter how important being "antifa" is to your self image. Turn in your non-existent membership card. You may be a very smart person, but you are a useful idiot.

The bitter irony is, progressives could have had a LOT of what they purport to want from the government with Donald Trump. Donald Trump is not a principled guy, nor is he a paragon of small government conservatism (far from it); had only the Democrats met him a fraction of the way, I have little doubt we would've been sitting on vastly improved, completely revamped Obamacare right now, a student loan bailout, bringing home the troops (remember when the left purported to want no more interventionist cowboy diplomacy? Pepperidge Farms remembers), and meaningful criminal justice reform, among a lot of other things on the progressive wish list. Not everything, but a lot, and very likely more than they'd've gotten from a Hillary Clinton presidency (sponsored by Bear Sterns!!!), that's for damn sure.
That's why you were voting for Bernie, remember that? Because you wanted substantive change and the old-school corrupt Dems were part of the problem? So the answer is what…another old-school corrupt Dem?
Much of what Donald Trump has wanted to do, has tried to do, in his loud, awful, clumsy, unpresidential way has been good for people, beneficial for people. NOT the powers that be who support Clinton and Biden, not big business, but the little people – black people, white people, Hispanic people, gay and straight people, Christian, Jew, and Muslim, small business owners and their employees. 56% of all Americans, not to mention me personally, are better off than we were four years ago, coronavirus or no. (Lest we forget my husband was laid off during the Obama administration due to their disastrous Obamacare rollout coupled with Jay Inslee's $4 gas prices and the response of the "caring" Democrats was "fuck you, learn to code".)

If a political group who purported to care about people REALLY cared about people rather than winning for their corporate masters, they would have quietly harnessed Trump's lack of true conservative principle, manipulated that patriotic orange energy, and used it to advance the progressive agenda. Instead, CIA spooks manufactured a fake pee-related dossier and tried to impeach an innocent man while the Goldman-Sachs oligarchs' fave candidate ever, Wannabe Warlord Cacklin' Hillary Clinton, played sore loser and went around calling herself the REAL president, challenging the legitimacy of the election (which she had just taken Trump to task for supposedly plotting to do). And the decrepit, octagenarian, Wall-Street-fellating Democrat leadership did everything they could to preserve their faltering hold over America's institutions, using the media and various corporations they have under their liverspotted thumbs to maintain and hopefully grow their political power.

THAT IS FASCISM.

Truth, my Democrat-voting friends, your leaders don't want to help anyone other than helping themselves to win elections and helping the fat cats to get richer. While I believe completely that most of you are truly good people, you support the party of Woke Fascism, and that means supporting people who want to make the trains run on time and keep a Tofurkey in every pot and a mask on every face no matter the cost. In order to achieve their statist ends and hang onto power a little longer, the Democrats have shown themselves willing to use the power of the government coupled with the power of an oppressive culture of busybodies that puts the Christians to shame, to get rid of everyone deemed harmful to "unity" starting with those pesky Orthodox Jews and those freaks who want to go to church (I mean how SELFISH can you be to want to WORSHIP GOD in a time of crisis?) and keep their ridiculous coffee shops open (srsly don't they have a KEURIG?)
In the meanwhile, while the rest of us cower at home till we kill ourselves or starve since we can't make a living, the Democrats will happily grant foreign nationals the freedom to shower Hunter Biden with millions with which to buy cocaine while his father brags about getting a prosecutor in a foreign country fired by withholding promised aid money.

If I recall, that's grounds for impeachment, amirite?

At the end of the day, Donald Trump is no fascist. He's a convenient bad guy, the mustachioed villain tailor made for everyone to boo and hiss at. But Hitler he ain't.

While Donald Trump certainly doesn't help himself any, and I regularly facepalm over things he did or said, I can't help but notice that all the right people are booing and hissing him. The military elite. The intelligence agencies. The mainstream media. The corporations. The celebrities. People rioting in the streets and the people defending the people rioting in the streets. The intellectuals, so smart they're stoopid. The superrich oligarchs. The Silicon Valley data harvesters. The heads of a lot of countries and organizations who I have never found to have American interests at heart. All these folks that I personally had heretofore recognized as being pretty fricking fascist, hate the guy.

I think that means something, and I think it's something that shouldn't be ignored.

A few months ago I wrote about not feeling great about voting for either Joe Biden or Bernie Sanders.  An Ordinary Times member told me I needed to rise to the occasion and do what was best for the country.
I suppose that was meant to convince me to vote for Joe Biden rather than Donald Trump.
But the thing is, me casting a vote for Biden would not be what is best for the country. Joe Biden had 47 years to fix the country. It strains belief that somehow four more years of the same will do anything other than continue down the same path we've been on, the path that has led us here. It is undeniable that the Democrats carry a massive amount of responsibility for things being as screwed up as they are and as far as I can tell, the Woke Fascists are not a cure, they are the disease.

If I were to vote for Joe Biden it would be a vote for ME, out of my personal reluctance to sully my conscience and risk the censure of my friends and peers by voting for the guy everyone loves to hate – Donald Trump, the Nickelback of politics. Voting to hand over the reigns of power to fascist zealots fronted by an elderly, corrupt, pervy figurehead carrying the weight of fifty years of shitty Democrat policies that have left the cities in ruins, is something I simply cannot and will not do. And I refuse to punt and vote third party again. Dude was right, I have to do what is best for the country, no matter how much I hate it.

So, as much as I resent having to do it, I hereby endorse Donald Trump for president.

Because I am an anti-fascist.