Best Meal Ever Week: Grandma and The Best Cooking Lesson Ever
Favorite meal: I can't think of any. I can think of any number of things I've had that are among the best meals I've eaten, but none stands out as the most delicious. However, one stands out in my mind as what I would want if I were choosing my last meal. It contains no exotic ingredients, no special preparation method, and is probably one of the most common meals eaten in the United States.
Cooking is in my genes, I think, though I am self-taught and rather limited. My mother is a fantastic home cook. Not the fanciest, definitely not the healthiest, but she makes delicious food. She won my dad's heart by making him tacos. She didn't teach me to cook, though. I annoyed her when I was underfoot in her small kitchen and she'd yell to my dad to make me leave her alone. ("Richard, get her out of here!" My dad would yell at me: "Get out of there before she burns my dinner!") Her meals are not adventurous, due to my dad's preferences, but everything she cooks is always amazing- with one exception: her attempt to make my grandma's spaghetti sauce and meatballs.
When she tries, it's fine. It's tasty, even. But it is not like my grandma's; she just can't get it exactly right. She always insists my grandma must have some secret ingredient that she left off the recipe when she gave it to my mom.
Let me tell you a bit about the way my grandma made it. First, you should know that she had not the first drop of Italian blood, and there's not a fresh tomato in the whole thing. It starts with tomato juice and tomato paste. Then lots and lots of seasonings, and a lot of Parmesan cheese. What really makes the sauce is the meatballs, handmade out of a combination of beef and pork, and dropped raw into the simmering sauce. Some of those meatballs inevitably break up, which results in a meaty sauce. In the end, the sauce is rich and tangy, the meatballs tender and flavorful.
It's not a difficult recipe, but my mom just can't get it right. I think I know why.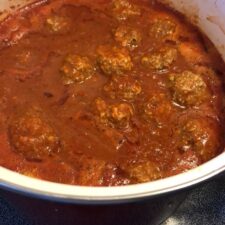 A few years before my grandma passed away, I asked her if she would show me how to make it. She was about 90 years old, and I knew my time with her was on a clock. I didn't want her recipe to die with her. Moreover, I didn't just want the recipe; I wanted to see it done. She told me what we needed from the grocery store and I retrieved it. Right away, I noticed that her measuring spoons never came out of the drawer. She dumped a heap of oregano into the palm of her hand and tossed it in. She shook the dried basil over the pot a few times. She pinched the salt and the sugar. And the cheese- oh, the cheese. I think the recipe my mom had called for a half-cup of Parmesan. Grandma added in no less than twice that amount, and a handful of mozzarella left over from making the meatballs. She stirred, tasted, added more of this or more of that. There was a lot of tweaking as the sauce simmered and the meatballs cooked through. I did write down everything she put in, but the best I could do for measurements was be descriptive: "oregano – lots." In the end, it was perfect as always.
Not long after my cooking lesson with grandma, I tried it on my own. I was thrilled with the result and I was pretty confident I had managed to replicate it, but the real test would be what my dad had to say about it. I filled a bowl with sauce and meatballs (the pasta is superfluous, a mere delivery vehicle) and waited for his reaction. He took a bite, leaned his head back and shut his eyes. Then, he started to slowly nod as he chewed. "Ayuh, that's it. That's just about right." Just about right. Maybe not exact, but as close as anyone had come to grandma's.
My grandma died in 2006, just shy of 92.1 I miss her so much it still makes me cry if I think too long about it. I make her sauce and meatballs about once a year. I'm busy, y'all, and that recipe takes a long time. Just mixing and rolling the meatballs is an hour long process. Fortunately, it makes enough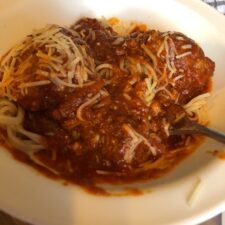 to freeze for later. When I taste it I am warm, happy, sentimental. I am so proud of the fact that of all the members of my family who have tried to make it- my mom, my aunt, my cousin, my sister- no one came as close as I do. I feel a special connection with her because of it. It is my favorite meal, because of how I feel when I eat it.
I asked my mom later whether grandma had given her measurements for the ingredients- she had. And my mom followed the recipe scrupulously. She didn't know that my grandma had only done her best to approximate the right amount, and when I saw my mom's recipe card, I could tell immediately that the given amounts were way off.
But I didn't tell her.
---
If you want to read about my grandmother's fascinating (to me) life, I have written about her here.