Sunday Morning! Bowles on Film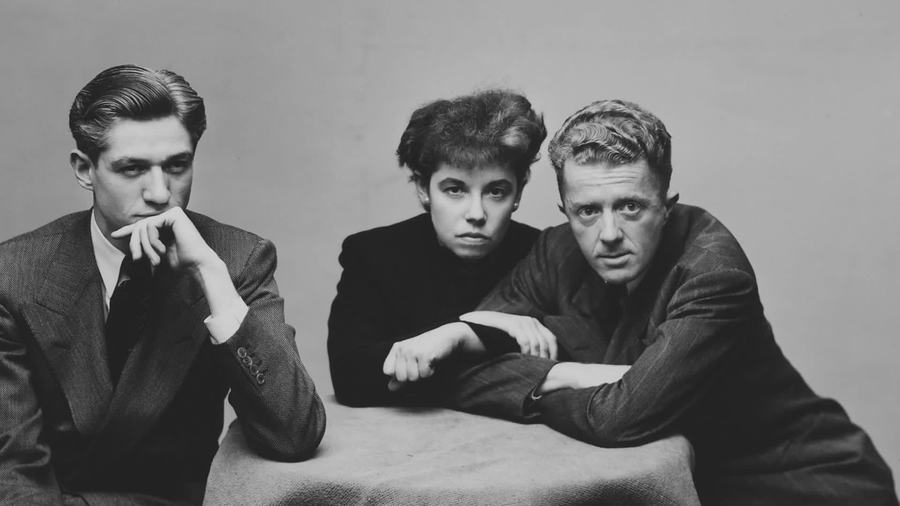 Paul Bowles sometimes said that he didn't like to think of himself as existing, which makes it something of a relief to come out of his texts without much idea of who their author was or if he did exist. Jane Bowles, meanwhile, had a strong personality; she wrote what might be described as "theatre of the absurd" before the fact and often seemed to conduct her life like a player in that theatre. They were completely singular individuals in life and their writing, which might be why it's so hard to get a handle on either one of them. It feels a bit beyond one's ability.
Nevertheless, they have been depicted in a number of films, which helps to fix an image. I thought it might be interesting to wrap up this series of posts (see: one, two, three, four, and five) by taking a look at a few of those films. Regrettably, I wasn't able to find a suitable stream of Let it Come Down, which is supposedly an excellent documentary on Paul Bowles, made with the extraordinary participation of the writer himself and those around him. But, Kanopy is streaming Paul Bowles: The Cage Door is Always Open (free to many public library cardholders), which gives a decent overview of the writer and his life, with useful comments by figures like Gore Vidal and Edmund White. This film is also structured around an interview with Bowles, although it was apparently done shortly before his death and seems as if he's already half-gone, if he was ever there.
Paul Bowles: The Cage is Always Open
Bowles drew a distinction between the tourist and the traveler, but he seems to have been more of a wanderer, roaming from place to place around the world throughout his life. His childhood was well worth fleeing; in the documentary, we are told his father was a "monster," and his mother loving but overbearing, a common enough pattern with gay men. When he got to college, he decided to flip a coin and choose between killing himself or running off to Paris to become an artist; he wound up in the salon of Gertrude Stein, that incubator of so many baby writers. He hoped to either become a poet or a composer; she told him to forget poetry and, moreover, to get himself to Tangier, which he promptly did.
He stayed in the International Zone. The film does a decent job of summarizing a complicated history: "For 4,000 years, a succession of conquerors struggled to maintain their grip on this important trading port. By the 1600s, Tangier was known as a hell of brimstone and fire." It stagnated under the Turks, and was divided by the 1920s by the Europeans into a French, Spanish, and International Zone. It sometimes seems as if certain times and places open up a magical space for culture to be born and Tangier in the 50s would be a playground for outsider artists and perverts from the West. Bowles loved the place because it seemed to him to be removed from the modern world.
But, first, he returned to America and had what amounted to his first career, as a composer. In New York, he worked on music for the theatre for the better part of ten years, playing with Duke Ellington and his band, and translating Sartre's No Exit. He also wrote 200 music reviews for the Herald Tribune and for the Record of the Month Club. At this time, he met the strange redheaded socialite Jane Auer, who claimed she "had never met someone as openly hostile to the world as him." Soon married, they maintained a sort of upper class decorum, even though they seldom had their own money. Both more actively homosexual, their marriage was nonsexual after the first year, like plenty of celibate hetero couples. They were a bit like a highly creative brother and sister team.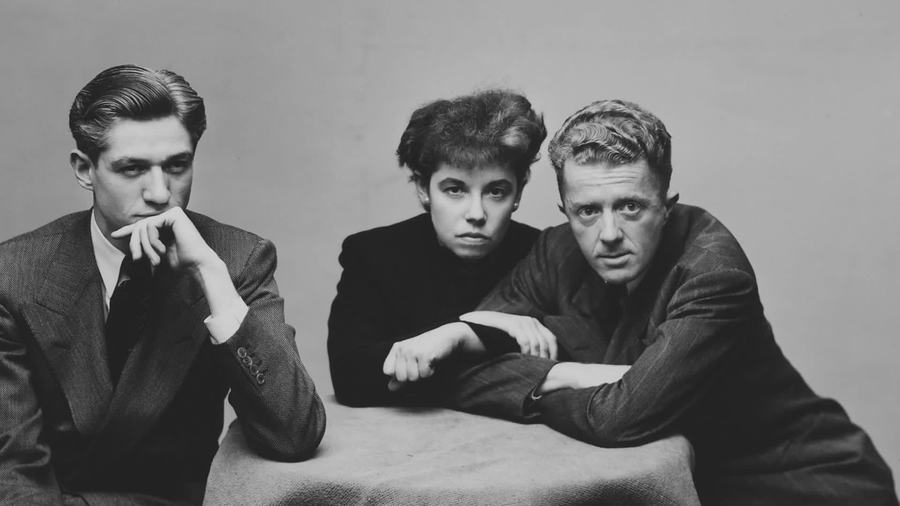 The film addresses the fact that Paul was happiest in a place where he remained an outsider. The poet Ruth Fainlight comments: "Paul wanted to be detached from everything. There's something very protective of the self about living somewhere as a foreigner."
Jane, however, would have been better suited elsewhere it seems. Her writing stalled, her drinking overtook her, her health failed. She threw herself desperately into what John Waters describes as "lunatic" love affairs. She spent twenty years with a Moroccan grain merchant named Cherifa (Amina Bakalia), who was dominant and forceful and, Paul suspected, controlled Jane through witchcraft and poisoning.
While his wife's health declined, Paul Bowles submerged himself in North Africa. The documentary details just how much work he did to bring Moroccan culture to the world, taking down and translating books for storytellers like Mohamed Mrabet that effectively created a Moroccan literature, while making any number of recordings of local folk musicians that similarly disseminated the country's music. Meanwhile, Jane was living in bars, nearly blind, and spending all of their money. Did he love her? At one point, the director asks the elderly Bowles what comes to mind when he hears the word "Love" and all he can answer is he imagines the letters spelling the word.
Naked Lunch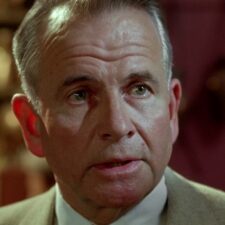 The Bowles's relationship is depicted in a strangely mutated form in David Cronenberg's 1991 film Naked Lunch. The director adapts William S. Burrough's unfilmable novel by interweaving its hallucinatory imagery with scenes from the writer's own life, including Burrough's even more dysfunctional marriage with Jane Vollmer, who he accidentally shot and killed in Mexico, 1951. Fleeing to an imagined version of Tangier called "Interzone," "William Lee" encounters a writer couple modeled directly on Paul and Jane Bowles, played by Ian Holm and Judy Davis. The couple are depicted as sex tourists who "came to Interzone for the boys," and they take a shine to the haunted murderer. Soon, Lee is borrowing the husband's typewriter and his wife- the Jane Bowles character is considerably more heterosexual here than in real life, but then so is the William S. Burroughs character. All sorts of strange encounters with insectoid creatures ensue.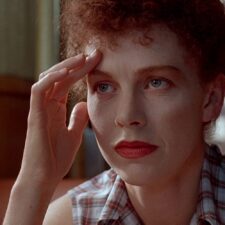 In one of the more interesting scenes, the Paul Bowles character tells Lee, telepathically, that he has been "killing my own wife slowly, over a period of years." He has done this through a housekeeper, Fidelia- an obvious Charifa stand-in- who has made her "deathly ill by witchcraft," drugs and poison, and by "the constant nibbling away at her self-esteem and sanity that I've managed without being at all obvious." It's a provocative thesis, when you get down to it, and maybe Cronenberg has a point- the Bowleses needed each other, but there was an element of undeclared war there too, as there might be between any two writers. For Cronenberg, writers themselves are somewhat hostile and insectoid.
The Sheltering Sky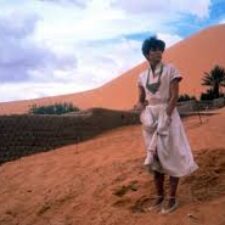 Bowles himself appears in Bernardo Bertolucci's film of The Sheltering Sky, made the year before Naked Lunch and also produced by Jeremy Thomas. The writer appears as the film's narrator, although he was not fond of the finished movie, calling it "idiotic." It is certainly not the equal of the book, but I think he was being a bit curmudgeonly there. Debra Winger and John Malkovich are excellent as the couple Kit and Port and the story sticks closely to the theme of two married people wandering deeper into the desert either in hopes of saving the marriage or sacrificing themselves. The main difference I noticed is their friend George Tunner () who is something of a pest in the novel, and more of a seducer of the wife here. Otherwise, the film is worth seeing for its visuals alone. Shot in Algeria, Niger, and Morocco, it captures the book as a sensual dream of nomadic Americans lost in a foreign world that can hide them but not absorb them.
Which seems somehow appropriate for these enigmatic and beguiling writers whose prose still enchants us, but who we still cannot quite grasp onto.
So, what are YOU watching, reading, playing, pondering, or creating this weekend?