Social Constructionism For Conservatives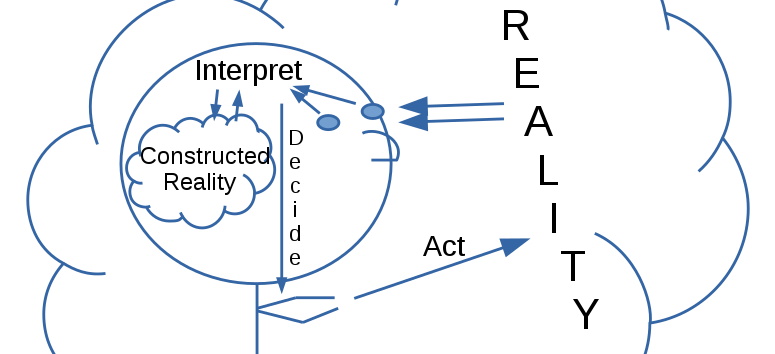 Have you, gentle reader, been online recently? Then you may have encountered battles in the constructionist wars.
You know the kind of thing I mean. "Gender is a real biological fact!" cries the one side, and in response the critique flies back: "no, gender is a social construct". When, for instance, a tweet saying the economy isn't real because we made it up garners over 370,000 likes, I take it that what those people are affirming is something like a true opposition between the concepts of "socially constructed" and "real". And when Pluckrose and Lindsay (20201, 157) write that the centralization of social constructivist views of gender…[means that] biological explanations for why, on average, men and women make different life choices, display different degrees of psychological traits, have different interests, or exhibit different sexual behaviors cannot be included within intersectional feminist analysis, what I take it is at least being said is that an adequate analysis of gender must move beyond it being a social construction and conclude that it is instead rooted in biological facts – meaning, of course, that if it is the former it is not grounded in such facts.
But I cannot get rid of the feeling that these two sides – the one saying that a particular thing is real, the other claiming that, no, it is socially constructed – are talking past each other, in a significant way.
Let me explain. In analyzing how people talk to each other, there are (at least) two ways in which one can analyze the use of a concept like "social construction". One is to examine how it is used in ordinary discourse; the other, if the concept in question is dealt with academically, is to see what the relevant academic community means by the term. My claim here is not that conservatives are wrong in their critiques as regards the first. Indeed, I think that many progressives use the term the same way in political discourse, though my reasons for this have more to do with how this sort of dialectic proceeds.
Instead, my claim is that, when we analyze what "social construction" and its cognates mean in their academic contexts, conservatives (with some caveats) should find nothing to worry about. Believing that "x is a social construct" does not entail that you should believe "x is not real". Still less does it, by itself (again, with caveats, as we'll see), entail that x is not important and even beneficial to our social life.
1.
So, what does it mean to say, "x is socially constructed", anyway? This is hard to pin down; let me give two examples. Ron Mallon (20162, 5) tries to do it like so:
X is socially constructed if and only if X's existence or persistence or character is caused or constituted by human mental states, decisions, culture, or social practices.
"If and only if" is, roughly, philosopher-talk for giving a definition: The thing on the left hand side is defined using the thing on the right hand side. On this view, when we're saying "x is socially constructed" what we're saying (very roughly) is that x exists, or has the features it does, only because of certain kinds of human action.
Here I'll mostly be considering the social construction of concepts, so let me give you an example. Consider the concept or category "baseball player". The existence of this category, as well as its content, is explained by human practices – joint agreement on what counts as a baseball player, say
This definition gets at one important aspect of many social constructionist claims – the notion that the thing which they're saying is socially constructed is caused by humans and human society. But there was also that tricky word "constitutes" in there. What is it for one thing to constitute another thing? An example is probably helpful. Think of your favorite kind of pizza, cut into the usual eight-piece division. They, in some way, come together to make up the pizza. The pizza has them as component – they constitute the pizza. Knowing what constitutes the pizza is different, of course, from knowing what caused the pizza. The chef at your favorite pizzeria was the cause of the pizza in your box, but even once you know that you'll still want to find out whether or not it has pineapple in it.
So, what does it mean to say that certain kinds of things are constituted by certain kinds of (joint) human actions? One way to understand this is given by Ásta Sveinsdóttir (20153, 888) (following an account given by Sally Haslanger) who gives the following characterization:
Something is constitutively constructed if in defining it we make reference to social factors.
Consider again our example of baseball players. In order to define what a baseball player is, we have to make reference to social factors, such as joint decisions on the part of a community of sports enthusiasts.
This is not meant to be an exhaustive survey of what philosophers mean by social construction, or even what sorts of things are socially constructed.45.
But what you should be getting from these is the following: to say that something is socially constructed means, at least, that our social practices play a role in determining the content of some of our concepts.
And so far, so sensible for the conservative. Who'd disagree that the category of "baseball player" is socially constructed in this sense? This, by itself, doesn't mean that the persons playing baseball aren't real, or that the players themselves are only humans because they are socially constructed to be. All it means is that to count as a baseball player is to depend, in some way, upon social agreement or convention. No denial of objective reality here!
But, for the social constructionist claim to excite controversy, there must be more to it than this. As Paul Boghossian (20066, 16) (definitely not to be confused with Peter Boghossian) writes, "[a] social construction claim is interesting insofar as it purports to expose construction where none had been suspected, where something constitutively social has come to masquerade as natural." The things that are interesting to make claims about are things like race and gender7; I will focus primarily on gender in what follows.
2.
In order to explain the claim Boghossian alludes to, I need to introduce the notion of what philosophers call a "natural kind". A "kind" is roughly what it seems like in ordinary talk: a sort of thing. Apples are a kind of fruit, for example. Deer are a kind of mammal. A natural kind, very roughly, is a kind that is "out there" in nature for us to discover, rather than to invent. Electrons, for instance, form a natural kind.
The strong version of the social constructionist thesis says that many concepts which are important to our social life are not natural kinds. Instead, they are what are sometimes called human kinds. Ian Hacking (19998, 6) puts the feeling behind this thought like this:
Social constructionists about X tend to hold that:
X need not have existed, or need not be at all as it X, or X as it is at present, is not determined by the nature of things; it is not inevitable. [emphasis mine]
To say that gender is socially constructed, then, is – in one way of thinking about it – to say that the concept "gender" is not determined by facts about the natural world. In other words, gender is not a natural kind. Even this leaves some wiggle room. It may be constrained to some extent by facts about the natural world, but the boundaries are not set in stone. This claim goes back pretty far in the history of western thought9. It's present in the writings of John Locke (182410, 446), who writes in a famous passage that "the essences of the sorts of things, and consequently the sorting of [things] is the workmanship of the understanding." What Locke means here is that the kinds under which we rank different things are determined by human convention, and not by nature11. Hence, categories like "gender" come about by human convention, and are not bequeathed to us by nature.
But… again, so far so good. I see nothing here that the conservative needs to disagree with, as a matter of principle. Perhaps the concept of gender tracks some natural facts but is not wholly determined by them. Perhaps the facts that men don't carry purses and women tend not to have sensible pockets is the result of contingent historical factors. So what? This says nothing about whether gender is or is not real. Instead, it says that to say "Dolly Parton is a woman" is to state a fact (and it is a fact) that depends, at least partially, on facts about society for its truth.
Now, a conservative might want to argue that the social constructionist is simply wrong. Gender does track a natural kind – namely, sex. I don't want to spend time in this essay disputing this position, because my point is much more modest. It is this: There is nothing inconsistent with conservative ideology, or conservative morality (or with their denial), in saying that gender, to take the example we've been examining, is socially constructed. Individuals may still have God-given rights, and be made in His image (or they may not). Gender roles may still, on balance, be good for society and individuals (or they may not), even if they may be subject to some variation across culture. Our constitutional structure may still be an excellent system of government (or it may not). One can believe all this and still believe that, for instance, our concept of gender is the result of a contingent process of social evolution, one which produced categories and concepts which are beneficial to society (even if there might be others). I don't wish to argue for this view here. I just want the reader to realize that these two views are independent, which is philosopher-talk for "they don't rise or fall together."
Note also what this view, so far, does not require: It does not require you to abandon the idea of objective reality, reality that is independent of my subjective whim. There may still be objective facts about who is and who is not a woman or a man, for instance, but these facts will depend, at least in part, on social facts – facts about shared concepts, say. This doesn't mean that anyone can identify as anything willy-nilly. For Dolly Parton to confess that she has been a man all these years, and to confess this accurately, may not be totally up to her. It is still a matter of figuring our whether she meets the conditions for being a man or not, and that's not in her control alone.
3.
But now we're coming to where I think the conservative might want to get off the boat. Hacking (1999, 6) continues:
Very often [social constructionists] go further, and urge that

X is quite bad as it
We would be much better off if X were done away with, or at least radically
Here, the claim being made is more radical. Very often those who make claims like "gender is a social construct" do not simply mean that our concept of gender depends, at least in part, on human convention or agreement. They mean that we ought to expand it in ways which include people who might otherwise not have fallen under it – for instance, transgender people. Or they might claim that gender as such is inherently oppressive. Perhaps it suppresses alternative forms of life which might be meaningful to some people, or perhaps it perpetuates norms which subordinate one class of people to another.
At this point, I think the conservative ought to get a little more cautious. Bald adoption of (2) and (3) would mean that if I claim that gender is socially constructed, I must also claim that it is in some sense bad. But not so, says the conservative. Perhaps there are adjustments to be made so as to improve our social categories or kinds. But the simple assertion that gender is inherently repressive goes too far.
For to be a conservative, at least to my mind, is to take a default stance of acceptance towards our patrimony, one of deference – but not blind deference. Concepts, institutions, or forms of life we inherit that are socially constructed may be good, or they may be bad. But the presumption, before the evidence is considered, is on the side of tradition. To say this is not to endorse every particular such thing as serving some legitimate and perhaps beneficial function. Some may be mere spandrels, or have remained as a relic of a more brutal past. But often they exist for a good reason, often enough to generate a presumption in their favor.
I do not doubt that non-conservatives who read the above may be unconvinced. That is perfectly alright with me. I'm not trying to convince you in this essay that conservatism is the correct political philosophy, or that tradition is a good thing. What I am trying to do is suss out where conservatism and social constructionism clash, and where they don't. One can reject a social constructionist framework for gender (to return to our example) and still be a conservative. But – and this is my point – properly understood, one need not do so. This gives the conservative the freedom to judge whether something is socially constructed on a case-by-case basis, rather than simply issuing a blanket denial.
5
And this is important, because it helps one avoid the false opposition I've been pointing out. One can accept that gender is socially constructed in the way I've discussed without believing, as evidently do Pluckrose and Lindsay, that this excludes any biological analysis of gender differences. The existence of gender might well be undergirded by "human mental states, decisions, culture, or social practices". But these need not themselves be inseparable from biology. My decision to become a father takes place in a biological organism, after all.
Of course, nothing I've said here mandates that conservatives take seriously the notion that important elements of our lives (I have been focusing on gender) are socially constructed. That thesis rises or falls on its own merits. But what I hope to have demonstrated is that social construction is not some specter to be feared, or dragon to be slain. It is a concept to be analyzed, same as any other.
---
References & Footnotes