Saturday Spins: Steve Earle's Ghosts of West Virginia
From Wales to West Virginia this week on Saturday Spins. Last week, I discussed Led Zeppelin III since it was that album's 50th birthday. This week, we take a trip down the holler to listen to a thematic album about a bunch of miners tragically killed by deregulation and corporate malfeasance.1 In the author's esteemed opinion, it is one of the best albums of 2020.
Steve Earle & The Dukes
Ghosts of West Virginia
2020
Commentary
Steve Earle is never one to shy away from telling his listeners and fans exactly, and unabashedly, how he feels on any given topic. For some reason, there is this mythical market out there that is driven by people's fascination with Appalachia. As someone who was born, raised, and still lives in this accursed region, I really cannot tell you why. People here aren't terribly interesting, the only natural resources left are ones that we have to wreck the environment to get, and there is the duality of the people that consistently vote against their own interests. Please don't forget about the opioid crisis.2
Earle's goal on this album was to cut through a lot of that and attempt to understand, not condescend to, the dualities that exists in one state in particular, West Virginia. In stark contrast to the hedge fund dude that wrote a routinely and rightly criticized memoir about his mom's addiction to pills, or the semi-annual poverty-tourist that contrives a tortured photojournalistic essay of what every small town in the entire country looks like, but attributes it to Appalachia only, Earle opted for authenticity and honesty.

About a month ago, luminaries from this site discussed the album cover on social media. I challenged them to "tag" themselves in whatever town in West Virginia they were from/had roots in. Well, Sam Wilkinson rightly pointed out that the map on the album cover does not make geographic sense, and he is right about that. The concept for this album was born from the Upper Big Branch Mine disaster that claimed the lives of 29 miners. I have not been able to confirm this, but I believe the places listed on the album cover represent where each deceased miner was from/lived and other mine disasters. On one of the particularly emotional songs on the album, Earle names every single one. Of course, the mine itself was located in the unincorporated town of Montcoal, which is on the bottom-center of the front cover.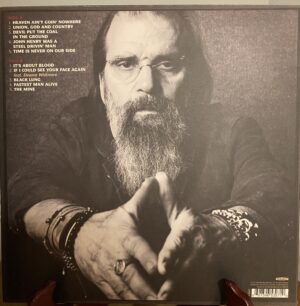 West Virginia is no stranger to environmental disaster. When I was in law school, my civil procedure class was taught by a visiting professor who thought it would be instructive to assign a book written by one of the lawyers involved in the subsequent litigation stemming from the Buffalo Creek flood.3 The book is available at your local indie bookseller. It's well-written, but I am here to tell you that it teaches you about as much civil procedure as a John Grisham novel. The best way to learn civil procedure is to clerk for a judge, which I did after law school.45
Track By Track
1. Heaven Ain't Goin' Nowhere
The first song on the album is a gospelesque tune that, to me, serves as a decent and somber intro to an otherwise honest-in-its-aggressiveness album. This song contains some lyrics that I find extremely instructive for the more militantly austere among us.
"Don't worry about putting nothing away
(Heaven ain't goin' nowhere)
Money's no good come Judgment Day
(I reckon heaven ain't goin' nowhere)"
2. Union, God and Country
In just two and a half minutes, Steve Earle is able to distill the proud (and mostly forgotten) labor tradition of Appalachia, more specifically West Virginia, into a mid-tempo country/bluegrass track.
"Before there was a union the company was king
You'd work your fingers to the bone, couldn't show a thing
You shifted coal to Friday, drew your pay and then
You'd walk down to the company store and give it back again
That's why they made the Union, they had nothin' left to lose
Union, God and country was all they ever knew"
[youtube https://www.youtube.com/watch?v=O3Qc3C8nQBI]
3. Devil Put the Coal in the Ground
This one is a rough and tumble romp about, well, how the Devil put coal in the ground. It is a ballad and lamentation on how the coal will be a diamond someday but you (the guy working to dig it up) will be dead anyway. It is certainly a unique spin on your typical Faustian bargain, or rather, it is basically the Devil daring miners to dig up the coal. Certain themes of hopelessness reign supreme in this song where the narrator is resigned to the fact that he is gonna end up in the ground either way, so why not. Even though the coal was placed there by the Devil himself.
4. John Henry Was a Steel Drivin' Man
At some point, I plan on penning a piece about all my favorite spins on this timeless folk standard, but until that time I can discuss this version. Steve Earle has always been known as a fantastic songwriter. This song really shows that off. The first portion of the song tells the time-worn story of John Henry who beat the machine at the expense of his own life. However, the song takes an interesting spin about how the miners unionized, but then the companies responded by bringing in the big machines. Earle sings, "John Henry could've told them what that means when the company brought in all the big machines."
[youtube https://www.youtube.com/watch?v=F3sTO7VqxME]
5. Time is Never on Our Side
This song slows things down a bit and is, generally, about how tomorrow is never guaranteed for anyone . The underlying meaning of the song is in line with the rest of the record's theme. A pretty serviceable track and a refreshing one to catch your breath to, because the next one is all rage.
6. It's About Blood
I have always been of the mind that Don Blankenship should be sentenced to a life of manually mining coal in his underwear. There should be a livestream of it, too. However, in a much more eloquent fashion, Steve Earle lays it all out there in this song. A song seething with so much rage, you'd think it would namecheck that disgusting excuse for a human being, but instead, in a fiery interlude, Earle names each victim of the Upper Big Branch mine disaster.
Not only that, but in one single verse he succinctly tells us about those dualities I alluded to earlier. Most people spend their days trying to get by. They don't have time to turn on CNBC or Fox Business to hear what some pundit or politician thinks.
"Once upon a time in America
Workin' man knew where he stood
Nowadays just gettin' by is a miracle
Probably couldn't give it up if I could
Don't wanna hear about the state of the economy
Fiscal reality, profit and loss
None of that matters once you're underground anyway
Damn sure can't tell me nothin' 'bout cost."
[youtube https://www.youtube.com/watch?v=iKWPjr0NPQo]
7. If I Could See Your Face Again
Ok, so now were gonna slow it down with a truly beautiful song sung by Dukes band member, Eleanor Whitmore. It is a chilling ode to a miner who has since passed, and the narrator wishes to see his face one last time.
"If I could see your face again
Black with coal until your grin
Cuts like sunshine through the shadow of the mountain
I'd drop everything and run
Like I know I shoulda done
Every time you come home to me in the evenin'"
8. Black Lung
A straightforward country track about suffering from black lung, the respiratory disease that is ubiquitous in any kind of coal mining story and coal mining in real life. I got behind a truck the other day that had one of those "Trump Digs Coal" stickers and almost drove my car off the road in a fit of laughter. Anyway, I could go into a lengthy discussion of how the realities of black lung are but a microcosm of the problems with our very first-world for-profit healthcare system, but we're here for the music.
9. The Fastest Man Alive
This blues song is not about the Upper Big Branch Mine disaster, but it is about Charles Elwood Yeager, the ace pilot that killed a lot of Nazis. Killing Nazis is good, so he deserves many songs to be written about him. Steve Earle does a fantastic job succinctly telling his life story. Apparently, other than George Brett, he is one of West Virginia's favorite sons. 'Ol Chuck is still kicking today; he was involved in some litigation in the early 2000s when his children from his first marriage sued his second wife for undue influence. Yikes.
10. The Mine
In my previous Spin, I made a quip about how country music these days is bubblegum pop with some country melodies brushed on. I 100% mean that. Steve Earle was a country music star in the 80s, before mainstream country music turned into whatever it is today. (Read: garbage). This song is probably the most country song on this album, and while it does mention a "Ram Truck with a Hemi," it also has a deeper lyrical meaning than say, a song about pulling ticks off someone. Anyway, it is a song a about a guy in search of a job and waiting till his brother gets him one at the mine, after which he can cruise down Main Street in a blue Camaro with his lover.