Saturday Spins: Led Zeppelin III
It has been awhile since the last spin, and I have to apologize for that. I am mildly back on track now, and have an LP for you this week that turned 50 on Monday. Last time, I discussed Bruce Springsteen's breakup record, Tunnel of Love. One of my favorite albums by The Boss. This week, we slap on our Dragon Pants, and visit an album with some 80-grade artwork and a semi-departure from this band's traditional rocking sound to a more folksy, but still rocking, sound.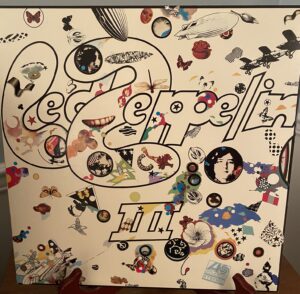 Led Zeppelin
Led Zeppelin III
1970 (2014 Reissue)
Commentary
A lot of stuff is looking pretty bleak out there in the real world, so why not put on some folksy blues rock with occult tinge that was recorded on a farm retreat in Wales? As I mentioned above, Led Zeppelin III turned 50 years old on Monday, and that my friends, is pretty old.1 However, many of the songs contained herein are timeless classics. Let us all hope that when we reach 50, and some are closer than others, that we are considered timeless classics.
While I have had the opportunity to pick up an OG pressing of this album, I have never pulled the trigger. Mostly because I have a finite amount of space and if I keep buying vinyl, I am going to end up living in the playhouse I built my toddler a couple of weeks ago.2
If I remember correctly this LP came to me by way of a trade that involved baseball cards and some money. When I was in my youth playing D&D and Magic the Gathering and whatnot, Wizards of the Coast came out with a baseball game called "MLB Showdown." It was a great game that was excellent with the 2000-2001 sets and was subsequently ruined starting with the 2002 set through the 2005 (last) set. Anyway, the game is still somewhat alive today with people actively hunting down cards, booster boxes, etc. to complete sets and to also still casually play. Some even create modern sets using a formula much like Strat-o-Matic adherents do. I found the one person that not only collected these cards but also collected vinyl as well. Like a not-so-evil twin.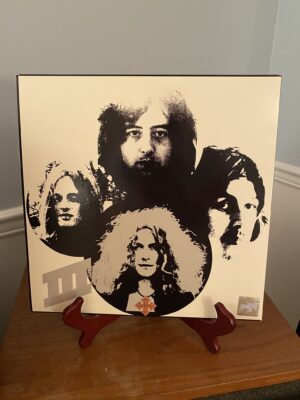 The artwork for this LP is one of those that confirms my reasoning for collection physical media. You can listen to the record as it was intended, flip through the liner notes, look at and discuss the art, and in this case, play with the volvelle contained on inner sleeve of the front cover of the jacket. Can your Spotify do that? I have posted a video below of the volvelle in action.
I've mentioned that this album was recorded in Wales at a farm retreat called Bron-Y-Aur, which is why there is a song featuring the name. I like to picture a huge sheep farm. Other than being some percentage Welsh, I only know of the existence of sheep farms and soccer in Wales. When I was a teenager, my friend knew someone who built a rudimentary baseball diamond in the middle of a field a la Field of Dreams. Only there were no ghosts. We were all playing baseball there one day when one of the neighbors brought a dude over who was around our age to play. He was Welsh. Apparently, sheep farms in the states import Welsh teenagers to help them shear sheep. Anyway, it was the first time this dude had ever played baseball and it was incredibly surreal to have to teach someone baseball.
Track by Track
1. Immigrant Song
What more could possibly said about this classic Led Zeppelin track? There is the fun fact that the riff for "Bulls on Parade" is eerily similar. There is the fact that it inspired many personas with respect to various metal bands that attempt to convey some kind of slavish devotion to avant-garde, counterculture, and/or occult activities. Jimmy Page, real life occultist though, if you're gonna do the magick, you gotta go all in.
2. Friends
Here's where the folk sound kicks in. Led Zeppelin I and II are classic rock n roll, not a lot of wiggle room genre-wise. As I noted, on III, the band hung out on a remote farm in Wales, Bron-Y-Aur, which looks exactly like this album sounds. A driving acoustic beat behind Plants' soaring and ethereal vocals.
3. Celebration Day
Zeppelin always had a big sound. As I have beat to death already, this album was far more folksy, even somewhat lo-fi for them. "Celebration Day" manages to both sound like a big rock song and a folk song at the same time. It makes you want to get up and dance. Like most Zeppelin songs, it features Page's insanely omnipotent guitar work. Despite the band being "on holiday" as the Europeans like to say, the first three songs on this LP have a ton of energy.
4. Since I've Been Loving You
The first time I heard this song I thought, how did they get B.B. King to play on this track?! That was before I went to the Jimmy Page School of Blues Guitar though. The longest song on this album, clocking in at 7:23, it is a classic bluesy song that slowly creeps up into a crescendo of classic Zeppelin sound and classic Page guitar soloing.
5. Out of the Tiles
This one really grooves. I am never sure what Jimmy Page is doing to make his guitar sound the way it does, but man. This is another one of those unsung Zeppelin songs. It is purely formulaic rock, but with a band this talented, they can keep things formulaic and still churn out great songs. Oh, to be a sheep on the Bron-Y-Aur farmstead when this album was recorded.
6. Gallows Pole
Led Zeppelin came to make a folk record and they stayed to include their spin on a centuries old folk song called "The Maid Freed from the Gallows." The instruments played on this song portend the same instruments used on "The Battle of Evermore." Some banjo, Mandolin, 12-string guitar, etc. Anyway, the song spins a classic tale about someone (guy or girl depending on the version) about to be hanged. The narrator is describing them waiting for someone to bribe the hanging judge, in the classic version the person's whole family shows up to watch the person get hanged3 and only his/her true love attempts a bribe.
In the Zep version, the hangee pleads with the hangman to spare him, his brother is bringing silver and his sister is bringing, well…you know; however, this hangman is apparently impervious to silver and sex:
Your brother brought me silver
Your sister warmed my soul
But now I laugh and pull so hard
And see you swinging on the gallows pole
7. Tangerine
A little trivia about the author, "Tangerine" is my favorite Led Zeppelin song. Period. It is a very beautiful acoustic song with a very warm electric solo that is classic Page. A lot of people enjoy the complexities of some Led Zeppelin songs, but this one is elegant in its simplicity. Despite the season changing to fall, whenever this song comes on, it feels like summer.
8. That's the Way
This song sounds like a continuation of "Tangerine" and really leans into the folksy and mellow sound that a lot of this album has. You can tell that Page and Plant spent a lot of time outside, because these songs all feel like they were written while lounging in the English (Welsh) countryside.
9. Bron-Y-Aur Stomp
Add this one to the list of underrated Zep songs. Despite being written and recorded mostly in Wales this song sounds like straight up Americana. The folks overseas have always had a true appreciation of Americana and American country music, more than we as Americans have because whatever is coming out of Nashville these days is bubblegum pop music with some country-sounding melodies brushed on. Anyway, John Bonham did not play the drums on this song, only spoons and castanets. Legendary.
10. Hats Off to (Roy) Harper
Kind of a meh track for me, this is the bands' tribute to folk singer, Roy Harper. Who is an English-born folk singer-songwriter. It has a bit of a hoedown feel like "Bron-Y-Aur Stomp."
Fun Stuff
Here is the volvelle in action.
[youtube https://www.youtube.com/watch?v=f7bCr7sKHKw]
---
For what it lacks in space for someone my size it makes up with the bay window, yes a child's playhouse with a bay window.