Vote Like Your Life Depends On It, Because It Does
In 2016 I voted Third Party, for Gary Johnson, a guy who I have affection for, but honestly thought and still do think would have been a terrible president. I did this because at that point in time, I figured the lesser of two evils is still evil, and a choice between Hillary Clinton and Donald Trump was like a choice between botulism and radioactive waste. But also because I knew that Gary Johnson had no chance of winning. My safe little vote for Gary Johnson allowed me to avoid getting my hands dirty, to avoid bearing any responsibility for an outcome that I fully believed would be very bad regardless of who won.

Well, I don't feel good about doing that in this election. Over the course of the past few years it's dawned on me that while the lesser of two evils may still be evil, standing by and allowing the greater of two evils to run amok when you could have prevented it or at least tried to stand in its way, is in and of itself morally questionable behavior.
For me. Your mileage may vary. I'm not suggesting a moral judgement for anyone but myself. I am simply reporting on what feels right to ME in the here and now, in the election of a lifetime – I feel I gotta pick a side.
Because the lesser of two evils may not be good, but at the least it's less evil.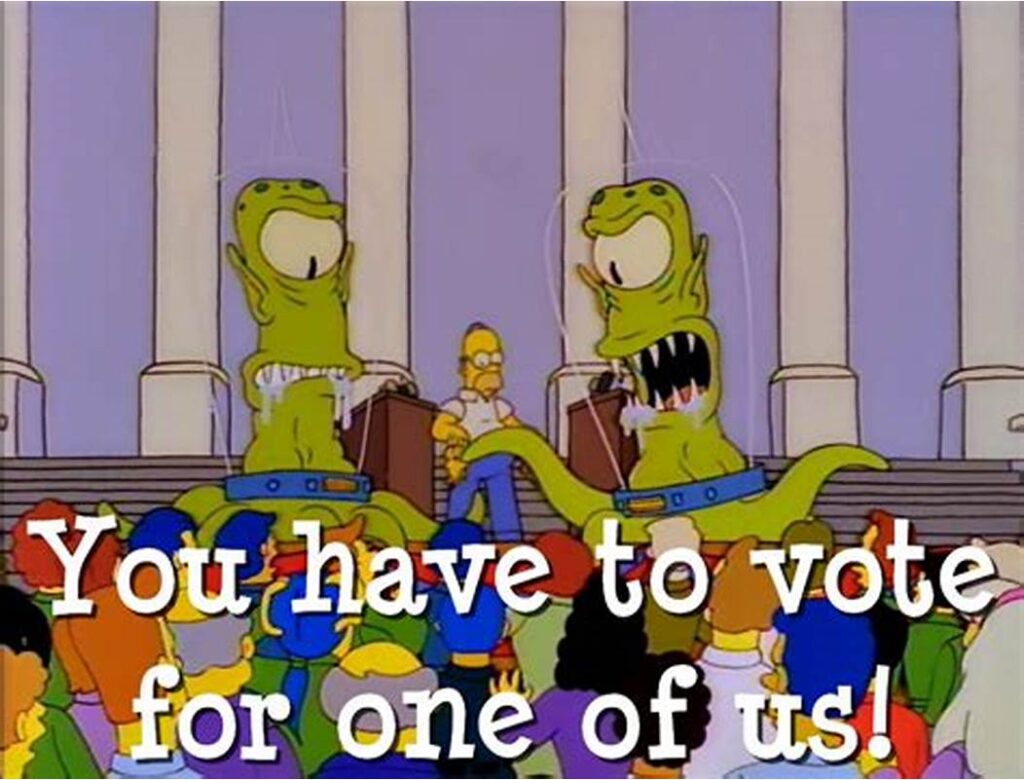 One of the peculiarities of the election of 2016 was the huge and insidious role the media played in the outcome. People seem to have forgotten how it all went down, but just a refresher course: the media told us daily, in just about every way possible, that it was a done deal, the fat lady had sung, Hillary Clinton had it all buttoned up, and the election was simply a formality. Surely it's ok to throw your vote away in an election that's already said and done, amirite? I remember about ten days before the election, watching Hillary on the PBS Newshour and her gloating about how she had Beyonce and Jay Z 1 out campaigning for her, and I looked over at my husband and I said, "Call me crazy, but I don't think she's gonna win." And he looked back at me and said "Oh my God, me too!" But what the hell did we know, we were just people, not experts, and so we voted accordingly.
I had thrown my vote away in an election that was very much not decided after all.
Why am I telling you all this? Because I think that had the media not gone all in for Hillary, convincing us all that it was done and dusted, more people would have turned out at the polls, and some people who'd tossed away their vote may not have, and in that scenario the outcome could have been totally different. I have no idea if more people might have shown up to vote Trump, or more people might have shown up to vote Hillary, but had those 97 million eligible voters who declined to vote in 2016 believed that the election was still a horse race, the outcome could easily have been different. Trump might have won far more definitively. Hillary might have pulled it out in the end instead. We'll never know.
It is a constant source of amusement/disgust to me that for all the attention paid to the Russia, Russia, Russia thing, that the real negative impact in 2016 came from none other than the media 2 convincing eligible voters and not a few of them, that voting was pointless.

I am telling you all this because I want you to understand how important it is that you vote on November 3rd.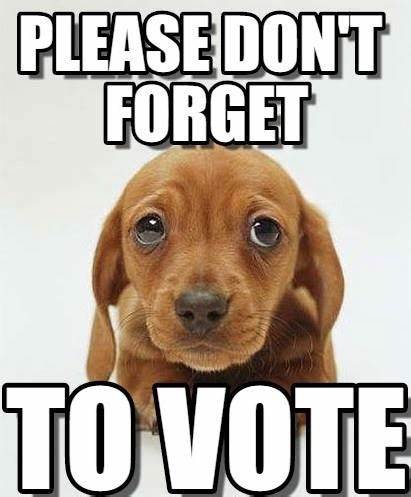 I don't care who you vote for. You HAVE to vote. You MUST vote.  I BEG YOU to vote. I don't care if you live in a "red state" or a "blue state". Vote. I don't care if you think your vote doesn't count. Vote. I don't care if you have to hold your nose, wear a blindfold, and guzzle a bottle of Pepto-Bismol before doing so. Vote! And while I personally cannot in good conscience vote 3rd party in this election, if that's where you're at, vote, vote, VOTE. Get your voice on the record as rejecting both of these buffoons and that you cared enough to want to make it official. Because THEY, the they who thinks they're so smart they should control everything on Planet Earth but who actually knows next to nothing about anything, needs incontrovertible written proof of the direction in which you want the country to head.

Don't just stay home in protest. Because people who don't vote are seen by the "experts" as apathetic, as not caring, as lazy uninformed deplorables who deserve to be ruled over with velvet fists, and I don't think that's where any of us are really at. I think most of us DO care. Most of us have at least a mild preference. Not voting is never interpreted by the powers that be as a protest. It's dismissed as people who are just like, down for whatevs. Thus it becomes very easy for pundits and wiseguys to claim that people who don't vote think a certain way when there's no evidence they do. Most of us are not just like, down for whatevs, and voting is a pretty decent way to have our political desires become a part of the official discourse – even if our political desire is as simple as "for the love of God, not THAT guy".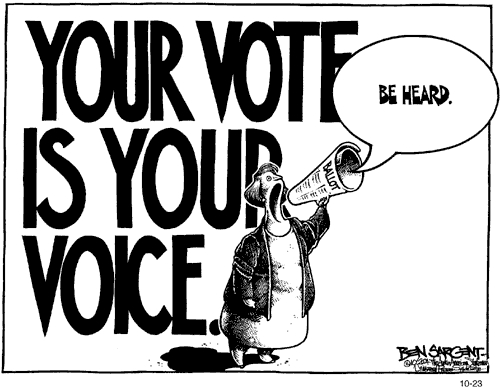 Something peculiar happened in 2016, in that Hillary Clinton allegedly "won the popular vote" and yet Donald Trump won the election by way of the electoral college. A lot of people seem to have forgotten, but Pepperidge Farm remembers, that this was in no way a sure thing; that many pundits thought prior to the election that it would be Hillary winning the electoral college while Trump won the popular vote and there was this whole big thing where he would refuse to admit he'd lost the election if he won the popular vote. People demanded Trump pledge to accept the results of the election in myriad articles which I now cannot find because here in 2020 they're running the exact same game and the stuff I am looking for is buried, but it was also mentioned in one of the debates as well. Just as it was possible four years ago, here and now, it is absolutely possible that Trump could lose the electoral college and win the popular vote.
Don't scoff. If you worried about it in 2016 I guarantee ya you should be worried about it in 2020. In many states, Republicans are registering more new voters than Democrats are and I think a pretty good number of the NeverTrumpers, disappointed in the lack of assurance from any Democrat anywhere that they would pump the brakes on the progressive agenda, are going to come home to roost too. Some evidence indicates that Trump's support amongst minority voters has surged, meaning not only more votes for him, but fewer for Biden. Weird winds are blowing.
Rumors of Trump's demise may be highly exaggerated, and if that idea sends chills down your spine, vote. If that idea thrills you to your core, vote. Regardless of who you're pulling for, vote like your life depends on it, because it does.
If people are using the popular vote as a metric for who the legitimate president is (and Hillary herself has claimed repeatedly that she's the real president) then a whole lot of people who stayed home in protest or who voted 3rd party like me because "my vote doesn't count anyway" need to be planning on voting, and those votes may not go where the status quo expects them to. If the legitimacy of our presidential election relies on not the electoral college, but the popular vote, or at least does in the eyes of the media, then a hell of a lot of people who abstained from voting in 2016 since they knew their state's electoral college vote would go a particular way, are probably thinking they need to vote in 2020.
Indeed, they damn well SHOULD. Even if you're sitting in the bluest of the blue states, or the reddest of the red, I humbly request that you drag your ass to the polls even if it is raining and let your voice be heard, because the popular vote apparently MATTERS. I know you took civics just like I did and you know your red vote in California won't make a lick of difference any more than mine does in Washington. I know it's easy to tell yourself why even bother, but the media has made it relevant. They've forced the entirely unconstitutional issue to the forefront by talking up the popular vote as a metric of who "should be" the president, and we the people need to respond to that by voting even when we know that officially our vote "doesn't count".  For it appears that a whole lot of ways it actually does count.

Vote! I'm begging you, vote!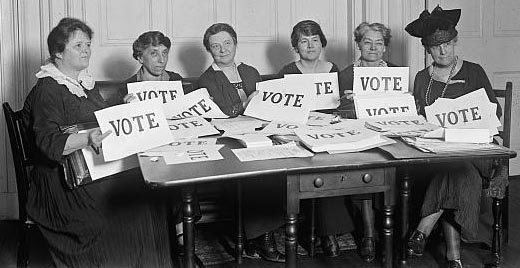 Speaking of "red" states and "blue" states, let's talk about that stupid and destructive myth. Believe it or not – and I know you may have a hard time believing it since the media keeps treating it like it's a thing rather than a straight up falsehood – there ARE no red states and blue states. It just isn't real. I know this, because I was cursed with a lifelong fascination by politics, and I have watched the outcome of election after election in which the dominant party received somewhere in the 60th percentile of votes and the minority party received somewhere in the 30th percentile of votes. EVEN in very blue and very red areas, this generally holds true. (Generally. I'm sure you industrious folks can come up with exceptions but we're talking about overall trends here and NOT a declaration of anything set in stone). Everywhere you go, regardless of how we view the political leanings of a state or county or region overall, there are always PLENTY of people in any given area who vote the opposite of what "color" we think they ought to. Even here in the land of ultraconservative wackadoo Matt Shea, there are 30%-40% of people voting Democrat in any given election; always have been, and I suspect there always will be.
Perhaps you haven't noticed, but our country is pretty divided right now. Some people, and I count myself among them, are worried about civil unrest increasing regardless of who wins in November, and even possibly flaring into civil war. A lot of people across the political spectrum are saying things like "well the blue states need to go off and make their own country" or similar sentiments. I'm sure you've heard it too. But all these plans for secession and division and new countries overlook the 30% of red folk living in blue states and the 30% of blue folk living in red.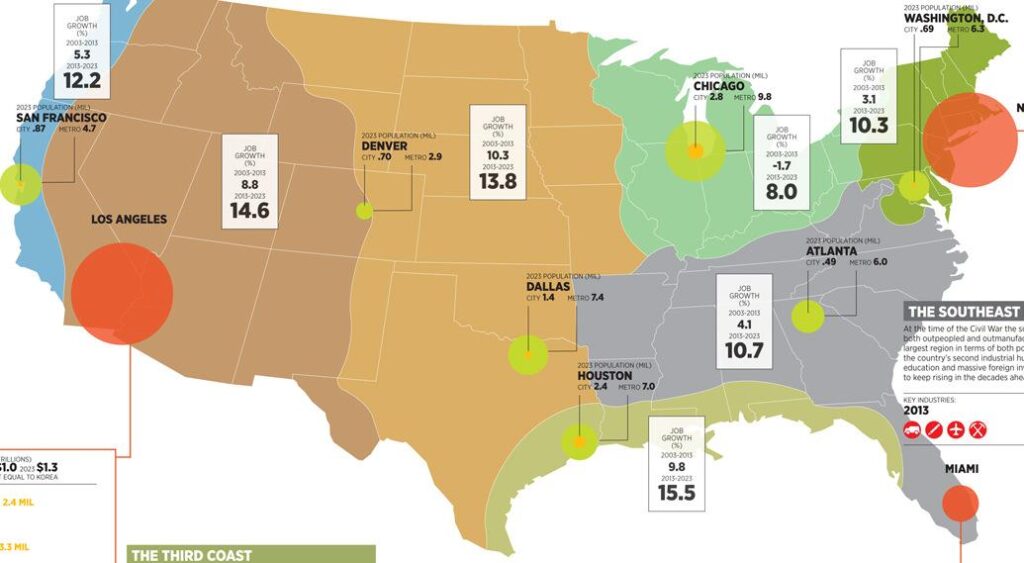 Do you think these people are just gonna give up their home and lands and move to some other country? Don't you think maybe they're going to fight for what is theirs? Even if you could convince millions of people to pick up stakes and move, would that not create a massive amount of economic and social upheaval? Peaceful division, no matter how attractive it may seem, is not really a viable option here. And unlike many of those who seem to be rooting for civil war, I am firmly in the no war camp, because as a history buff I've learned that war is not healthy for children and other living things, and when you break things, they stay broken.

I have said it before and I'll say it again: Bleeding Kansas has nothing on what Bleeding Washington is going to look like. Bleeding Oregon, Bleeding California, Bleeding Texas, Bleeding Massachusetts, Bleeding Michigan, Bleeding Ohio, Bleeding Wisconsin…dudes and dudettes, this country is going to fricking implode if we try to start divvying things up by political persuasion and exodus-ing anyone who doesn't "fit" geographically. Because THERE ARE NO RED AND BLUE STATES, there is only America, and America, wherever you go, has a lot of liberals and a lot of conservatives and a lot of everything in between all mingled in together. You may as well try to pick the raisins out of an oatmeal raisin cookie as separate them. Yeah, you can do it, I guess, but your cookie will be completely destroyed in the process and you can't dip crumbs in a glass of milk.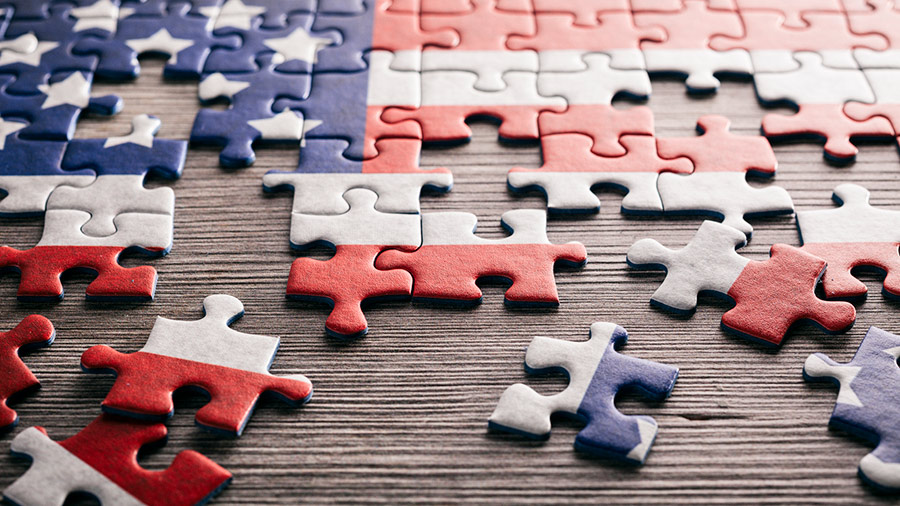 What does this have to do with voting, you may ask? Well, it seems to me like one way we might possibly remind the media and the intellectuals who are so consumed by their raging cases of TDS they missed the memo that we live in a country in which people of many belief systems coexist mostly peacefully (or did up till the invention of Twitter), is by voting. Even if your vote doesn't count-count, it COUNTS, because if you're a conservative living in New York City or a liberal living in Chugwater, Wyoming, you need to let people in positions of power know that you are here, you vote, you matter, and you're not going to toss your hobo bindle over your shoulder and shuffle off somewhere to start a new life, at least not willingly. Maybe if the pundits and authority figures finally get a decent bead on how many people across the political spectrum exist in every area across the US, they'll quit cosplaying like it's 1859 and start acting like responsible people in charge of a diverse nation instead of believing in "winner-takes-all" mandates.
Vote! Vote, damn you! Vote!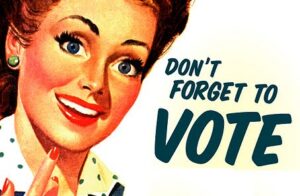 One of the things I've noticed after a lot of elections, but the election of 2016 most of all, is that the "experts" take away (sometimes, seemingly willfully) all the wrong messages.  If you don't vote, you enable them to take away the message that people just don't care about the outcome.  If you don't vote, you enable them to take away the message that red states and blue states are a thing that really exists and not a social construct.  If you don't vote, telling yourself your vote doen't count, you are very possibly UNDERMINING the legitimacy of the presidency by playing an electoral college game in a world where apparently, like it or not, the popular vote matters.  Don't let the experts ignore your voice, even though it's a tiny thing in a great big cesspool.
A single vote may be small, lame, and dumb, but it is very, very far from meaningless.
Vote, you filthy animals!
---
Immediately after the election, in my desperate search to find someone, anyone, who seemed to understand why it was Hillary had lost other than myself and my husband, I stumbled onto the writing of former Ordinary Times contributor Freddie deBoer, who begged his fellow leftists to stop the constant appeal to celebrities like Lena Dunham and

John Oliver: 

Four years later, and nothing has changed.  If Trump loses, it was entirely self-inflicted; the Democrats have done literally nothing to demonstrate they learned anything from 2016.

Not to mention the fact that not only the media, but the Clinton campaign itself promoted and supported Donald Trump over other Republicans because they believed it would be easier to beat him than say, Marco Rubio or Jeb! Media interference in the election of 2016 (which IMO is still continuing in this election, even more so) is one of the biggest scandals of our generation and yet no one seems to want to talk about it.