Saturday Morning Gaming: On Building A Dream Gaming Rig
Gateway Computers Commercial 1998
I am somewhere in the middle of the process of building my dream PC. Back in the 1990s, I always looked longingly at those Alienware ads… remember those? Alienware didn't sell the sensible PCs for your parents to use for doing the taxes or writing The Great American Novel, they made computers for people who wanted to PLAY.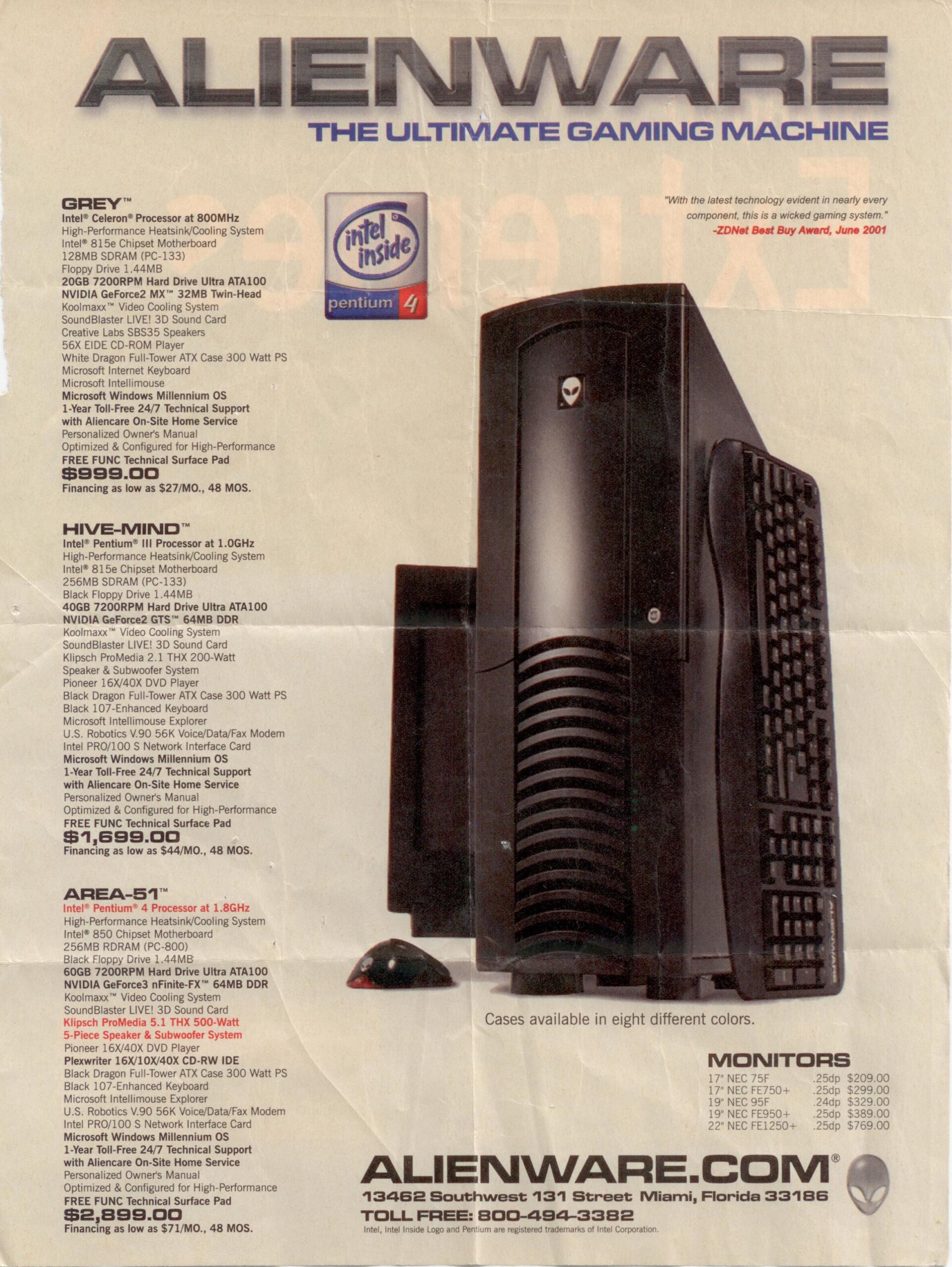 Their absolute top-of-the-line stuff was NUTS. Maxed-out memory. The biggest hard drive you could find. Video cards that could handle the highest display modes. CPUs that could handle an unheard amount of flops. Flops? Yeah, a flop is like a math problem. This CPU could do THOUSANDS of math problems at the same time. This is the computer that you would build if money were no object.
You know how when you go to Build-A-Bear, you think "oh, I won't spend too much" and then you see that there are 3 different kinds of cowboy hats and they've got the gold level cowboy hat, the platinum level cowboy hat, and then the Diamond Level Cowboy Hat For The Person Who Truly Loves Their Bear? And after you pick out the cowboy hat, you then wander over to where they have the three different kinds of vests? And then you realize that you're not getting the bear for you but for the little kid you're with? Well, Alienware said "we'll go to Build-A-Bear and get you the best Cowboy Bear you could possibly ask for and you won't have to do a thing. You don't even need to know how to build a bear. That's what we're for." Alienware made the Build-A-Bear for the little kid you're with.
Man, that pricetag! Almost THREE GRAND for the top of the line "Area 51" computer there at the bottom. AND THOSE WERE BUSH II DOLLARS. If you wanted to build one like that yourself, you could shave off… I dunno. Somewhere between a quarter and a third of the price. More than a little. But you have to know how to build a computer. And if you're not a Build-A-Bear Expert, you might end up with a bear that looks a little off. Why risk a bear that looks a little off? Do you not love your bear?
A minor solution that I've found is start with an off-the-shelf box and upgrade one thing. Back in the early 90's, I put 16 megs of memory in the computer of my adolescence (which TRIPLED the memory) and made it possible to non-frustratingly play stuff like Myst and Doom. Back in 2015, we bought an off-the-shelf box from Costco and it was pretty good at playing games from 4-5 years before and when I wanted to play Doom (2016), all I needed to do was upgrade the video card to my first REAL Gaming Video Card ever.
And then, I found that the video card needed more power than the power supply had to offer. So I bought a new power supply. Then I found that the power supply wasn't compatible with my computer case (the plugs were all in the wrong places) so I had to go out and find a power supply that had sufficient power AND was compatible with my case. And then, when I put in the power supply, I found that it didn't have a plug for my internal DVD player so I had to switch to a USB DVD player. BUT! AND HERE'S THE POINT! I was then able to play Doom (2016).
And for years and years, I was good. But then… we had a global pandemic and I was spending a lot more time at home. As such, I found myself thinking "I could really use a new computer" and talked to Maribou about it and we discussed the budget and went to PC Part Picker and it was exactly like Build-A-Bear but worse. Instead of just picking out a hat and a vest, you're asking about the CPU, and the Motherboard, and the CPU Cooler, and the Case, and the Power Supply, and the Memory… and, for each one, you find yourself asking "well, do I want the gold level part… or the platinum level part… or the Diamond Level Part For The Person Who Truly Loves Their Computer?" And then I started doing research. And I had long conversations during my 5Ks with my buddy who builds PCs as his hobby. (He gave me a 10 minute lecture on the difference between Intel and AMD and the various history of the competition of the two brands. I'll be getting an AMD.)
One of the things about buying a computer off-the-shelf is that you pays your money and then you haves your computer. But if you're building one, you can just buy a single part at a time when the budget allows. Remember in Scrubs how JD's dad gave him a bicycle bell instead of a bike? It's like that.
So if you're operating on a budget, as I am, you can get the part you feel good about (I mean… I'm not going to be streaming to Twitch so it's not like I need a streaming-optimized rig) and then just sit tight until next month and you can get another part you feel good about. I currently have six of the nine things I'm going to need sitting upstairs in the corner of the dining room and, soon, we will be ordering the CPU cooler. With luck, I'll have everything but the video card in time for Cyberpunk 2077 and I can use the video card I got back in 2016 to hold me over until there's room to buy the video card I REALLY want. Maybe next year. (It's not like anybody but scalpers have access to the cards now anyway.)
So it's like Build-A-Bear if you start building your bear in April and only buy one accessory a month. (But it's the GOOD cowboy hat. It's the one based on Woody from Toy Story. It's got the Disney branding and everything. I can't wait until we buy the stuffing!)
So… what are you playing?
(Featured image is "Build a Bear Workshop" by thinkretail and is licensed under CC BY-NC 2.0)