The Libertarian Case that Riots are Good, Achtually
The world is a series of confrontations. Man vs. Man, Man vs. Nature, heck, even Man vs. Himself sometimes – existence provides us with a million ways to die pretty much constantly.
These confrontations are the reason why we glom onto our fellow man, living in communities rather than going it alone, even though a fair number of them would just as soon slit your throat as look at you. A world of rugged individualism may sound good on paper – people do suck and all that – but it's literally impossible for one person or family to handle every problem life throws our way. To live our best lives, we require the assistance and skill of our fellow man, the ability to call for backup when necessary. In exchange, we agree to be there in times of crisis too, either firsthand, or nowadays, by paying taxes and sending government employees to do the job for us.
The existence of government doesn't mean that there will never BE hostile interaction between people. Preventing all conflict would not only be impossible, it would require a police state with the ability to predict the future; a real-life version of Minority Report. Disagreements, even violent disagreements, are a given and should be treated not as a failing of the system when they occur, but the justification for the existence of the system in the first place. In creating civilization, in creating governments, human beings are seeking to circumvent or mitigate confrontations when possible – either before or after the fact. Shit happens, best to have a plan on what to do when it does.
Why though? Why must there always be conflict? Why can't we all just be satisfied with what we have and not ask for anything more? Why can't people just BE GOOD?
This question is basically a cry for Utopia, an unattainable goal. Resources are limited and we're all fighting to inhabit the same square space of ground. We can't all have everything we want all the time. There just isn't enough to go around.
But this doesn't stop people from perpetually trying to get more than they have. We have all experienced times when people demanded too much, didn't carry their own weight, expected things they didn't deserve, and this is true even in relationships of friends and family and coworkers, let alone strangers. It took me 4/5 of my life to realize that if I didn't draw a line in the sand, if I didn't push back and say no sometimes, if I didn't fight to protect what was mine, people would demand more and more till they sucked me dry. Not bad people, not greedy people, nice and generous people who ostensibly cared about me. They just wanted more than I was willing to give. People are made to get what they can and to see things from their own selfish perspective always and forever, and in some cases, this goes right on up to overt acts of violence. And they're made this way because sometime in the past, when we were lemurs living in the trees, the lemurs who were greedy and self-interested were the ones who survived. Since we all came from those lemurs, it's written right into our DNA like the need to breathe oxygen.
The best civilizations acknowledge this human tendency and guard against it by creating a system of laws and an accompanying legal system meant to be relatively impartial, and therefore at least somewhat immune to lemurian foibles. Our legal system may not always be perfectly impartial in practice, and it may not be perfectly immune to foibles either, but in theory, it is meant to be these things. In order for people to have faith in the decisions rendered by the courts, the legal system needs to strive for impartiality and a lack of corruption in its ranks. The best civilizations rely on the promise of blind justice to maintain order rather than allowing the capricious nature of human benevolence to reign supreme.
Out of the rule of law and the faith of the people IN the rule of law, Jefferson's Tree of Liberty grows, because we cannot exist in a state of freedom if we cannot assume ourselves reasonably safe from aggressive acts.
(helpful hint – someone making more money than you do is not an act of aggression.)
Our government – both right and left, each of them in their own uniquely terrible ways, have been nibbling away at the trunk of the Tree of Liberty like a couple of demented and incredibly stupid beavers. Incredibly stupid, because the Tree of Liberty is where we live and it's pretty nice here compared to the Trees of Totalitarianism a lot of other beavers live in. These are magical beavers that live in trees, ok? My point is, it's stupid to gnaw away at the base of the thing that allows you to live in a state of peace and plenty that no other human beings on earth have ever known – the Tree of Liberty.
Those of us who love freedom have been warning them. The Left has been kneeling in football games and walking in their pussy hats, the Right has been marching peacefully with their guns and worshiping outdoors and in Walmart. The people on all sides of the political aisle have been telling the government again and again, in every way we know how (including the elections of Donald Trump and Alexandria Ocasio-Cortez) that enough is enough, we're going this far and no farther. Yet the authoritarians just keep on coming, bureaucrats and jackbooted thugs treating civil liberties as if they are disposable things we really don't care about too awfully much. Thus far they've gotten away with it because we're all so distracted by pointing fingers Us vs. them, Right vs. Left, and Black vs. White, distracted by the Shrieking Conjoined Monstrosities of Orange-Man-Baddery and Incessant Wokeness, but a lot of people are starting to realize the real problem isn't the slightly different flavors of civil liberties either side happens to prefer violating, but that the guys and gals who are ostensibly in charge of protecting those civil liberties have chosen to repeatedly violate them instead.
Americans don't like police states. They certainly enjoy designing them for others to live under, but for themselves, not so much. I would say it's one of the few things that left and right have in common. We all despise the notion of people telling us what to do. I would go so far as to claim this naturally libertarian quality lies at the core of the American character…or as Rage Against the Machine puts it, "F*ck you, I won't do what you tell me".
No matter what the flavor of the heavy-handed police state one might prefer, a whole lot of Americans of every political stripe are gonna come out against it. It's gonna happen. It's HAPPENING. It will continue to happen in the future, regardless of who wins in November. The solution to this dilemma is not to double and triple and quadruple down on the police state, to decide that banning drugs worked so well we're gonna ban 32-ounce sodas too. The solution to the problem is for the government to back the hell up IMMEDIATELY – and by that, I mean both sides. Back up. Step off. Stop this marathon to the bottom where Democrats and Republicans seem hell bent on being the absolute worst they can be in just about every way.
Since you government folk ignored those politer warnings people have been giving you, since you took our letters and phone calls and think pieces and heartfelt pleas and shrugged and sent yet more of our tax money to America's Corrupt Institutions, what we are now watching unfold before our eyes is a less polite explanation of the nature of this deal we got going here.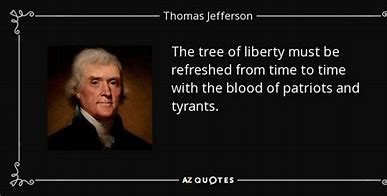 We, the people, have granted the government power to arbitrate disputes and intervene in conflicts between citizens – to elevate us out of that nasty, brutish, and short existence that humans have lived in throughout most of history – and that's it. Some people claim to want more than that, are jonesing to see America become a totalitarian nation of some sort or another, but for every one of them, there are many others who just want the government to quit interfering in our lives and start protecting us from bad guys (including America's Corrupt Institutions) and maybe build a road now and then. That's what most people generally want our government to do, and we want them to do that fairly and well rather than for some people and not others. We, the people, at least not those of us living in the year 2020, never granted the government power to kneel on a guy's throat till he died. We, the people never granted the government power for lots of things it's been trying to do lately. And power that was granted by the people, can be revoked by them just as easily.
Maybe you guys should write it on a Post It Note and put it someplace where you'll see it every day.
The fact is, the TRUTH is, that a government – at least with the technology that presently exists – cannot go too far unless we the people allow it to. Just like ants vs. grasshoppers in A Bugs Life, there are way more of us than there are of them, and no matter how formidable the government thugs are with their flashbang grenades and armored vehicles, if enough of us come, there is no stopping it. If enough of us come, and our cause is just, the folks with the flashbang grenades and armored vehicles may even join us.
Now, I believe, like many of you reading this believe, that a high percentage of the people involved in the George Floyd protests-cum-riots are petty thieves and not-so-petty thieves and hooligans just looking for a chance to smash some shit. But that doesn't matter. It has always been and always shall be that every cause, even the very noblest causes, contain a fair number of thieves and hooligans looking to smash some shit. Remember, that's why we created government in the first place – humanity contains a good chunk of thieves and hooligans. The existence of thieves and hooligans within the boundaries of a movement does not negate the overall premise of a movement.
Speaking of just causes, when Thomas Jefferson wrote his famous quote about the Tree of Liberty, it was during America's first uprising, a little thing most people never heard of called Shays' Rebellion. After the Revolutionary War, the US government failed to pay many of its soldiers the money they were owed. The local government of Massachusetts saw small merchants as cash cows (hmm that sounds familiar) and demanded they pay ridiculously high tax rates. The merchants had little choice but to pass these costs onto the subsistence farmers they traded with – who also had to pay exorbitant tax rates on their lands and goods. Many of the farmers and small merchants had served as troops for the cause and hadn't received their promised compensation. Daniel Shays, the man who led the rebellion, was being sued for debt he accrued while serving in the Revolutionary War, under promise of payment that he never received. Wealthy merchants were cronies of the people in the government (I'm getting deja vu all over again) and kept pressuring their friends in the government not to provide any relief for the struggling people. People couldn't pay their debts and started to lose their homes and their land. It was as just a cause as one could possibly imagine.
Before Shays' Rebellion started outright, the people tried peaceful protests, they tried legislative remedies, they tried to do things the right way, but the government refused to change anything and began clamping down not on the greedy government officials, but on the protestors. Entire towns petitioned the Massachusetts state government for tax relief, and while a few token changes were made (I think they banned Aunt Jemima pancake syrup, but maybe I'm getting that mixed up with something else) at the same time other sinister laws were passed, like excusing sheriffs from responsibility if they killed protestors, and suspending habeas corpus. The governor of Massachusetts hired his own private army funded by rich businessmen who wanted to see those small merchants and subsistence farmers forced to pay their insanely inflated debts since they profited from that. After an attack on the Springfield Arsenal was repelled, the rebels were scattered and forced to retreat to Vermont. But the message had been heard; a new governor, John Hancock (yes, that John Hancock) was elected. He showed leniency towards the rebels, pardoning most of them, preventing their debts from continuing to grow, and cutting their tax burden substantially.
This is one of those strange stories about an armed uprising that kind of has a happy ending. Most of them don't.
A lot of libertarians like the "Tree of Liberty" quote and its promise of violence because as already established, every movement has its fair share of thugs and hooligans in it, and beyond that, even good people can get conned into or scared into believing that violence to achieve their political ends is desirable.* (A lot of folks on what some deem the "right" side of the political spectrum, myself included, are scared right now, and IMO with good reason.) And it's true, sometimes it may be necessary to resort to violence, like if one is fighting ACTUAL Nazis, and not just cosplaying that you are while living the freest, fairest, and most just country the world has ever known. Sometimes it is worth fighting to the death for your life or your cause or your freedom.
But sometimes it isn't. In fact, I'd say MOST times it isn't, especially if you live in a place and time in which you have other options to reform the system. And America may not be perfect, but we do have other options available to us. The government may work slowly, may respond to the people's concerns at a pace just this side of glacial, but there are ways to affect change that don't involve torching the property of people who had absolutely nothing to do with any wrongs committed against anyone, and are just trying to run a day care, or serve people sandwiches, or fix people's teeth.
Please forgive me, yet again, if I roll my eyes at those who whine "but we tried EVERY thing and NOTHING worked!" when they're not even registered to vote and don't know what the words "civil asset forfeiture" or "no-knock raids" even mean. Please forgive me, yet again, if I roll my eyes at people who would rather gulp down a liter of salmonella-impregnated kombucha rather than consider something like a career in the government or the military or the police force where one might work from the inside to make the system better. The fact is, most people burning down people's homes and businesses tried nothing, took the easiest path available which was playing video games while other people were in the trenches doing the heavy lifting, and took the opportunity to slash and burn when it presented itself. Others might be slightly more politically informed, but simply whined when it was cool to whine, while expecting other people to make reforms on their behalf.
(another helpful hint – you can try EVERY thing and find out that other people just don't agree, and if you resort to violence to impose your philosophical aims when political remedies have failed you rather than regrouping and trying a different approach, well then you're the bad guy. Duh.)
I despise corruption, cruelty, and abuse of power wherever I find it. It's why I still consider myself a libertarian even though Official Libertarianism has way gone off the rails for me. Though I seek to understand the how's and whys people choose to do heinous things, and I do that while retaining sympathy for flawed people put into impossible situations who make the wrong decision, I despise corruption itself (there seems to be some confusion about that round these here parts).
But even as I hate the shortsightedness of people and their never-ending scrabbling after power with every fiber of my being, I also don't like the riots. I find it very, very concerning the number of libertarians who are watching the riots unfold with a gleam in their eyes and a hope in their hearts that maybe this time, it's the Real Deal, that the Tree of Liberty is gonna get watered right directly. Very concerning indeed.
I don't like the riots, and it is not the libertarian in me that doesn't. It is because I still have a fair number of liberal leanings. I cling to this pesky belief that the law should protect the weak as well as the strong, the meek and exhausted as well as those with the energy to scream constantly at the sky, the downtrodden trudging along life's rocky road in addition to those who make the journey in style in Cadillac Escalades.
I know some of you, way deep down inside yourselves, disagree that the rule of law should protect the weak along with the strong. Some of you who call yourselves liberals, but are actually some other thing entirely think that you need to break some eggs to make your precious omelet and that even though some of THOSE people will die, it will all be worth it in the end. Greater good, and all that.
But hey, armchair philosophers, those of you who think you could create the perfect society if only it wasn't for those (insert your hated outgroup here), take a memo – you keep effing around with stepping on people's liberties in the name of your personal agenda and you're gonna get civil unrest not from your side, but from the other. One follows the other like day follows night. It is written in the fundament of the American character – "f*k you, I won't do what you tell me."
And while civil unrest may look fun in the pages of that dystopian young adult novel you inexplicably base your life around, the truth is, it is very far from fun, and civil unrest has a nasty way of flaring up and getting completely out of control. When it rains, it pours; lightning will strike the just and the unjust alike, and the deluge will wash away everything in its path. Because though it's true that government cannot run amok unless we the people stand back and let it, it's equally true that government cannot do its actual job – mitigating conflict – unless we allow it to.
If we delegitimize and undermine law enforcement, stop respecting the justice system and the rule of law, agree en masse that we will no longer follow the rules and it's anything goes as long as it serves our side, then we no longer have a civilization, we have a free-for-all. And in a free-for-all, the strong and powerful invariably come out on top and the marginalized people fall by the wayside. Real liberals, even shitty liberal centrists with nasty irrepressible libertarian streaks like me, value marginalized people. Real liberals gotta come down on the side of obeying the law (even when we super don't want to), working within the system (even though it's so SLOW), and accepting that sometimes other people don't agree with our political aims (and we don't get to force them against their will). Genuine bonafide liberals should fight to maintain the rule of law because only under that protective umbrella of civilization can we have civil liberties, even for those with fewer muscles and less money in their bank account and the wrong skin tone or who go to that weird church instead of watching football on Sunday morning.
But I WANT those things too, you may say. I want stability and safety and freedom to walk down the street without being mugged or shot! Eventually that stuff will come back again!! This is only temporary! You may argue you don't want to do away with laws, not indefinitely, you just want to get the Actual Bad Guys, and then once they're gone, we'll make a new system, a better system, one that IS perfect. And I know you actually believe you can do that, bless your heart, you actually think that you're smart enough to perform the trick that has eluded all humankind lo these many years, the creation of Utopia.
There's just one problem here. Using violence to accomplish political aims is a lot like using a shotgun to kill a mosquito. Maybe you'll hit what you're aiming at, but the price you'll pay will end up being a lot higher than you think. Those pellets are gonna fly everywhere, including into stuff and people and ideas and institutions you like. And the first thing that gets destroyed when we resort to violence rather than persuasion is that nearly universal faith in the rule of law I was talking about. Once everyone looks around and sees that "well, that guy got what he wanted and he didn't have to wait years for the justice system or politicians, so I'm gonna do that too" then we're off to the races, with policy being made at the end of a gun or a baseball bat. Every time there's violent upheaval, every time the Tree of Liberty gets watered with the blood of tyrants, there's a very real possibility that it will devolve into might making right rather than the rule of law, and that is not something that my liberal side is down with.
You see, plants can die not only from not getting enough water, but from getting too much. The Tree of Liberty can just as easily drown in blood as it can die from dehydration.
The much-maligned author Stephen Pinker wrote a book called The Better Angels of Our Nature in which he proved (with SCIENCE!! ™) that contrary to popular belief, over the ages, violence has actually gotten less common. And the reason for that, he claims (pretty darn convincingly too BTW) is the creation of "The Leviathan", which is a fancy way of saying that the government had been entrusted with using force to uphold the law.
Only law enforcement officers endorsed by and operating on behalf of the government can come to your house and take you to jail. Only judges and juries assigned by and answerable to the precepts of the legal system (a set of laws created by duly elected or appointed government officials subject to checks and balances, and not just operating on a vague sensation of whatever, dude pissed me off!) can sentence you to punishment. And they cannot do that without respecting your rights, including your right to have an attorney to plead your case. Rather than a totally uncivilized assembly of vigilantes embroiled in a Hatfield-McCoy-esque never ending cycle of offense and revenge, because we live in a civilization, we rely on the dispassionate and neutral government to perform the most hot-blooded of acts, seeking justice and restitution for harm committed against us. It obviously isn't a perfect system, there is much room for reform, but it's better than the alternative – which is nothing.
In The Better Angels of Our Nature Pinker demonstrates that whenever people lose faith in the ability of the government to enforce laws fairly and justly, they begin to take the law into their own hands, and violence skyrockets. Not only against Actual Bad Guys, but against EVERYONE. Bullets are undiscriminating things, they'll happily fly into whoever happens to be in their path. If you've been paying attention recently, that seems to be where we're at right now. Many people feel they cannot trust the police (either to respond when they're called, or to behave fairly when they do show up) so they're resorting to street violence, and 2020 has seen sharp increases in violence in many US cities.
True liberals, myself included, believe that the most important role of government is NOT to remake society in some sort of Utopian form, but to protect those who need protection. If you believe in the rights of those with disabilities, in the rights of women, of children, of the elderly, of the poor, of ANYONE who can't navigate this world through sheer brute force or by throwing money around, you should fight to maintain the rule of law. If you have a desire for a world with less violence and fewer guns on the streets, if you believe that criminals should have a right to a fair trial rather than being drawn and quartered in the town square, you should fight to maintain the rule of law. If you believe in the ability of every person other than the biggest and strongest and richest and most powerful and most popular having sway over the rest of us, you should be opposed to mobs in the streets and vigilante justice. Even the mob claims to be on your side, mobs are only ever on their own side.
Moving from a society in which only The Leviathan of government – answerable to the voters, limited by the Constitution – is granted a monopoly on the use of force in the name of upholding the law, to a society in which it's kill or be killed, whatever, dude pissed me off, will simply create a dictatorship of the rich and the strong.
And that, my friends, is entirely illiberal.
It is no surprise to me that some libertarians, happily a minority of them, the type who go in for things like survival of the fittest and "whoever has the gold makes the rules", want civil unrest. The very notion makes their mouths water. They want it because they believe they'll survive it and come out on top, and you know what, they're probably right, at least in comparison to a dude in a wheelchair or an elderly grandma or a single young woman eking out an existence in a city far from the support of her family and friends. But liberals? No, never. Liberals should not be calling for violent upheavals. Because liberals are supposed to be about protecting the weak and the innocent and the poor and the downtrodden. Not serving them up like cannon fodder, sacrificing defenseless victims into the jaws of chaos like Prim and Rue into The Hunger Games.
Violent upheaval REGARDLESS of why, means those people who once were protected now are vulnerable, because the people who were doing the protecting are now simply trying to save themselves and their own families, and have no time or energy left for protecting that darling little old lady down the road. And the fact that so many self-described liberals seem to be justifying violence in the service of their political aims only serves to prove to me yet again that what is at present calling itself the liberal movement is anything but.
Liberals – you old school Tree-of-Liberty loving liberals who I know are out there still – you're not going to like this world you're creating. Or more accurately, you're not going to like the world you're allowing to be created while you run interference and pretend it isn't happening – telling me, as someone associated with this site did, that "antifa isn't real because it doesn't have a membership card." My dudes, your unwillingness to criticize anything on "your" side (air quotes used because it isn't your side; this is NOT LIBERALISM) is going to manifest itself, and quite soon, into some things that you will no longer recognize and do not support, but are too far along to stop.
I don't know why it is that it takes me, a relatively conservative person, to stand up and defend the principles of liberalism on your behalf, but I would really love you to join me at some point, before it's too late and liberalism is swallowed up and goes away forever.
---
Some may recall that Timothy McVeigh, when he bombed the Murrah Federal Building, was wearing a "Tree of Liberty" t-shirt. Since a few people on this site full of people so smart they're stoopid have decided to make some ridiculous claims that I am a Tim McVeigh stan, let me take the opportunity to publicly state that I loathe Tim McVeigh, I despise him with every fiber of my being, and me pointing out that the US government had done some extremely problematic things that in McVeigh's twisted mind, justified a violent response, is in no way a defense of McVeigh himself. The point I was making, which seems germane to this essay as well, is that we the people have to be extremely careful when playing around with notions like "violence to achieve my political aims is justified". Because some thoroughly disgusting and reprehensible people – like Tim McVeigh – felt justified in what their violent acts as well.