Weapons in the War of Ideas: Books & Book Burning
burning of books on the streets of Portland
and of
Harry Potter books torched by the far Left.
I don't like burning books, to put it very mildly. I find the concept of book burning appalling, disgusting, revolting even. I have a visceral, not-entirely-rational reaction to the senseless destruction of books not unlike others people might feel looking at a piece of meat crawling with maggots. This dates all the way back to the time when, as a small child, I waited hours in line to meet Madeleine L'Engle next to a woman who had a t-shirt that listed dozens of books that had been banned in America. As an avid, bordering on dysfunctionally avid reader, I found the very notion horrifying, and I passed the time by reading off name after name from the shirt, shaking my head at it all.  Bridge to Terabithia.  Alice in Wonderland.  The Lion, the Witch, and the Wardrobe.  Are You There God, It's Me, Margaret. A Wrinkle in Time. All of them had been banned somewhere along the way. In AMERICA, the land of free speech! It was flabbergasting.
Nothing has happened since that day that has changed my mind.  People who burn books are creeps, full stop.  This tweet pretty much sums it up.

So in light of this sad, sad, state of affairs, where it's no longer a bunch of superreligious wackadoos burning works of literature, but people who purport to call themselves LIBERAL (you keep using that word.  I do not think it means what you think it means,) I'm happy to share with you a piece I wrote for The Star, the newsletter of the World War II Orphans Association, about the lengths that Americans went to to ensure that our fighting men, so far from home, had books to read.
Unlike the Nazis who burned any book that did not support their vile philosophy, I take pride in knowing that American troops fought for freedom of expression just as much as they did for life, liberty, and the pursuit of happiness.
Let it ever so remain the same.
---
When we think of what our forefathers carried with them to war, we envision weapons, rations, cigarettes, medical supplies. But during World War II, American troops carried millions of books with them to the front lines.
As many fighting men have noted, the worst part of war is the boredom. Most of the time the men spend waiting – waiting to fight, waiting to train, waiting to return home again. It's a lot of empty hours to think about an uncertain future. Books could occupy a worried man's mind, enlightening him in addition to educating him.
The Library War Service was started by the American Library Service in 1917 to meet this need. By the time America entered the Second World War, our troops were used to being around books – there were libraries at military camps, books in the barracks, the Army and Navy had their own individual library services, and the Merchant Marines set up a lending library as well.
Haunted by visions of book burnings in Nazi Germany, and after a failed attempt by the Victory Book Service to ship millions of donated hardcover books overseas (too heavy! too big!) American publishers and the US army banded together to give away what turned out to be 122,951,031 works of literature – 1024 unique books, each of them reprinted many times over – to American troops between 1942 and 1947.
The Council on Books in Wartime – what The Saturday Evening Post called "the greatest book-publishing project in history" – was founded in 1942. The editorial staff of The New York Times described the program this way: "People in the Axis lands are prevented by force from knowing the facts of the time, and are told what to think. People of this free nation are supplied with the truth as free men see it and are confidently left to think for themselves."
The Council's founding principle was to use books as "weapons in the war of ideas". President Roosevelt declared, "A war of ideas can no more be won without books than a naval war can be won without ships."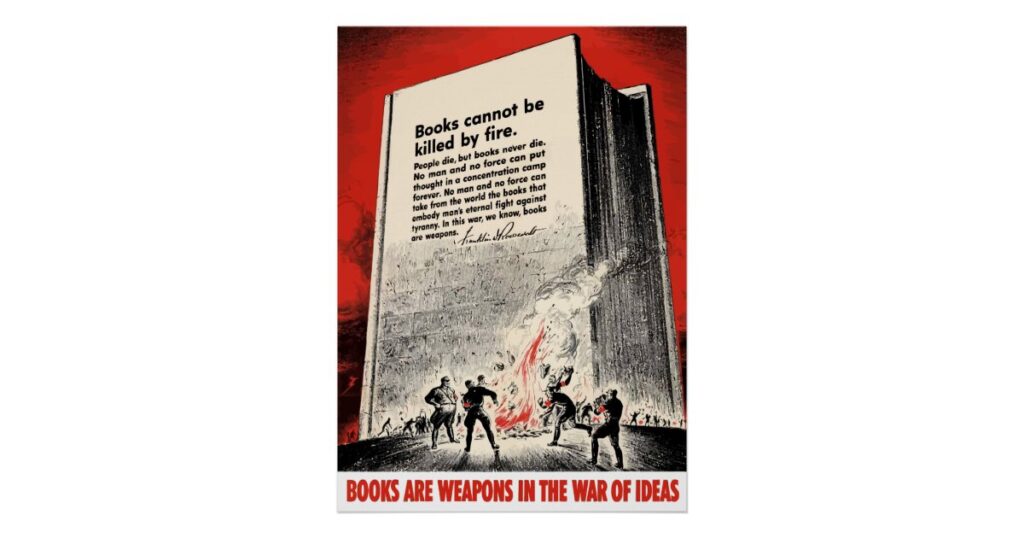 True to the American ideal of free speech and thought, the Armed Services Editions were unedited (a few were abridged for length but not for content). Some of them involved sexual situations, violence, and even controversial issues of the day like interracial relationships. Most were sports, mystery, humor, or adventure stories, and were not considered terribly highbrow, but others were more educational and thought-provoking. (To see a complete list of the books printed, click here: ASE Wartime Books You'll find the breadth and depth of them quite astonishing.)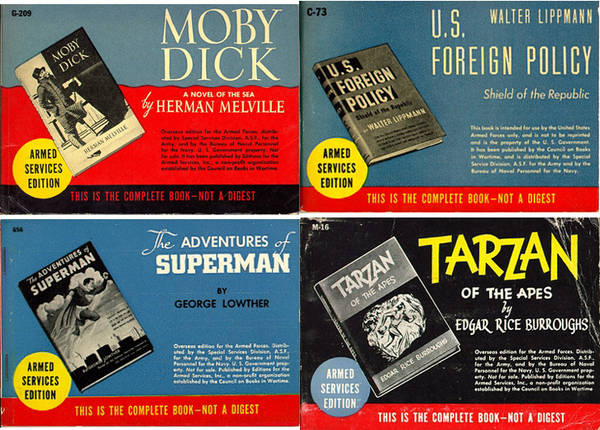 The men devoured them and begged for more. Some men even requested to be able to purchase more books at their own expense, complaining that the officers snapped up the books before the enlisted men could ever lay hands on them. The ASE books – portable, lightweight paperbacks small enough to fit in a uniform pocket since that's what troops could carry along with them – were beloved, protected, and treated with the utmost care. As one soldier put it, "To heave one in the garbage is tantamount to striking your grandmother."
Perhaps surprisingly given the audience of red-blooded young men far from home, the most popular ASE was not one full of juicy scenes or high adventure. A Tree Grows in Brooklyn is a coming of age story featuring a young girl, Francie Nolan, and her loving but dysfunctional family struggling to survive in a New York tenement. Francie has to sacrifice a lot, and endure a lot, but eventually she's able to work hard and make a better life for herself. Like the titular tree, the Nolan family lived and eventually succeeded against all odds, just as every American who served hoped to, if only he could make it home again.
A Tree Grows in Brooklyn was the first ASE book to be reprinted. Author Betty Smith was inundated with over 10,000 letters – ten times as many as she received from civilians – from men who had walked through hell and emerged on the other side to find her book there to welcome them, like a friendly letter from home. These men read Smith's words and rediscovered their humanity there.
As one wrote, "A surge of confidence has swept through me and I feel maybe a fellow has a fighting chance in this world after all." Another told her that Francie's story had made his dead heart turn over and become alive again. One man even promised to name his daughter Betty Smith!
The military even tapped Smith to write and star in a promotional war bonds film, which remains one of the more moving examples of the genre.
If you've ever wondered what men at war think about, if you've perhaps wondered if they longed for home and hearth and dreamed of that future that all too many would not be able to share, they did. Despite there being many more racy and exciting books available to them, A Tree Grows in Brooklyn, a simple, homespun story of family, community, and overcoming hardship, reigned supreme.
By VE Day, Nazis had burned over 100 million books. They had destroyed unimaginable literary treasures held in libraries and private book collections. Meanwhile, the Americans were bringing the written word to their fighting men, 123 million times. We all should take great pride in that. Fascists burn books. Free people protect the rights of others to read them.
Let's hope that future generations continue to value freedom of speech, freedom of thought, and artistic self-expression, because these truly are among the most noble of American traits.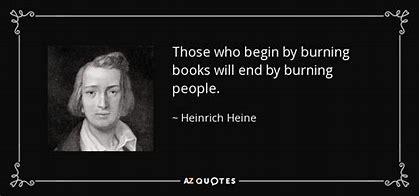 ---
This article was originally published in The Star, the newsletter of the American World War II Orphans Network
In recent days, I've read about the