Sunday Morning! "Two Serious Ladies"
Thank goodness for weird women.
Last week, we talked about the seismic impact of The Sheltering Sky, Paul Bowles's debut novel about cultural refugee Americans drifting across the Sahara Desert unable to take root. One of his key inspirations for writing the novel was simply to catch up with his wife Jane, who had written and published her first novel at age 24; Two Serious Ladies is a similar book in some ways, but in most others it's entirely singular. While it had its fans, notably Tennessee Williams, its tone was perhaps too off-putting for American readers in 1943 and it didn't sell very well. And it is still hard to think of anything quite like the novel; while it has gained more appreciation, to some extent, it still exists in a genre of one.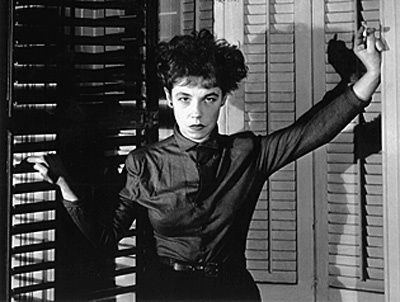 Jane Bowles was a singular presence herself. Born Jane Auer to a wealthy Jewish family in New York, she had a reputation in her youth for making inappropriate comments, pulling pranks, and generally being something of a pest. While a teenager, she fell from a horse, underwent surgery, and as a result developed tuberculous arthritis. She was nevertheless strikingly beautiful with a deep sense of humor, and by the time she was a teenager was attracting many potential partners, preferring in every case the company of women. Because of all this, Jane's nickname for herself was "Crippie, the kike dyke."
Nevertheless, she seems to have specialized in cultivating intensely passionate feelings for individuals who were more than a little unavailable. Paul Bowles was himself fairly aloof and frequently attracted to other men, but the two were nonetheless intensely devoted to one another, even after the sex ended. Perhaps especially after the sex ended. Paul and Jane were intensely creative people, although he was more productive and she given to self-doubt, and as cruel as it might sound, having a partner that you see once a day and otherwise live separate lives, so that you can get on with your work, sounds pretty ideal for a writer. The two of them soon left New York and traveled the world looking for a place they might fit.
The two "serious ladies" of the novel are also a bit peculiar. Both respectable bourgeois women, Mrs. Copperfield and Mrs. Goering are seemingly unable to refrain from saying or doing whatever comes to their mind at the moment- as one character observes of Mrs. Goering: "you can never sit down for more than five minutes without introducing something weird into the conversation. I certainly think you have made a study of it."
This is a theme throughout the book, which is made up largely of conversations. If Paul excelled at descriptions, Jane Bowles has a fantastic ear for dialogue that is sharp and a bit arch, and funny in ways you can't quite put your finger on. This is an area where Paul Bowles was deficient: his writing is never funny. Her two serious women reminded me of characters in the wonderful comedic stories of the British writer Saki (the pen name of H.H. Munro). There is something particularly surreal about refined people of privilege saying bluntly inappropriate lines like "I wanted to be a religious leader when I was young and now I just reside in my house and try not to be too unhappy." Another kindred spirit comes to mind: I could see Wes Anderson adapting this novel successfully.
The plot, such that it is, moves at the will of these two peculiar women. Mrs. Copperfield and Mrs. Goering meet early in the novel at a New York party and make chitchat about their respective lives. Cristina Goering was a weirdly religious child and "even then she wore the look of certain fanatics who think of themselves as leaders without once having gained the respect of a single human being." The daughter of an industrialist, she has a large estate to which she keeps inviting strangers to live, which "makes it easier" for her, although they seem disappointed as soon as she moves on to another whim.
Soon, she comes to the conclusion "in order to work out my own little idea of salvation I really believe that it is necessary for me to live in some more tawdry place and particularly in some place where I was not born." She sells the house for pennies and moves the whole kit and caboodle to a shack on a shabby island where she takes to sex with a variety of men. Like the characters in last week's novel, and like the Bowles couple themselves, there is a need to leave one's home culture and its sexual morality behind in search of some sort of salvation.
Mrs. Copperfield, meanwhile, gets dragged by her husband to a rundown hotel in a rundown Panamanian city, something she doesn't particularly enjoy. Jane Bowles had an apparent fear of most types of transport, and a great many other things, for which she compensated by drinking heavily. Her husband Paul mostly smoked kif, another source of his appeal with the Beats. Jane's characters drink frequently as well, and seem to be deranging their senses to manage life. As in The Sheltering Sky, they can't seem to escape their cultural kin; as soon as they arrive, Mrs. Copperfield runs into a "stout woman whose acquaintance she had made on the boat": a pushy, bigoted, small-minded tourist with an irritating son. There's a small shock of recognition here- we've run into these people before and one imagines that Paul and Jane both drew on the same annoying tourists. The tourist is always offensive to the pilgrim; their intention was always to lose themselves in the native culture.
For Mrs. Copperfield, this means shacking up and starting an affair with a local prostitute named Pacifica. In one of the more lovely scenes in the book, in fact, the prostitute teaches her to swim and she seems to have found a tenderness that was lacking in her life. There are other women who drift in and out of her story and there is a matter-of-factness to the female relationships in the Panama scenes that seems to suggest the city as one of those neutral zones- like Tangier in the 40s- where homosexual relationships were not so much tolerated as overlooked. But, then, one wonders if Mrs. Copperfield, as well as Jane and Paul, weren't really sex tourists and whether such travelers can ever really "go native." Both Paul and Jane fell hard for local Moroccans who were of much lesser means and who might have fallen for what they could provide.
An early reviewer complained that Two Serious ladies was "about nothing," a typical gripe about Modernist works (and Seinfeld). More than anything, though, it's a novel about that perennial theme of freedom, how we obtain it, and what do we do with it once we have it. At the end, the two ladies run into each other in a New York bar and decide they don't much like each other!) and Mrs. Goering fills her acquaintance on what has happened since last they met in typically blunt terms:
"I have gone to pieces, which is a thing I have wanted to do for years … but I have my happiness, which I guard like a wolf, and I have authority now and a certain amount of daring which, if you remember correctly, I never had before."
In a sense, Two Serious Ladies makes a nice companion piece to The Sheltering Sky: one comedic and one tragic on the theme of freedom. Each of us has our own inner nature, slightly different from the rest, which is hard to hear over the noise of others. This too is a novel about people who go halfway around the world simply to hear themselves speak.
So, what are YOU reading, watching, playing, pondering, creating, or fleeing this weekend?