Sometimes, You Get Burned: A Personal Account of The Whitney Fire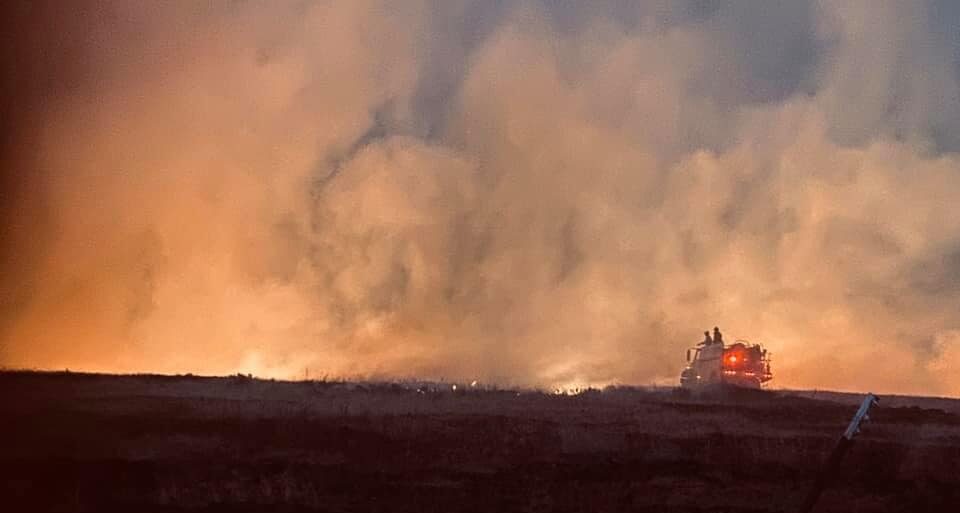 My husband and I had a running joke about the risk of an errant wildfire disrupting our rural paradise. We took the threat seriously, very seriously. We prepared for it, made plans and discussed scenarios, certainly never discounted it at all, but then we would laugh and say, "And yet, the Swanson School still stands."

The Swanson Lakes Schoolhouse is – or should I say, was, because it stands no longer – a very old one room schoolhouse built maybe hundred years ago. It was located several miles south of us in the Swanson Lakes Wildlife Area, which was created, and then expanded by the State of Washington in the early 90s to protect animals negatively affected by the development of agriculture – primarily dry land wheat farming and ranching – in the surrounding area. Many animals, birds in particular, need the habitat known as shrub-steppe (the shrubs in this case being the ubiquitous sage brushes that dominate the landscape) to survive and breed. The Columbian Sharp-Tailed grouse, of which fewer than 1000 still live in Washington State, were the rarest inhabitant of the wildlife area.
Here are some before pics: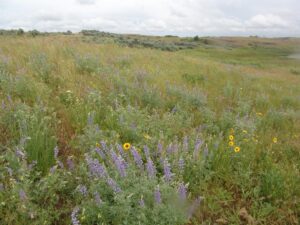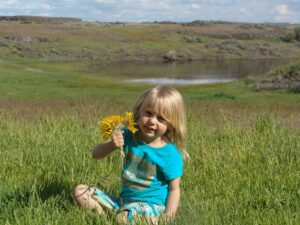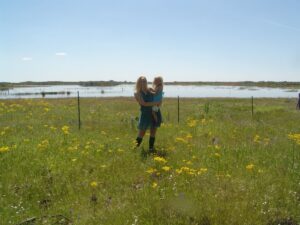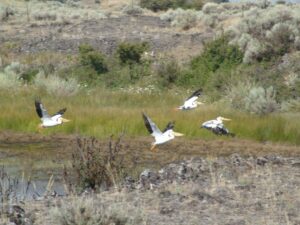 Back when we were young and energetic and adventurous and had a couple nickels to rub together, we were fearless or possibly stupid enough to end up owning a small chunk of this land between one side of the wildlife refuge on the west, and the other on the south. Though it took us twenty years, we eventually managed to build a homestead in this glorious wild place, and here we have lived for the past five years.

Unlike forest ecosystems, which are used to regular burns and even benefit from them, fires kill sagebrush and the native grasses, and seriously harm the animals that rely on the shrub-steppe fauna to survive. Fires are not something that are necessary or beneficial to the shrub-steppe ecosystem – in fact they destroy it, leaving room for invasive species like cheatgrass and Canadian thistle to take over. While small fires do happen in the shrub-steppe an average of every 30 years or so, large fires are not common in the area.
Places that experience epic burns typically have trees, lots and lots of trees, to fuel the flames. Shrub-steppe is not expected to burn to such a huge extent – exhibit A, the Swanson School. It had never burned in a century. There was an old shepherd's camp dating from the 30s on our property and it had never burned. We've owned the land for 25 years and it never burned, nor were there any charred remnants of sage stumps or black marks on the rocks to indicate it had EVER burned.

Because fire is so harmful to the shrub-steppe ecosystem, one of the perks of living near the wildlife area is that they have a very aggressive approach to fire management. Fires are possible, of course, but the DNR firefighters are on standby to quickly snuff any conflagrations that break out. It happens sometimes, typically after lightning storms, but the fires have been small and manageable. After all, the Swanson School still stood.

We prepared for the worst, but had ample reason to hope for the best.

At about 10:30 am Labor Day, we looked out the window and noticed a small plume of smoke to our northeast. It was an unusually windy day; the night before the boys had camped out in the yard and I had to get up in the night to tell them to come in because the tent was flapping too loud for me to sleep. I later found out the wind was blowing consistently at 40-50 miles an hour with gusts higher still. But at the time it just seemed like a normal, if exceedingly breezy day. The plume was quite far away, would have taken us over an hour to drive to, and we laughed and joked about it and puttered about all morning long doing our normal weekend routine. The wind showed no inclination of dying down. It was blowing out of the north when usually it comes from the west, so it was blowing the fire our direction, kind of – to the south, but the south is a big place. We didn't worry. The fire was SO FAR from us, the weather wasn't hot, and we were way off to the west anyway. Even though the wind wasn't perfectly favorable, we couldn't envision a fire coming so far and then completely changing direction as well – especially on such a cool day.

We have a police scanner to keep us apprised of events such as this, and while it was shaping up to be a bad fire up where it started, in the treed areas where fires can generally GET bad, we weren't at all worried. Fires just didn't get to 10,000 acres plus, not in the sagebrush. Fires just didn't rage like that out of the trees. The firefighters – not only the volunteers, but the DNR firefighters, the big boys – were on the case. And the weathermen assured us that the ferocious wind would stop by 5pm. We kept puttering, kept goofing around, wasted hours and hours that later in the day we both would desperately long to have back. I watched the clock and waited for the golden hour to arrive when that wind would stop its incessant howling.

At some point, the fire jumped the highway. Let me tell you, having a police scanner lets you know how the sausage is made, and the firefighters (without meaning any offense to them, as most of them are volunteers, and there were several fires in the area that day so they were spread way too thin) seemed a wee bit disorganized. They kept missing each other. They didn't know where they were going or where they were supposed to meet. They were supposed to stop the fire at the highway but only a few guys showed up. One of them kept saying "where is everyone at, you need to get here fast!" The right hand didn't seem to know what the left was doing. And it showed; the fire jumped the highway. But at that point it was still very far from us, still headed due south, and it looked like it would pass us right by without even coming near. In fact, it did pass by, and once it got past the firefighters, exploded to the south. And if everything had remained exactly like that, we would have been just fine. The fire at that point was still very far from where we were, and the wind, as terrible as it was, remained on our side, blowing the fire far to the south of where we were.

Under normal circumstances, firetrucks would've been able to refill their water tanks at nearby farms, but no one had power for their well pumps. Due to the windstorm the power company had shut down power to the area. This left the firemen having to make 50-60-mile round trips to pick up precious water. They kept running out of water, they kept radioing for more. Someone requested the DNR to send down their tanker trucks to the south, but the dispatcher said that they needed to stay put up at the north part of the fire to be sure it didn't flare up again. Based on what I heard on the scanner, I believe this lack of easily available water is the primary reason why the fire got so big.
Here are four plume pics taken over the course of the day. Notice how they're, ya know, getting bigger?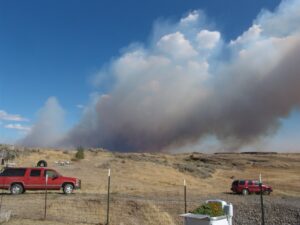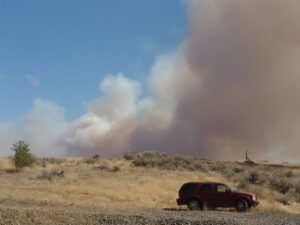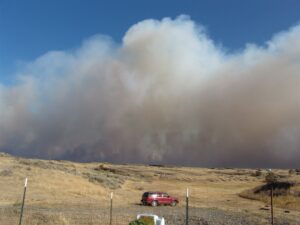 At about 4 o'clock I heard one lone voice on the scanner say, "the fire jumped the highway at the rest stop" and then nothing. Now the rest stop is fairly close to us, but there's still quite a comfortable margin of breathing space, especially given the direction of the wind. I started checking for evacuation notices and sort of vaguely getting ready just in case we had to leave. But there was no evacuation notice given at that point. There wasn't a bunch of radio traffic indicating they were fighting a big fire that was blowing up. In fact, all the radio traffic was from areas very far south of us. All the evacuations were for people living to the south. Not till 5:55 was the direct area near the rest stop, where there are many homes, and also trees, given (so it was to be expected they'd be evacuated) and nothing beyond that. I crossed my fingers and waited for that wind to die down.
But the wind didn't die down at 5pm. And it didn't die down at 6, either. We stopped puttering and started preparing – just in case. We loaded up our trailer and moved some wood and old tires over to my husband's "boneyard" – this area a safe distance from the house where he keeps some extra cars we don't use often, our camping trailer, a boat in need of repair someone gave us, and some other old junk he collected and thought might come in handy. But this was just in case. Because the fire was far away from us. The wind was blowing in a totally different direction from us, pushing that fire away from us. We couldn't even smell smoke, except for an occasional burst now and then. And even if it hadn't been, even if it shifted, fires just didn't burn so far, so fast in the grasslands. Even if the wind shifted, we would have plenty of time to prepare. A massive and uncontrollable fire out here had never happened, and that meant it couldn't happen.
The Swanson School still stood. Right?

Out of an abundance of caution I started checking for evacuation notices. None came. It was just the same set of people who had already been called to evacuate – those to the south, those to the east, and the winds were still favorable. I heard the firefighters mobilizing in places that were an hour south of us. The voices on the radio all referred to places that were comfortably far, and I didn't hear any more mention of the fire in the area. I figured they'd contained the flames at the rest stop. They even set up a command center at the far end of our road, so I figured that meant that we were in the safe zone. And the weathermen had said the strange and vicious wind would peter out by early evening, so surely the conflagration would be dying down soon. Because fires just don't spread in the grasslands like they do in treed areas.
Or so they say.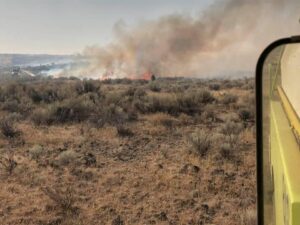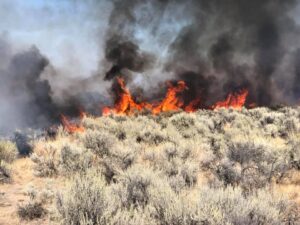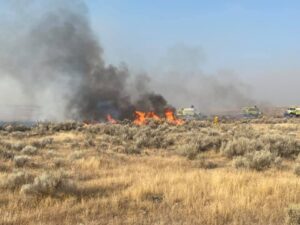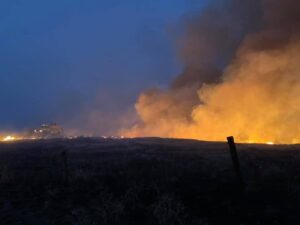 Now, if it hadn't been for the coronavirus I probably would have left at this point, regardless. (No matter what, my husband wasn't leaving; as he put it "I've worked too hard for this place to let it go without a fight.)" But I was completely cut off from family, who all lived to the south and east – where the fires were. The roads I was most familiar with were all closed. The place we were supposed to evacuate TO – the fairgrounds – was cut off by the fire. That left me headed off alone into unfamiliar territory, driving down a rural road away from the safety of water and shelter in the midst of a firestorm. Aside from the fires already burning, there were fires breaking out in every direction due to the wind. Every few minutes the scanner sounded an alarm of another fire in the area. Additionally, there were power lines falling left and right. A hot line fell at one of our neighbor's houses and started a fire there, and even an unelectrified power pole can kill if it falls on you. Up on the highway, the wind was so severe, and visibility was so low due to blowing dust and smoke it caused a multicar pileup in which several people were injured.
People do die while evacuating. It is something that absolutely happens; they're either caught by the flames or encounter some other mishap along the way. So after weighing all the available info we felt the smart thing to do was to stay put where we "knew" we were safe, especially given that I'd have to go to a public place and hang out in close quarters alongside potentially sick people. Knowing now what I didn't know then, this seems idiotic, but I have a heart problem and an autoimmune disease, and the coronavirus has really started to spread in our area as all the Seattleites headed to their vacation homes in our neck of the woods and brought the 'Rona along with them. It seemed just as dicey a proposition to go as it did to stay. And I felt like my husband needed our help in getting everything ready – just in case. So we made the call and stuck it out – but at that point we still felt quite confident in our safety.

Then at about 6:30 the wind shifted unexpectedly after having blown from the north all day. First it blew hard from the east (bad) and then it blew hard from the south (worse). As my husband later bemoaned, "I've never seen the wind turn a 90 degree angle before." He told me I needed to go, and at that point I still didn't understand how close a thing it was. I went inside to go to the bathroom before leaving and he was like "what are you doing?" and I started to get very worried. By the time I got back only a couple minutes later, he told me "It's too late, I see flames." And it's probably good that I had to pee, because if I would have left then (or even within the previous half-hour to 45 minutes) the kids and I would have all but certainly died because the fire would have caught us on the road with nowhere to go. As it turned out, us not leaving was actually huge serendipity.

So, with fire headed directly at us from the EAST – which, we had never even heard it was coming from the east, it was supposed to all be to the south of us – we enacted Plan B. The kids and I would sit in my Suburban with the air conditioning on in the gravel pit we have in front of our home – a bare rocky area with no fuel to burn in it – and my husband would fight the fire. This may seem foolhardy and in fact would have been for most people, but my husband is a combination of Scotty from Star Trek, Jamie from Mythbusters, and MacGyver. He can build and fix anything and used to actually be a wildland firefighter in the Forest Service (kids, don't try this at home!) And over the years we'd created a defensible space around our home so there really wasn't that much around us that could burn.

But my husband's firefighting plan sort of hinged on having more than ten minutes' notice that a fire was actually coming. So while I threw everything irreplaceable in the car (that's how sure we were it wasn't coming our way – I hadn't even put any of our stuff in the car yet and my husband hadn't made me because we weren't going to have to evacuate) and tried to corral the animals, my husband set the boys to work spraying everything down and collecting fire extinguishers and flashlights, since it was approaching 7pm and would soon be getting dark. Since we have solar power, we were able to pump water still, unlike all the poor schmoes who had had their electricity shut off and had to rely on the firefighters and their constantly empty tankers. But our water wasn't infinite; we only had 6000 gallons at the ready. So my husband dug fire lines all around the house with his tractor and then set a backfire going with the wind, to burn up the available fuel and keep the fire from circling back around us to the west and setting our chicken coop aflame from behind.

The biggest risk in a fire is not burning, it's dying from superheated air and smoke inhalation. But generally speaking, that applies to people with trees around their homes (again, kids, don't try this at home) because the trees provide so much fuel for the flames. Our place is wide open space, mostly grass with a very few sagebrush a good distance from the house (we'd ripped most of them out along the way and in retrospect we should have taken out the rest) and so we were operating under the assumption that we'd have enough oxygen to breathe, and that the air conditioning would create a buffer from any hot air and smoke we encountered.

Then again, we were also operating under the assumption that we'd be given warning in time to evacuate. We were operating under the assumption that having a scanner would let us know in advance what was going on rather than lulling us into a false sense of security. We were operating under the assumption that the winds would die down by early evening because the Weather Service had told us so. None of those things had been true, and so as I threw two cats (I couldn't find the third cat, I thought she was in the house where the other two were, but I wasn't 100% sure she hadn't sneaked out in the ruckus) and then tried to get the dogs into the car, with flames not creeping, but raging onto our property, I had some very grave reservations about operating under assumptions.

But there was no way out but through.

The dogs wouldn't come. They were too scared, and I realized that my efforts to get them to the car were only making them more scared. I was worried they'd run into the brush to get away from me, so I let them go. I saw my youngest son up at the house still spraying everything down and I screamed, "Come on! Now! Now! Get in the car!" and he looked at me and shook his head and kept spraying. He had a lame green garden hose in his hand with a limp and disappointing stream coming out of it, but he made his choice to stay and fight. I considered running back up to the house to force him, or at least to give him his asthma inhaler which I'd stupidly left in my purse, but then I realized the fire had hit the hayfield in front of the gravel pit and was not just crawling but sprinting towards me. At that point I was in more danger than he was, so I got into the car with my daughter and the cats.

I could see my husband and middle son (who is remarkably level headed and competent – the sole person I wasn't too worried about in any of this since he's an ingenious and resourceful little bastard) monitoring the backburn, which had, in the wind, set part of the garden fence aflame. They were trying to put it out instead of fighting the fire coming at us, which didn't seem to be a very encouraging sign. And then that was the last thing I saw for 20 minutes when the smoke enveloped us. I could see flames approaching from the east and from the south and my daughter whispered, "I love you, Mommy," and my heart broke in a million pieces. I had her get down on the floor of the car where hopefully the air would be clearer, and she wouldn't see the horror show that was happening all around us. I had one of the cats in my arms because he wouldn't go in the crate, so I couldn't get down with her or he'd be loose in the car, and if anyone opened the door he'd escape. I just put my head down as low as I could. We held towels over our face to help us breathe and since I didn't know how much of what we were breathing was oxygen, I told her, "If you feel like you want to go to sleep, go to sleep, it's ok, and maybe I will too" so she wouldn't be scared just in case the worst happened.
While we couldn't see the magnitude of what was headed our way due to the smoke, here are some pictures taken by my neighbors of what was hitting us that night.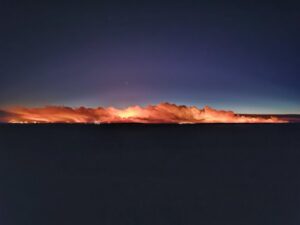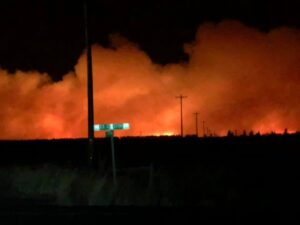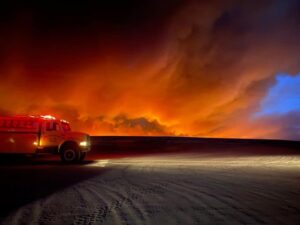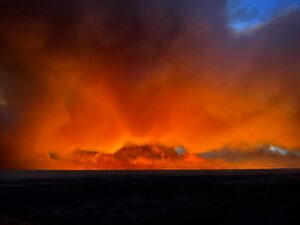 There hadn't been time to call my two older sons, there hadn't been time to send them a text, even. I'd managed to send out one short and cryptic message to my family on Facebook when I thought I was evacuating into parts unknown, but it wasn't enough. Not nearly enough. At the same time, though, it was going to have to be enough, because I had a scared little girl with me, and I was damned if her last memories of me were going to be of me texting on a phone, or calling to talk to someone else rather than being there for her. As it turned out, my sons had no power at their house anyway and I would not have been able to get through, but the truth is I didn't even try because at that point in time I had to be completely present for my daughter.

Then I realized I'd left the old school photo albums with all my older sons' childhood pictures behind. Only my younger kids' pictures were digitized and on the computer. I thought of everything I'd left behind and could have saved, at least temporarily till my car burst into flames LOL, but hadn't had time to grab due to our overconfidence. It wasn't just stuff; it was hopes and dreams and memories and possibilities – it was the very fabric my life was made of. I couldn't imagine it all gone. I know it's politically incorrect to admit to valuing stuff, and I would, of course, have traded every scrap of it in a heartbeat to ensure we were all ok. But boy, it sure did sting thinking of everything I'd accumulated over 50 years gone in an instant. Baby clothes, craft supplies, knick-knacks and art we'd picked up along the way, all those sweet, gorgeous pictures my kids had drawn and notes they'd written, the Depression glassware and a cedar chest that belonged to my great-grandmother, and most of all my precious books – it hurt terribly to think of those things being ripped away.

My daughter couldn't see anything so I tried to describe what I was seeing – though much of the time the smoke was so heavy I had to put my head as low as I could and couldn't see anything either. Smoke and flames, smoke and flames. Everywhere, on every side but the west where my husband had already burned it all off. I could see our swing set burning and tried to console myself that the kids were too old for it now, anyway, tried not to feel too sad about those dreams I'd had of grandkids playing there someday. I could see the boneyard seemingly engulfed in flames and thought of the tens of thousands of dollars of vehicles and equipment that we needed to run our homestead, gone.

I couldn't figure out why nothing was exploding in the boneyard; after all we had several vehicles parked over there with all sorts of flammable fluids in them, but nothing did. It felt like an unexpected blessing in the midst of a total disaster. "Well, at least nothing is exploding," may seem like a strange consolation but in that moment, I was thankful for it.

For what felt like forever, I did not see my husband or the boys. I didn't know if they were alive or dead. I couldn't see the house or any of our outbuildings, it was too smoky. Although everything had happened so fast I simply couldn't imagine that the house had actually burned down in such a short time, the light coming from behind me was so unbelievably bright I thought the house had to be on fire, and I started to plan what to do when debris started to rain down on us from above. By that point the field in front of the Suburban had started to die out into blackness and I figured if things went bad behind me where the structures were, I'd drive forward and we'd take our chances there.

Even as the thought entered my mind I realized "hmm I can SEE the field in front of me again, it's not just wall-to-wall flames any more" and the smoke was definitely clearing. I was breathing easier. Somewhere off in the distance I heard a distinct, triumphant "Cock-a-doodle DOO!" Frodo the Rooster was alive, and if that was true, the coop was standing. If the coop was standing, that meant the shop and tractor shed were still there because if the coop had gone up, the fire would have taken them too. And since I knew it was very unlikely that the shop and tractor shed were still there if the house was engulfed, I started to think "OMG are we winning here? Are we going to survive this somehow?"

Then the smoke cleared enough so I could look across the field and see my son's clubhouse, still standing (I have no idea how, it was surrounded by flames). My husband came tearing by on the tractor and dumped a bucket of dirt on the clubhouse, scooped up another bucket and dumped it on the play equipment, and I realized if he was to the point of saving clubhouses and swing sets, that had to be a good sign. I couldn't imagine he'd abandon the house to save the playground if the house was in any danger. I still didn't see the boys anywhere, and I was still terrified that maybe they'd all gotten separated from each other in the chaos and the boys were hurt or worse. I worried that my son didn't have his inhaler, I worried about the dogs loose out there in the firestorm, but I started to think that my daughter and I would actually be ok. Then the door opened unexpectedly, and my youngest son got in the car. "Hey," he said nonchalantly. "Dad told me to come down here and take a break."
The play equipment before and after, my guardian spirit statue somehow unscathed despite having been surrounded by flames, and the clubhouse miraculously standing.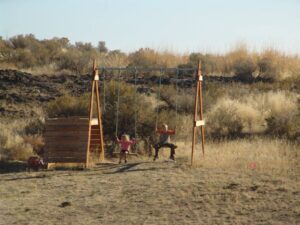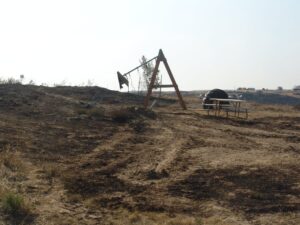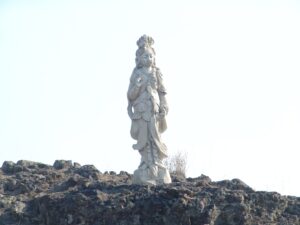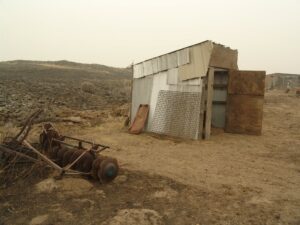 I asked if his brother was ok (yes), if he was having asthma (no), if the house was still there ("of course, because I sprayed it down so good," he replied). Then I heard a muffled "can I get up now?" and I realized I could breathe relatively normally again, so I let my daughter sit up and see what was still a pretty considerable fire everywhere all around us. But the fire line had held on all four sides. The house was unscathed. It was miraculous. We had honestly never even been in any real danger, all things considered; we were protected on every side by fire breaks, mineral breaks, and green, watered spaces. After seeing the fire come in so furiously it was hard to believe that everything had been actually ok all along. As I looked around me in amazement I even saw one dog sitting at the edge of the yard wagging her tail.

My husband came by and told me that the house was perfectly safe and I could go back in if I wanted, but there was fire everywhere and my legs were rubber still so I said I'd stay in the car for a little while longer. Eventually I felt brave enough to toddle out into the night past hundreds of spot fires, with a mewling and annoyed cat still in my arms. To my surprise, the play equipment was mostly intact; only the plastic slide had burned, leaving most of the wooden structure behind. The missing cat had been in the house the whole time and as soon as she saw me, she started scratching at the door to get out, the lunatic. Then we even found the other dog hiding in the tractor shed. He was pretty freaked out but unharmed. Even the chickens and bunnies, who had been exposed to the worst of the smoke, made it through. The cat we'd taken in the car in the crate actually got the worst of it, I think because we hadn't been able to get him as low as the rest of us or maybe because he was the furthest from the car's filtered air vents. He coughed for a couple minutes but recovered fully.

The field behind our house – a huge expanse of about five football fields, an alfalfa field lined with sagebrush at the far edges (that part of the field is not our property so we couldn't get rid of the cursed things) was dotted with thousands of burning fires. It was like flying over a massive city or something, like coming in to land at LaGuardia. My husband later told me "you should have seen it earlier, it was like looking at molten lava, I almost came and got you so you could take a look" and I just had to laugh that even as I was sitting in the car thinking we were all gonna die, he was thinking "hmm this is so cool Kristin can't miss it".

Surprisingly, it was still so windy that there wasn't even much smoke, and I could see stars above the flames in the distance. So much for the weathermen and their predictions – that fierce wind blew for hours and hours afterwards. Somehow, we still had Internet, and I was able to let everyone know we were ok. The evacuation notice for our area was finally posted at 9:30 pm – 2 ½ hours after the fire had hit us. Another evacuation notice was posted 1pm THE NEXT DAY. But while I find this irritating in an academic sense, I feel fortunate, because if I had left just before that wind shifted, I am not at all sure we would be here now.
Better late than never, I suppose.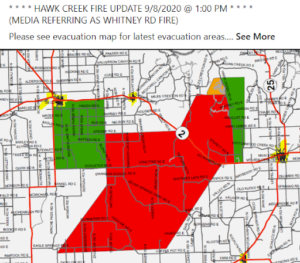 We stayed up the rest of the night – my husband watching for flareups, me because I was too freaked to sleep. The next day my husband slept while I kept watch, because I was still too freaked to sleep and he was exhausted and injured when he'd gotten fire extinguisher dust into his eyes. In hindsight, this was another reason why it paid off that I stayed home instead of evacuated – over the next few days, he needed someone to watch for spot fires while he slept, to make coffee, to cook food, to take care of the animals and water the very thirsty garden plants, and so on. He was either working or sleeping. If we had gone, we wouldn't have been able to come back for several days due to the downed power lines, and he needed the backup.

Everything around us was black, black for miles in every direction, but that first morning in the light of day we realized that somehow, most of the stuff at the boneyard – our camping trailer, the trailer full of wood, both our flatbed trucks, an old MG my husband hoped to rebuild, the old boat, and even the cool antique oven I saved from the junkyard and meant to turn into a plant stand someday had all miraculously survived. It was black for miles, but somehow all that extremely flammable stuff endured. The flames we saw were from a pile of tires we had needed to get rid of anyway and the trees in the pond behind the boneyard (a beautiful place sadly completely destroyed) which was why we didn't hear any explosions.
From top to bottom: The firebreak around the house stopped the flames before they could get near us, our burned fence stretching off into the distance across what was once an alfalfa field, our burned front hayfield, and the boneyard – the fire burned only junk we didn't need while miraculously preserving everything valuable.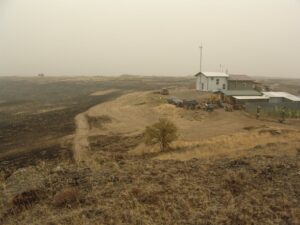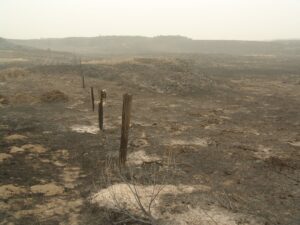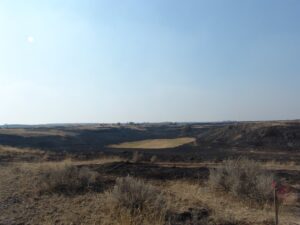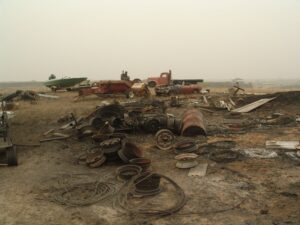 Unfortunately, the Balrog of Fate wasn't yet finished with us yet, and that evening one of the dogs stumbled into a hot spot and was burned. We didn't think it was bad at first but over the course of the night it became apparent that yes, she needed medical attention. The following day, my husband took her to the vet, past dozens of downed power lines blocking the road, which took some creative driving. While he was gone, I watched as one arm of the fire snaked north of us to threaten our neighbor's homes, and another headed south, where it sadly destroyed the Swanson Schoolhouse. We were the blackened filling in a fire sandwich. Seeing it from afar it really brought it home that somehow, we survived that; we actually survived worse because our fire had come with the crazy wind pushing it along.
Luna sporting her Cone of Shame, and the south arm of the Whitney Fire as it destroyed the Swanson Lakes Wildlife Area, and the Swanson Schoolhouse.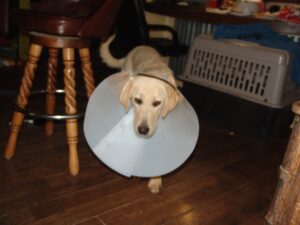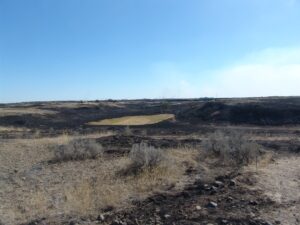 It's funny, I kinda feel like a jerk saying, "we survived a horrible fire", like I'm exaggerating or something, but imposter syndrome or no, we did. We survived our worst nightmare. Our neighbors' homes were likewise saved, because the planes and helicopters that couldn't fly to save us due to the heavy winds were able to fly that day the fire headed their way. Even the dog seems to be making a full recovery (though prayers and positive thoughts are welcome).

In the final analysis – especially after seeing the complete desolation in every direction – we were miraculously fortunate. Aside from the play equipment, which may yet be salvageable, we lost the grass hay field, the alfalfa hay field, and a gorgeous old walnut tree that had been planted long before we came along. Our biggest loss was our barbed wire fence, a necessity out here because what isn't wildlife preserve is open rangeland. That's a blow, but it's nothing compared to what could have been. Everything around us – for miles in every direction, is gone. It's like someone plunked a small house with a garden and a lawn on the surface of Mars.
The Swanson Lakes Wildlife Area as it was is no more, and as precarious an ecosystem as it was, I'm not sure it will recover like other ecosystems do. Our neighbors believe that the fire was actually caused BY the wildlife area; if only the government would have allowed the shrub-steppe to remain open range, acres of cheatgrass kept nibbled down by cows, it never would have burned so ferociously. I don't know if that is true or not, but it appears to be the prevailing wisdom. All I know is that I'm sad to have lost such a starkly beautiful little slice of this planet. The world feels diminished for the loss.
That having been said – life finds a way. A plant already resprouting from its roots, and a rabbitbrush left unscathed by the flames.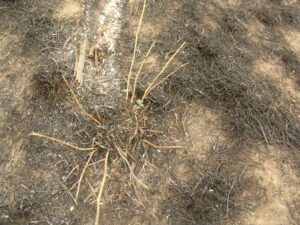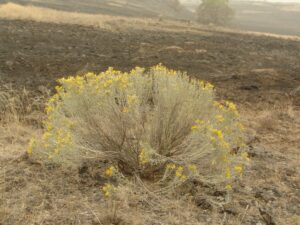 Again – and I cannot stress this strongly enough – kids, don't try this at home. The only reason we were so lucky was that we didn't have trees, we were pretty well prepared, and my husband is incredibly badass. And even then, our fate balanced on a knife's edge and could so easily have gone the other way. If I had gone instead of stayed…that possible outcome is going to haunt me forever. And even in staying, everything just happened to go right. My husband said, all it would have taken is the tractor breaking down, the pump going out, somebody falling and breaking an ankle in the dark, the tank being empty that day (we had been abusing our fire tank this summer watering the garden and it had been perilously low only a few days prior), a cloudy or smoky day so we were low on solar power and didn't have enough electricity to run everything – if one thing had gone differently the outcome might have been tragic. We wouldn't have died; the gravel pit was too safe, and we were too well-prepared. But the house would have gone for sure. Twenty-five years is a huge part of your life to see it go up in smoke.
The Whitney Fire has burned 127,430 acres (a mind-boggling number of acres for a wildfire that isn't even in a forested area) and is 85% contained. By the time it mostly stopped burning, we were pretty much right smack dab in the middle of it.
Imagine you are here (the pink area is all fire):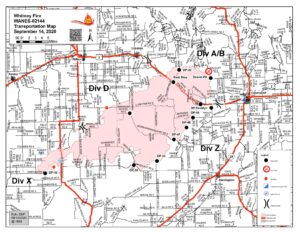 The weather has cooled, the wind died down, and it may even rain in a couple of days. Even though the fire is no longer burning, our community has a lot of hard work ahead of it cleaning up this disaster. Many ranch families have been decimated by the loss of their winter hay and are now having to deal with injured livestock and the destruction of valuable farm infrastructure. But compared to many of the other fires burning across the West, we got off light.
Only four homes destroyed and no loss of human life.
Sometimes you have to learn to see the good luck in the bad luck.

I asked my husband if he had any regrets, anything at all that he wished we'd done differently. I thought he would say he wished we'd pulled all the sagebrush instead of leaving some of them behind or that he wished he would have started digging fire line sooner, or that maybe he would have sent us to town a couple hours earlier, coronavirus be damned, even though it hadn't seemed like we were in any danger at all.
"Yes," he said, emphatically. "Yes, I do have a regret. One very big regret." Then with a gleam in his eye, he explained, "I had a cigar in the truck, and I wish I would have smoked it that night after the fire had passed by. Because I wanted to celebrate, and I couldn't have a beer, because it would've made me too sleepy. My one regret is that I forgot my cigar."
And in my book, that's a happy ending.