Saturday Spins: Bruce Springsteen Tunnel of Love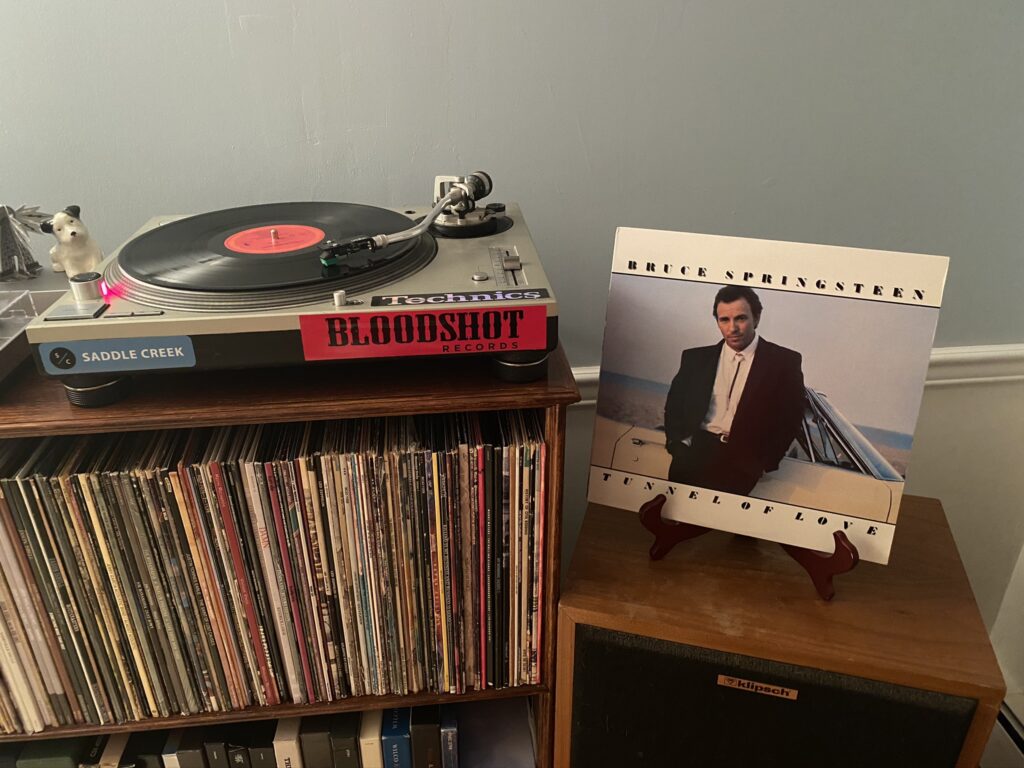 Last week I discussed the last full release from Justin Townes Earle, who tragically passed away in August. As we all tumble into fall 'round these parts, I can think of no other sound than some whack-you-over-the-head 80s. Something drenched in reverb and synth to go down with pumpkin spiced lattes, pumpkin beer, the smell of burnt leaves and decay. This week I not only provide that medicine, but in the vein of decay, I bring you a breakup record from one of America's premier singer/songwriters.1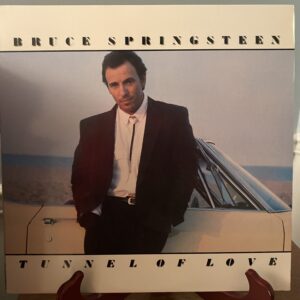 Bruce Springsteen
Tunnel of Love
1987
Commentary
The Boss decided to look inward in the summer and fall of 1987 after his marriage to actress Julianne Phillips went down the shitter. I think I have made this point before, but real life heartbreak really does make for some good music. I mean, it sucks for the parties involved, but the resulting list of break up albums is filled with some excellent ones. A few of my personal favorites:
Prisoner–Ryan Adams2
Rumours–Fleetwood Mac
Blood on the Tracks–Bob Dylan
The Boss had been around for awhile before dropping this album, and this was the follow up to the chart-topping and extremely misunderstood Born in the U.S.A. I think, heartbreak aside, he felt comfortable enough to branch out into a more pop-oriented sound. Despite members being credited here and there on the album, the E Street Band was not a part of this album–it was written and recorded in bulk by Bruce.
As far as artwork goes, this is starkly different from the "working class songwriter dude" aesthetic that Bruce had always put on. Gone are the American flag, wild hair, and leather jacket. Instead we get clean-cut, bolo tie, and leaning against a (presumably) long white Cadillac. Big time Boss fans often do sneer at this one because of the 80s sound and production.3 However, take a closer look at the lyrics. It is extremely well-written.
Track by Track
1. Ain't Got You
The first verse starts out with an acapella list of things he's got, but "the only thing I ain't got baby, is you." This song sounds like some more traditional Springsteen, with some folksy guitar and harmonica coming in during the second verse.
2. Tougher Than the Rest
Here is where the about face starts. Heavy drums, some gloomy organ, and a heavily phased guitar. However, the song has some balladry to it, despite that 80s production. It is about a man meeting a woman–the man discussing how he's been around the block a few times and that the woman is on the rebound, so why not take a chance? It was the fourth single from the album.
3. All That Heaven Will Allow
Out of the heavy mood of "Tougher That the Rest" a more upbeat, almost country-sounding song. Again, the theme of love, marriage, etc. is clearly present. A serviceable song with tight production. One of my favorite bands, The Mavericks, did an excellent cover of it and really brought out the country sound.
[youtube https://www.youtube.com/watch?v=z06IMSuctlQ]
4. Spare Parts
The fifth single from the record is a bit more traditional Springsteen. A lot of emotion poured into the vocals, and not as much on the music. It is another one that could pass for a pretty decent country and/or Americana song. Despite the abrasiveness and rocking sound, there are some, uh, heavy themes present in the lyrics:
"Bobby said he'd pull out
Bobby stayed in
Janey had a baby, It wasn't any sin
They were set to marry on a summer's day
Bobby got scared and ran away."
Janey thinks about drowning the child, but decides instead to have it baptized instead. Phew.
5. Cautious Man
One of the discussions Bruce has about the topic of love on this album is how it can be a huge lie. The previous song and this one touch upon that. Love can be fleeting, and love can be fake. You kind of have to roll the dice, I guess. "Cautious Man" slows down the tempo considerably.
6. Walk Like a Man
Probably my least favorite song on this album. I mean, it is beautifully written, but the synth is juuuust a little too much for me. I get it, it was the 80s, but this song could use a modern reboot, something a bit more catchy melodically. It is quite simply a tale of a broken marriage, from start to finish. It is obviously a deeply personal song about his own first marriage, and is definitely the most raw and honest song about it on the album.
7. Tunnel of Love
The title track starts off side 2 of the LP, and is probably in my top 5 of Bruce Springsteen songs. The synth is back, but coupled with a very up-tempo drum track and some guitar. A very 80s guitar solo too! All in all, a very good song. After the solo, some masterful lyricism:
"It ought to be easy, ought to be simple enough
Man meets woman and they fall in love
But the house is haunted, and the ride gets rough
And you've got to learn to live with what you can't rise above
if you want to ride on down in through this tunnel of love"
[youtube https://www.youtube.com/watch?v=M4K7XZGeHTE]
8. Two Faces
A straightforward song about a man who is clearly in conflict with himself. It could be he is misunderstood, hence the face that cries, or he only has one face and the other face, the one that smiles is a front. Regardless, in keeping with the falling out of love theme, it is obviously another song about his first marriage and the subsequent fallout.
9. Brilliant Disguise
Another top 5 Bruce Springsteen song. Also was a number 1 single. The singer is full of self-doubt and paranoia here, and in another deeply personal reference, the lyrics state:
"Oh, we stood at the altar
The gypsy swore our future was right
But come the wee wee hours
Well maybe, baby, the gypsy lied."
Despite the heavily over-produced 80s sound, the chord progression in the chorus is one that sticks with you. Easily the best song on the album. The video is shot in simple black and white and has Bruce playing the acoustic guitar and singing in a kitchen–purposefully showing the domesticity aesthetic.
[youtube https://www.youtube.com/watch?v=idnJnjV_8rg]
10. One Step Up
No breakup album is complete with a song about overt infidelity, baby! Another single from the album, it features Springsteen's second and current wife, Patti Scialfa, on background vocals. Don't get me wrong, this quiet ballad explores a relationship that is clearly on the rocks, furnace broke, car won't start, all simple metaphors. The lyrics then describe a couple not learning from their constant fighting. Eventually the singer finds himself in a bar wondering if he should cheat on his wife.
11. When You're Alone
Again, another song about falling out of love. Personally, I think this album would have worked as a ten-song LP, but Bruce stretched it out to 12. He had a lot to say at the time. I'll let the lyrics tell the story here:
"I knew some day your runnin' would be through
And you'd think back on me and you
And your love would be strong
You'd forget all about the bad and think only of all the laughs that we had
And you'd want to come home
Now it ain't hard feelings or nothing, sugar
That ain't what's got me singing this song
It's just nobody knows, honey, where love goes
But when it goes it's gone gone"
12. Valentine's Day
A very fitting coda to this album. While not a very upbeat song, it has hints of new life, resurrection, etc. It discusses his friend having a new baby and the singer "breathin' and born anew." After the emotional warfare that occurs throughout the record, this song hints at new love for our broken and battered singer. Turns out there was a lot of truth to that, as he went on to marry Patti Scialfa after his divorce, and they have been married ever since…
Some music journalists argue that Adams' trio of albums, Ryan Adams (2014), 1989 (Taylor Swift Cover, 2015), and Prisoner (2017), are actually a divorce "trilogy."