Sunday Morning! "The Sheltering Sky" by Paul Bowles
When The Sheltering Sky was released in 1949, it was an immediate success and brought Paul Bowles and his wife Jane's restless wandering to rest in Tangier where they had already lived for a few years, continually running out of money. Now, they could buy a Cadillac and hire a driver and entertain their assorted friends, lovers, and fellow litterateurs. The novel marked Bowles's debut in fiction at age 38. It was also one of those books that seems a rupture– positioned at nearly the century's halfway point, it is not quite like anything that came before it, but its mark can be found in a great deal that came afterwards. Norman Mailer wrote that "Paul Bowles opened the world of Hip. He let in the murder, the drugs, the incest, the death of the Square…" This is characteristically overstated, but there is a cold and formal elegance to the novel that dispenses with sentiment altogether, leaving it to die in the desert.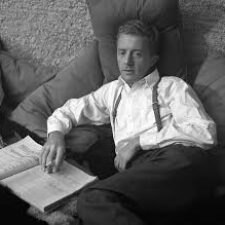 Paul and Jane Bowles were certainly an elegant couple and exert a certain fascination even after their deaths. He was born into wealth, although cursed with a heartless father, and made his name first as a a composer. His pieces are beautiful compositions in miniature, gaining him work in the theater and for films, but never made enough money. Through his work in Broadway, he met Jane Bowles, a fiercely creative presence in his life; Paul undoubtedly wrote The Sheltering Sky because she had already published Two Serious Ladies, a novel that was well ahead of its time.* The two of them met on the level of intellect and creation and were devoted to each other emotionally, if not necessarily sexually- both of them were bisexual, if not gay, and they lived close, but did not cohabitate.
The Sheltering Sky focuses on another complex married couple, Port and Kit Moresby, who have also traveled to the North African desert to fix their marital problems, and perhaps to flee their home. They are not, however, tourists; as Port famously explains, "Whereas the tourist generally hurries back home at the end of a few weeks or months, the traveler, belonging no more to one place than the next, moves slowly, over periods of years, from one part of the earth to another." Of course, it is a truism of pleasure travelers that none of them ever wants to be considered a tourist; this is a cliche dating back to the French Romantics who pioneered pleasure travel to North Africa, and by the time of Flaubert and Nerval were regularly sneering at the (generally English) touristes. As you see, a tourist comes to a place to have a nice experience of being elsewhere for a moment; a traveler comes to find, or lose himself there, and draw spiritual succor from the landscape. A bit like a secular pilgrim.
And, usually, they come to escape from somewhere else; there is another overlap between the traveler and the exile, and it is clear from the start of the novel that Port and Kit are fleeing the United States and memories of the war, although like Bowles, he has not served. They flee, but never successfully; by another cliche, the traveler will invariably find the places they visit have been corrupted by earlier travelers from their own culture. No place is sufficiently distinct from home to allow them to escape themselves.
In this case, Port and Kit are also saddled with their blithe young friend Tunner who seems to embody the insouciant selfishness of the home culture. His presence is an annoyance for both of them; he is slyly attempting to seduce Kit, basically for sport, which causes her to resent him all the more, and Port has nonetheless inexplicably invited the young friend to join them on this trip. Tunner is also simpler than the couple, less complicated or intelligent. Kit is detached from and afraid of life. Port carries with him a sadness and a cynicism about human nature that he can't shake. Neither of them can quite love one another. Tunner, on the other hand, just wants to travel somewhere new and maybe schtup his friend's wife. He doesn't quite understand why they keep pushing deeper and deeper into the desert, seeking oblivion.
If they can't shake Tunner, they are absolutely cursed by the eternally recurring presence of the Lyles, a bigoted English travel writer and her oleaginous son. The two are a ripe illustration of Bowles's disdain for tourists, and could be considered "grotesque caricatures," although if you have spent any time traveling through tourist destinations, they're not exactly unrealistic ones. The Lyles serve as a useful reminder of what Kit and Port  are trying to escape, but also a handy distraction from one another.
There's a sense throughout the book that whatever Port and Kit are suffering, they do it to themselves. Port has ample reason to hate his young friend, who Kit doesn't particularly like; nevertheless, he sets it up so that she will travel to Boussif with Tunner, while he will ride with the despicable Lyles. Port himself has already been unfaithful with one or more desert almehs, and it's as if he is unconsciously orchestrating his own cuckolding, which is quietly devastating.
And so, the inevitable happens- Tunner and Kit drink too much champagne in the train and wake up together- but it doesn't really seem to alter things between the couple very much. This, I think, is one of the sources of the haunting strength of the novel: Bowles is unsentimental about the possibility that nothing we do matters as much as we think it does. It is common to argue that The Sheltering Sky is about a couple who head into the desert to revive their marriage, but I'm not sure this is true either; it's hard to tell if they are there trying to save or erase themselves.
The desert is stark and pitiless in Bowles's equally pitiless prose. In an oft-quoted passage, he describes the vegetation as "a tortured scrub of hard shells and stiff hairy spines that covered the earth like an excrescence of hatred." They don't quite belong anywhere they go, yet there is a feeling that everything that happens there is inevitable. The couple pushes on nonetheless. It is still an audacious narrative choice, seventy years on, when the inevitable finally happens to Port: he falls ill in the desert en route from one meager town to another and dies in Ain Korfra, having almost "come back" to his wife, something he has been unconsciously trying to do throughout the story.
After her husband's death, Kit goes into the desert and immediately comes to a pool of water:
"…straightaway she found it impossible to know whether she had thought of bathing just before or just after seeing the pool. Whichever it was, there was the pool… Once in the garden she found herself pulling off her clothes. She felt a vague surprise that her actions should go on so far ahead of her consciousness of them. Every movement she made seemed the perfect expression of lightness and grace. "
Her detachment has now left her. "Life was suddenly there, she was in it, not looking through the window at it." She heads deeper into the Sahara, soon coming upon a group of Berber merchants who take her into their caravan. She is shared by the group, although one of the men effectively makes Kit his concubine. These passages are strange and disturbing; separated by language, Kit nonetheless becomes dependent on the merchant's sexual possession of her.
But, of course, she is in grief and desperate to make contact with anyone, to feel herself as flesh in the world, separated from past and present. It is an intense section of the book. As Tennessee Williams described it: "Her primitive nature, divested one by one of its artificial reserves and diffidences, eventually overwhelms her, and the end of this novel is as wildly beautiful and terrifying as the whole panorama that its protagonists have crossed"
It cannot last. The merchant's wives resent Kit when the merchant returns home with her, and she soon escapes once again. Finally, she is "rescued" and returned to America. In a very real sense, Kit and Port remained detached here as well, wandering through the landscape, but never really finding purchase there, much in the same way they were married.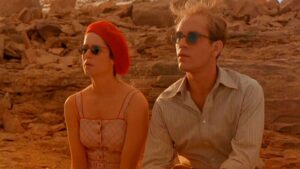 Somewhat surprisingly, Hollywood snatched up the rights to this enigmatic and disturbing book in 1949, but it was only filmed in 1990 by Bernardo Bertolucci, starring Debra Winger as the brittle Kit and the glacially aloof John Malcovich as Port. Campbell Scott plays the overeager Tunner like a stray dog waiting to lick Kit's hand. It is, needless to say, perfectly cast, and a visually stunning movie.
The story is much the same with some streamlining. Here, the wife is depicted as more attracted to the young man however, and the film plays more as a love triangle. The eroticism of the story is more pronounced in the film, perhaps unsurprising because it's Bertolucci; the novel is more about the death of eros. It's still weirdly detached: when Port is with the prostitute it seems as if he's trying to flog some kind of feeling into his dead flesh. And Malcovich has a way of seeming to coincide with the other characters rather than share scenes with them. Nevertheless, the anguish between the husband and wife is more obvious and overt; this is a marriage that has died without either knowing why.
J.G. Ballard talked about modernity as being marked by a historical event he called "the death of affect," and maybe it begins with this novel. It is a perfect depiction of people who are not quite there and never quite arrive anywhere. Given our own era, in which horrors and nightmares seem to wash over us ceaselessly without pause or reflection, the novel still resonates- it radiates a very modern aloofness from the tragedies of life, a state of being physically in the world, but not emotionally of the world.
So what are YOU reading, watching, pondering, playing, or losing yourself in this weekend?
Note: I will be covering a few more works by Paul and Jane Bowles in the coming weeks, including Two Serious Ladies.