Saturday Spins: Justin Townes Earle In Memoriam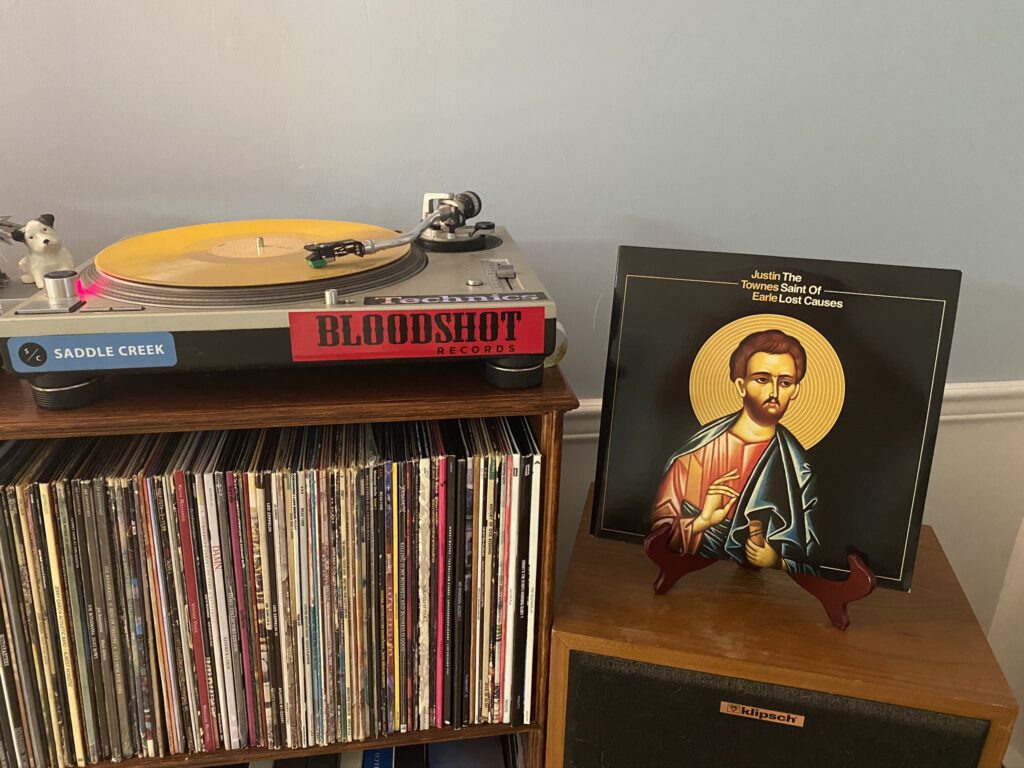 This week I am going to be covering the last album released by an artist that recently, and tragically, passed away. Part of why I enjoy doing Saturday Spins is the sometimes arbitrary and sometimes random nature of my selection process, as well as the eclectic nature of my collection. Believe me when I say that I have barely scratched the surface in forty-some odd posts here about records specifically. Last time, I covered Dan Auerbach's second solo album, one of my absolute favorites.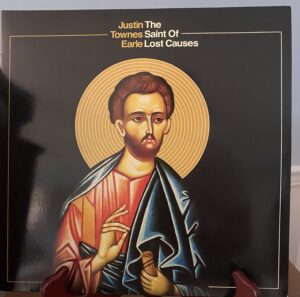 Justin Townes Earle
The Saint Of Lost Causes
2019
Commentary
Justin Townes Earle passed away on August 20, 2020 of an apparent drug overdose. Ever since he burst onto the scene with his solo effort Yuma in 2007, it became clear that he could more than live up to having the name "Townes" and "Earle." However, he battled addiction pretty much every minute of every day. That's a hell of a thing to be fighting whilst writing and recording music at the same clip that he was.
His albums were ones I kept putting off purchasing because I always thought they would be readily available1 to me, or they would be pressed as reissues if he ever hit it big on the mainstream charts. However, one day not long ago on a vinyl auction group, his 2019 effort, The Saint of Lost Causes came up, and I couldn't resist bidding. Of course, I never expected the worst to happen.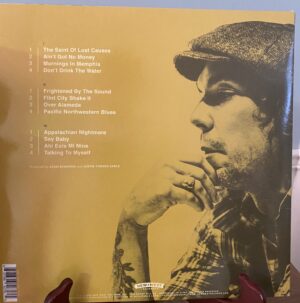 As you can see from the picture, this is another colored gem. Kind of a mix of gold and yellow. It is a 2 LP album with a gate fold jacket. Many of JTE's albums featured him with a good-looking woman by his side dating back to Yuma, but this one merely features a Christ-like figure with a halo that looks curiously like the physical wax.
Tracks I Think Are Great
It is pretty hard for me to listen to this album and think that the world will more than likely not get any new music written by JTE. I mean, he could have been like Prince and have a warehouse full of unfinished songs, fragments, etc. He could have been like Dylan and have a mountain of bootlegs ready to be mastered and released. He could also have been like Ryan Adams, who is also a very prolific songwriter, and has a mountain of unreleased stuff that will more than likely never see the light of day.
This album in particular has a similar vibe to one of JTE's finest albums, Harlem River Blues, where many of the songs have a somber and dark undertone, but are foot-stompin' and catchy. Take for example, "Don't Drink the Water," which is about mountaintop removal mining and the environmental catastrophes that sometimes follow.2 Couple that song with the aptly named "Flint City Shake It," which is more about the golden days of American car production than the absence of clean water. But the obvious message is woven into the record as a whole.
[youtube https://www.youtube.com/watch?v=kOQfzrSuduA]
The title track, "The Saint of Lost Causes," is a noirish-sounding song that will have you entranced. What follows from that is the up-tempo "Ain't Got No Money"–a song that I think we all can relate too. JTE explores more social issues than overt political ones on this album. It's one thing to hit people over the head with a political message, it's another to force people to look at themselves in the mirror. My two favorite songs on this album are "Frightened By The Sound" and "Appalachian Nightmare."
"Frightened By The Sound" is an eerie song, but a hopeful song. It basically tells the listener to be ready for what is to come, but know that things will blow over and be alright in the end. Pretty good song to listen to during this current weirdness we are all experiencing. "Appalachian Nightmare" is a candidate for my soon to be popular Songs Where Almost Everyone Dies series. In brief: it is a semi-autobiographical track about a down-on-his-luck dude who has lived a hard life of drugs and crime.
[youtube https://www.youtube.com/watch?v=f8vxzxxL3FM]
[youtube https://www.youtube.com/watch?v=7V-OX0lbX1w]
A couple of other songs to not miss are what I like to call the "out west" songs of the album. It is interesting that many of these songs are about various social issues, whether it be crime, poverty, or people being displaced–but they aren't just centered on one region. "Over Alameda" and the extremely catchy "Pacific Northwestern Blues" capture the life of common folk in that region. A lot of people think California and think the elite of LA , San Francisco, or Seattle, but neglect to think about the people that keep those cities running.
Finally, on a more somber note, the tracks "Ahi Esta Mi Nina" and "Talking to Myself" are like ballads written about himself to himself. "Ahi Esta Mi Nina" is clearly about his young daughter who was born in 2017. On it he sings:
'Cause you're the only good I've ever done with my life
And I've never done right by you
Might feel as though I owe you an explanation
I think that you already know the truth
The only two songs I didn't mention are "Mornings in Memphis" and "Say Baby" which are both very good songs. They fit the particular themes, but I can't say I would be able to separate them like I have the other songs into subjective categories. Maybe I will have to give the album just one more spin.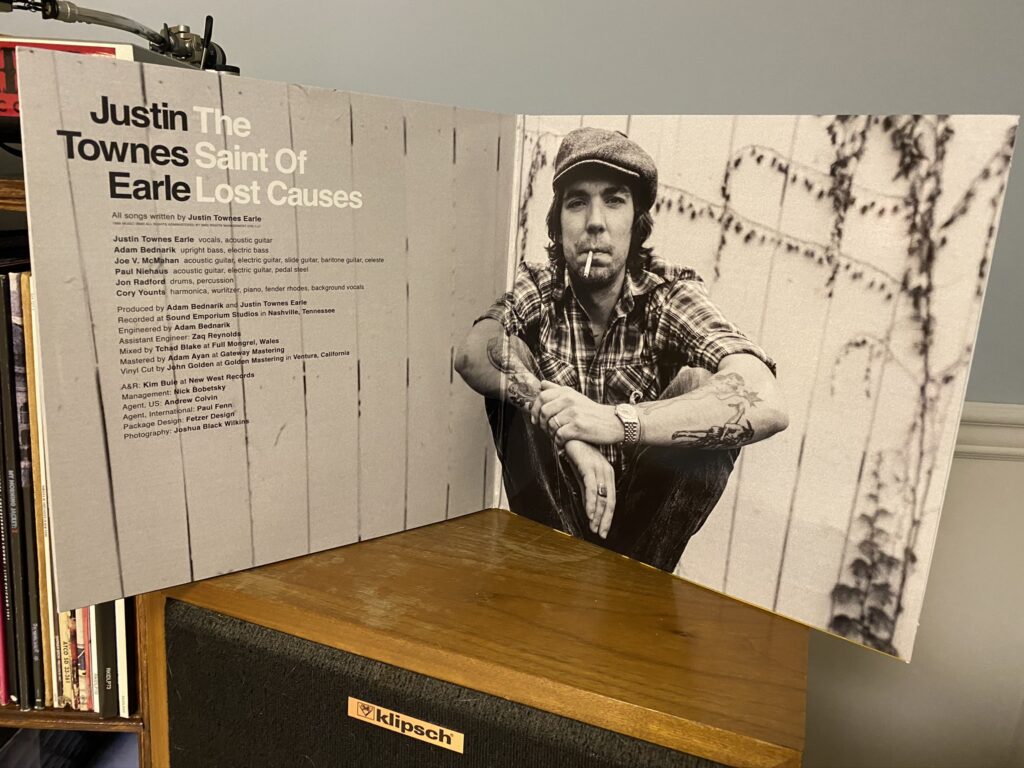 The Essential Justin Townes Earle
As you all know, I think Spotify is the worst thing ever created, so I created a short playlist using YouTube, which is not much better, but the visuals are nice.
1. Harlem River Blues
[youtube https://www.youtube.com/watch?v=5LLqFF89UtU]
2. Ghosts of Virginia
[youtube https://www.youtube.com/watch?v=L4yVyCijFYc]
3. Champagne Corolla
[youtube https://www.youtube.com/watch?v=_V5vLfmNPMw]
4. Mama's Eyes
[youtube https://www.youtube.com/watch?v=LTKvIbM1bHo]
5. Walk Out
[youtube https://www.youtube.com/watch?v=ydBM6z_uavo]
Bonus:
[youtube https://www.youtube.com/watch?v=24s5Iwp82r0]
---