Weekend Plans Post: A Taste of Winter
Last week was the first week that I managed to run all three 5ks. I'm supposed to run one every Monday, Wednesday, Friday but, you know how it is. Life happens. Somebody's got a doctor's appointment, somebody has a prior engagement, SOMETHING.
Well, last week was the first week in which nothing happened. So I ran all three.
Lemme tell ya, the hot showers after running a 5k are something else. The tight shoulders, the steam from the labored breathing, and just feeling all of the muscle malaise go down the drain with the water.
Then, this week, life happened. Monday night, my bud told me to go out on the porch and take a deep breath. I did and I caught nothing but smoke. It was awful. We decided to cancel.
Wednesday, I woke up and looked outside of the window and saw this: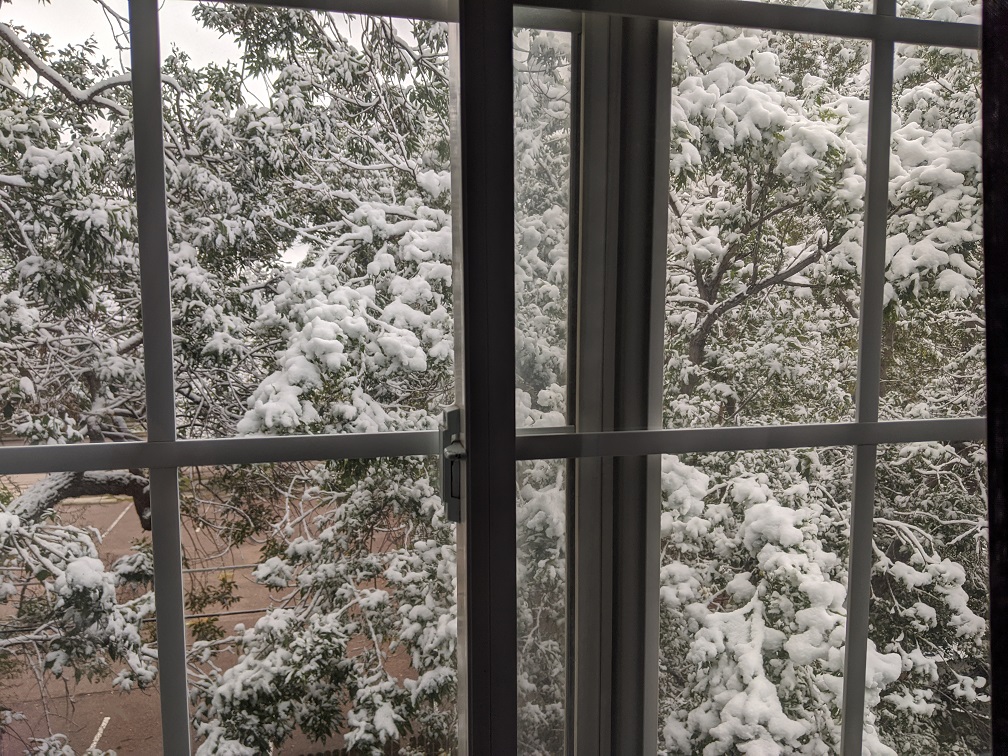 And OMIGOSH OMIGOSH SNOW!!!!! Wait, wait, wait a second… look at the ground. Dry as a bone. Bummer. I mean, not that I get snow days anymore as a grownup. And it's not like I can use the excuse "I can't work today because I can't go into work" ever again. I still got excited.
As it turns out, the ground was NOT dry as a bone, it was wet and slick enough to make jogging an iffy proposition. So, on Wednesday night, I got to experience the other kind of perfect hot shower:
The hot shower when you are kinda cold. Not, like, freezing or anything… But when you've been in a place where you could easily run out to the mailbox in a tank top, or, if you're feeling frisky, take out the trash without wearing a shirt at all, and then you go from that to "don't even think about taking the trash to the curb without at least a long sleeve shirt on", and then you get into a steamy hot shower?
Oh, my gosh. That's just heaven.
And, tomorrow, we should be back to having temps in the 60s, 70's over the weekend, and 80's again next week. So running's back on. I'll probably regret swapping the sheets out earlier today and putting one of the woven blankets on the bed in addition to the sheets and top cover by, oh, Saturday night. So I'm sure that this weekend will be spent digging that blanket back out and putting it back in the closet.
But, for a few days, it was nice to get a taste of winter.
So… what's on your docket?
(Featured image is "Skritch", photo taken by Maribou.)