Weekend Plans Post: Lime Cilantro Rice (Illustrated)
I know I got into this back in June but I was making this tonight and wanted to show someone who might still be iffy about making the attempt that, seriously, this is easy as pie.
Here's what you need: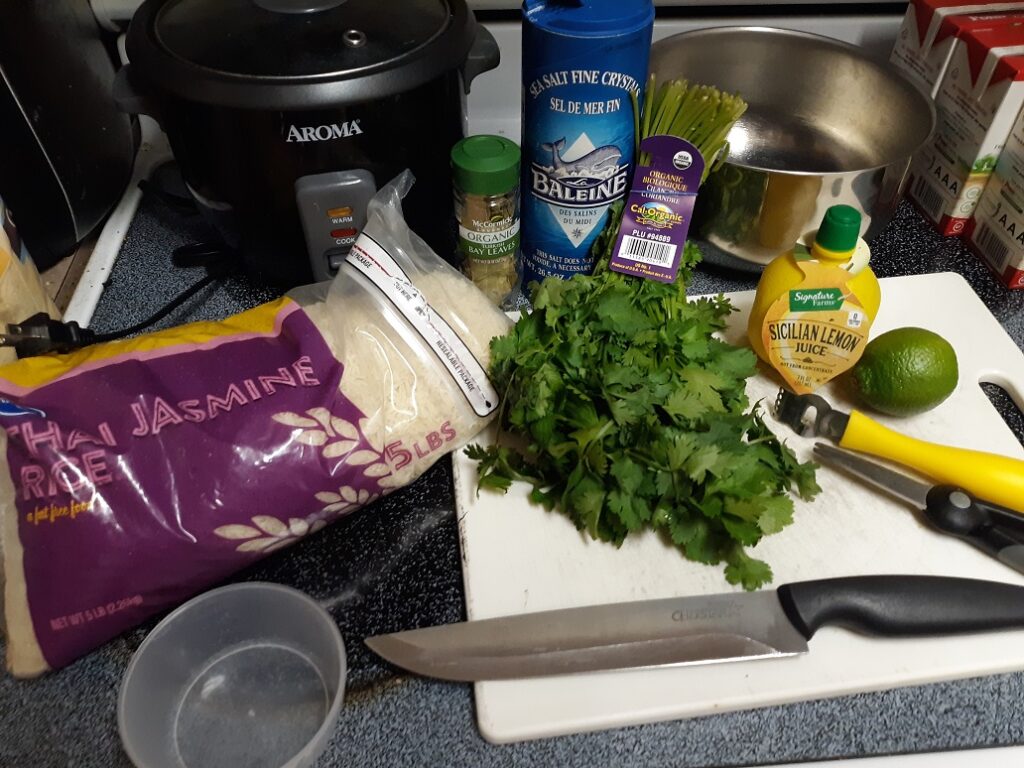 Some of the rice you bought at the beginning of quarantine.
An Aroma One-Button Rice Cooker ($20! Cheap!)
Bay leaves
Salt
Cilantro
One lime
Lemon juice
A zester
Kitchen scissors
Cutting board
A knife suitable for doing the rolling chopping thing.
Metal mixing bowl
Spatula (not pictured)
Measuring cup (not pictured)
We begin by measuring out 3/4th cup of rice using the measuring cup that comes with the rice cooker and dumping it into the pot: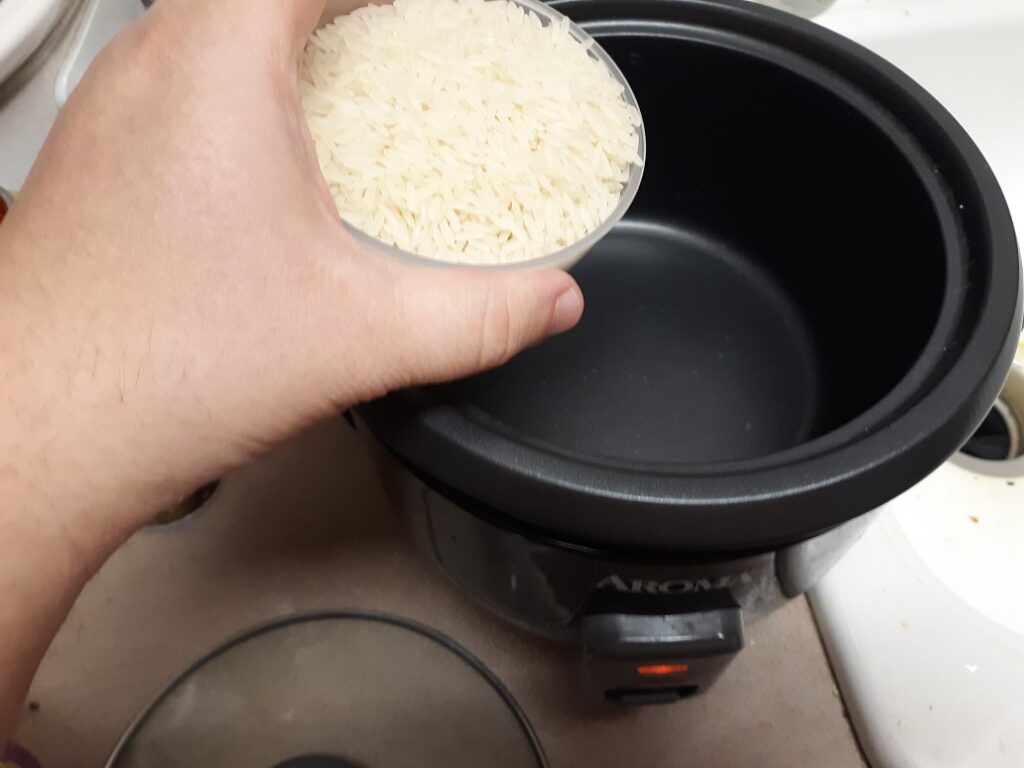 And then do it again:
Get a bay leaf (aka: "The Placebo of the Cooking World")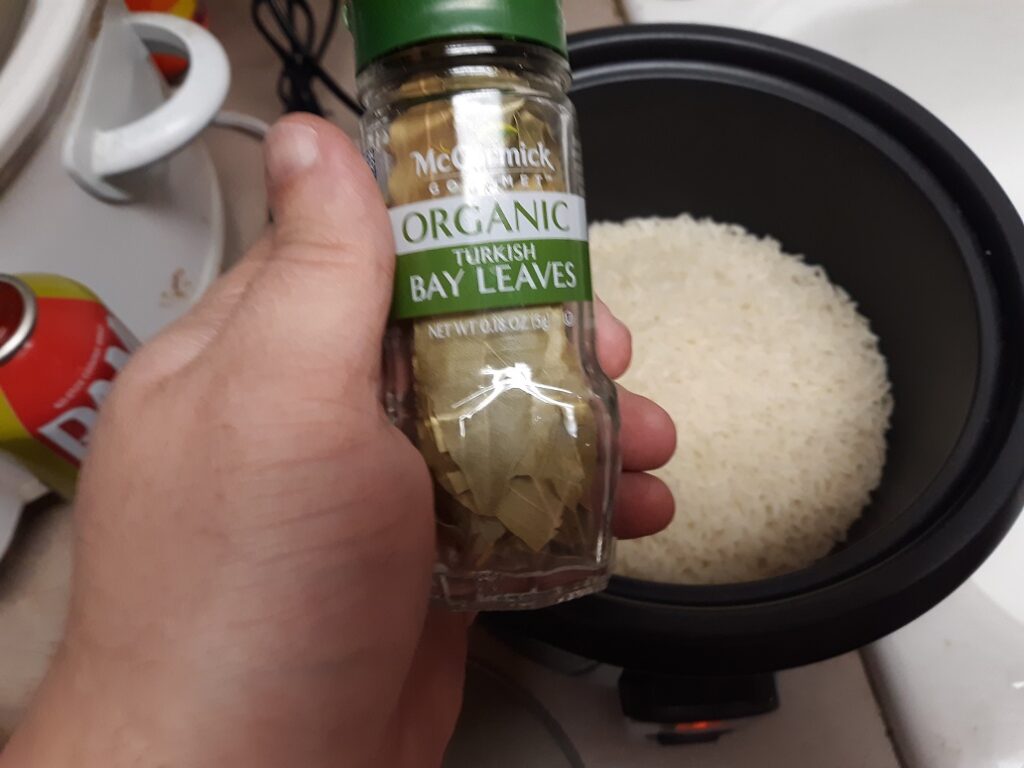 And add it to the rice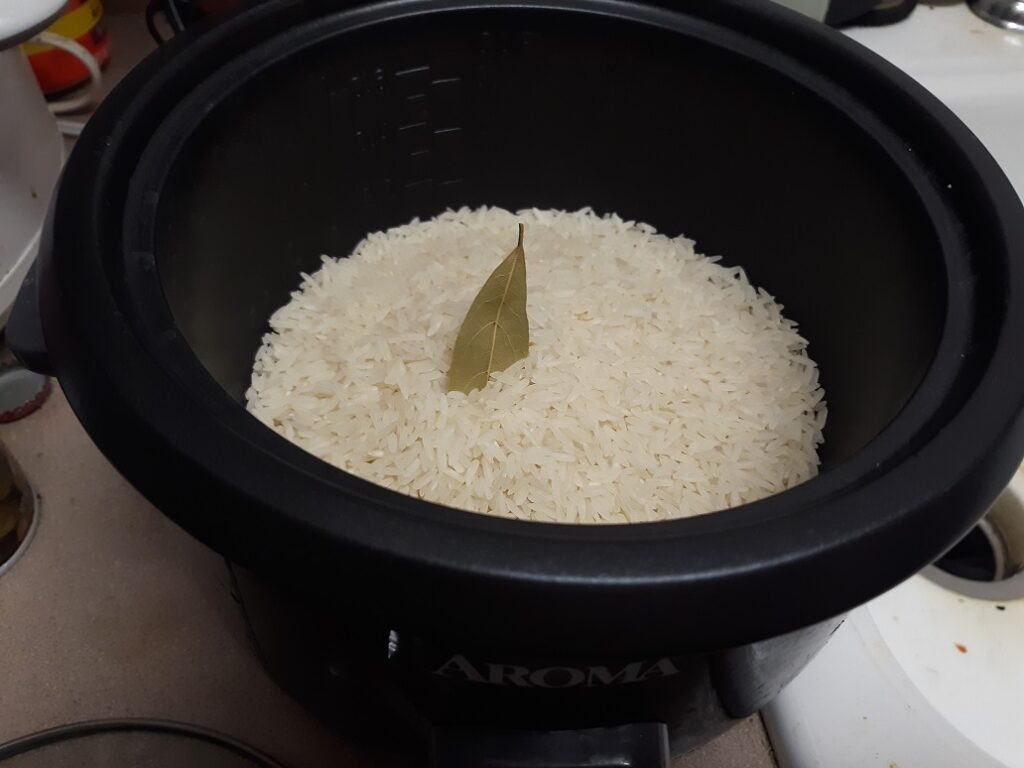 Fill the water up to the 2 Cup marking on the side of the pot (if you're in high altitude, give it just a hair more than that)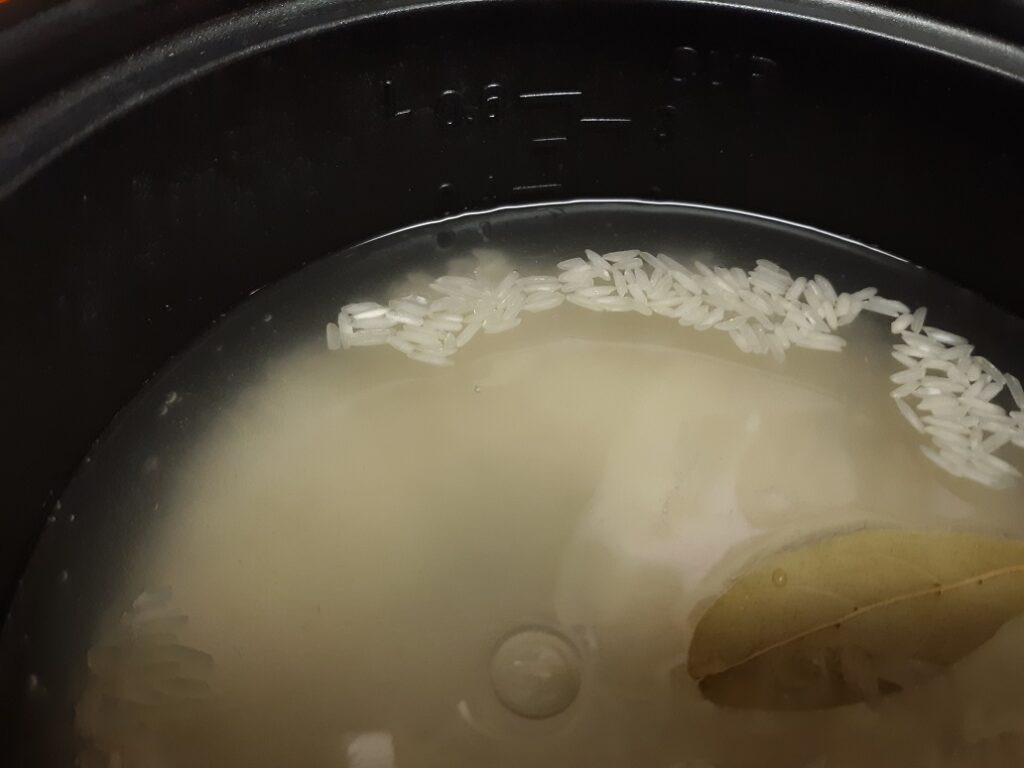 Put the lid on and press the rice cooker's single button: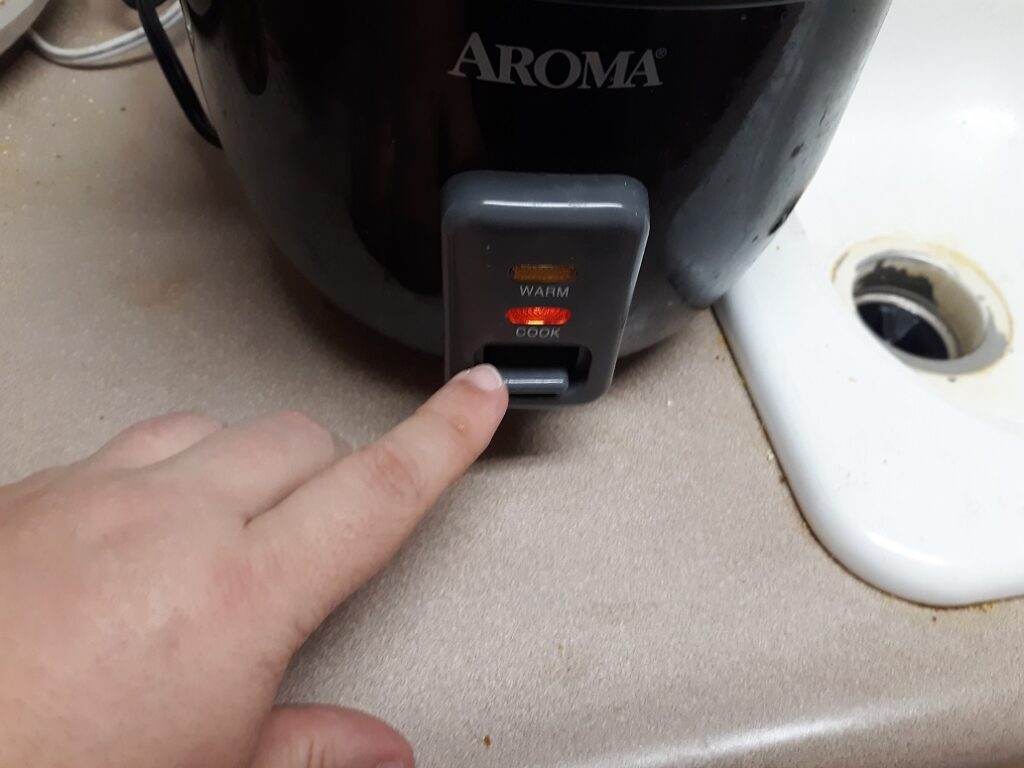 Okay. Now to deal with the ingredients.
Get your lime and your zester: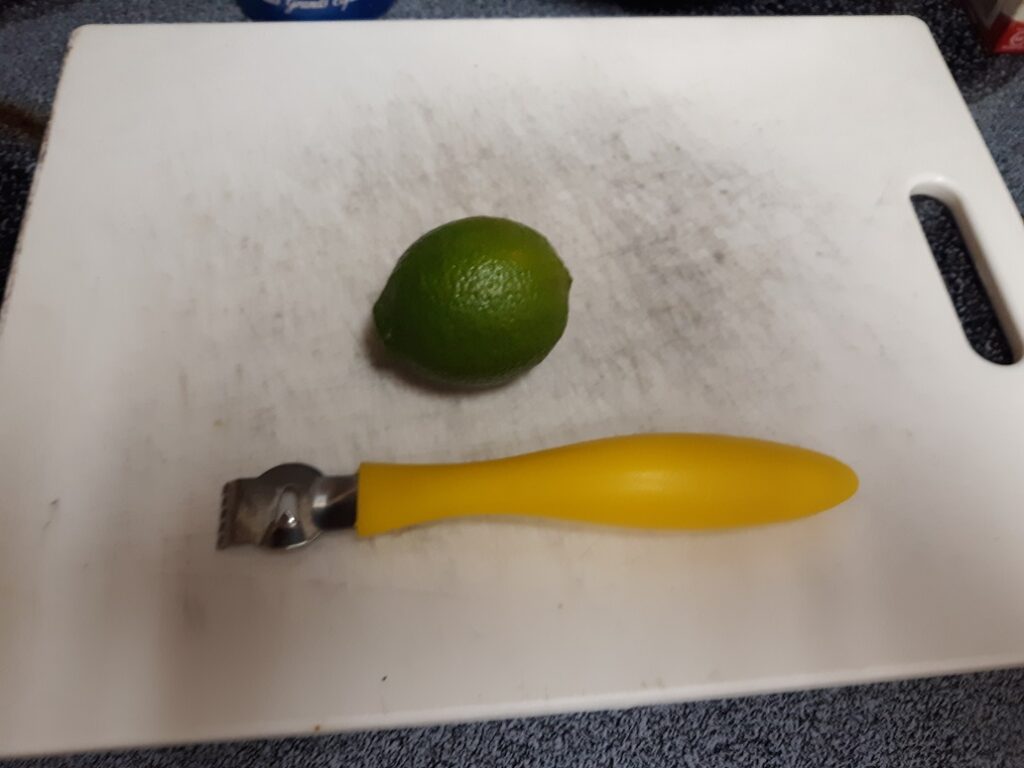 And zest your lime.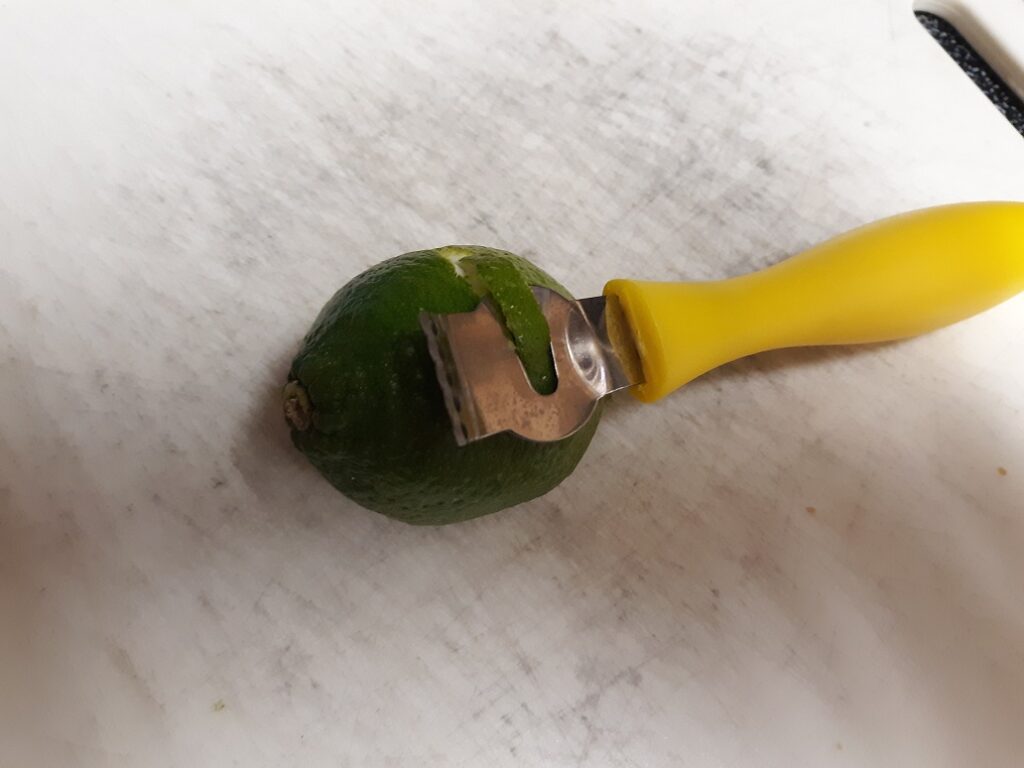 Get maybe four strips. About an inch each, maybe. Maybe a little less.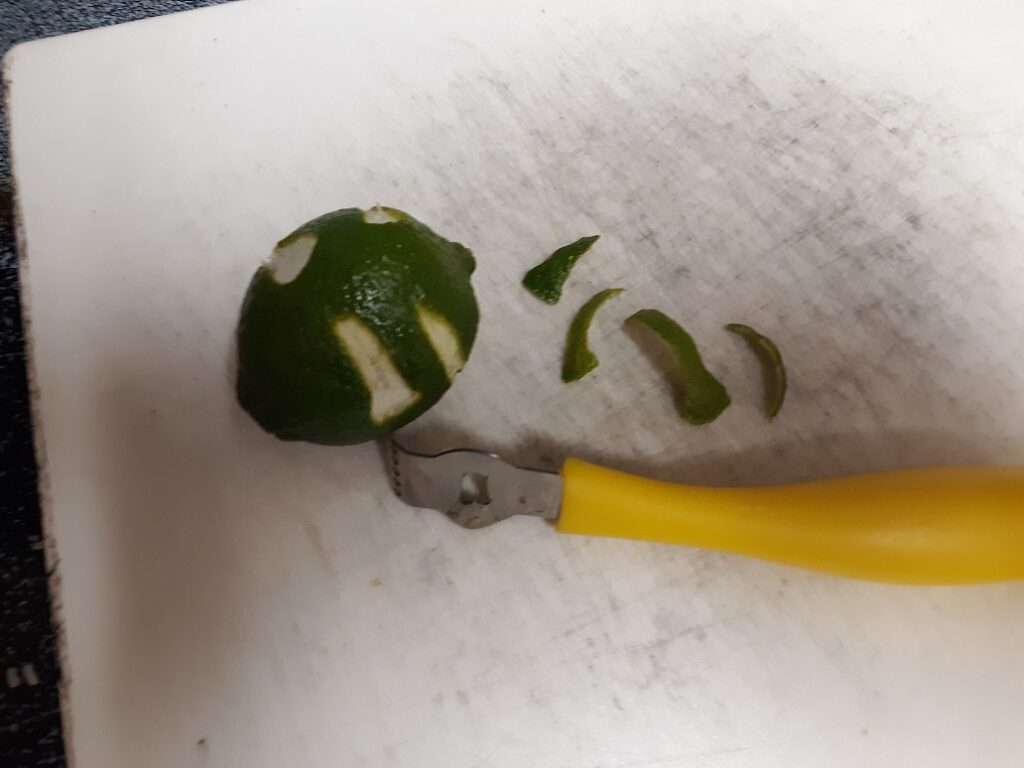 Then get your kitchen scissors and start cutting up the little strips into tiny little morsels.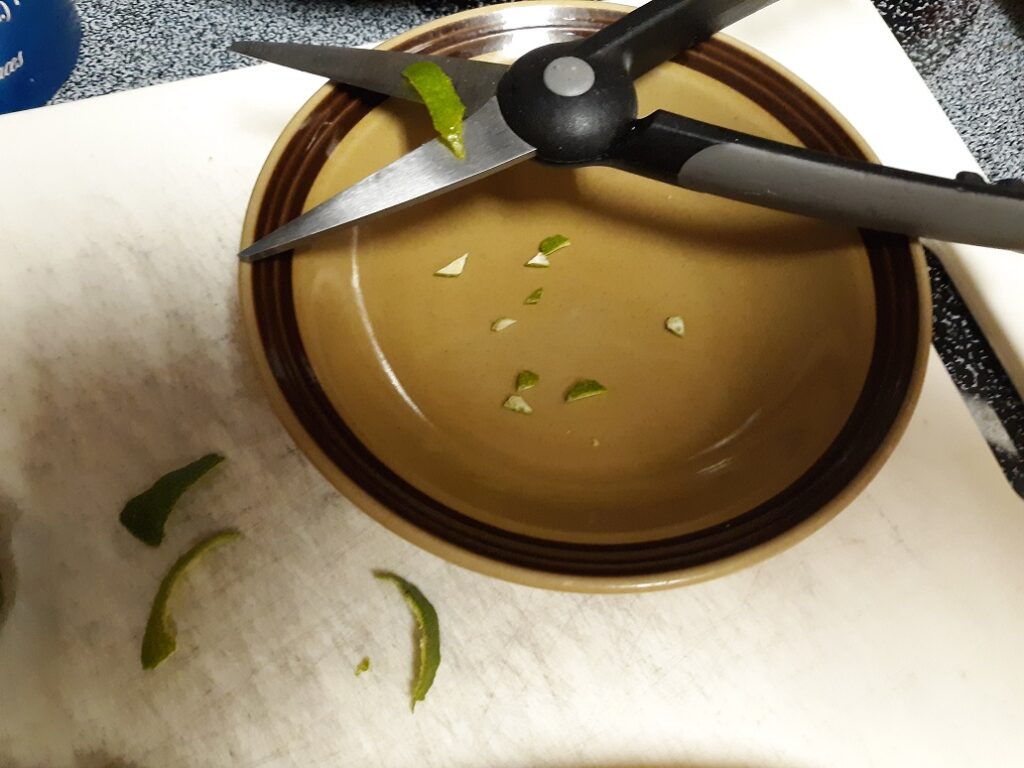 And when you're done, you'll have a small amount of morsels. You might be tempted to think "that's not a lot" but, seriously, this is plenty.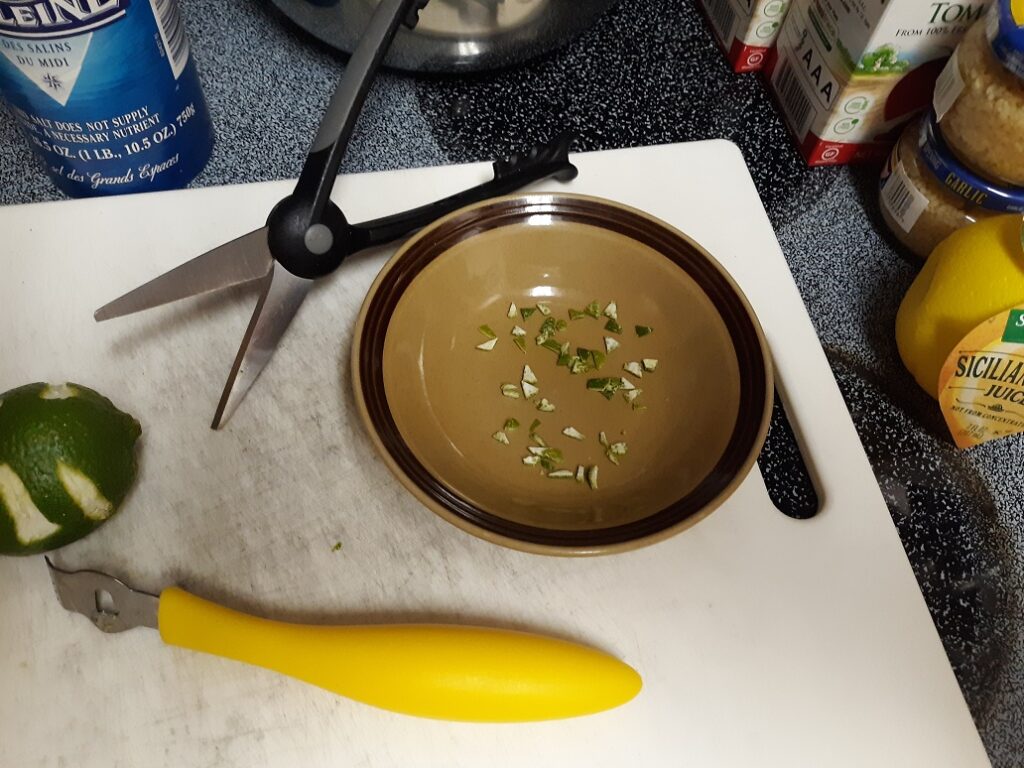 Then cut your lime in half…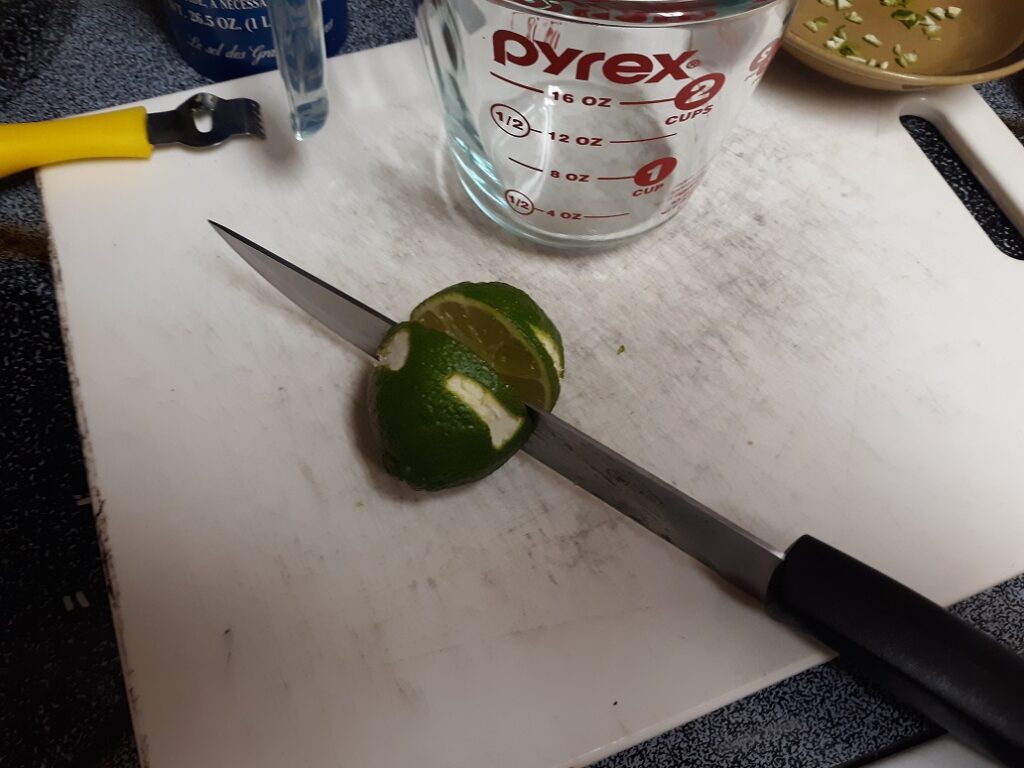 And then start squeezin' it into your measuring cup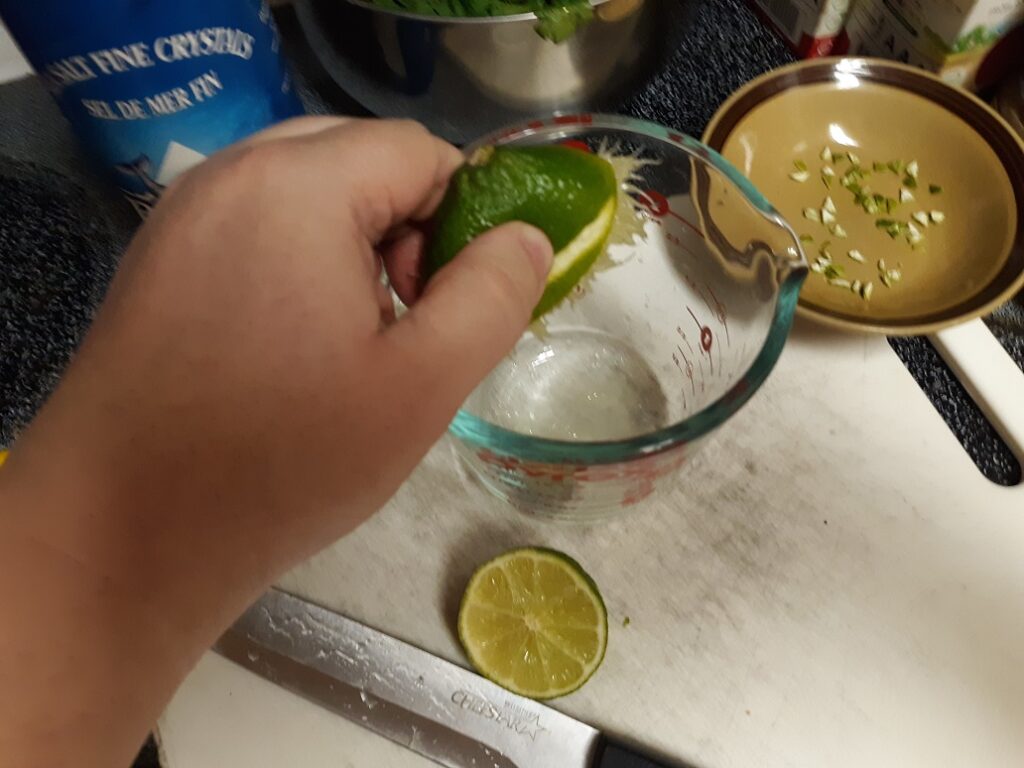 If you own a reamer, start reaming that lime half. If you don't, get a spoon from the drawer and dig out the good stuff. You want all the juice you can get as well as a good amount of debris.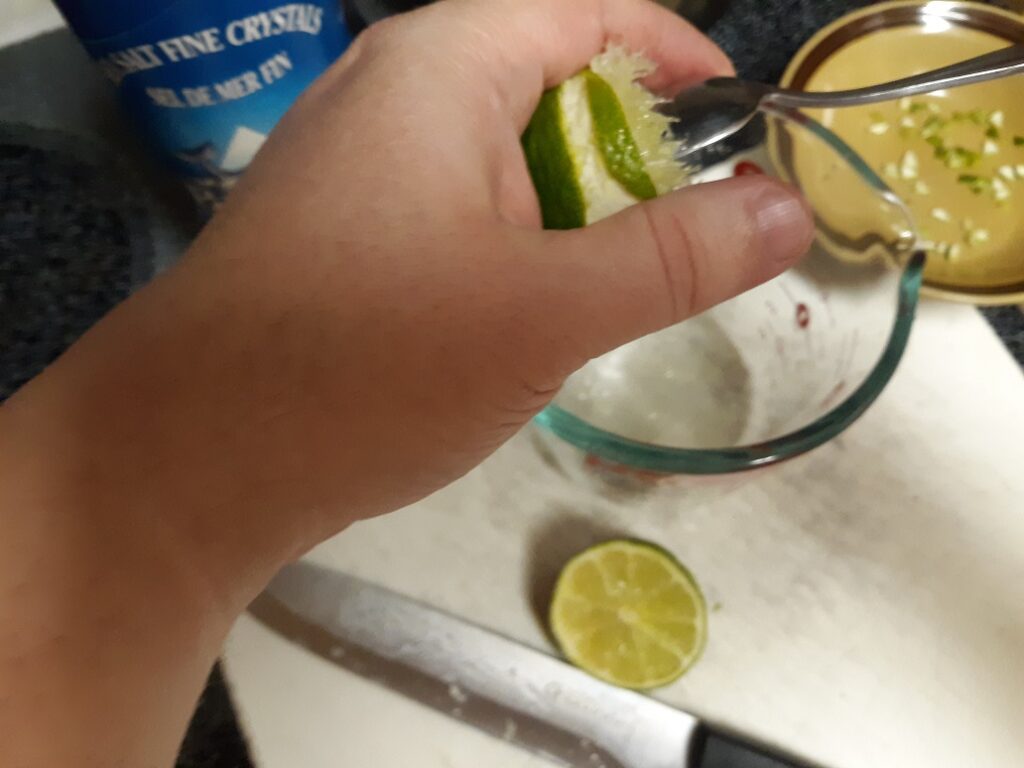 Then do it again to the other half (the reaming too)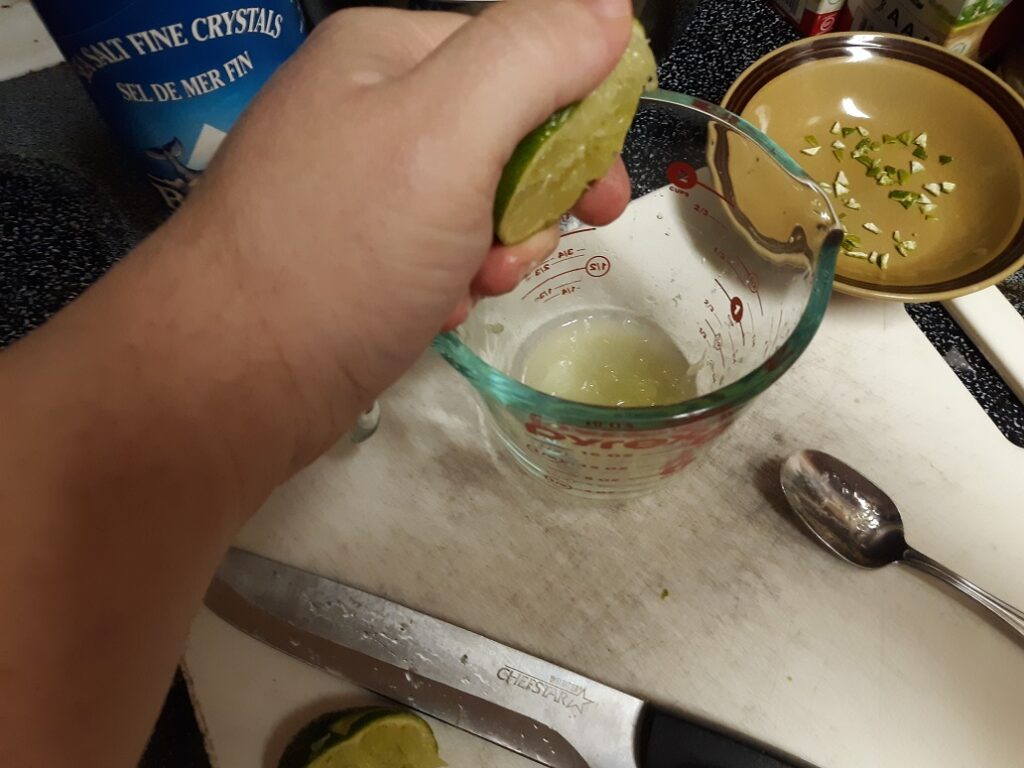 And that right there is the juice from one lime. Huh. It felt like I put in more effort than this.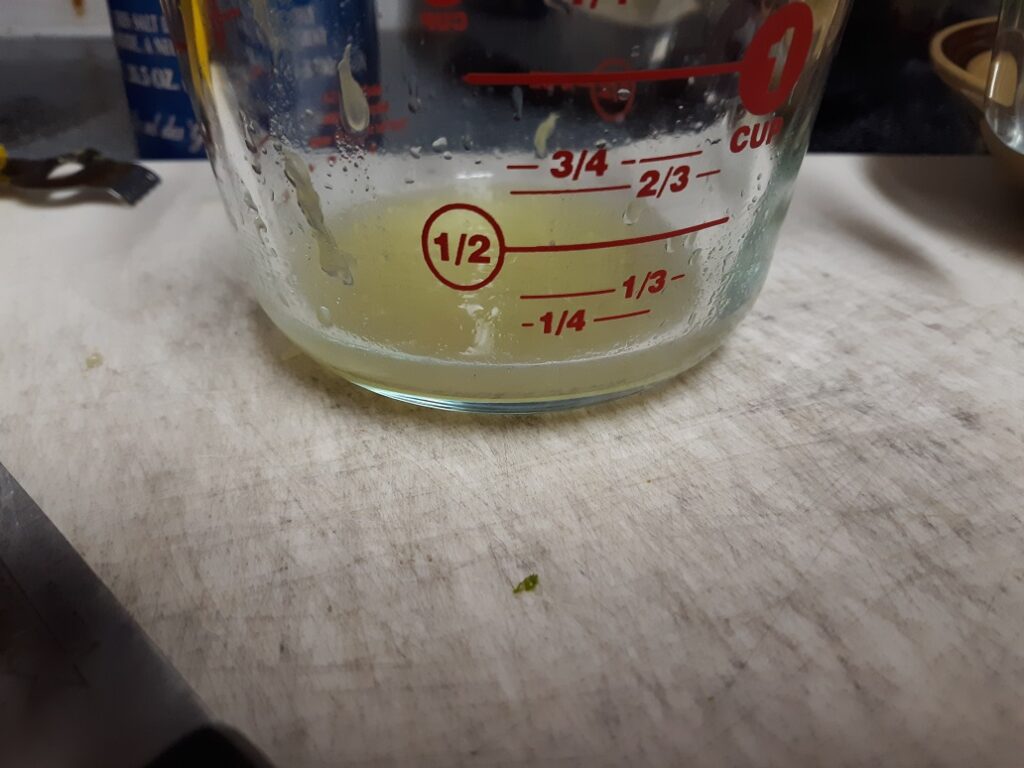 Then here's one of the secrets: you round out the lime juice with lemon juice. You want more or less 1 part lemon for every two parts lime.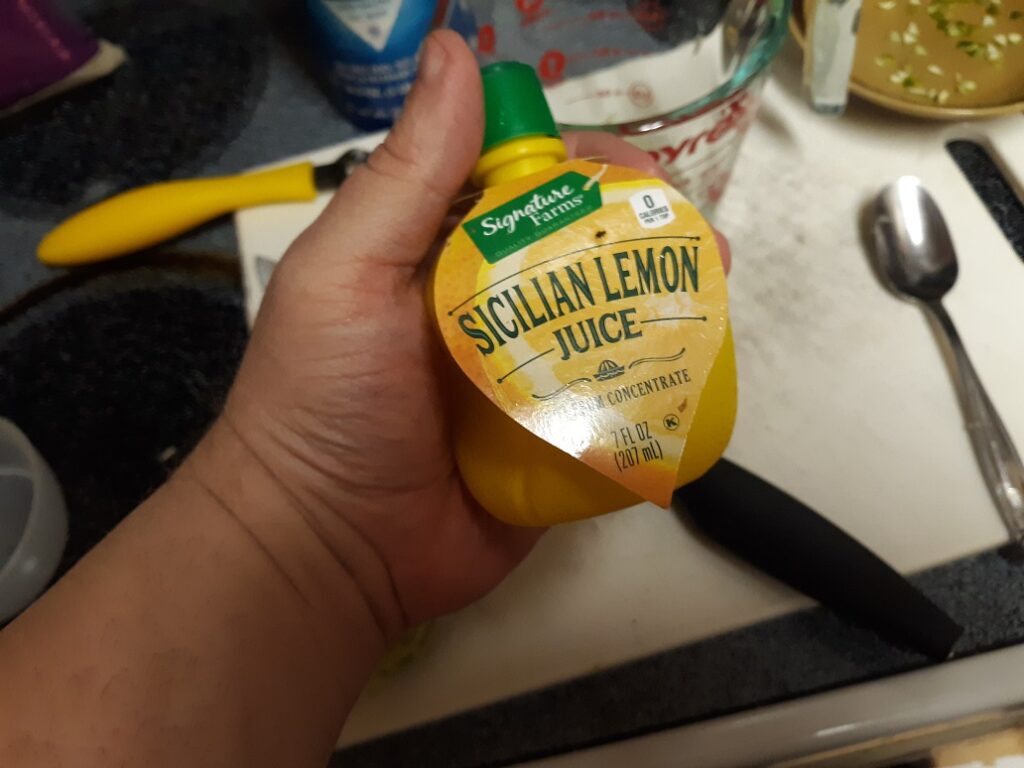 Close enough for jazz.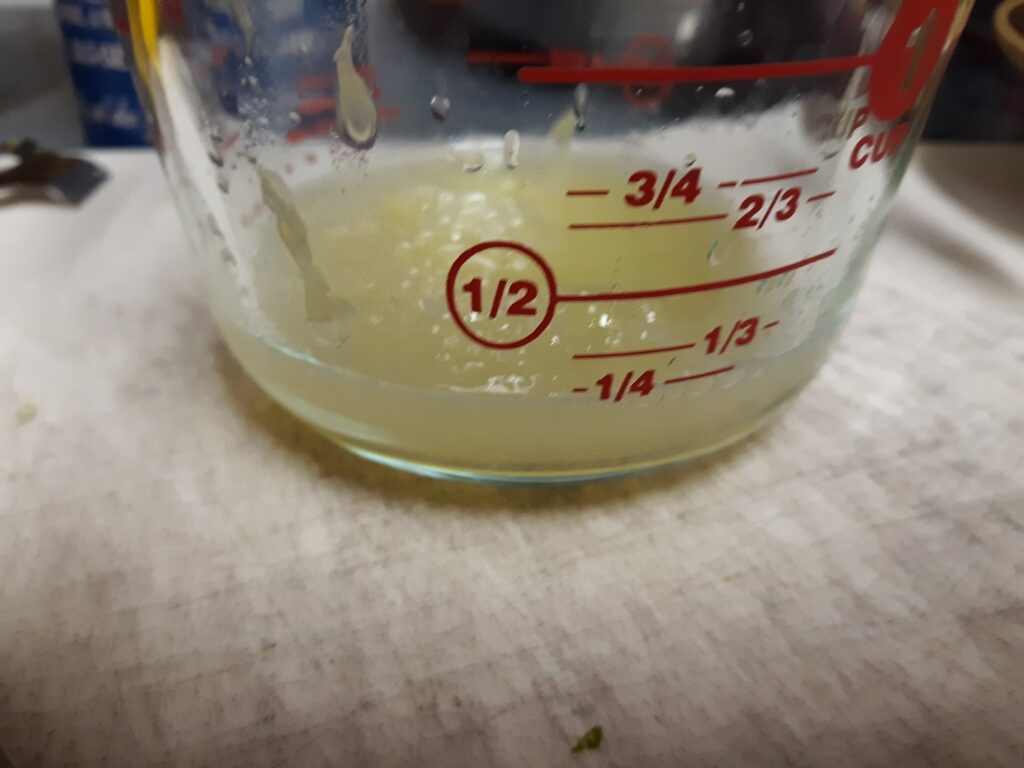 Now we're dealing with the cilantro. Look at this. This is a buck-fifty's worth of cilantro. This is the smallest size they sell.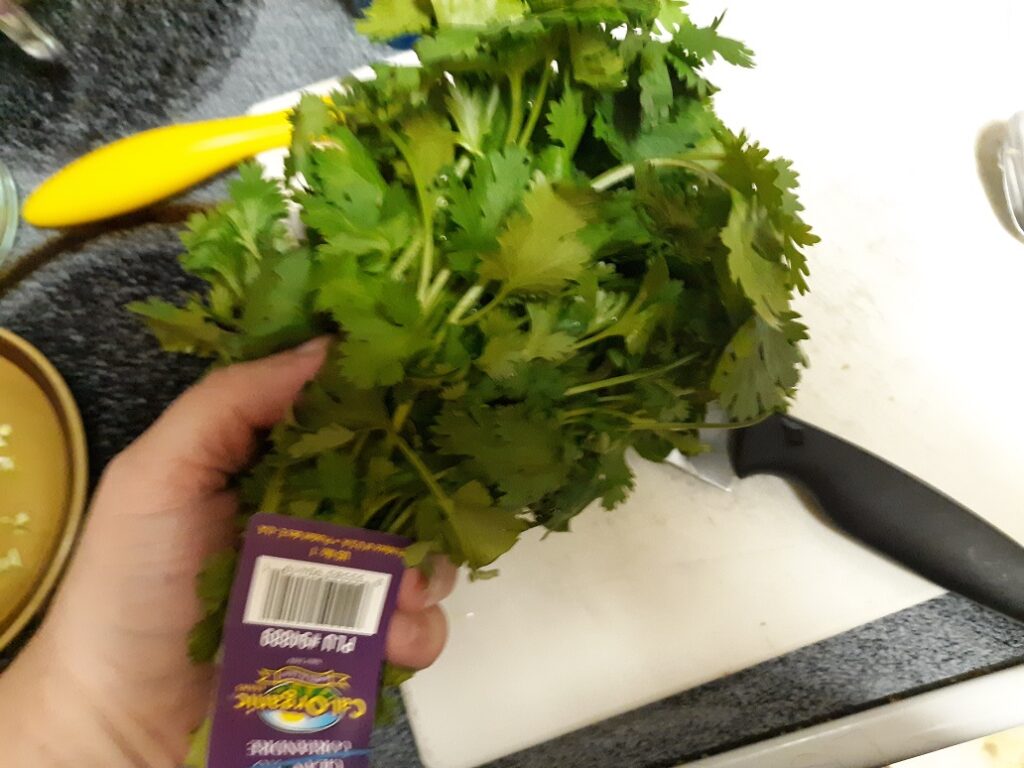 Ain't nobody on the planet is going to use that much cilantro. I rip off a good handful, stems and all, and that's what I'm going to be working with. Throw the rest into the compost. Seriously, you're going to have enough leftover rice that this cilantro will be rotten by the time you think about making another batch.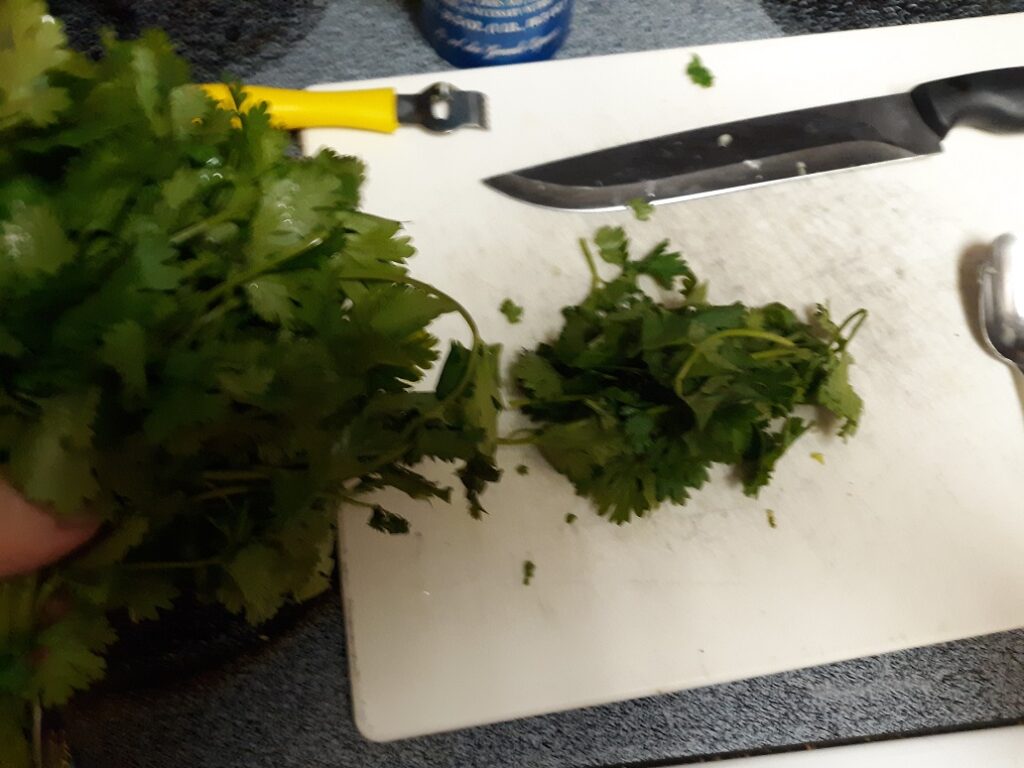 And then chop and roll and dice it up but good: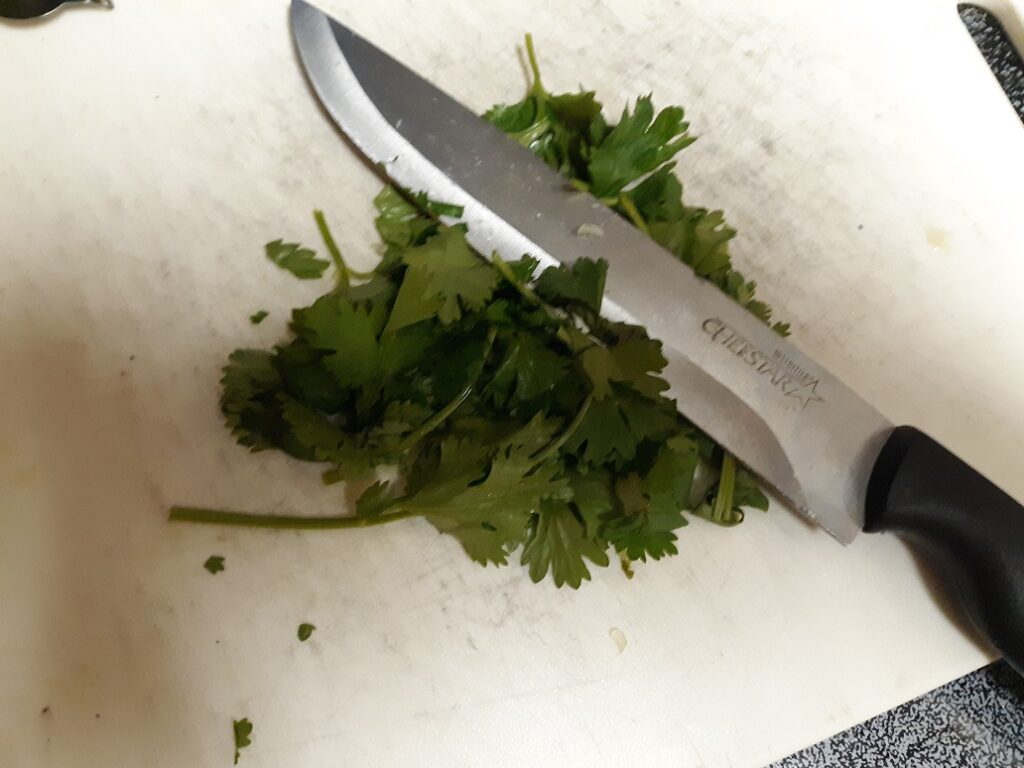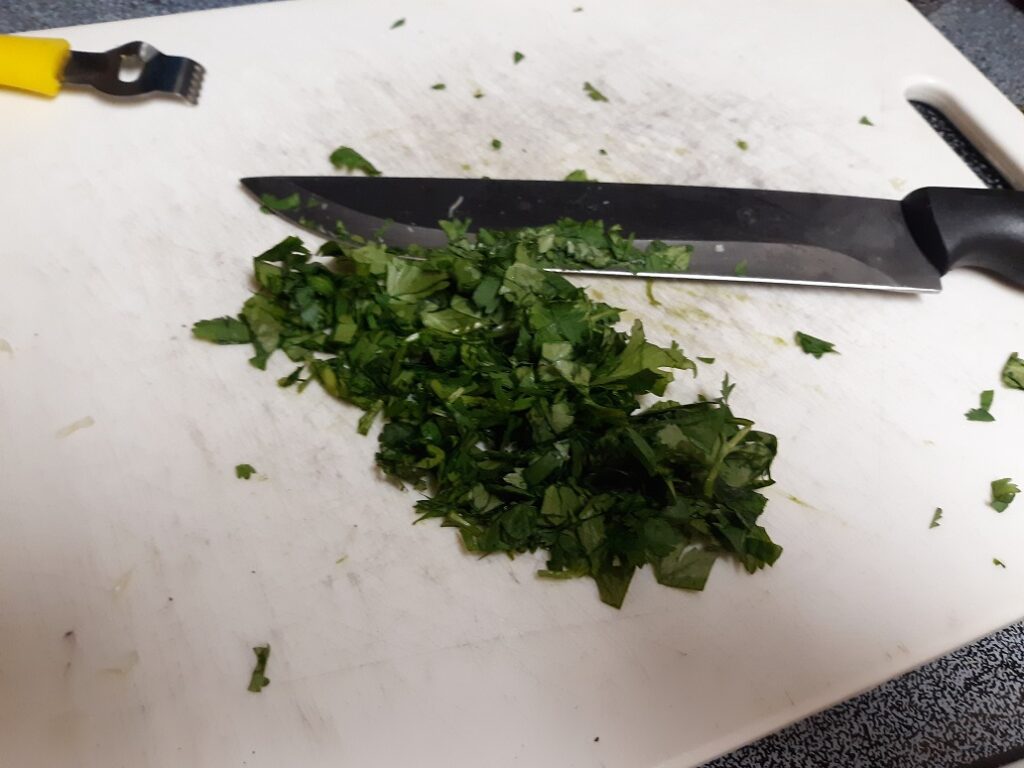 Okay, your rice should be almost done cooking by this point in the process (mine was, anyway) so I got my mixing bowl and my spatula ready…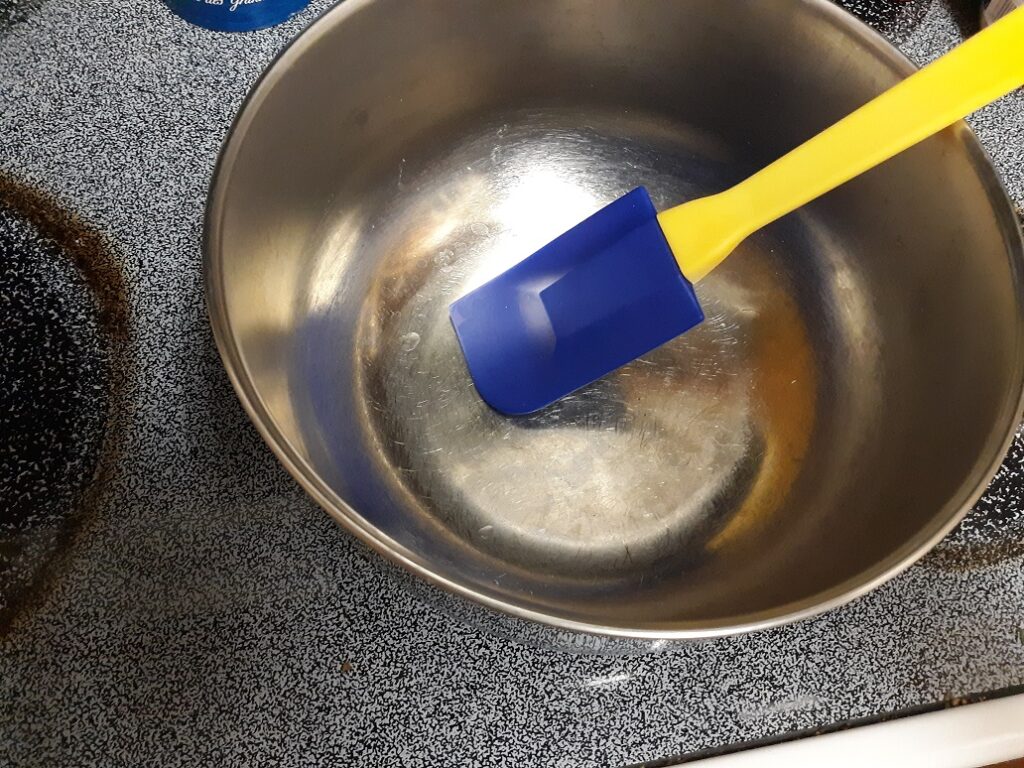 DING!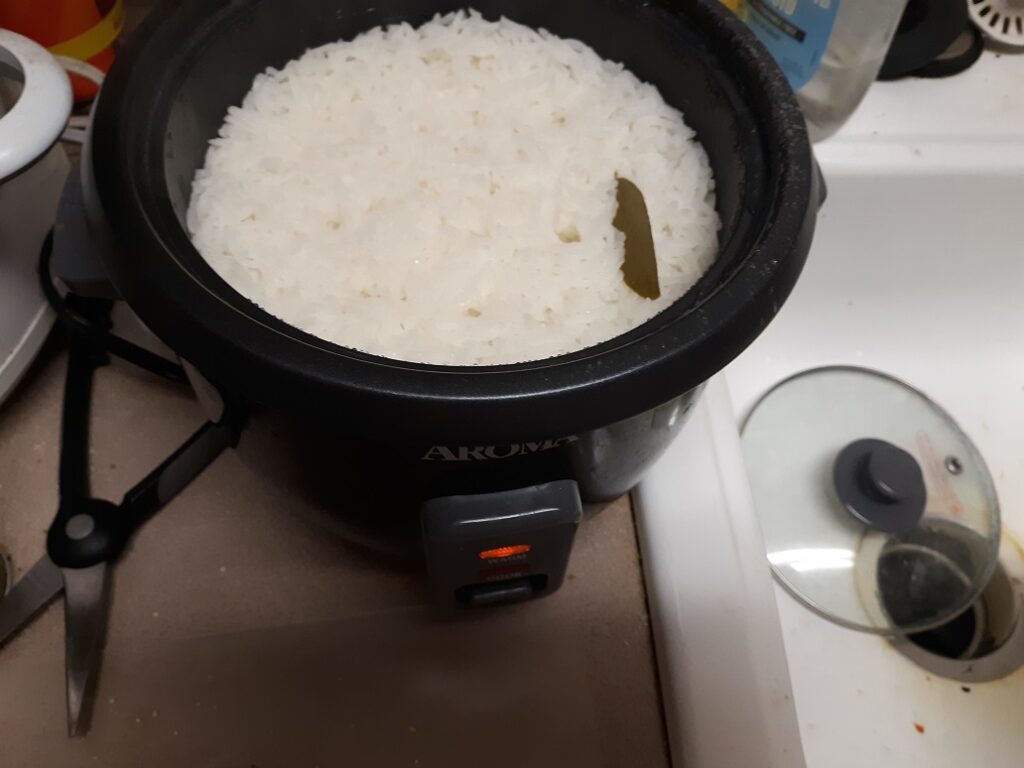 Toss the bay leaf into the compost and dump the rice into the bowl and sprinkle some salt on it to taste and then mix it up.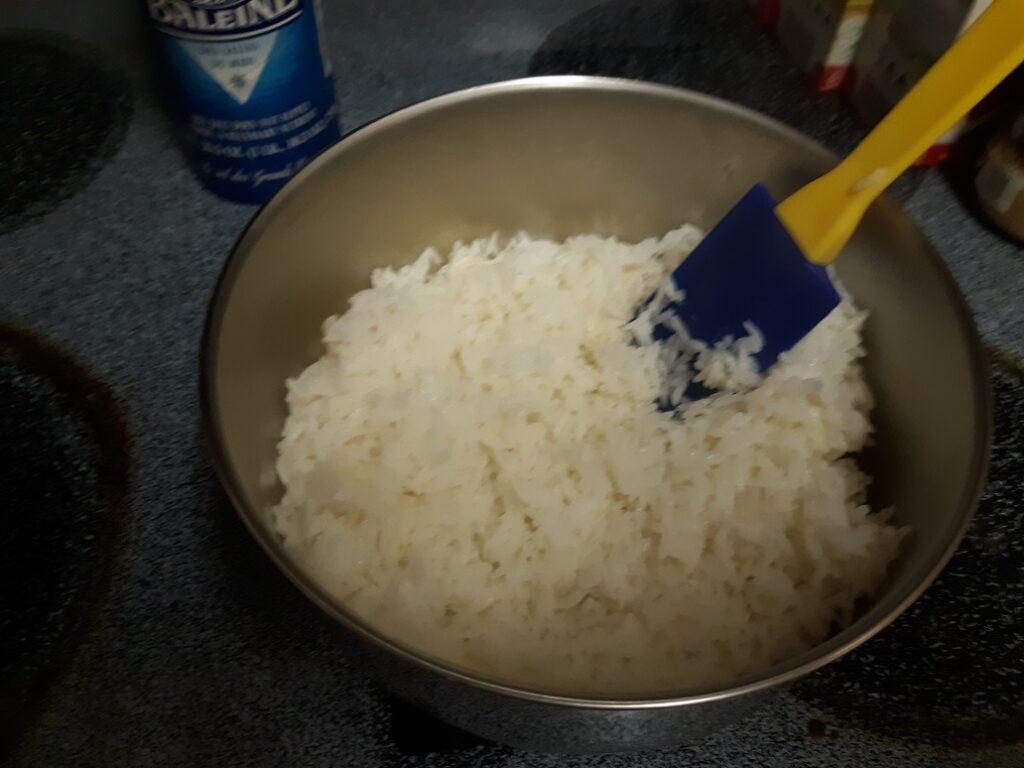 Remember your zest?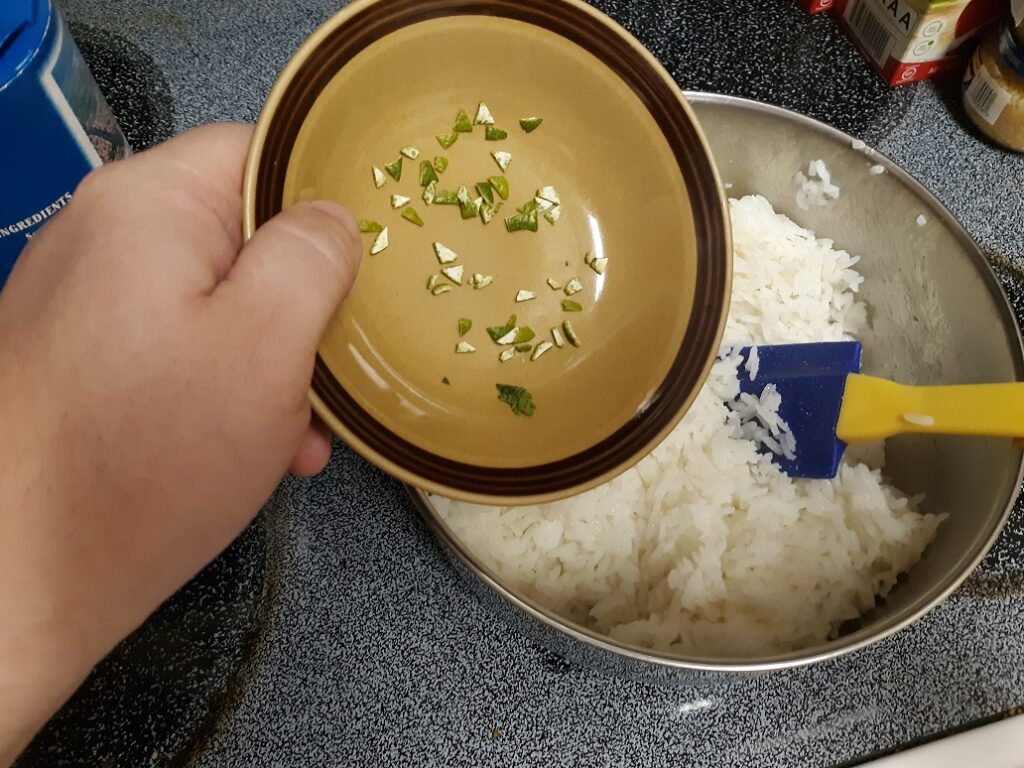 Dump it in there and mix it up.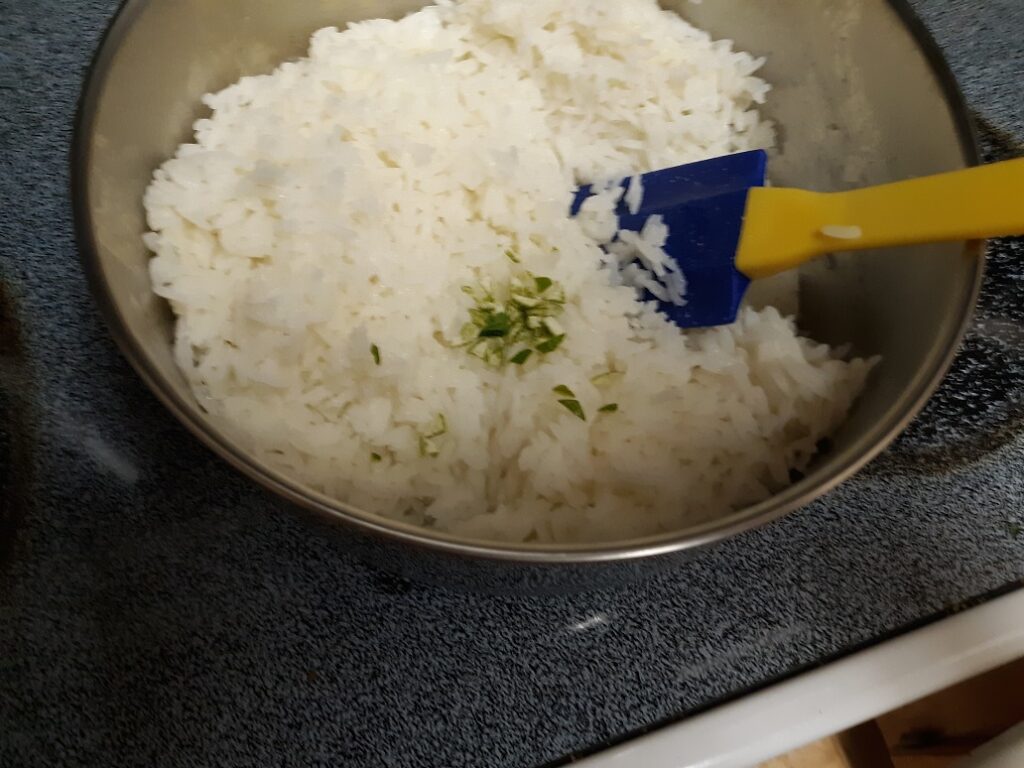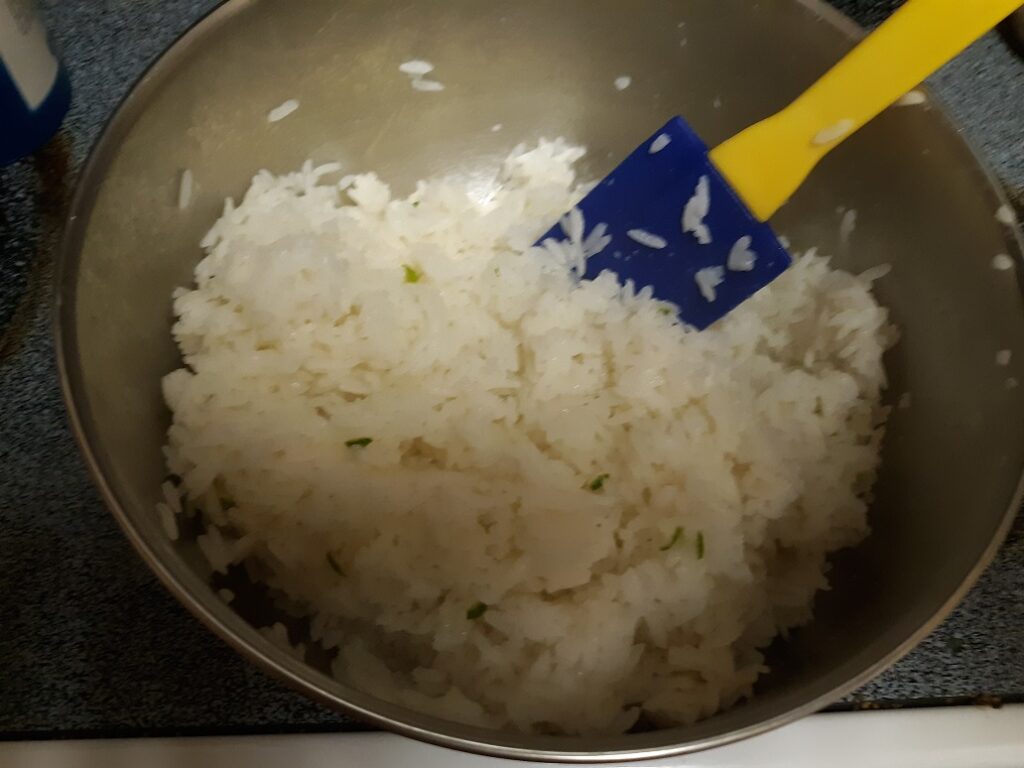 Dump your cilantro in there and mix it up.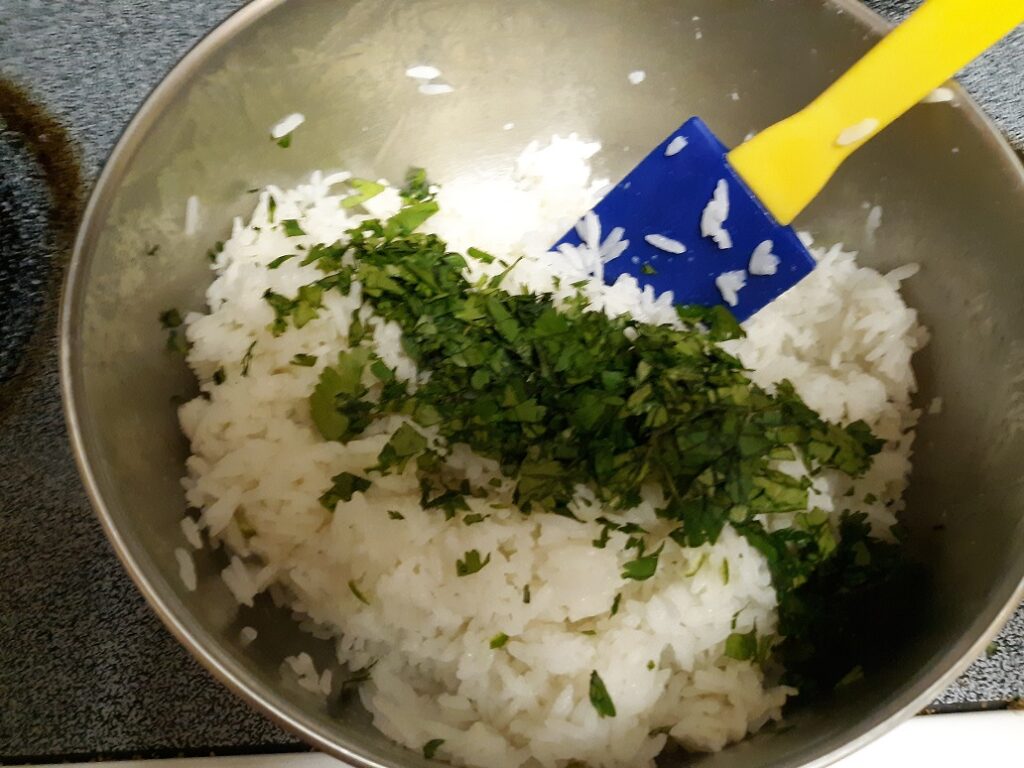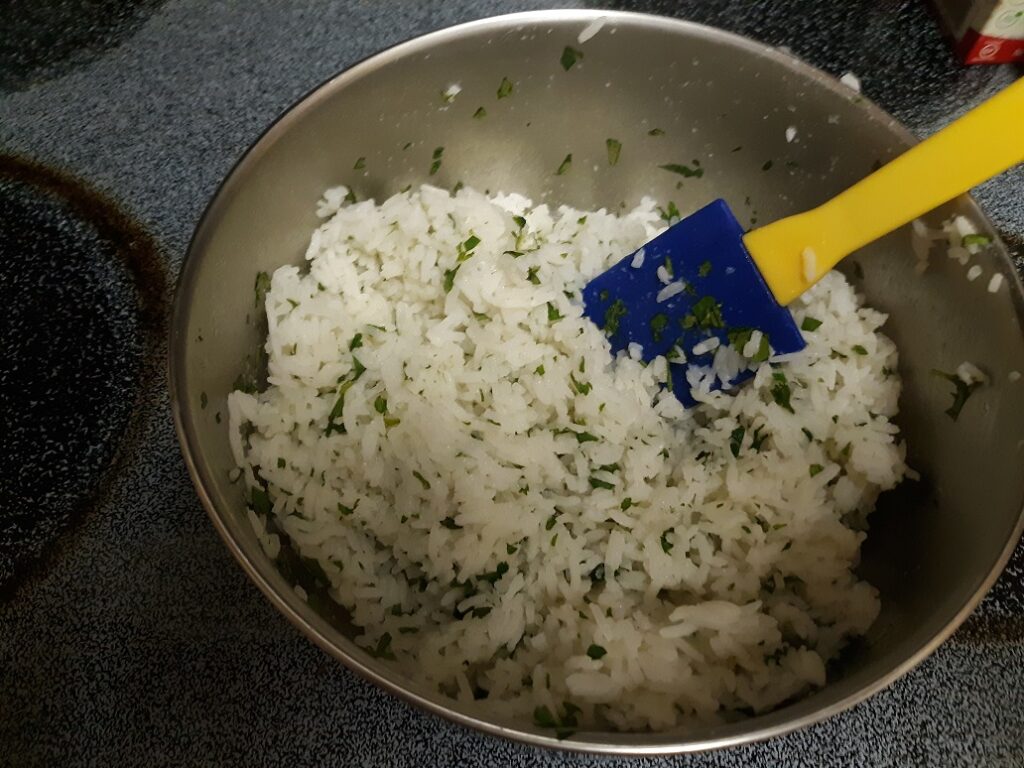 Now dump your juice in there and mix it up.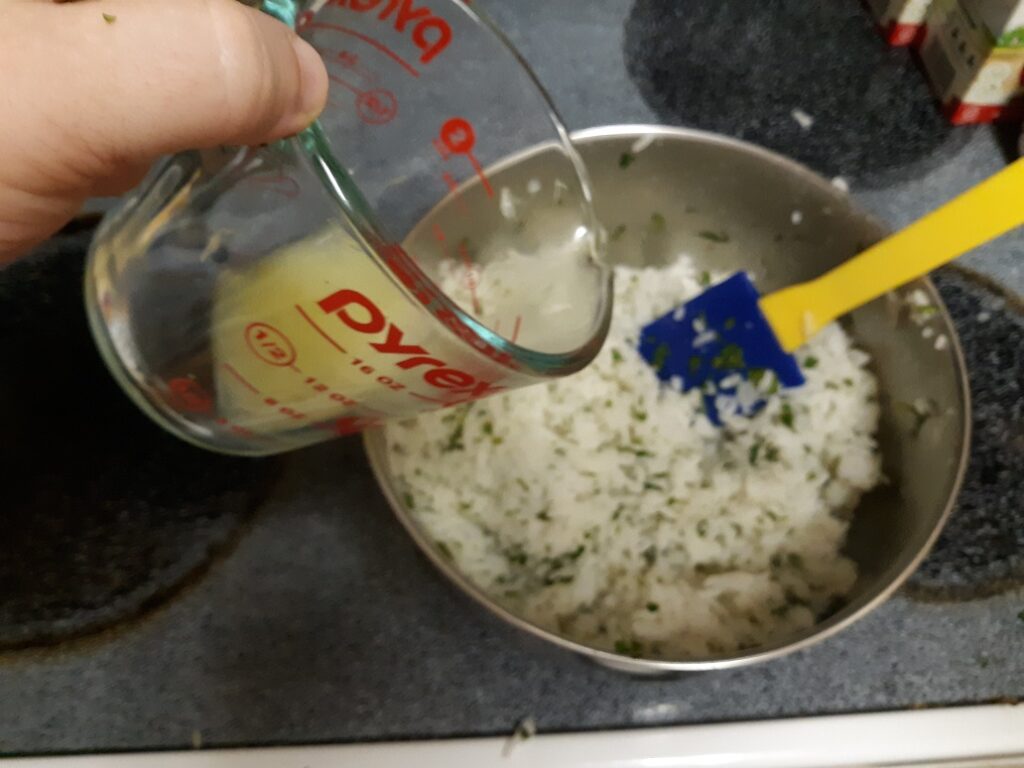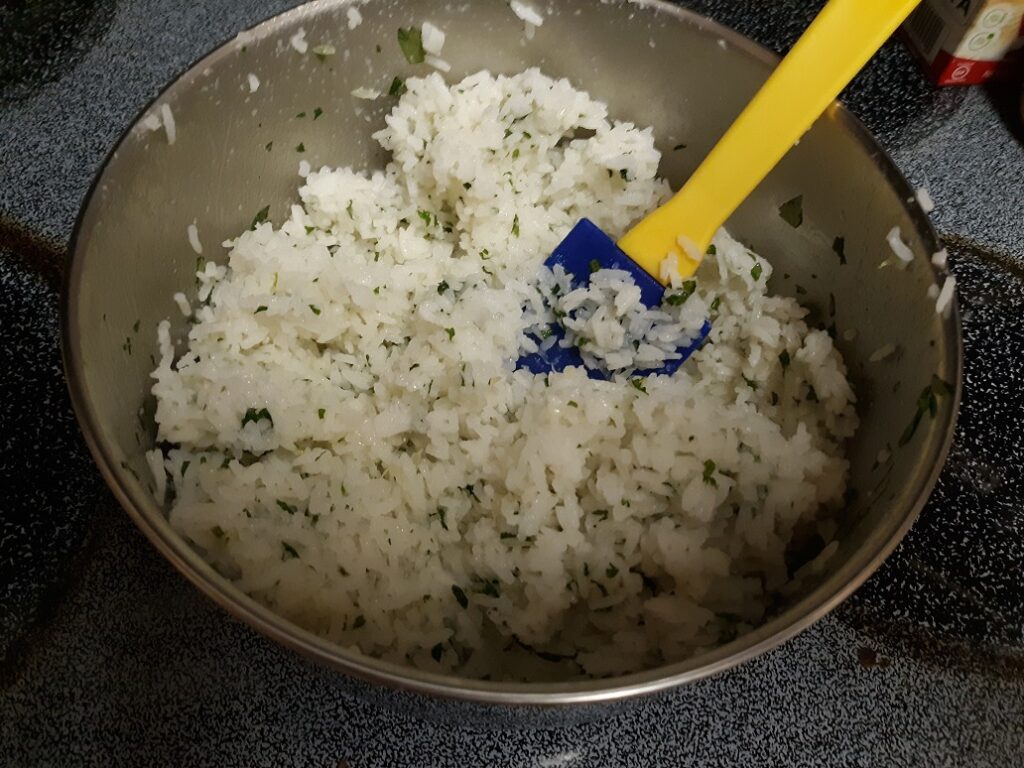 And now you have, like, a TON of rice. We made burritos for dinner and you see this?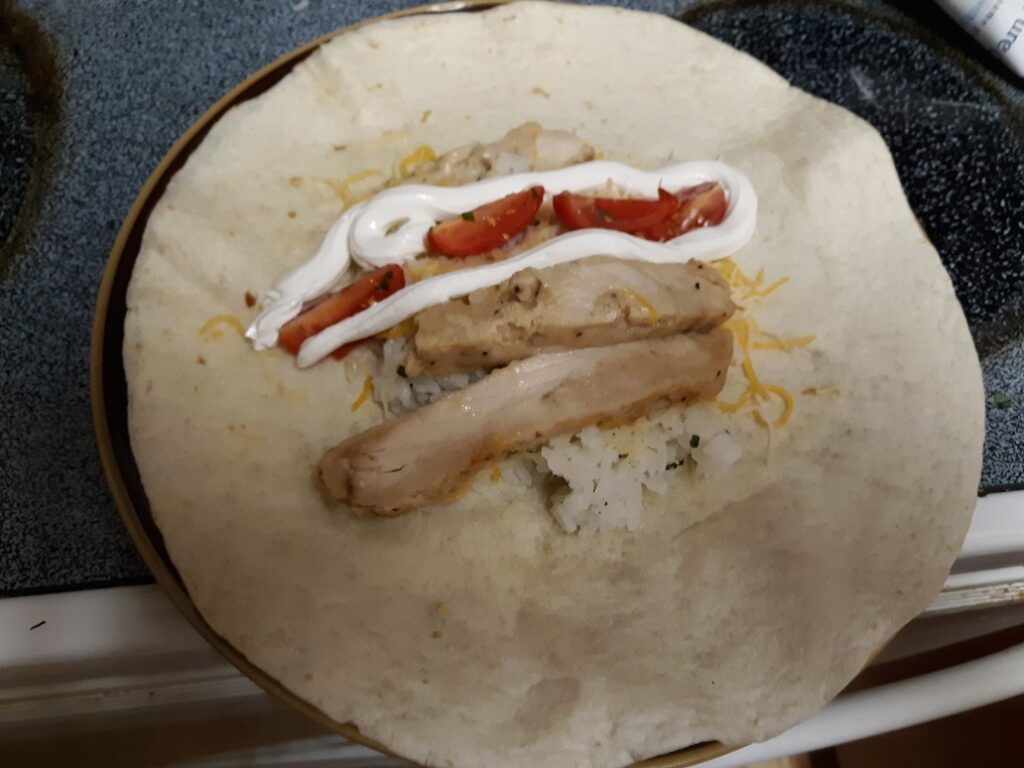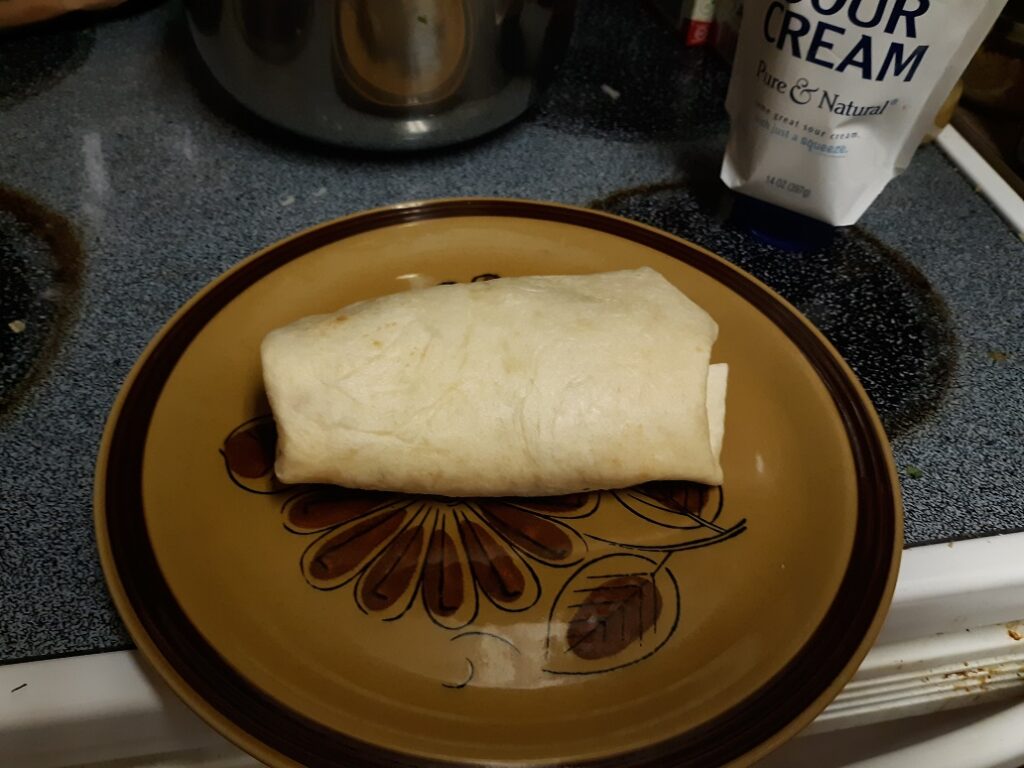 That's TWO spoonfuls. Two more spoonfuls went into my burrito and then I put a tub of the leftover rice into the fridge. So all weekend and half of next week, we're going to have burritos with lime cilantro rice, burrito bowls with lime cilantro rice, maybe a bowl of lime cilantro rice and tomatoes and tzatziki sauce… anyway. We've got a ton of leftovers.
It makes me miss Chipotle less. I know that previous attempts to make this rice resulted in me failing and missing Chipotle more… but this recipe worked. It's pretty close.
So… what's cooking?
(Hey, are you doing anything interesting for Labor Day? I'm not, for the record. But I hope you are. But not, you know, TOO interesting. Socially distanced interesting.)
(Featured image is the ingredients photo. Taken by the author.)