If You Wanna Make an Omelet, You Have to Break Some Faberge Eggs
Faberge Eggs were these intricate bejeweled gewgaws that the Russian czars – first Alexander III and later Nicholas II – gave to their wives as Easter presents (in Nicholas' case to his wife and his mother after his father's death) from the years 1885 through 1916. Most of them had surprises hidden away within, like clocks and jewelry and small family portraits. Later on, Faberge even put little automatons – windup toys – inside. There were fifty royal Faberge eggs in all. Two more were made for Easter 1917 but never completed due to increasing civil unrest. The invoice for one of the unfinished eggs actually refers to Czar Nicholas not by his royal title but by Mr. Romanov, an indicator of how his status had fallen.

In the upheaval of the Russian Revolution, some of the eggs were lost; others are missing their surprises. They may still be out there. In 2014 a man paid 14k for a gold egg at a flea market hoping to melt it down for the value of the gold inside it, only to find it was the coveted Third Imperial egg, and in 2015 the surprise from the Diamond Trellis Egg, an elephant automaton, was found in the collection of the British Royal family.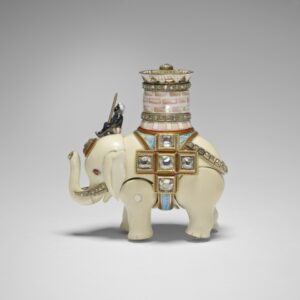 The eggs are stunning and spectacular. Here are a few of my favorites:

Basket of Flowers, from 1901: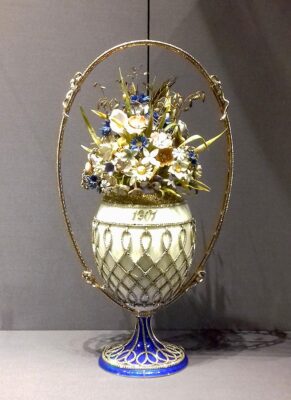 The Kremlin Egg, from 1906, one of the few eggs that has never left Russia: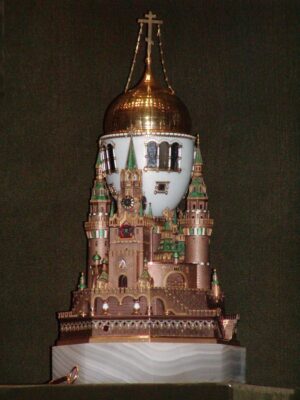 The Lilies of the Valley Egg, 1898, a plot point in the TV show Peaky Blinders: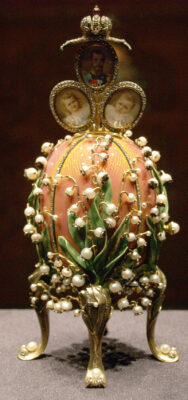 And my favorite, created by the only female designer to have created eggs for Faberge, Alma Pihl – The Winter Egg, 1913: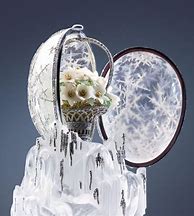 One of my fascinations as a history lover is to look back at moments of upheaval and wonder where we might be if only. If only it hadn't happened. If only, would the good things of those times, things we seem to have lost, have continued on into the present day? Might we have been better off, if only? If not for the Civil War, if not for World War I, if not for World War II, if not for seventy years of the Soviet Union, if not for fifty years of the Cold War, if not for the Cultural Revolution, if not for the shattering of norms that came out of the 1960's, what might have happened in all those cases? Couldn't we have found a way to keep the good and move past the bad, without the destruction?

I think the reason why this concept resonates with me is because as an intellectually curious young woman, just starting to learn about the world I lived in beyond what I'd been taught in school, I read about something called the broken window fallacy.

The broken window fallacy is a concept first described by Frederic Bastiat. Some economists maintain that destruction is actually good – not only in terms of tearing down corrupt institutions to make way for better ones, but good for the economy as a whole. Destruction stimulates economic growth, according to some, because once things are destroyed, they must be replaced, and in replacing them, money is spent and jobs are created.

Bastiat used a broken window to illustrate that this assumption is untrue, because destruction simply means that people spend money to fix broken things rather than to buy or do other things. Maybe the glazier benefits from the broken window, but the baker, the butcher, the toymaker suffer the loss of the money that went to fix the window instead. And the person whose window was broken suffers, too – they have to go without things they want, possibly even need, to pay to repair something that never should have been destroyed to begin with. This money comes from savings – meaning it ekes away at financial security in the long term – or worse still, we have to borrow money to fix the problem, which ekes away at long term financial security even more so.

Broken windows aren't good for anyone, and don't let those sweet-talking, savings-hating Keynesians tell you different.

You can see a living example of the broken window fallacy right now in our trillion dollar coronavirus stimulus package. We had to fix a problem that came flying at us like a brick through our window. It may have been necessary (though admittedly there's a not-small part of me that thinks salvaging Carnival Cruise Lines was far from an economic necessity) but it was NOT beneficial. Far better would have been if the coronavirus hadn't happened and we hadn't spent that trillion dollars at all, since it was money our nation did not actually have.

Spending money that doesn't actually exist simply creates a different set of problems down the line, you see. I learned this lesson the hard way when my husband unexpectedly lost his job in 2012, and foolishly imagining the situation would be temporary, I put several months' worth of groceries and gas on the credit card. Those expenses were entirely necessary due to whoever-it-was who broke our proverbial window, but we're still paying those debts off, still buying food we ate and fuel we burned nearly a decade ago.
That decision I made doesn't just affect me and mine. Money goes to credit card companies instead of to the grocer, the car maker, the book seller, or into our savings account. That decision I made will likely have ramifications even into the next generation because it's money we should have saved for retirement, that we would have spent in retirement, that we won't have, that will go towards interest instead of anything real.

It's inarguable – if broken windows are bad, broken windows paid for on credit – on promises of what will happen in the future – are worse. It would have been far, far better if my husband hadn't lost his job (of course, the credit card companies may have a different opinion). This observation is as true for nations as it is for individuals. It would surely have been far, far better for America if the coronavirus hadn't happened (of course, the Chinese, who hold 15% of our national debt, may have a different opinion).
Bricks through a window are not positive developments, not ever, even when you can pay for them outright. And just to spell this out very clearly for those who have trouble applying analogies to the big picture – resources are not always monetary in nature. Sometimes those bricks through the window are destroying cultural touchstones rather than panes of glass, and cultural touchstones are way, way harder to replace. 
Wanton destruction, even if you dress it up pretty and call it "creative destruction" and claim that it was necessary, is never beneficial because it simply ruins the good things you have and limits the things you CAN have in the future because the bill will eventually come due in one way or another. And all of it serves to benefit the bottom feeders who live off of strokes of misfortune. (Not that they shouldn't exist. Every ecosystem needs its scavengers.)
A lot of people nowadays seem to be joyfully praising destruction – both financial and cultural destruction – rather than calling out the carnage for what it is. Stupid, thoughtless, irrevocable, and incredibly short-sighted. An analogy I've heard bandied about is that "broken bones grow back stronger", as if obliterating the underlying structure of something will ensure that what comes to take its place will be somehow superior. But of course, broken bones kill people; we sometimes forget this with modern medical care, but complications of broken bones can absolutely be fatal. "What doesn't kill you makes you stronger" only works if the whatever-it-is doesn't actually kill you.

Beyond fatal consequences, broken bones cause you to miss work and expend thousands of dollars in medical bills you would rather have spent on other things. Even if the original break doesn't kill you outright, the surgeries that are sometimes required can. And I can attest, as someone who has actually broken a bone or two, my broken arm and my broken toe have not made me stronger. They weakened me, perhaps not as much as my husband losing his job did, but they did weaken me. My wounds still ache, throb, wake me up in the night reminding me of their presence, and they probably always will. A toe, such a small thing; how could such a tiny thing possibly have mattered in the long term? But it's rendered me less agile and less able to exercise to stay healthy. It was only a small thing, but it took a toll. And none of that takes into account the 8 weeks of lost time I spent limping around taking far too much ibuprofen, unable to do a lot of things I would have liked to do during that time.
A broken bone, just like a broken window, has a long-lasting negative ripple effect that dwarfs any possible benefits like a bone being slightly more mineralized in a particular place. Far more often than whatever didn't kill you making you stronger, whatever didn't kill you leaves you seriously maimed and dealing with physical and financial consequences for the rest of your life.

Here's a picture of my dad's knee which he didn't even break, just tore some ligaments in a bad fall and required surgery. It's much less pretty than a Faberge egg.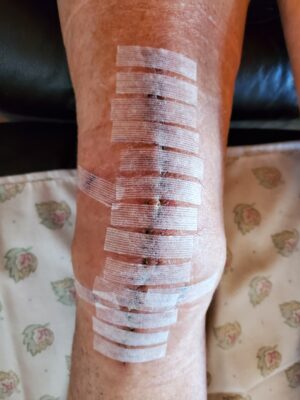 Destruction has consequences.
Of course, the doctor who did his surgery may have a different opinion.

Civilization is a Faberge egg. It is not just LIKE a Faberge egg, it IS a Faberge egg. Civilization is delicate, intricate, exquisite, and rare. The reason why we look back at history and see so many terrible things happening to everyone at the hands of everyone else in olden times is because civilization is so difficult to construct and yet so easy to destroy, much to the delight of the beneficiaries of chaos like credit card companies and trauma surgeons and antifa. The Faberge egg of civilization requires great expertise to create, and its creation demands a certain set of raw materials that human beings simply don't always have access to. You can't make a Faberge egg if you don't have the things that go into it – jewels and gold and knowledge and patience and time. And you can't build a civilization if you don't have wisdom and insight and foresight and a fundamental honesty about the nature of humanity and the awareness that the nature of humanity applies to YOU too.
Without those things you may create something, but the something may not be what you thought it would be. You may end up holding an empty plastic eggshell rather than a Faberge.
Both Faberge eggs and civilization are products of a place and time and actions taken and choices made by individuals that may not be repeatable in a different place and time with different individuals with different choices laid out before them. No one else ever created those Faberge eggs. All future generations could ever come up with were pale imitations that you can buy for $175 on eBay. Faberge eggs are a treasure that cannot be duplicated because the time and the place and the individuals involved in their creation no longer exist. Once they were gone, they were gone forever. Something different can be created, and it may even be a grand and glorious thing, but trying to recreate that particular miracle of human ingenuity will never happen again.
Trying to recreate something unique that has been destroyed is like trying to catch lightning in a bottle, only you have no bottle and the sky is clear and blue.

Now you may point out that the czars were terrible people who wielded their power in appalling ways and you'd be quite right in saying so. But look around at the kings and queens of the world – most of them the descendants of monsters – who still remain in the here and now. They're figureheads. Beloved, perhaps, but they wield no real power. The Czar and his family were forcibly removed from power and murdered, their precious eggs scattered upon the winds, but the odds are very good that even if they hadn't been, in the here and now they would be powerless gadabouts advocating for animal rights and against climate change right alongside the British and Scandinavian monarchs.

The Romanovs were going anyway because their time had passed. Hastening the process along gained nothing. It only destroyed. It is ok to let things, even evil things, die a gentle and peaceful death. It is ok to let nature take its course. If Czar Nicholas and his family had gone from this earth peacefully in their beds at ripe old ages, surrounded by a plethora of Faberge eggs, would the world have really been any worse off?

Because the choice was never between czars and paradise. What replaced those kings and queens who were dying out on their own anyway? Dictators. And those dictators, their brutality, their inhumanity, caused more suffering and more despair and more lasting harm than any of us can fathom. Those dictators put the worst excesses of czars and kings to shame, and they didn't even create any Faberge eggs in the process.

Who knows where we would have been if only.

I was talking to my oldest son on the phone and he was complaining about the 20th century, how terrible and violent it was, how relieved we should all be that it is over with. And as much as I hated to pollute his optimism with the harsh light of reality I had to point out that we're really living in the equivalent of 1920. We don't know what the 21st century has in store for us. It may be that someday, some intellectually curious young woman will look back on 2020 and think "there were so many good things about that time, who knows where we would have been if only" while she stands over a wood stove boiling a leather shoe to feed her family and wondering what the hell going to the supermarket might have been like.

I know that those of you who believe in creative destruction, you think that you'll eradicate only the bad things, and from the ashes, you'll build a better civilization. But civilization is not a mythical creature like the phoenix, it is a Faberge egg, fragile, priceless, and not easily constructed. Far easier to simply maintain it.
In America 2020, the choice is not between our flawed republic and paradise. The choice is between the hard work of gradual creation and sudden, irrevocable destruction. The choice is between civilization and chaos. The choice is between having to fix that broken window or that broken bone or that broken country, versus using that same money and energy and time to build something MORE. 

The choice is between actively working for good in an imperfect world, or destroying everything good in the name of perfection while just kinda hoping something better comes along.
Something better you can only imagine, something better you have no idea how to create, any more than any of you could make a Faberge egg.