Saturday Spins: Dan Auerbach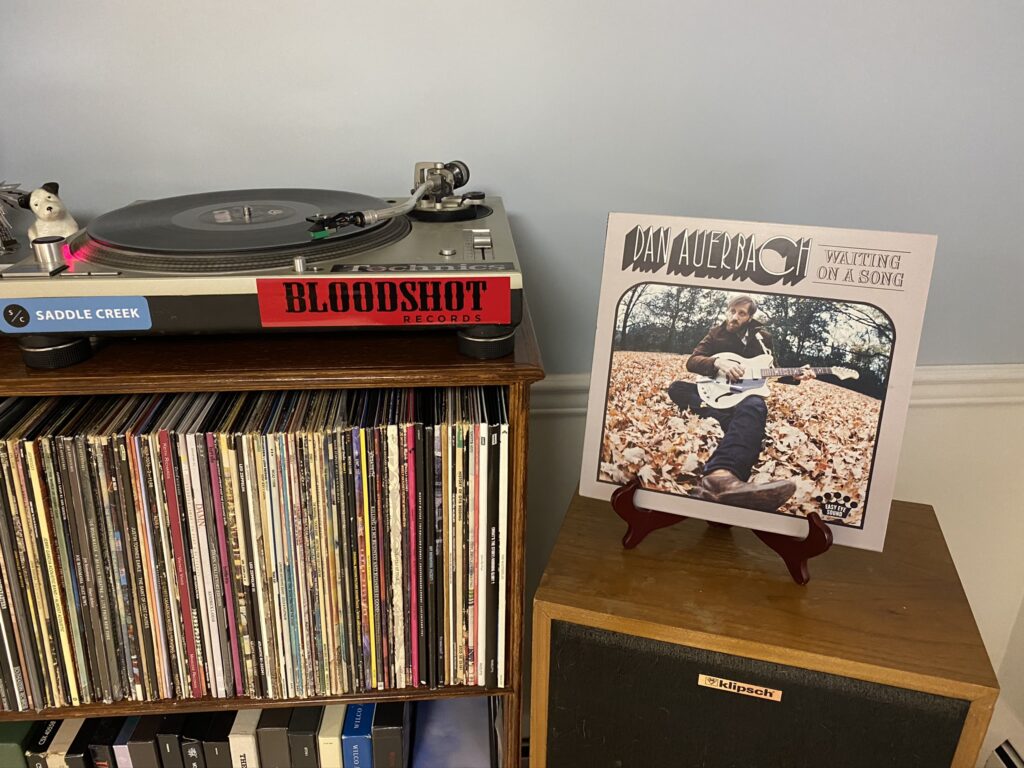 Last week I covered a new release from Bright Eyes, the first in 9 years! This week I put the fate of Saturday Spins back into the hands of the Discogs randomizer, thankfully it did not disappoint. It spit out one of my favorite albums in my collection, a solo effort by 50% of the blues/garage rock duo, the Black Keys. This week's record is an interesting mix of rock, Americana, and 70's style soul/psychedelic rock.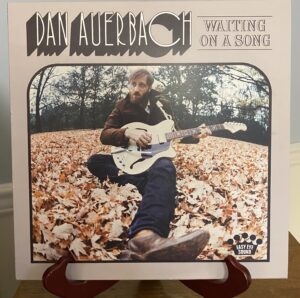 Dan Auerbach
Waiting on a Song
2017
Commentary
This is Auerbach's second solo effort and by far the best one. Copies of his first solo album, on vinyl, are scarce and worth quite a bit, but the music on Waiting on a Song is better in my opinion. From start to finish this album is truly a masterpiece. I have already discussed my bias, listing it as one of my favorite albums that I own, but I consider this better than anything even The Black Keys have ever released.
The artwork is very reminiscent of those old seventies rock records or compilation records ubiquitous during that time when vinyl was king. This copy also came with a neat poster as the liner notes that has the cover on the front and lyrics/credits on the back. You can see that way down below.
The back is a photo of the personnel on the album, if you look closely enough, you'll spot John Prine, who also makes an appearance in one of the music videos. Speaking of which, there are four music videos that were produced for this album, but no singles were released in the United States. No fancy colors or anything here, but ten great tracks. Perfect from start to finish.
Track by Track
1. Waiting on a Song
The first track was the only single on the album, and only released as a single in the UK. It is a very melodic and folksy song. Very well written though. The accompanying video is an extended vignette about a group of dudes who are presumably in their final summer before college. It is basically follows their exploits, couple of celebrity appearances, John Prine and Hayley Orrantia.
2. Malibu Man
I wouldn't go as far as to say this entire LP has a somewhat "California Sound," but this song most definitely does. I mean, Malibu is in the title. Anyway, it is a fun song about an east coaster that moves to Malibu and, well, becomes a Malibu Man. Some of the lyrics do a better job of explaining what exactly that is.1
"I'm a myth of man; I ride the waves when I can
I make the music so people will buy it
I take pride in my ways, and my colossal paydays
I'm just an old-fashion retailers' riot."
3. Livin' in Sin
This one has a bit of a more Americana sound to it. Maybe a more correct description would be that it has a real T-Rex vibe to it. So, if there was such a thing as "Glam Americana," this song would be it.
4. Shine on Me
The coolest part about this song, other than the video which features Dan in some kind of intergalactic bumper cars match, and that it is catchy as hell, is that the Mark Knopfler plays guitar on this track. Auerbach is a decent guitarist in his own right, but in more of a utilitarian sense, Knopfler is a legend.

5. King of a One Horse Town
This one brings back that Glam Americana sound with layers of guitar, organ, and some choral background harmonies. It's a pretty good song and the video features a homeless looking dude wandering around what appears to be a ghost town out west. My first thought was Utah, and sure enough, I looked it up and it was in Utah.
6. Never in My Wildest Dreams
After several rockers, this track calms things down a bit with some ukulele and soft horns. It is a very good song and really does a great job of starting the second half of the album off.
7. Cherrybomb
Usually I let y'all know which song on the album I cover is my least favorite. Well that ignominious honor goes to this song. While not awful, it reminds me a lot of the music (the guitars melody) from the first mission in the N64 game, Goldeneye. Seriously. Otherwise it is simply a standard psychedelic rock journey.
8. Stand by My Girl
For those of us that are happily married, this song really hits home. It's a pretty good song about a dude that will stand by his girl no matter what, because if he doesn't, she'll kill him. The video is a lot of fun too, check it out.
I'm gonna stand by my girl, don't think I won't
I'm gonna stand by my girl, because she'll kill me if I don't
I said she'll kill me if I don't
9. Undertow
Another song that really gives off a 70s soul vibe. Again, brilliantly engineered and layered instrumentation that doesn't let one sound rise above. Even the vocals are even. Some rock in modern times has really pumped up the volume so to speak, often relying on heavy guitar with very simple arrangements, sometimes that's all it takes to make a good song. More often than not, especially w/r/t spinning vinyl, it is good to have smoothly layered music so one can pick up every sound. One of my favorite examples of this is Sinatra at the Sands, which sounds so great on vinyl, it almost feels like you're in the room.
10. Show Me
"Show Me" is at its core a love song, but our songwriter wants the object of his love to meet him halfway and show him that she is willing to put the effort in. This one has elements of soul and Americana and is very up-tempo and fun. A good last song to round out a fantastic LP.
Fun Stuff!
Here is the poster I mentioned supra, note the back lyric sheet/liner notes has a legend for the cast of characters on the back of the album jacket: