Dear RNC: This Guy Is NOT Your Friend!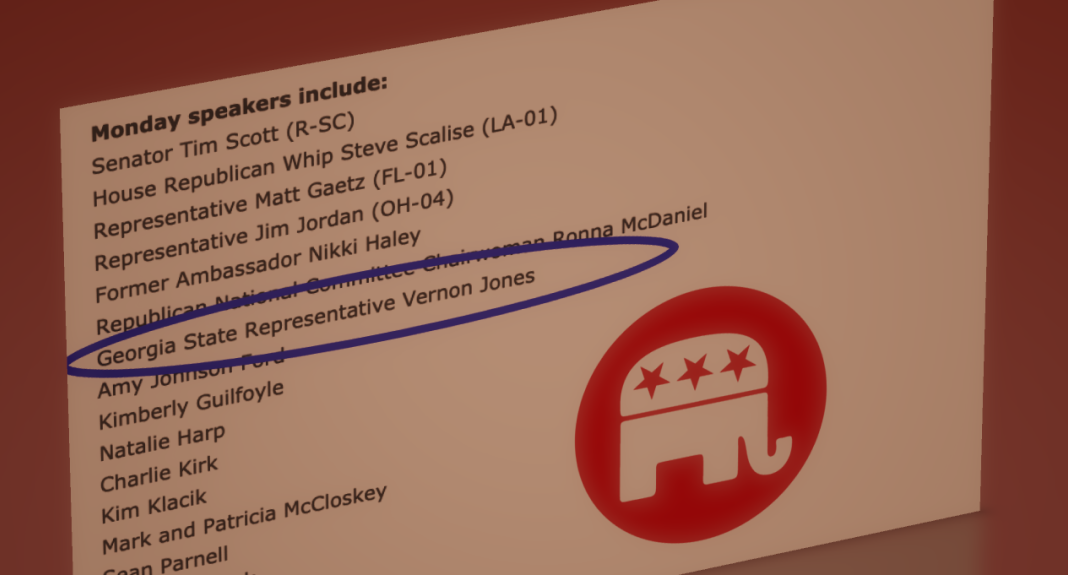 So, the RNC virtual convention is getting revved up this week and everyone is talking about the list of speakers. Matt Gaetz! Kimberly Guilfoyle! That gun toting couple from St. Louis! But one opening night speaker caught my eye: Georgia State Representative Vernon Jones.
Vernon Jones, for those of you fortunate enough not to live in Dekalb County, is a long-time political operative who has left controversy in his wake wherever he went. As County CEO, he lost a lawsuit for firing 2 white parks department workers so that he could replace them with black ones. He has been credibly accused of rape. He commented that a transgender city councilwoman "might be a man one day and a woman the next, I don't even know who you are." He once called a friend of mine "one of those DUNWOODY BOYS." ("Dunwoody boy" being code for rich white guy.) After he left office, a grand jury recommended an investigation into allegations against Jones of bid-rigging and theft, but our former DA refused to pursue it. He vehemently opposed ethics reform in the county. And his last election was mired in controversy over whether he actually lived in the district.
So why in God's name is a lifelong corrupt Democrat speaking on opening night at the Republican convention? Well, having finally burned all his bridges with the Democratic party, Jones has suddenly come out as a Trump supporter! He's been playing the victim and the naive right-wing media has been eating it up. Those mean old Democrats! Turning their backs on poor old Vernon just because he likes Donald Trump!
Honestly, the Georgia Democratic party should have kicked this guy to the curb years ago. He's been an embarrassment for years, costing the taxpayers thousands in lawsuits, and who knows how much through the corrupt bidding process. But the GA GOP should know better than to roll out the welcome mat for this joker. Sadly though, in their desperation to show black support for the president, this guy has become their hero. He was invited to speak at the monthly Central Dekalb Republican Women breakfast last week and the party chair gushed that people drove hours to see him and that he received a standing ovation. She told the Atlanta paper "He feels that his party has taken for granted their base and forgotten their original core values, leaving them behind in pursuit of voters who support an extreme and progressive platform."
No, he doesn't. Having run out of people on the left to scam, he's turned to the right and found a whole new set of gullible supporters. The RNC shouldn't let this guy in the door, much less make him a convention speaker. At least they have the excuse of not knowing (or caring) about his past. Dekalb County Republicans do.
And they should know better.