Sunday Spins: The Texas Gentlemen
Saturday is so yesterday, today we're gonna celebrate Sunday Spins. I am also gonna cover a band that I recently discovered and have listened to nonstop since. Last week, I dug deep onto my collection and pulled out three of my weirdest records. This week's LP has an added bonus, one that I can't say I have ever seen on the inside of a record jacket, a board game.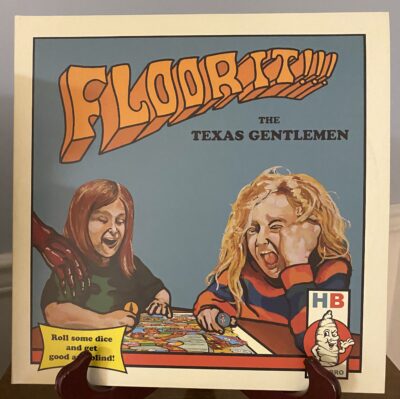 The Texas Gentlemen
Floor It!!!
2020
Commentary
Do you like Little Feat? The Band? Early Sir Elton John? Then you will for sure like this little band from Texas1. They originally were the backing band for Kris Kristofferson and Willie Nelson before striking out on their own with a unique blend of southern rock, country, swamp rock, blues, and funk. Floor It!!! is their second release and I gotta say, this LP has quickly shot to the top of my "best of" list for 2020.
The artwork is pretty cool, it has a little logo featuring a doobie dubbed "Habsbro." This is because, as previously mentioned, the inner part of the gate fold jacket opens into a board game called, Floor It!!!.
The people (kids?) depicted on the front playing Floor It!!! are credited as "The Brothers Montgomery" in the credit portion of the jacket. Before we get to the music, let's talk about Floor It!!!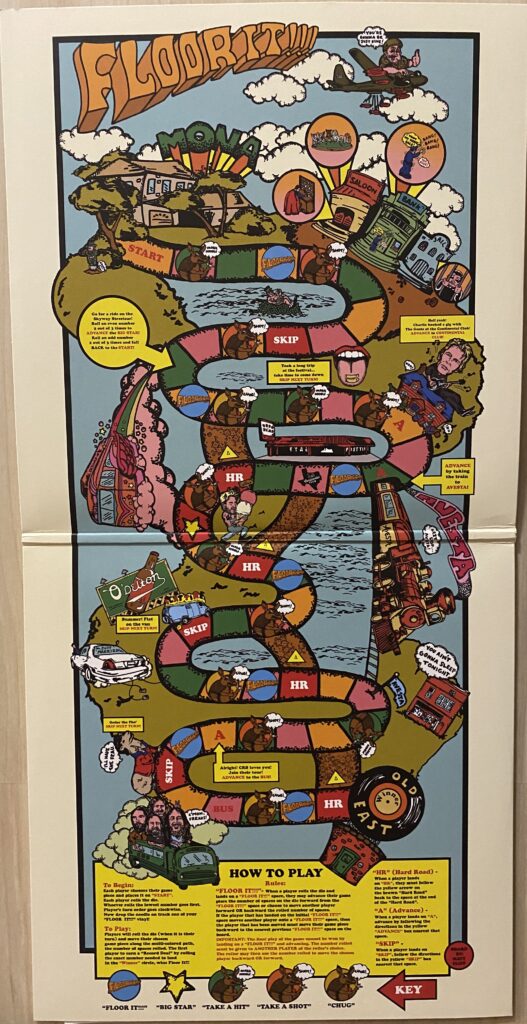 So, Floor It!!! is a game for 2-8 players who are 21+ because at its most simple distillation, it is a drinking game. The object of the game is to roll a six-sided die and move your piece along the board to get your record deal. There are varying obstacles in the way such as the "HR" or "Hard Road" spots that force you travel backwards. There are also spots that allow you to advance, aptly named "Floor It!l!" spots.
You can't reach the finish line via one of the spaces that allows you to advance passed your dice roll number and you can't finish unless you roll and exact number to finish. If any of those occur, you have to give your roll to another player of your choice.
There are also little spots along the way with an armadillo that compels you "TAKE A HIT," "TAKE A SHOT," or "CHUG." I have not attempted this game as of yet, and I feel as if you'd be pretty messed up by the end if played with the substances those three spots compel you to use. Roll some dice and get good and blind!
Tracks I Think Are Great
I was thinking of doing a track by track break down, but there are 14 songs on this LP and three of them are instrumentals. I don't have anything against instrumentals, I just figured your time here would be better spent with me hitting the highlights. The instrumental tracks are "Veal Cutlass," which is sort of like an intro track, "Dark End of the Tunnel," which sounds like an addition or homage to "Terrapin Station," and finally, the funky "Bare Maximum."
[youtube https://www.youtube.com/watch?v=PaHCt-4WiPQ]
My favorite track by far is "Train to Avesta," which is a very melodic song with an excellent hook. I feel like I have played it 10,000 times in the last week alone. Another one in a similar vein is "Skyway Streetcar" which sounds like if Gram Parsons and Jerry Garcia had a band and toured nonstop.
A couple of the longer cuts, "That Ain't Nothin' New," title track, "Floor It!!!," and one of my other favorites, "Charlie's House," have me spinning this record nonstop. "That Ain't Nothin' New" is a solid jam that I wish never ended. It combines some jazz, a little bit of prog, before reverting to that Little Featesque southern rock sound–all of which are sprinkled throughout the song, of course, but the way the band molds it together–seamlessly–is impressive.
"Charlies House" is a song that sounds somewhat alt-country, but somewhere in the middle there is a segment with some strings that absolutely blows my mind. The LP closes out with the title track, "Floor It!!!" which is a straight rocker through and through. The chorus ringing with the refrain,
Floor it!!! Floor it!!! Get there on empty, get there on time.
[youtube https://www.youtube.com/watch?v=SF2_zD9Lsf4]
Finally, the songs "Sing me to Sleep," "Easy Street," and "Hard Rd." are all solid tracks. Most of them are reminiscent of 70s rock with the modern sound that these guys have seemed to perfect, on only their second album! This is a record I would recommend to anyone and everyone. You don't even need to get smashed and play Floor It!!! the game to enjoy it, Be on the lookout for a future Saturday Spin where I plan to cover their first effort, TX Jelly.