The Time Mike Prevented A Shark From Beheading A Moose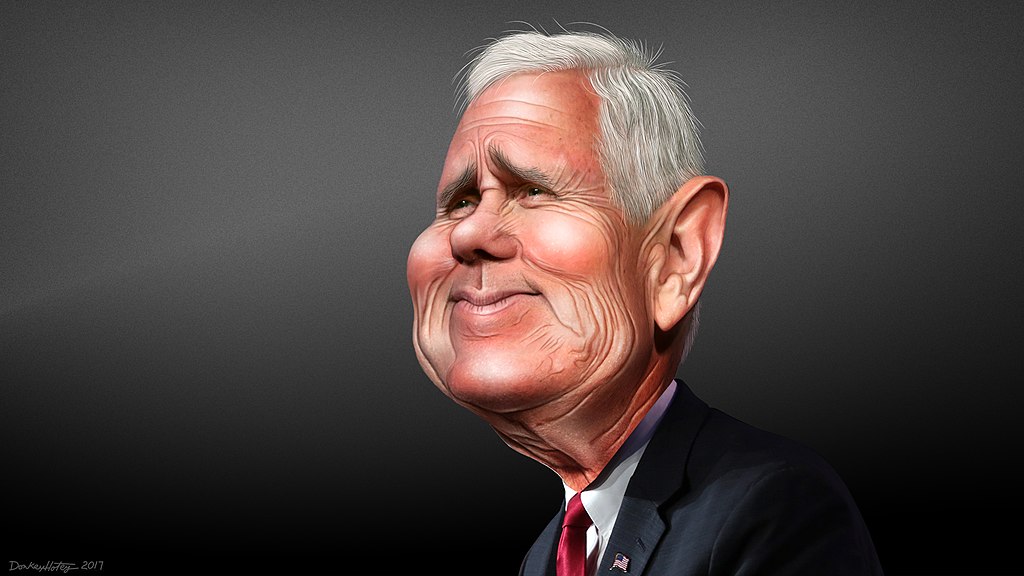 The following story is meant to be humorous, and is not intended to represent the real-life Mike Pence. As far as we know he could, in fact, use his fingers to count to ten, were it necessary.
---
As striking as it sounds, Michael Pence did indeed once prevent a moose from being beheaded by a shark. Pull up a chair by the fire; it's a tale for the ages. This took place while Congress was in recess, so Mike was free to join our friend Hoff and me in visiting Richards on Cape Cod.
Richards is a great one for the surfing. So often were the times we watched such classics as The Endless Summer and Crystal Voyager at university that Michael and I developed a great love of the surf music, in point of fact we formed a band of that sort, but that takes us into other stories not of this moment. No, it was no surprise to those who knew him then that Richards would bring himself to the crashing of the waves and the surf as often as was humanly possible.
Thus, that fateful visit, we found ourselves out at just the tip of Cape Cod. A more beautiful example of the insignificance of the land in the face of the sea you could not ask for: To the north lay the whale-grazed upland of the Stellwagen Bank; to the south stood the slender forearm of the Cape herself; to the west was the pleasant, eddying bowl of the Gulf of Maine; to the east, the unpacifiable Atlantic herself, all winds and ice-floes and the old sea chanties.
I'm in great awe of the sea. With a ship beneath me I'd've gone to her man and boy, but I do not, you understand, consider a surfboard to be a ship, by any measure. So, when Hoff and Michael and Richards were out at the surfing I stayed ashore, surreptitiously assessing the skills of your men the lady lifeguards. I take a great interest in the public safety, don't you know? Who watches the watchers? Why, Bryan O'Nolan himself, that's who!
I also took a great interest in the local population of Grey Seals. I'm a great man for seals and otters and all sorts. Such personality they have! Your men the seals were quite about, this day; very playful, almost cantankerous.
The scream I heard froze everyone at the beach. There was a scurry in the water and a geyser of blood and before I knew it, Mike was before me with the tip of his right middle finger spraying blood like Bernini's Fontana del Tritone in the Piazza Barberini in Rome.
"Shecking Alefridonk!" Mike moaned, wordlessly.
There was no hope of finding the missing bit so we wrapped the wound up as best we could and bore him to my car, the last eighth of his count to ten lost amongst the waves.
But where was Richards? Come to find out he'd commandeered a sand-castle builder's shovel and was angrily cudgeling to death your man the tiger shark that'd done it.
"Richards!" I cried. "We've got to take Michael to the hospital!"
He gave the bastard a kick in the head and was in the driver's seat in a flash. I'm little use in a crisis most of the time and besides, he knew what you call the lay of the land much better than I. We careened down highway and byway, swerving in and out of traffic, Richards waving to the policemen who all seemed to know and think well of him. In point of fact, before long we had a police escort.
"Richards," said I in wonder. "I've never met a man who was so well known to the local law enforcement who was also so clearly well liked. I am very impressed."
He merely smiled, the story behind which he clearly would never tell.
We arrived at the Emergency Department of the nearest hospital and were immediately shown into a room. Richards was in a panic.
"Now, Micahel," I said. "Be sure to keep it elevated above your heart."
"And Mike!"
"Stop with the shouting, Richards. Saints preserve us!" I muttered.
"Mike," Richards said, emotional but at least he'd stopped yelling. "I don't want you to get any blood on that beautiful Hawaiian shirt. Hold your hand out at arm's length."
At that very moment the physician's assistant entered the room.
"What seems to be the—" she was stunned into silence by the sight of Michael, spinning to face her with his right middle finger projected at arm's length from him and directed at herself.
"Fnock mnoff," Mike sputtered, waves of pain crashing on his personal shore.
"Sir! This is rude and inappropriate," she said.
"Mother!" he called for the Missus in his delirium. "Fugger."
"That's it," she fumed and turned and left the room, the door slamming behind her.
I could tell by the look on his face that Richards was scanning his fertile mind for a solution. But before he could find one, the Chief Medical Officer—said so on his name tag, so it did—strode into the room. Before he could even speak, Michael, uncouth finger thrust before him, was moaning again.
"Snabvavich," he cried and then he cried.
"You, sir," The stern Medical Officer said. "Will restrain yourself or you will have to be sedated or removed from this department."
"Bryan!" Richards said. "I think I have a solution."
Before I could enter into even preliminary discussions with him Michael made the issue moot.
"Kizmmass! Kizmmass!" He shouted and the whole department turned to us in horror.
Moments later we were back in my Reliant Robin Estate and Richards was driving like a madman through the streets.
"Dick," I shouted. "Where in the hell are we going?"
He used the hand brake to make a sharp turn at a stoplight in what you call a Massachusetts Hockey Stop.
"My seamstress."
Well, long story short a week later Mike was bandaged and recuperating nicely on Richard's loveseat.
"Richards," he said. "I'm thinking I need to understand these creatures, sharks. Despite—or, perhaps, because of—my recent experience, I suspect that they may be grossly misunderstood. There may be relevant legislation—"
At that point the telephone rang. I answered it. It was Booper, calling from our Investigative Headquarters. A great mystery had been reported. Beheaded moose had been found! Just the thing to distract Michael from your men the sharks.
"Michael," I said. "I'll brook no argument on the matter. You're coming with me to Lubec, Maine and you're to help me in an investigation. It's just what the doctor ordered."
He knew not to argue with me so lickity-split we'd chartered sailing ship and Richards had found a crew. Hoff would captain us up there across the Gulf of Maine himself. Richards would make arrangements for my car. Right Renaissance Men Hoff and Richards are.
In the lower forty-eight you cannot find a township east of Lubec. It sits on the Passamaquoddy Bay, an inlet of the Bay of Fundy, the great engine of the Gulf of Maine: Vast tidal exchanges, reversing falls, whirlpools. A short span from Lubec and you're in New Brunswick on Campobello Island. The Canadian White House. Franklin-bedam-Roosevelt's summer holiday spot. Gorgeous place; wonderful people thereabouts.
We pulled into a quiet dock just after the span.
Your man the Complainant was there with a contractor to help with the investigation—a friend of Booper's, I gathered—a man of few words known to us only as Doug Who Works Under Water. We met in a parking lot hard by the waterfront.
Mike asked if he could take over as lead on this investigation; I happily obliged.
"Alright, fellows," Mike said. "What's the case?"
"Well," the Complainant, a State Game Warden, said. "We've had a number of unexplained beheadings in our moose population lately. They're localized here, and the bodies are always found in the water."
"That would, I suppose," Mike said. "Explain the presence of our new friend Doug Who Works Underwater."
"Honestly, I can't say," said the Warden. "That was mere intuition on the part of Mr. McCarthy."
"I see." Mike was taking extensive notes.
"Have you," I ventured. "Found any of the captibus about?"
"The what?" the warden said.
"Heads. Have you found any of the heads and if so, where?"
Mike eyed me and gave a nod of respect, I being the more experienced investigator, of course.
"Nope," he replied. "Nothing. That's the real mystery of it, you see. Poachers will often take the head, but they'll take meat as well. And dumping what they don't want in the water? Well, that doesn't make a damn bit of sense. Not only is poaching a crime but so is letting a game animal go to waste. Now, I don't mean to step on any toes, but it looks to me we've got a killer here who just wants to kill for sport. Sickening."
Mike strode over to Doug Who Works Underwater and clapped a hand on his shoulder.
"Now," he said. "Mr. Doug Who Works Underwater, we need you to investigate these crime scenes to see what we can glean from them, as much of a fool's errand as that may seem. Any clue, no matter how small, would be a boon."
Doug Who Works Underwater nodded and we all boarded a ferry commandeered for the exercise. He and the Warden—the former by gestures and the latter in words and pointing—settled on and directed the Captain to the most likely spot for investigation, a relatively shallow spot—we could see the seaweeds and kelps growing up from the channel floor—and there we set anchor. Mr. Doug Who Works Underwater prepared himself and was over the side before you could say Doug Who Works Underwater.
Tense minutes passed and we saw nothing of your man below. An osprey circled in the blue air and dove. It took off with a fish—face to front, each by each—and flew to shore. Cormorants plied the surface, hunting for themselves.
Suddenly there was a frothing of the water and there hard by the boat was your man with a great shark in his arms. They went under again and, by the time they'd surfaced again, the Complainant had his gun out and shot the beast. Blood stained the water, but Doug Who Works Under It and the shark floated to the surface, the latter lifeless.
We heaved the bastard shark onto the deck. Doug Who Works Under Water made a scissors gesture.
"Rock!" I shouted, pounding a fist against an open palm.
Michael was there with a hand on my shoulder in an instant.
"Bryan," he said. "This is no innocent game of Rochambeau. No, I suspect he means for us to dissect this fellow."
A shark. Of course. In an attempt to distract Michael from his new interest in elasmobranch fish—that is to say, your men the sharks, as well as your rays, your skates and your sawfishes—I had led him straightways back to that very obsession.
They had the belly of it open quickly. And what they found was remarkable. There, in the stomach of the beast, was the head of a moose. It was unmistakable. A moose's head in a shark's belly. I was flabbergasted.
"How do our friends the moose usually feed in this area?" Mike asked.
"Dusk and dawn," the Complainant said. Then it hit him in a flash. "Sometimes I see them eating kelp offshore. I suppose if they got deep enough to swim, and the sharks—"
We gasped.
"—We hunt at dusk, my friend," Mike said. "We'll bring justice to these moose or my name's not Michael Aegisthus Pence."
The dusk was eerie. Softly lapping waves. The call of night birds. We all waited breaths bated at the rails. The moon reflected off the rippled surface of the watercourse known as Friar Roads. Then it came, precisely at Moose O'clock and just up wind of us a great Bull Moose waded out into the water.
Your man the moose grazed a bit and then went further out so that he was swimming, dipping his great head into the water to eat the kelps and seaweeds and whatever water greens there were there. Michael was ready with his rifle.
I saw it first, a shadow under the water with just the suggestion of a fin above it.
"There!" I said, pointing.
Mike fired.
The moose, spooked, did what moose do and continued in the same direction, only faster. Your men the mooses are not the brightest creatures in God's creation.
There was a darkening of the water and we knew Mike had shot it. We pulled up another shark carcass and, that night, had the most delightful shark sashimi in a cozy spot just north in Eastport.
Sometime I should tell you about the time Mike was forced to terminate an android of his own invention.
---
While most of the absurd ideas in Mr. O'Nolan's stories are solely the result of his frankly disturbed, and disturbing, mind, the predatory interaction of sharks and moose in Downeast, Maine is, in fact, not unheard of.