Weekend Plans Post: Colorado-Style Spaghetti Sauce Illustrated
I've mentioned that I use my homemade spaghetti sauce as my pizza sauce before and I've linked to this post in the past. However, since then I've refined the recipe and through trial and error, I've figured it out. I'm ready to share it with you all for real this time. You may not have someone allergic to onions in your household and so you will probably want to add a whole chopped onion to it if that's the case. If, like me, you have an onion-allergic person in the household, this recipe is good for you and yours.
First off, let's start with the ingredients: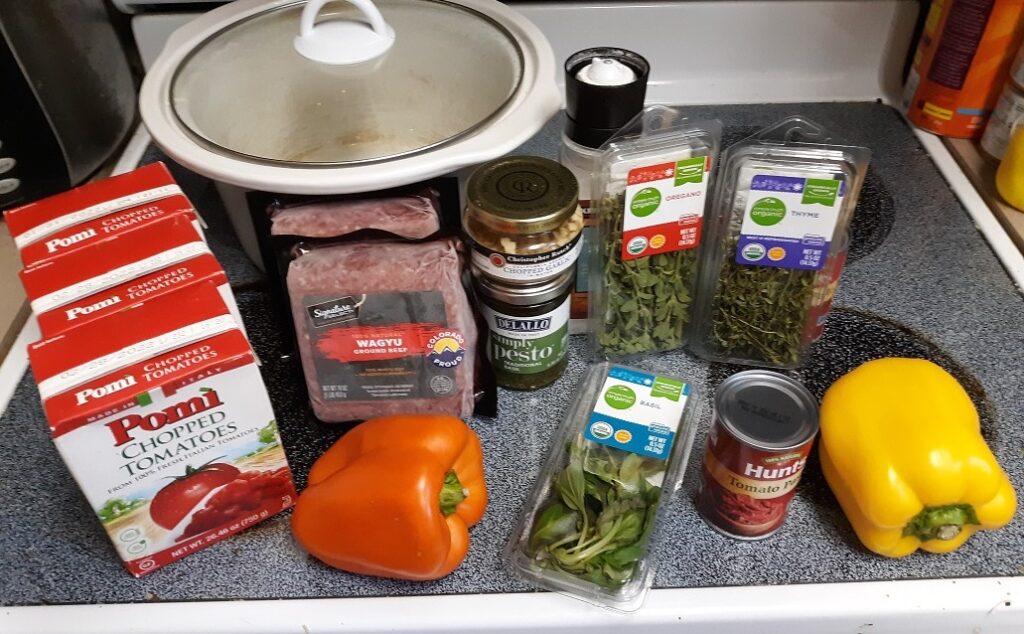 Three boxes of Pomi Chopped Tomatoes
Two pounds of ground beef (don't get one that is too lean) (you can use sausage if you prefer, I don't want to tell you how to live)
A couple of bell peppers
Some chopped garlic
Some pesto
A couple of cans of tomato paste
Fresh thyme
Fresh oregano
Fresh basil
Salt
Not pictured: Cooking Spray, Garlic Salt, olive oil, finishing shredded parmesan
Okay, first off. Hit your crock pot with some cooking spray. Get a nice sheen in there.
Then get and add your garlic. (I got a spoon from the silverware drawer and put a couple big spoonfuls in there.)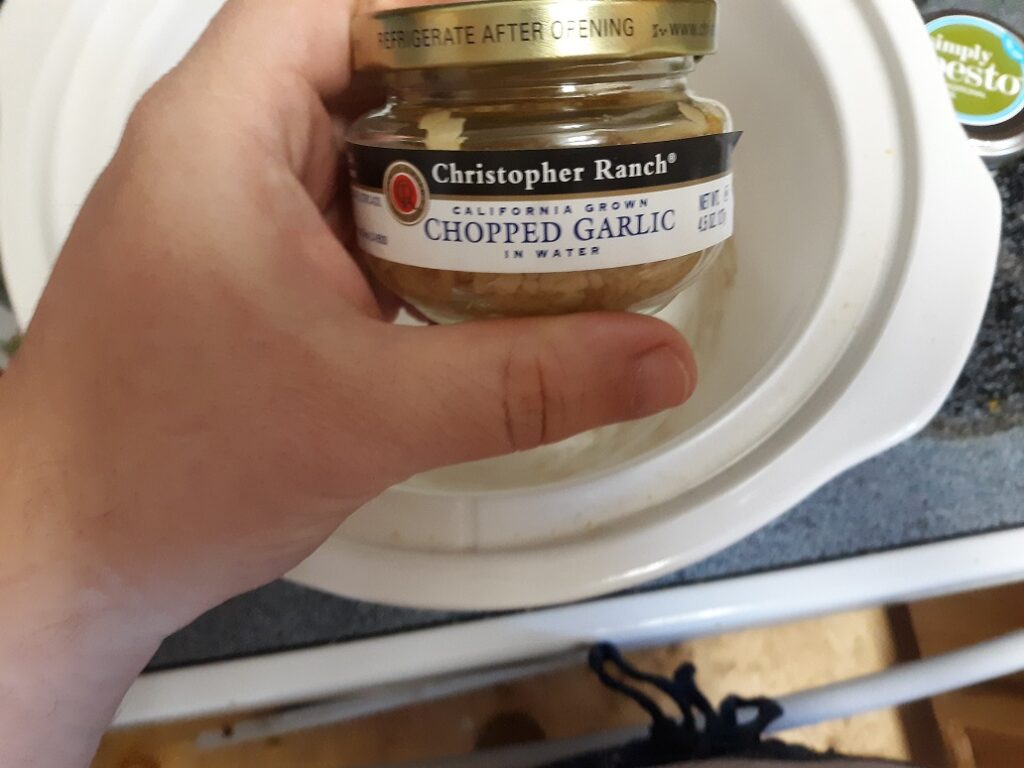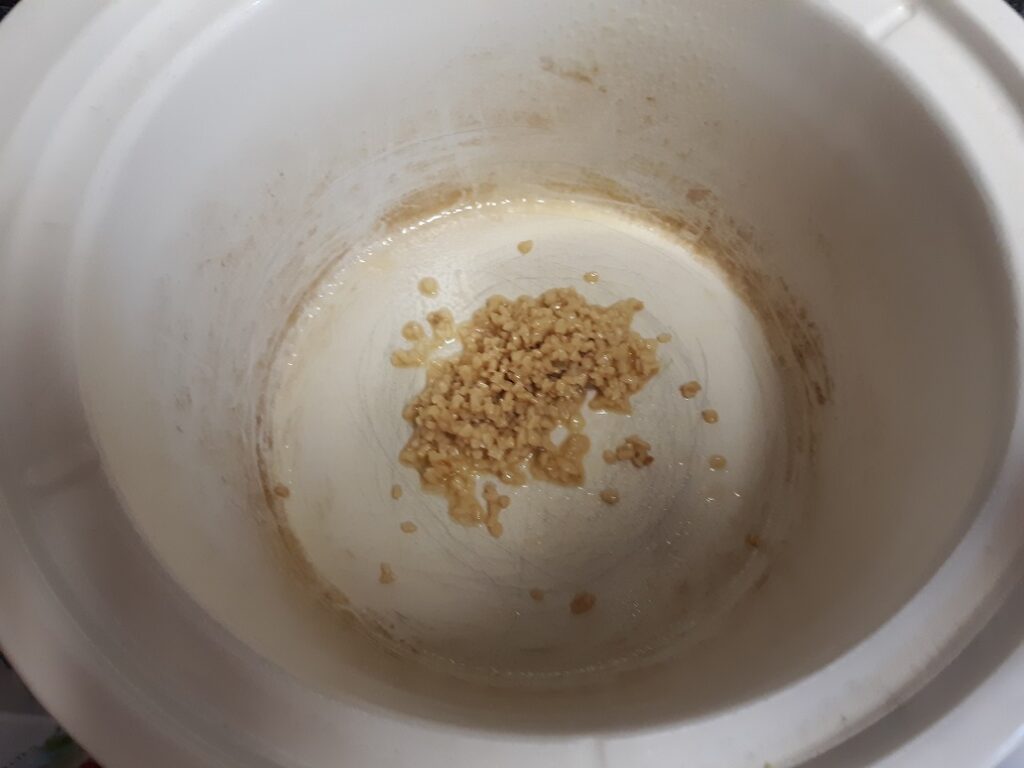 Then grab your pesto. Here's what surprised me about the pesto: I looked at the servings per container? This jar has FOUR.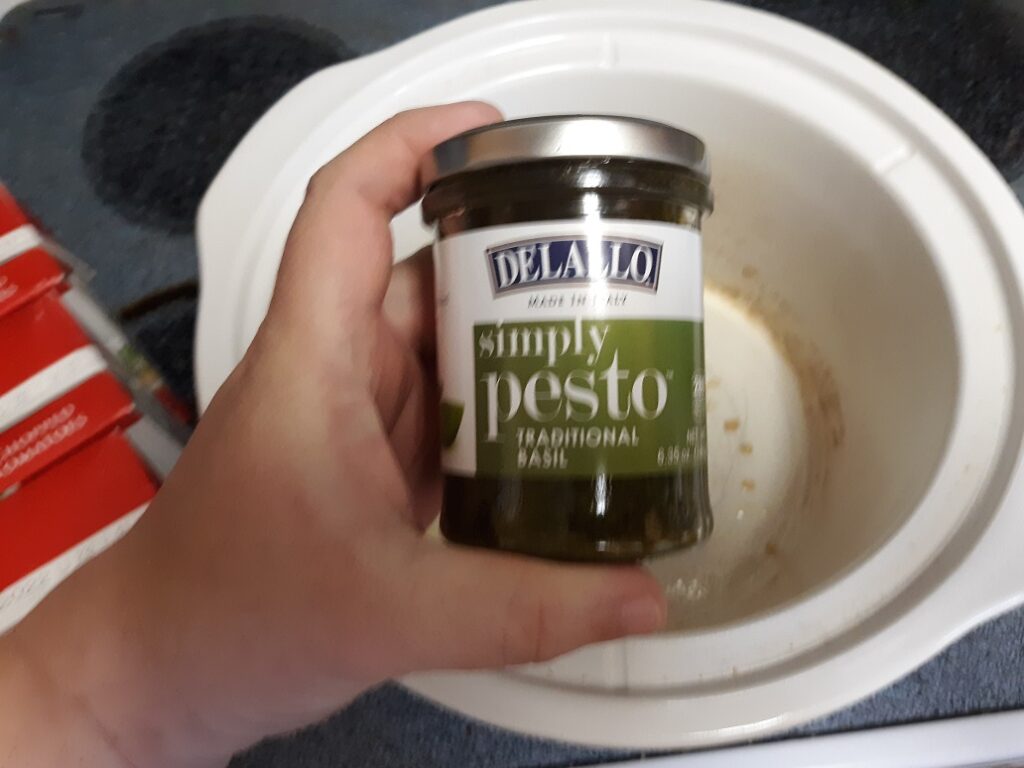 I probably should have put the entire jar in there, knowing it only has four servings, but instead I only put half the jar in there.
Now get your box of tomatoes. Pomi tomatoes are exceptionally good quality. They're what my boss used back at the restaurant. They're therefore what I use.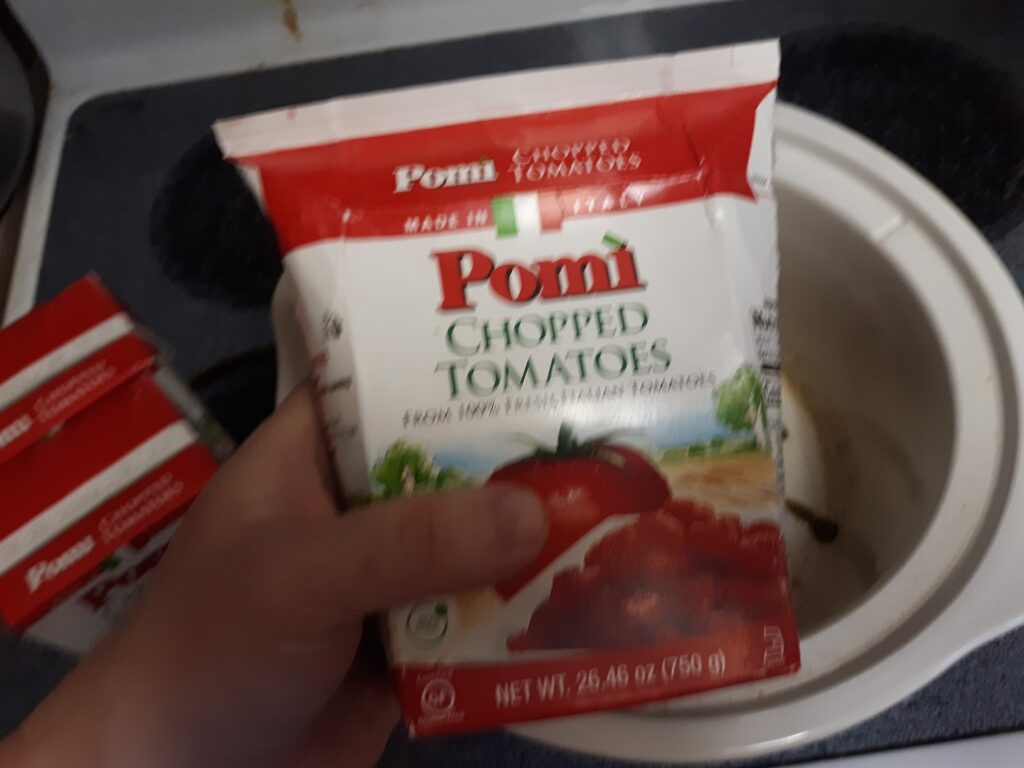 Get your kitchen scissors and dump two of the three boxes into your crock pot. (Warning: May make rude noises.)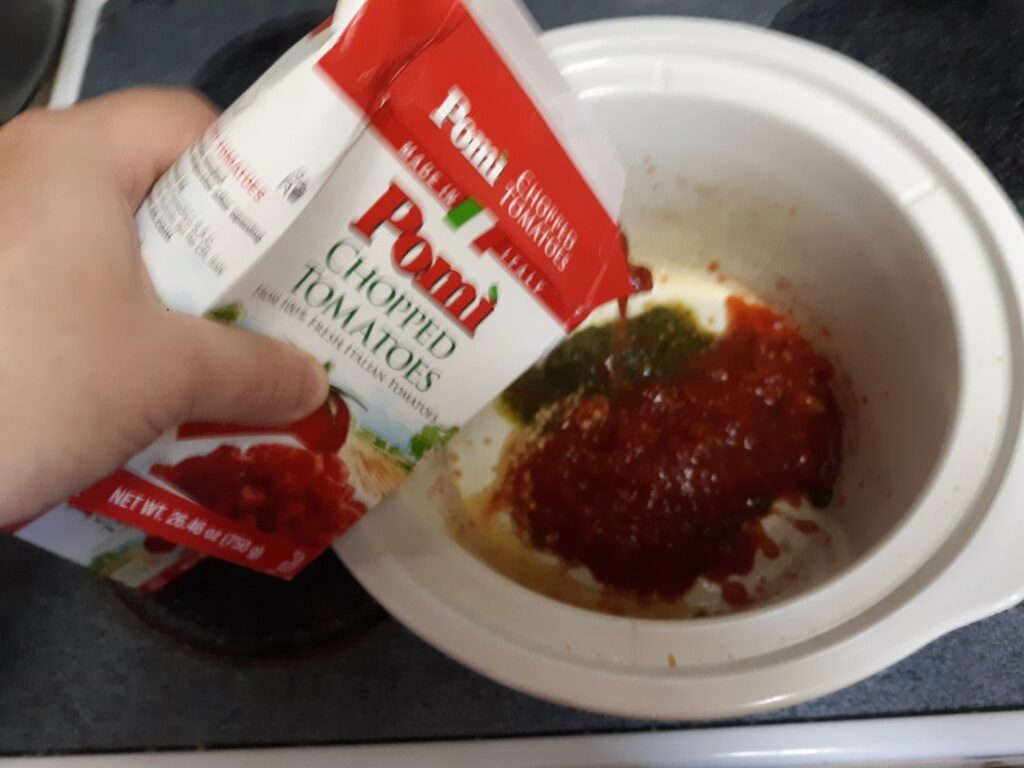 Then, once two of the three boxes are in there, it's time to start peeling leaves off of your fresh herbs.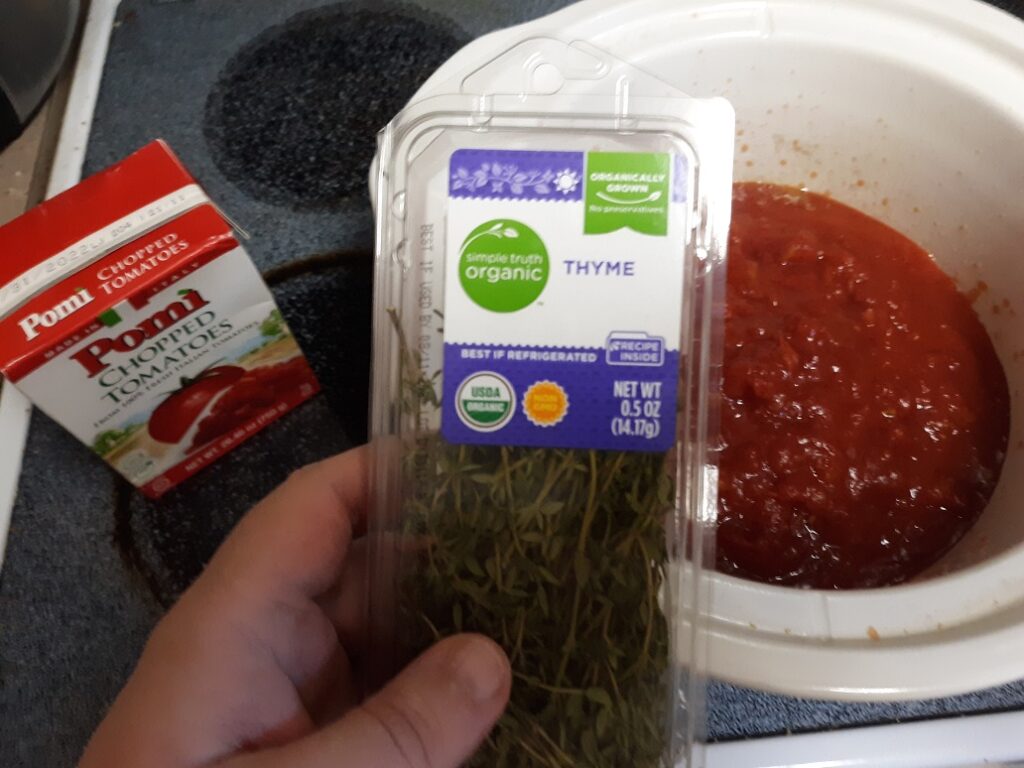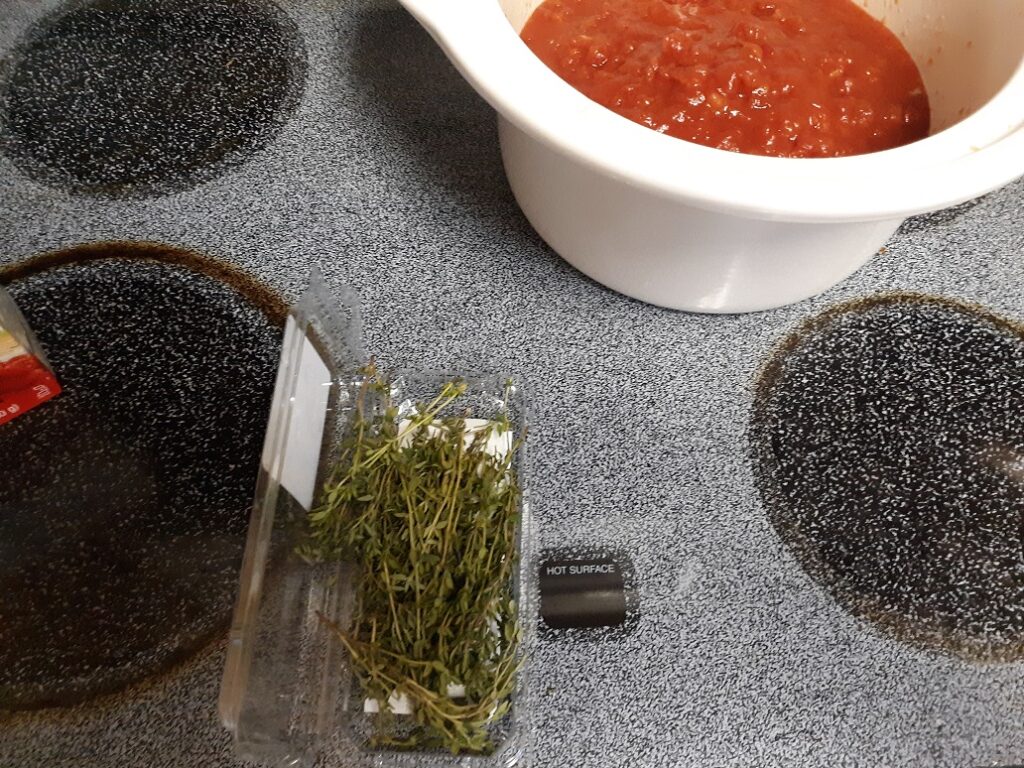 For me, this is cooking as soulcraft. I think about each leaf, I think about the stuff I'm going to make with the sauce, I think about the other people who are going to eat the sauce, I think about how good the sauce is going to be.
Then I notice that I am one stem into the exercise.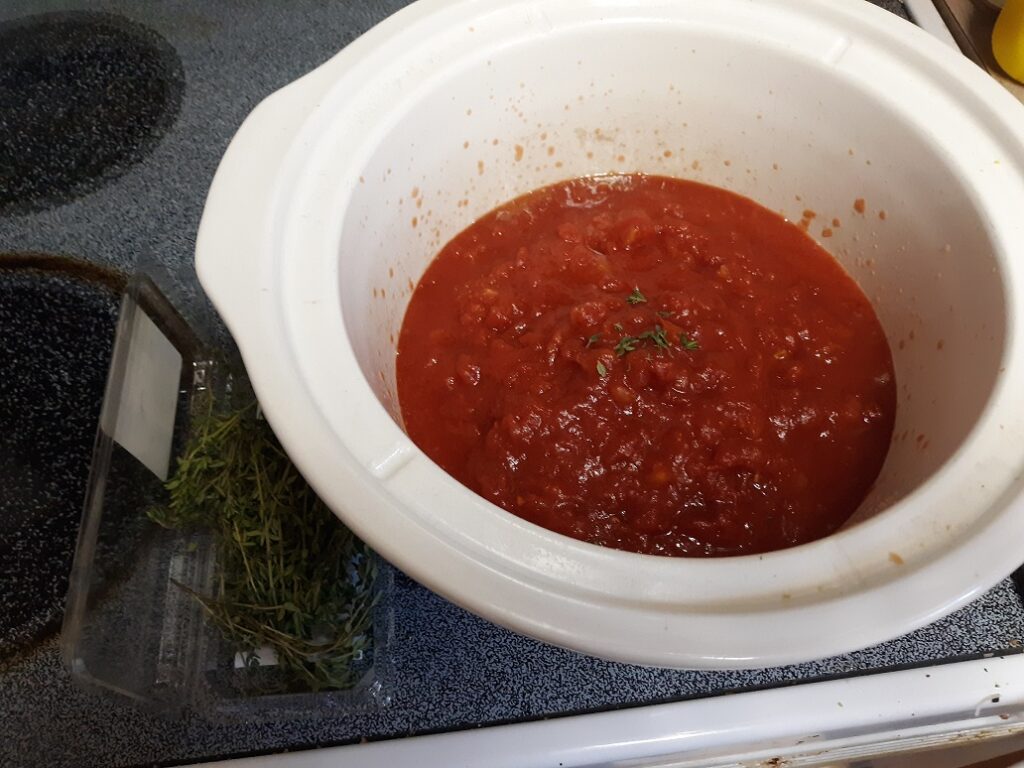 Sigh. Do all of them. Do it all anyway.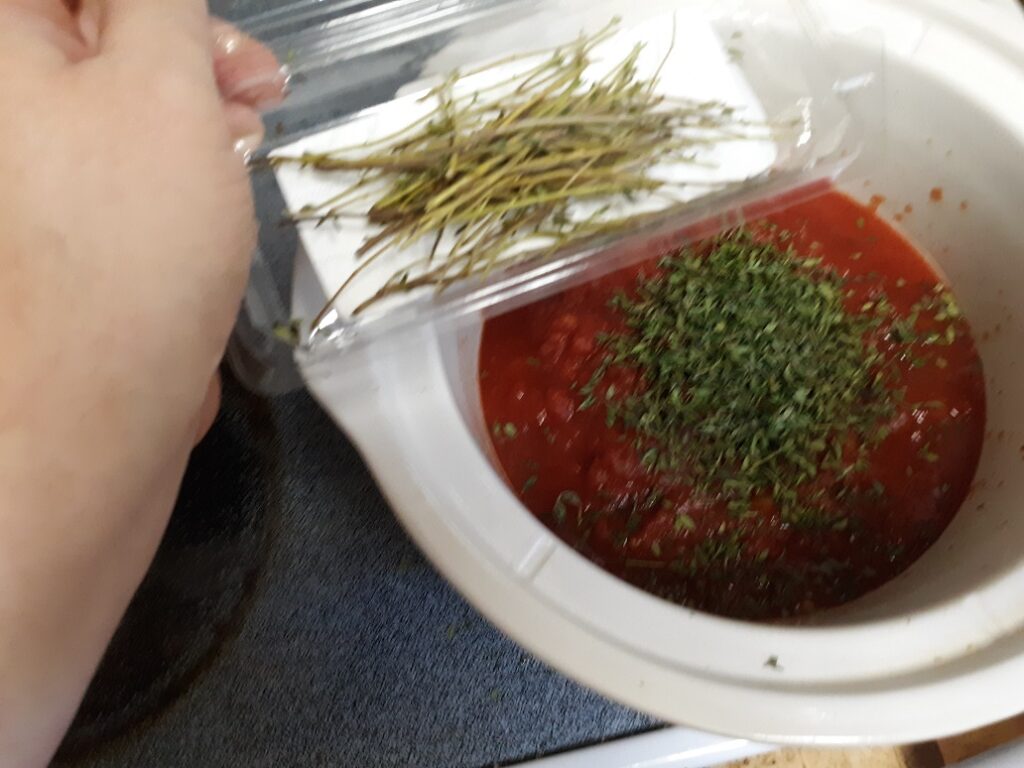 And then do the exact same thing with the oregano.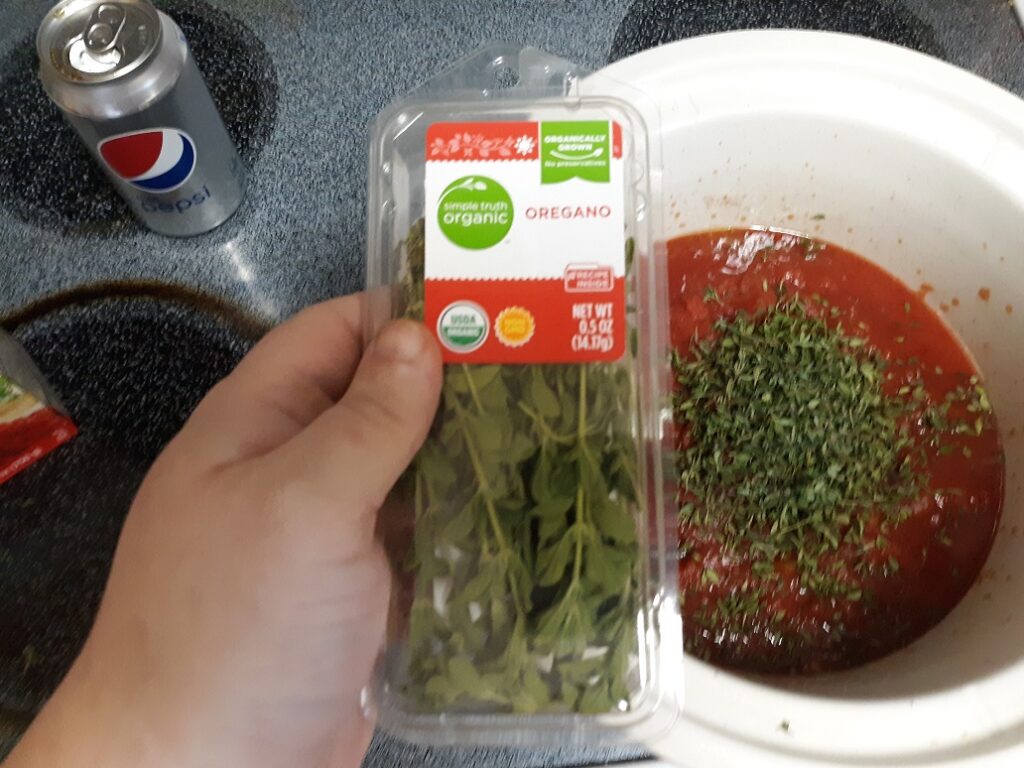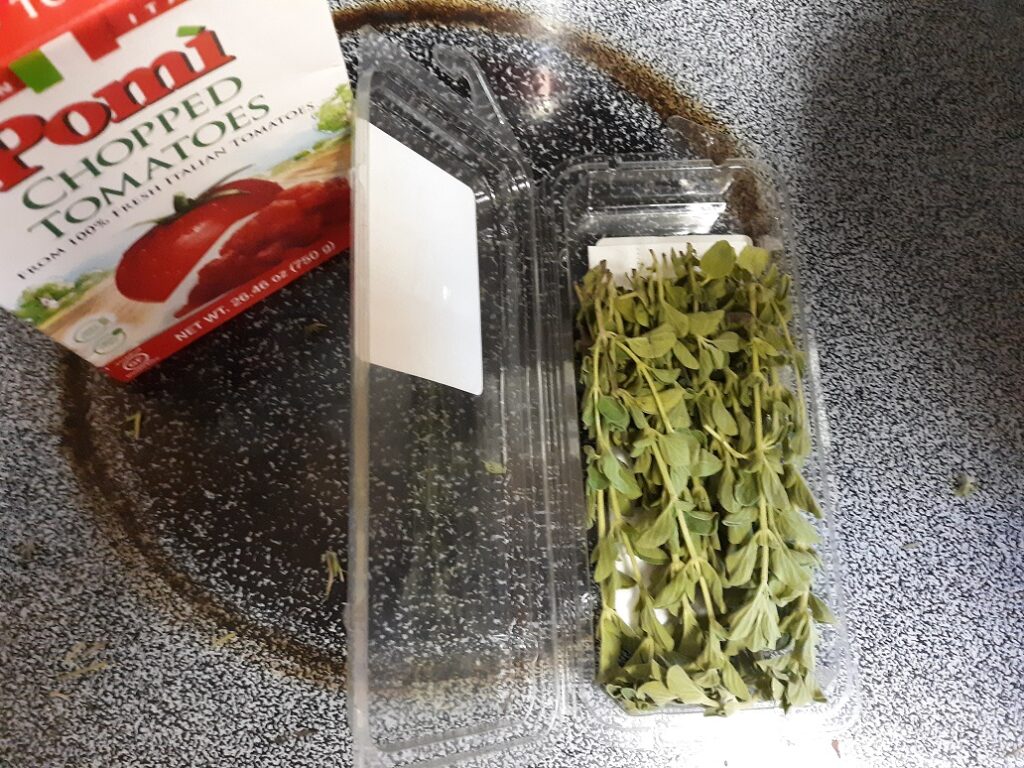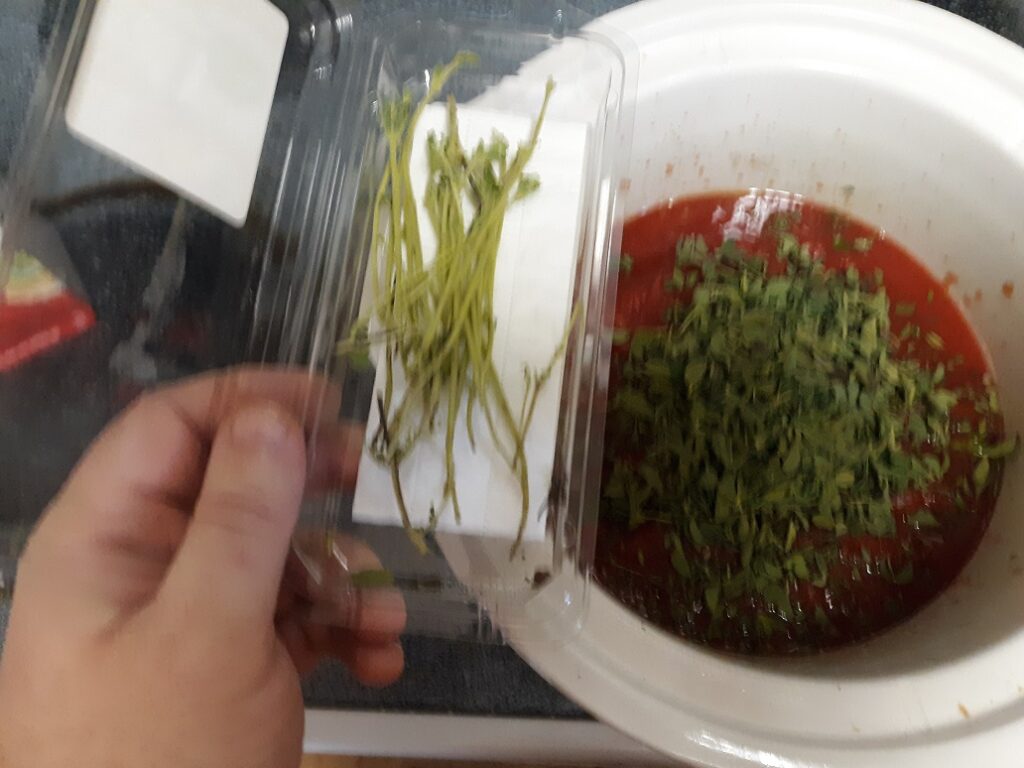 Jaybird, I hear you ask. Could I not instead use dried spices? Would that not save everybody a lot of time?
Yes, you can and yes it would.
Once those two herbs have been put into the pot, give them a light dusting of salt.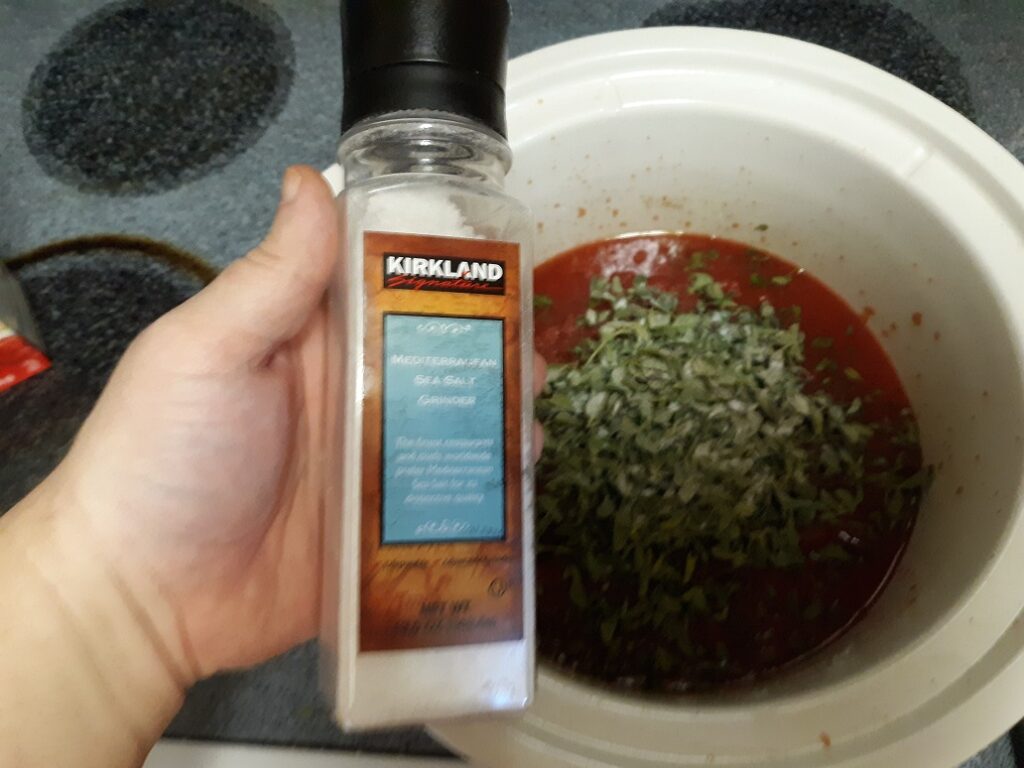 And then get your last box of tomatoes and dump those in there on top of your lightly salted herbs.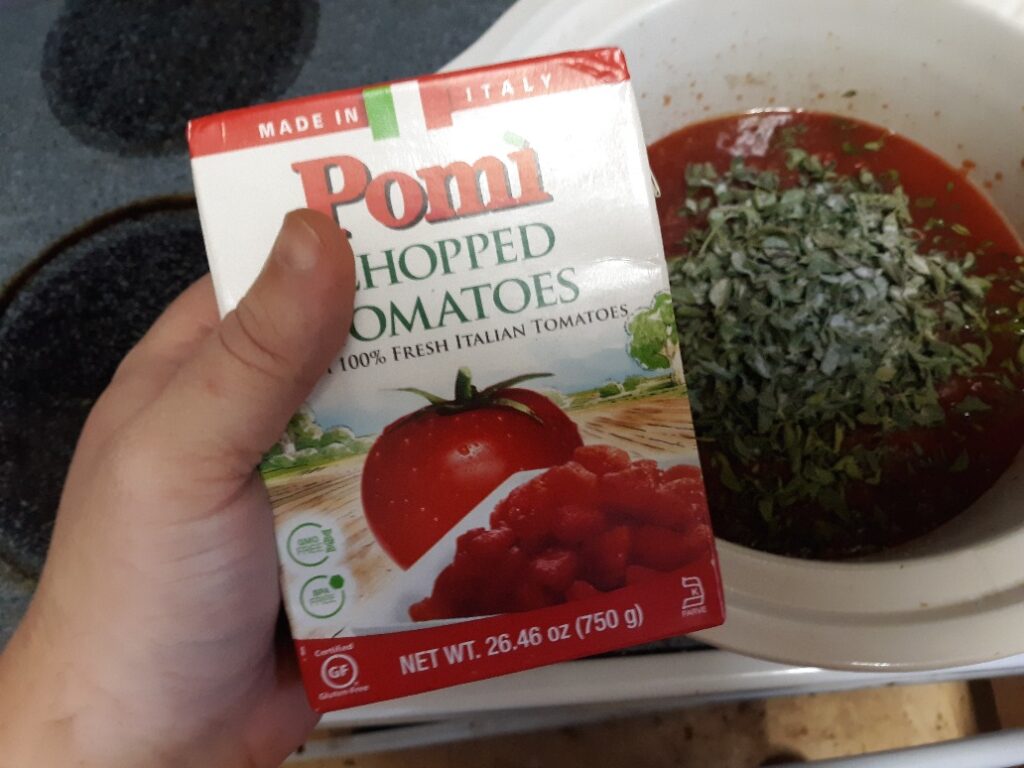 Now put your crock pot either in the electric thingy OR in the fridge to sit overnight…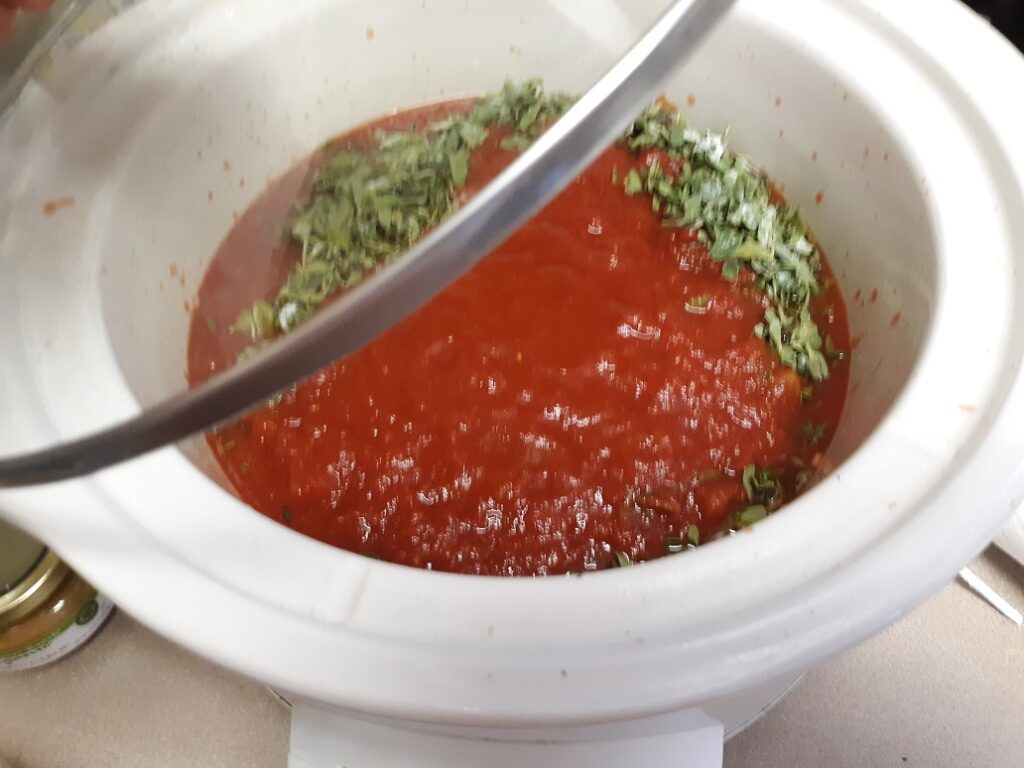 Once you are ready to have the stuff cook (and you've got about a half hour to 45 minutes to fry up some hamburger), put it in the electric thingy and put it on 10 hours, low and slow.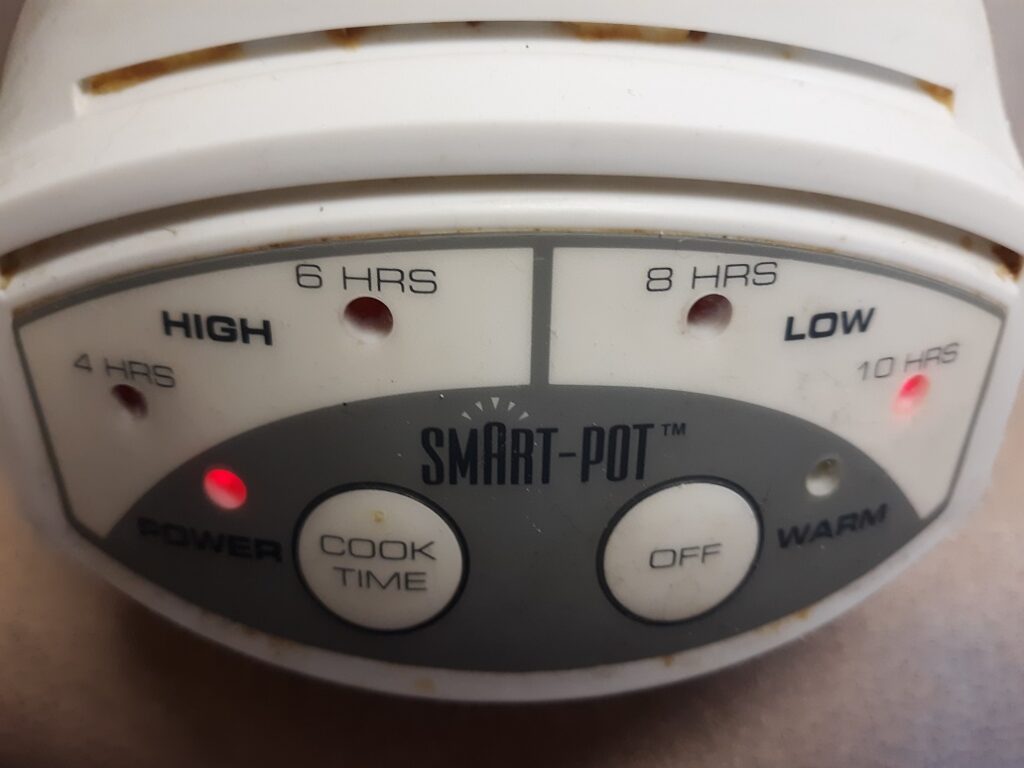 So salt up your frying pan with some Garlic Salt.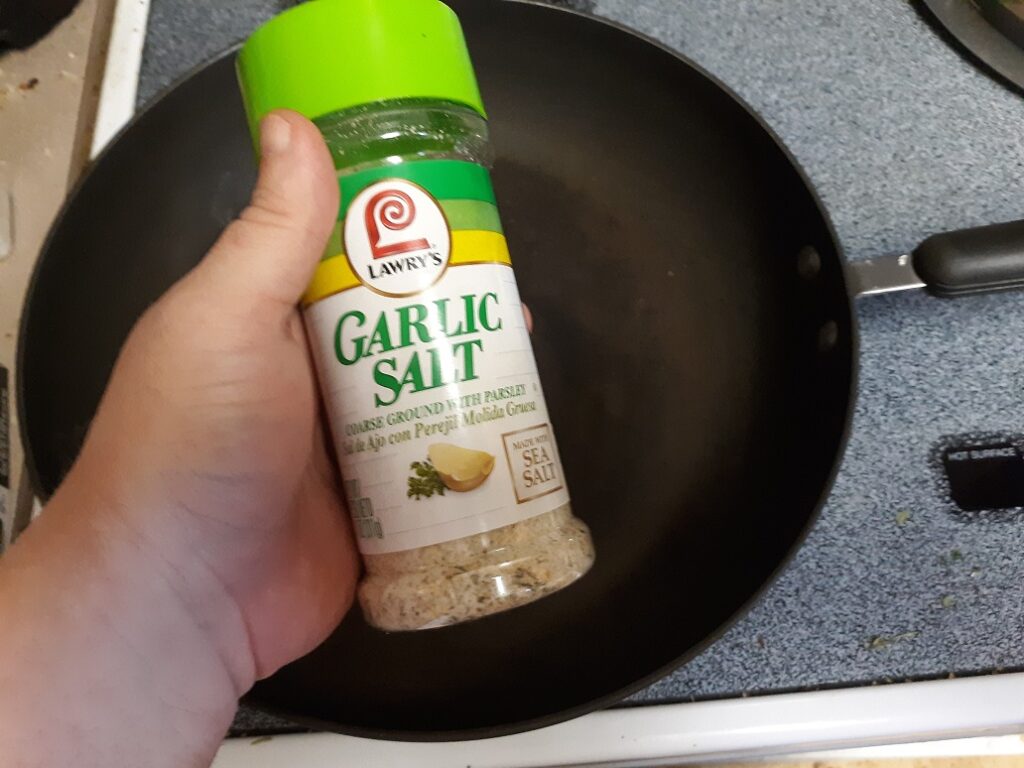 And dump the rest of the garlic into the pan too. We're going to fry it with the meat.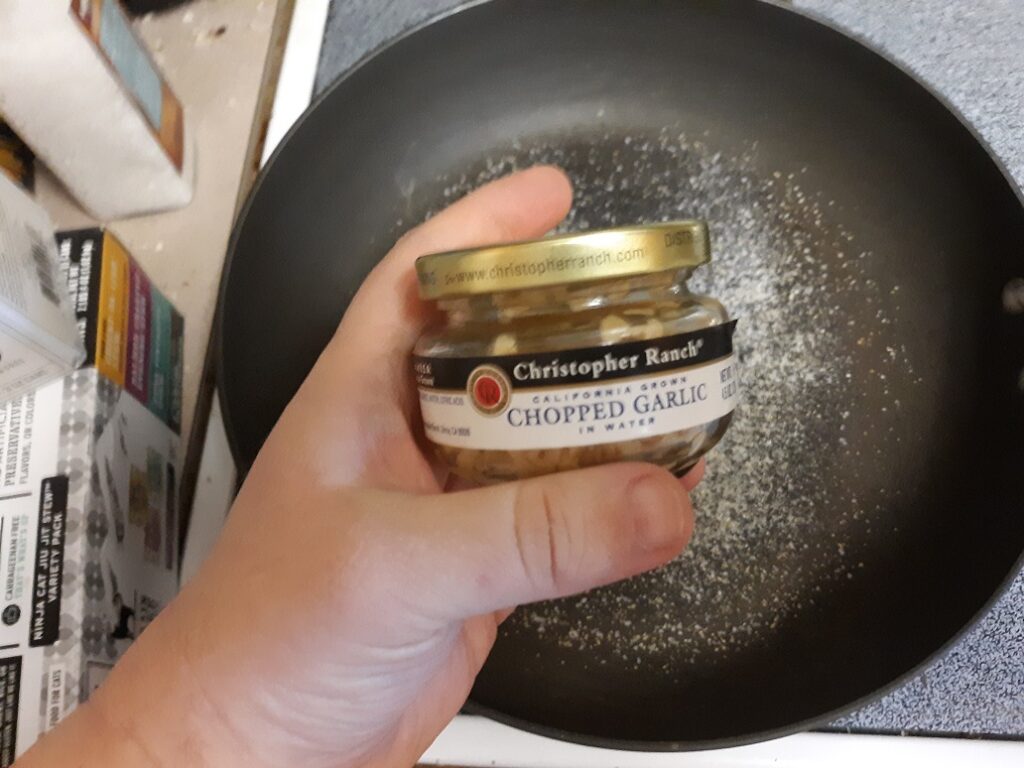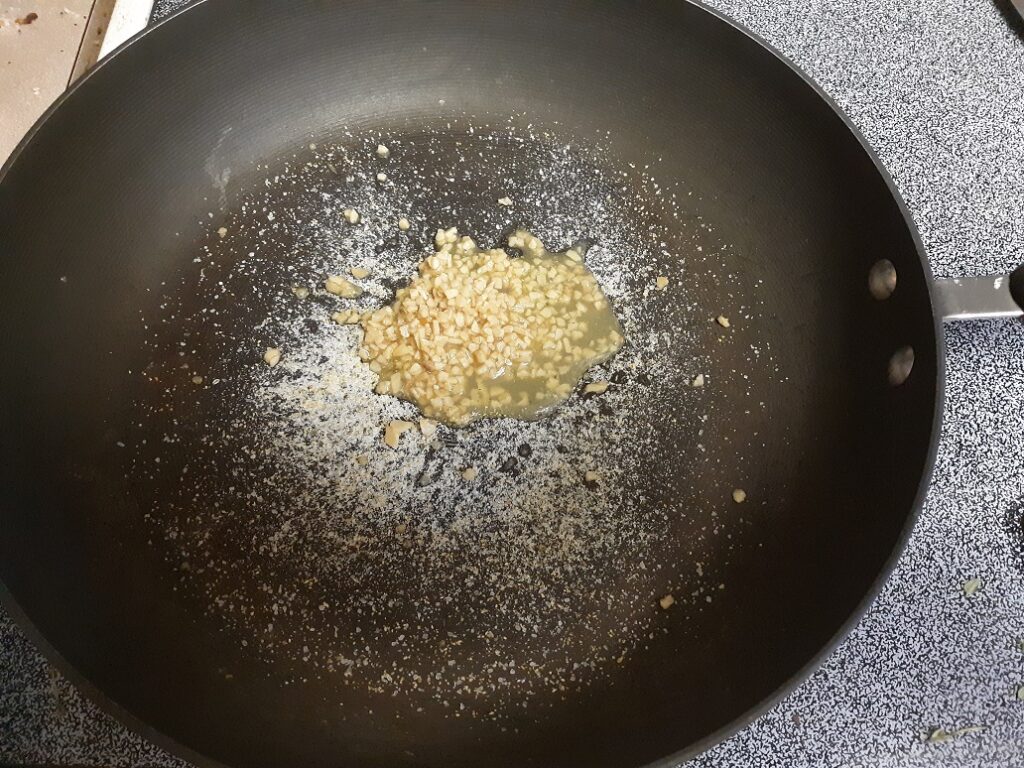 Drop your beef in there and start hashing it out and scooting it around. (This is where I would add half of my chopped onion if I didn't have an onion allergy in the household.)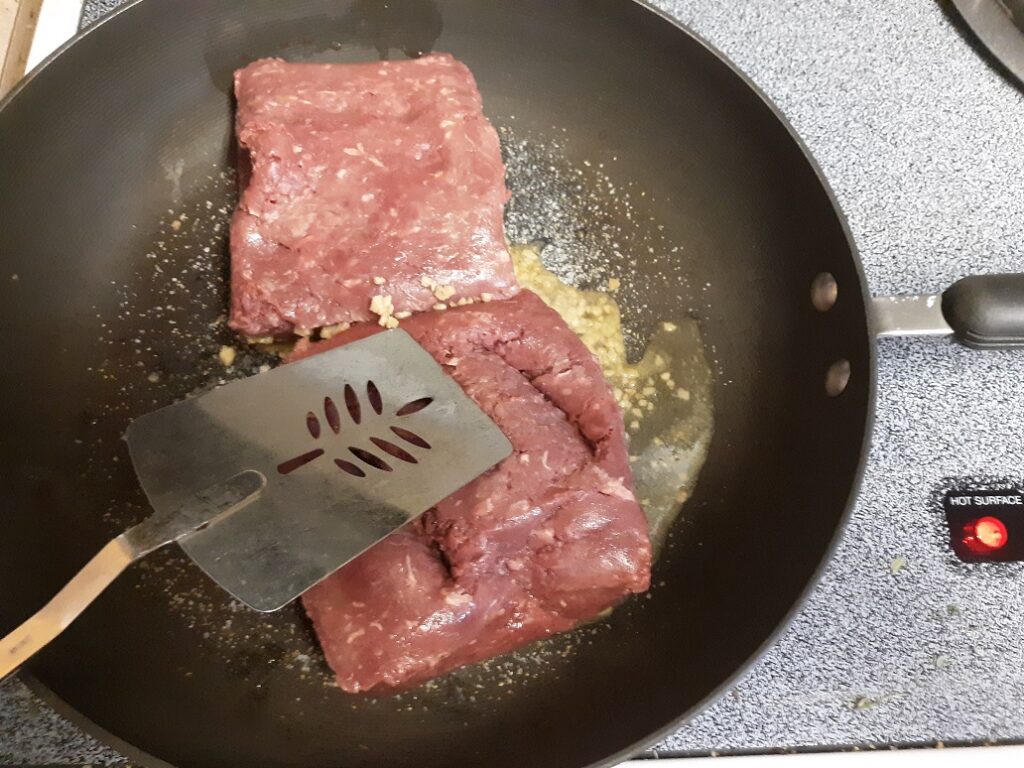 Get it nice and brown and appreciate that lovely fat.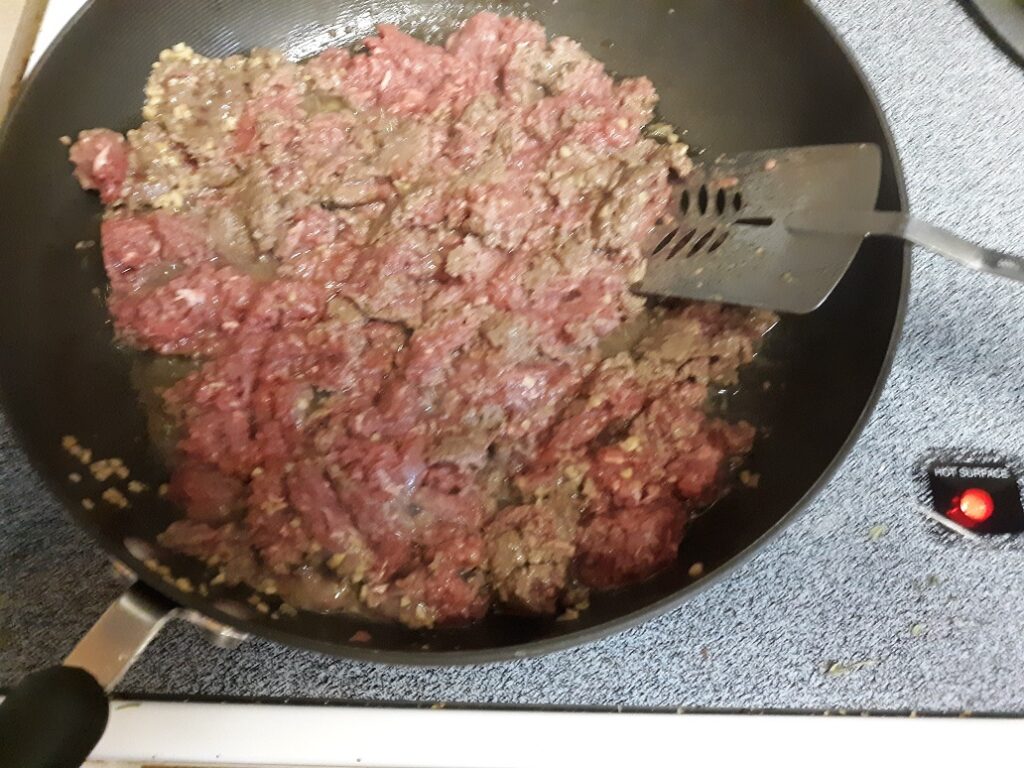 Once it's nice and brown DO NOT DRAIN IT. Seriously, don't drain it. We're going to work with it. It's part of what makes the sauce and spaghetti so very good. Instead of draining it, we're going to sop it up with the tomato paste. Put both cans in there.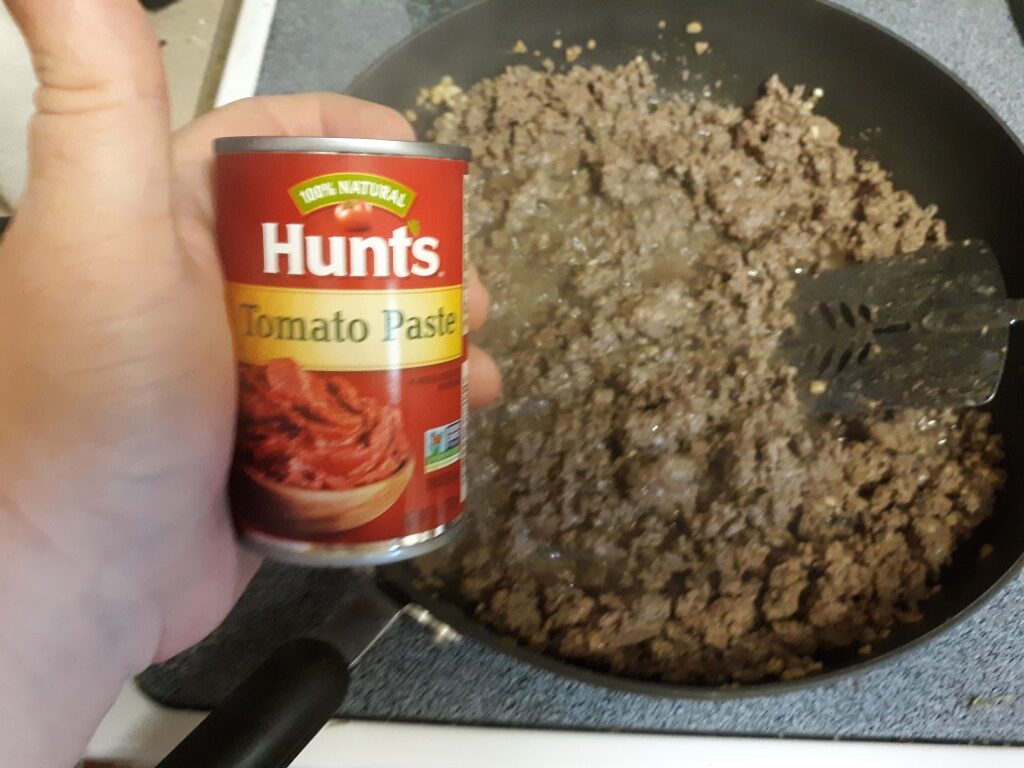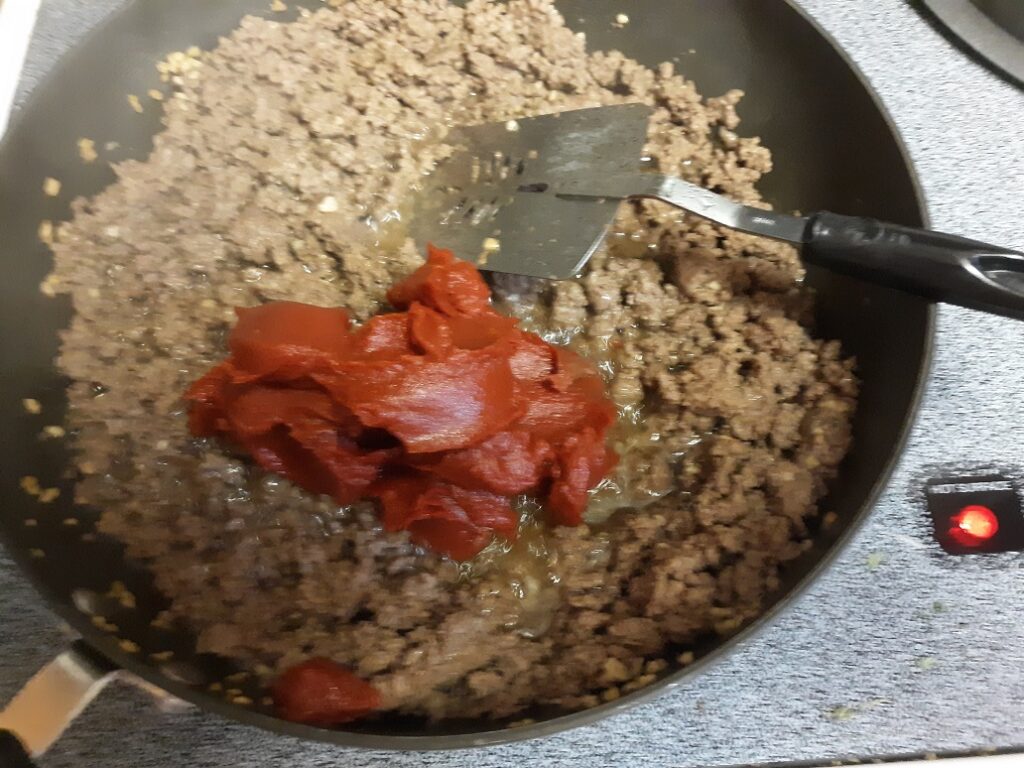 Stir the tomato paste in and get all of the fat absorbed…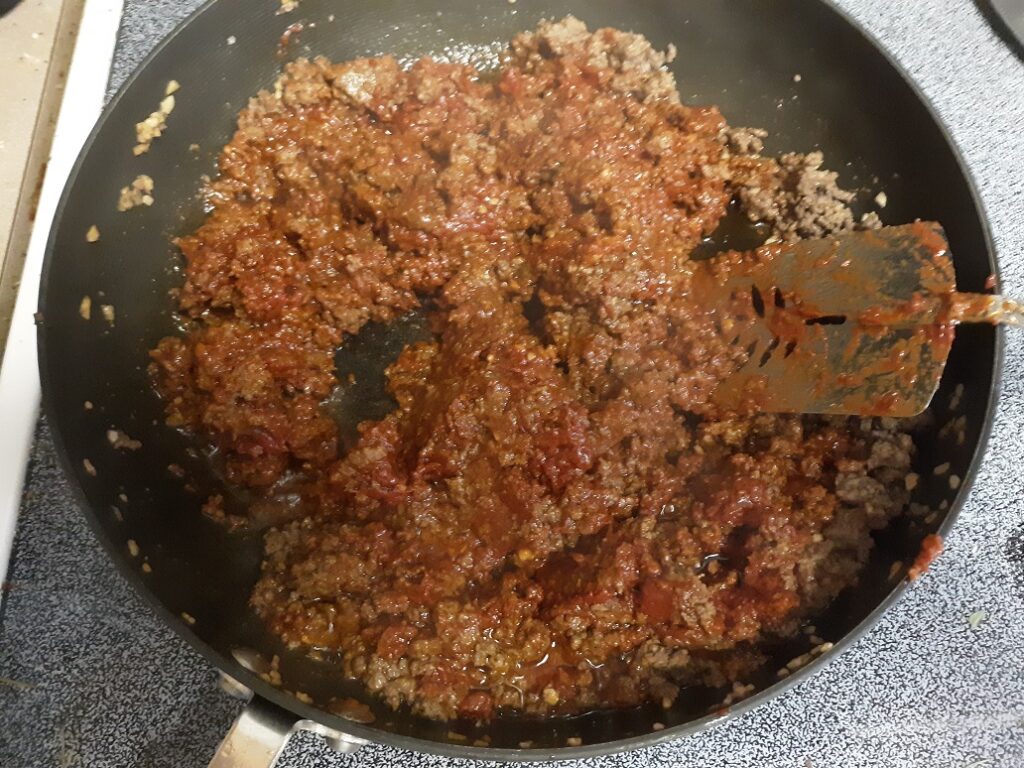 And then add it to the sauce.
Look at that. Isn't that beautiful?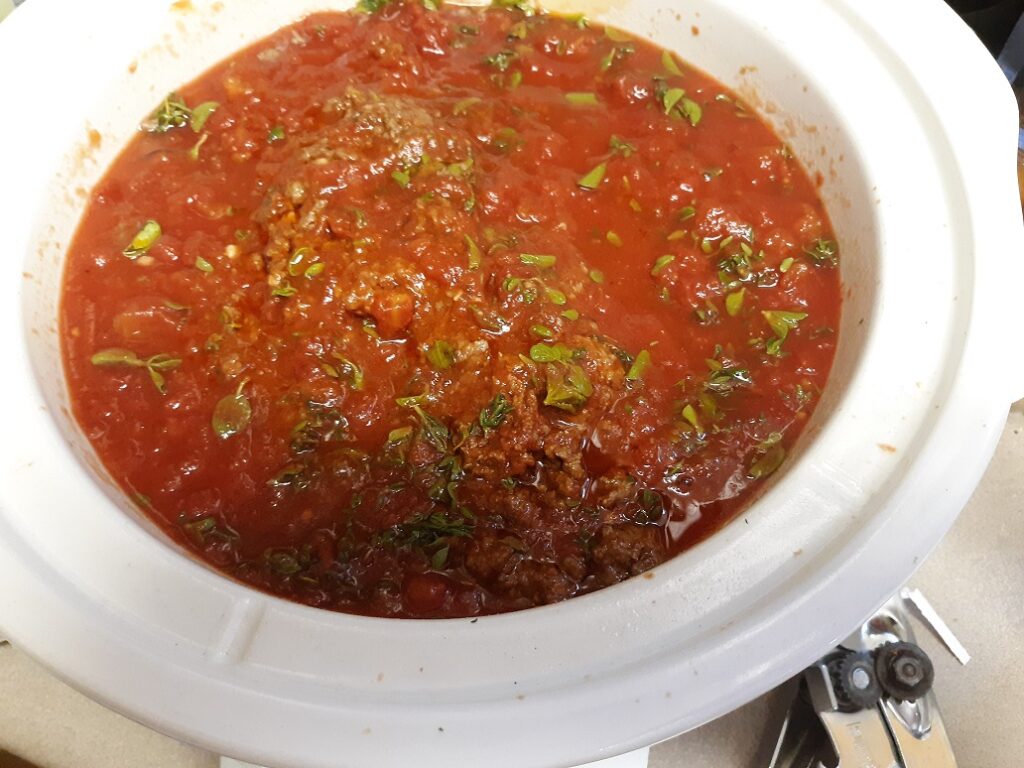 And now we're going to walk away for 9 1/2 hours. I mean, if you want to go to work, go to work. If you're staying at home, go upstairs in 4 hours or so and stir it a couple of times… but the main job the sauce has at this point is to cook for 10 hours and let everything bubble together. Mmmmmm. The house starts smelling good after about 2 hours. It starts smelling HEAVENLY after about 5.
After about 9 1/2, it's time to go upstairs and start boiling your water. Throw some salt in there, put some olive oil on the top to keep it from going too crazy. Once it's to a nice slow, rolling boil, add your spaghetti.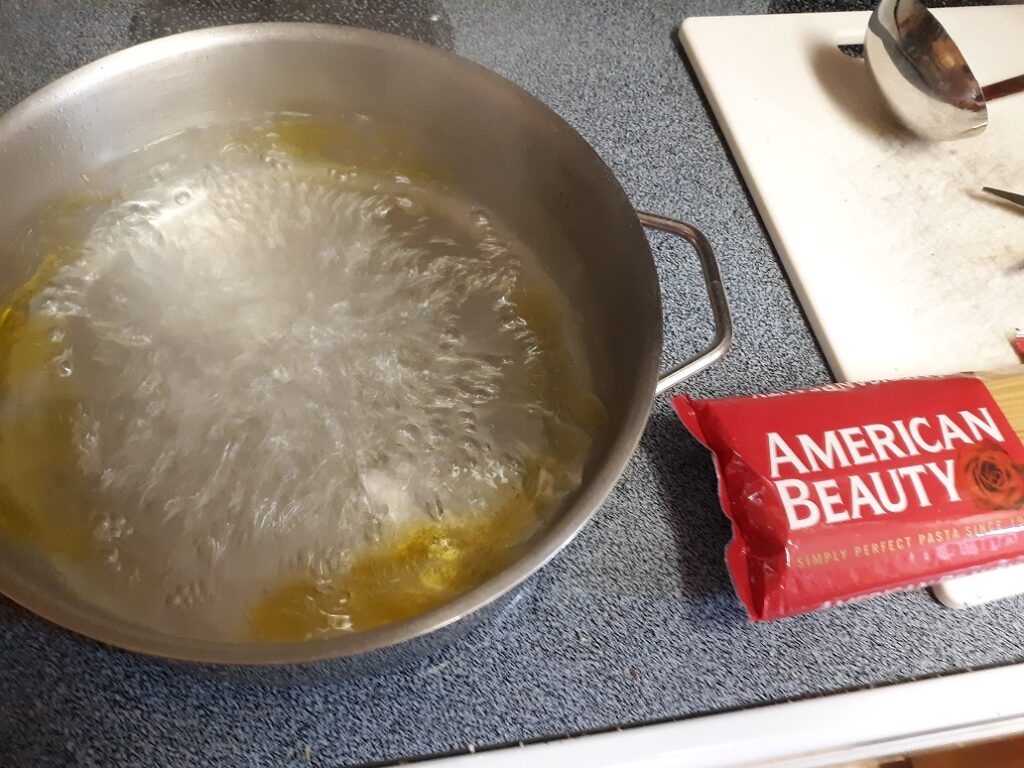 Stir it occasionally. While it's boiling, get your colander and a pyrex measuring cup ready. We're going to keep the pasta water and add it to our now significantly thicker spaghetti sauce.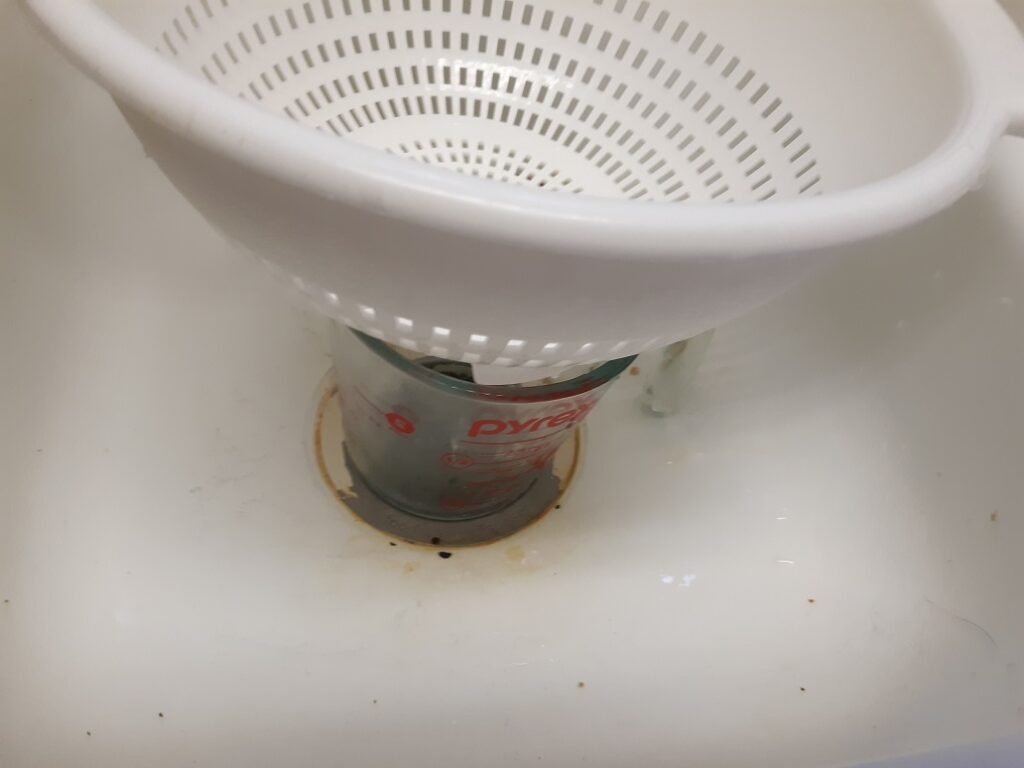 LOOK AT THAT! Liquid Gold.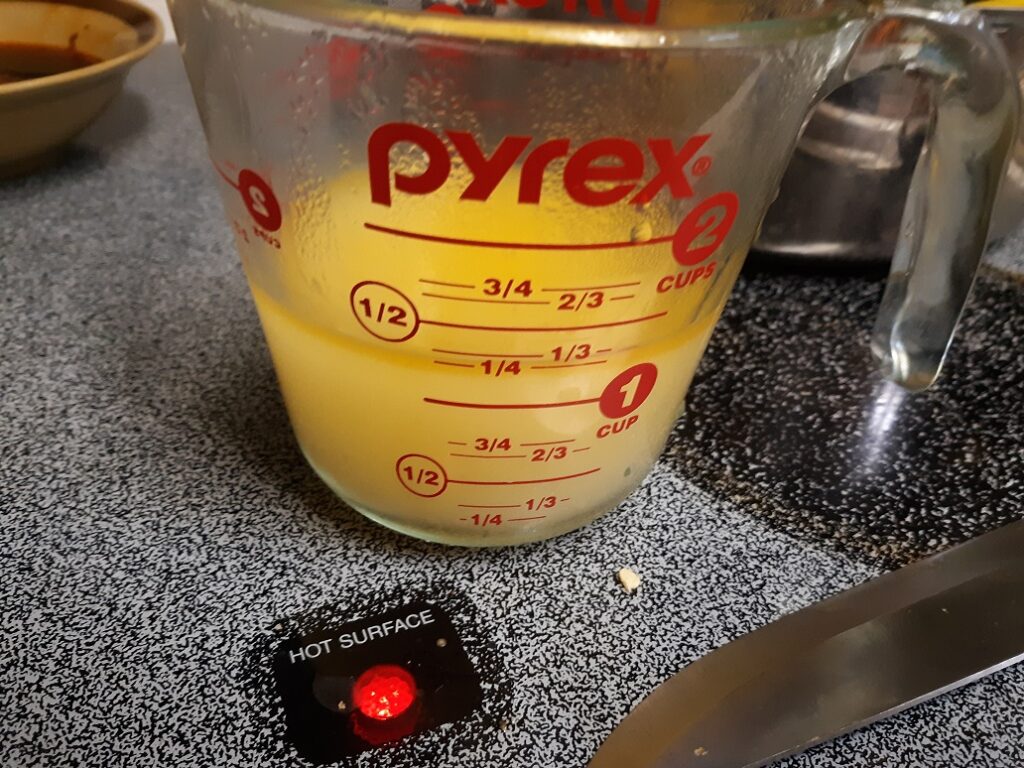 Put it aside because, first, we're going to look at our sauce and see what the surface looks like.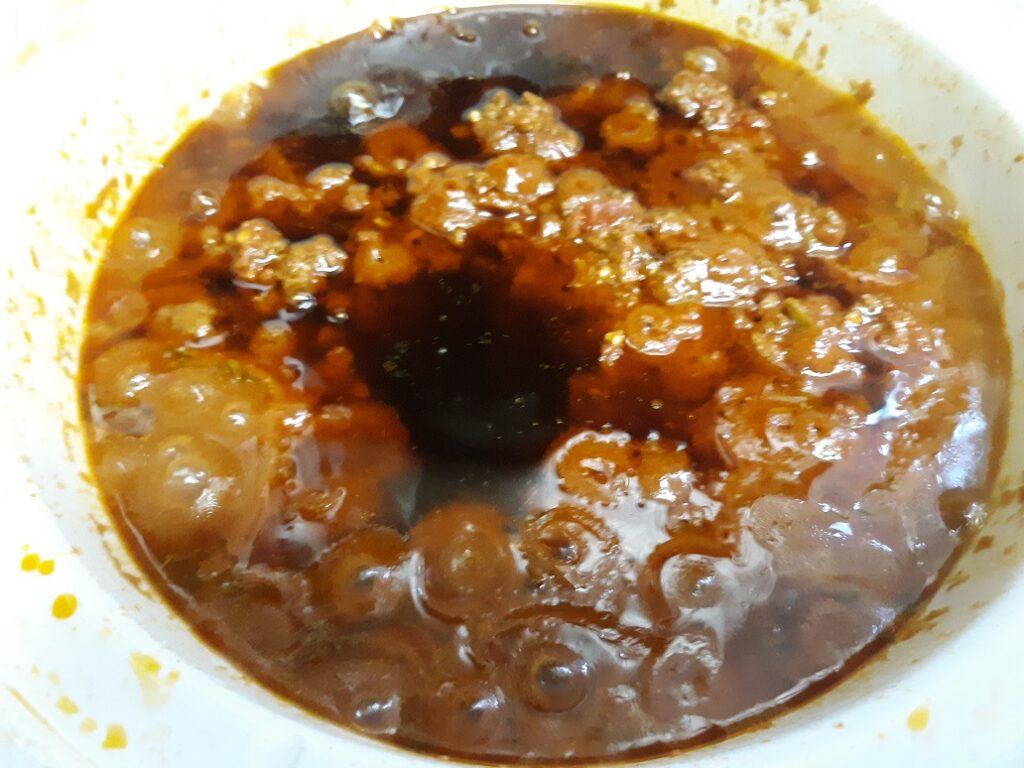 Mmmmm. Look at that. Some might be tempted to call that "grease". No, it's not grease. It's fat from your meat that has spent all day bubbling in tomatoes, and hand-plucked herbs, and pesto, and garlic. It's not grease. I'd hesitate to call it fat. What that is is HERBED TALLOW. That right there is some special stuff and you want to collect it in your ladle and pour it into a bowl to put aside.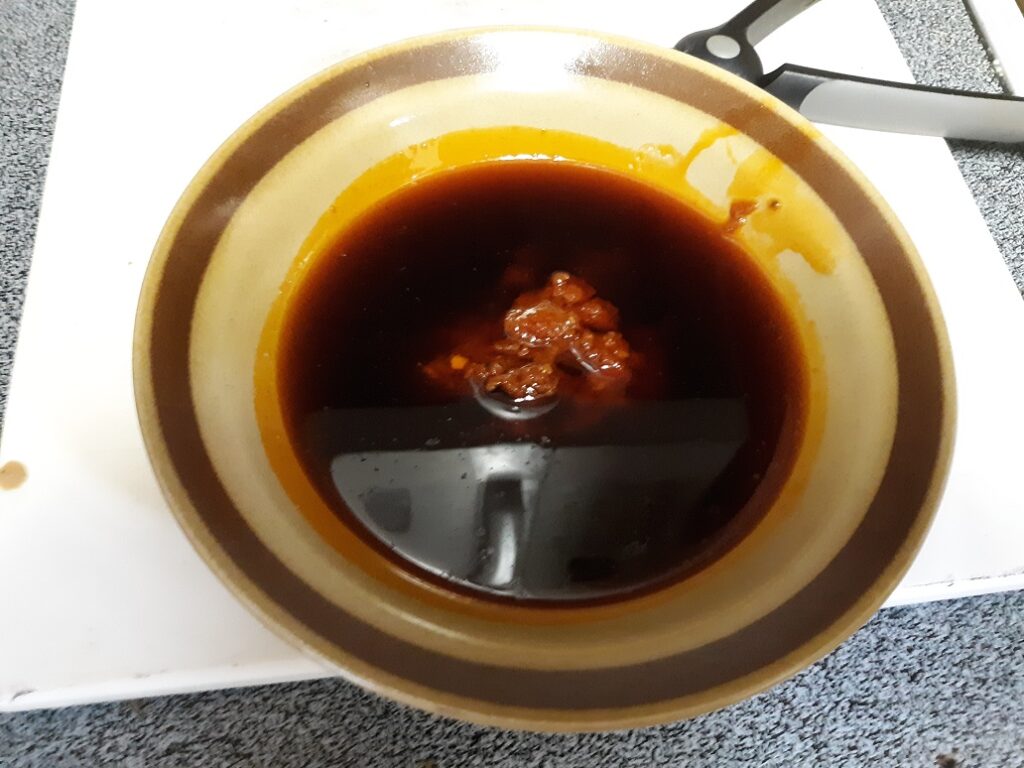 Get as much of it as you can and then put it into your now empty spaghetti pot (along with a dollop of butter if you're so inclined… me? I add butter too).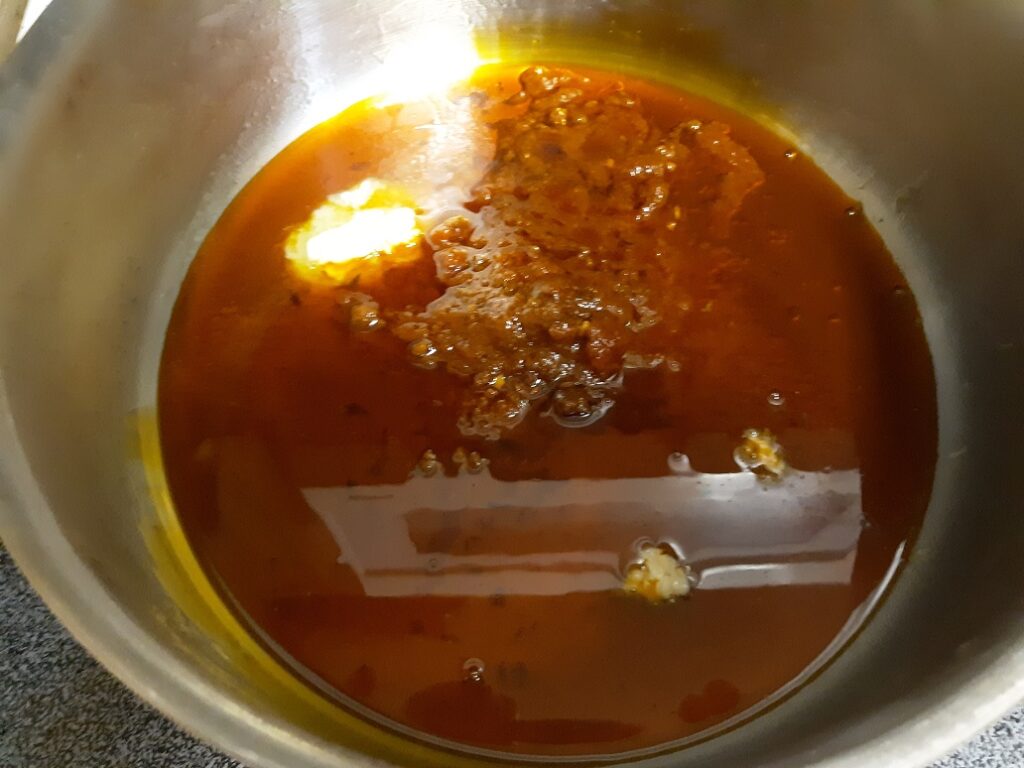 Now dump your spaghetti back in the pot and put the pot back on your still-hot burner (if it's electric) or turn it back to med-high heat if it's gas. (If you stop stirring for more than a second, you'll want to hear a sizzle begin.)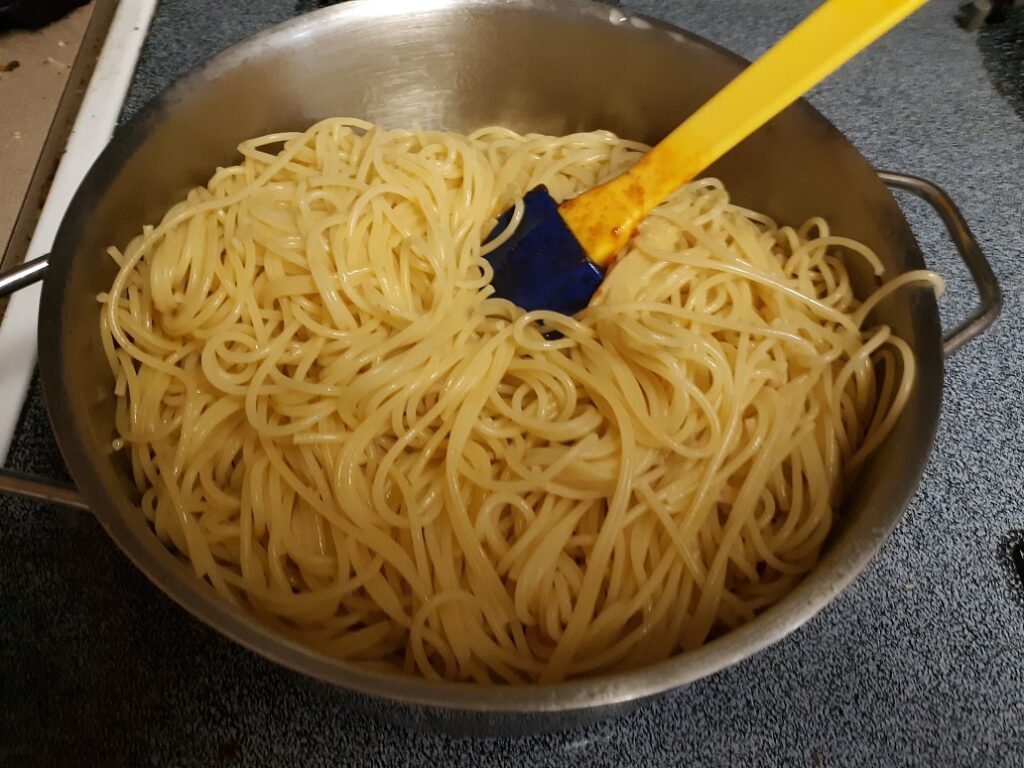 And now stir it. Stir the heck out of it. Stir it until every individual spaghetto has spent some time sopping up some of that sweet beef tallow. You'll watch the spaghetti turn from a yellow to a yellowish-orange.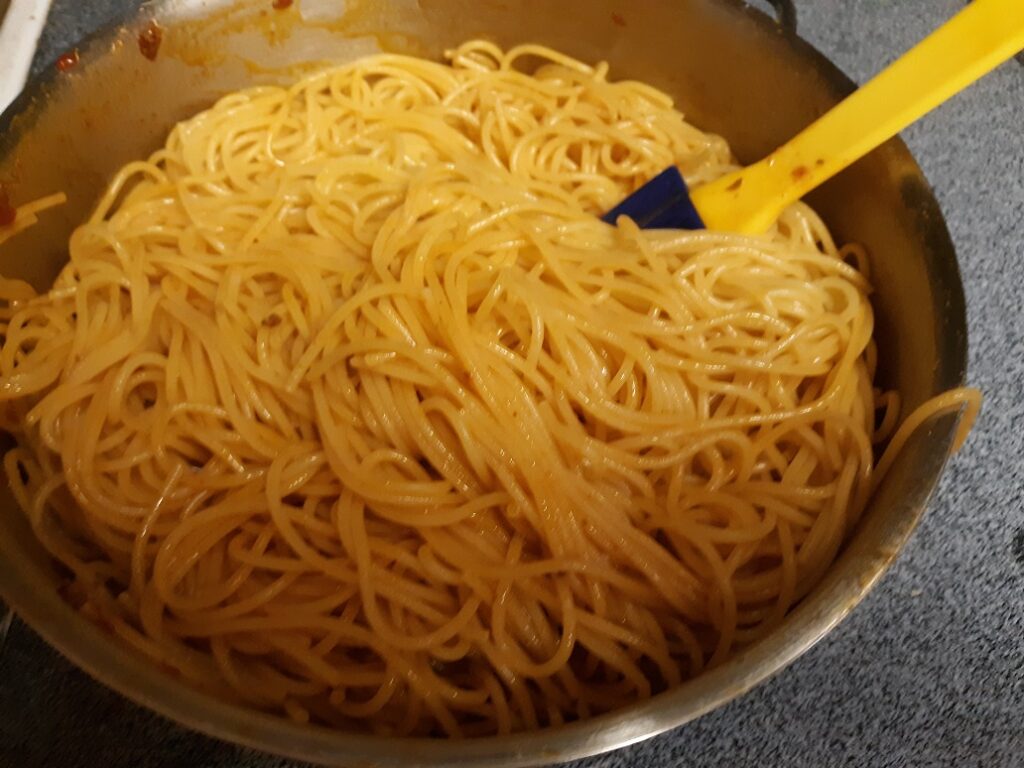 Then, put it onto a cool place to sit for a second and just soak in the tallow and get your bell peppers chopped. (I prefer to cut them into strips and then into chunks the size of a knucklebone). (This is where I would add the other half of my chopped onion if I didn't have an onion allergy in the household.)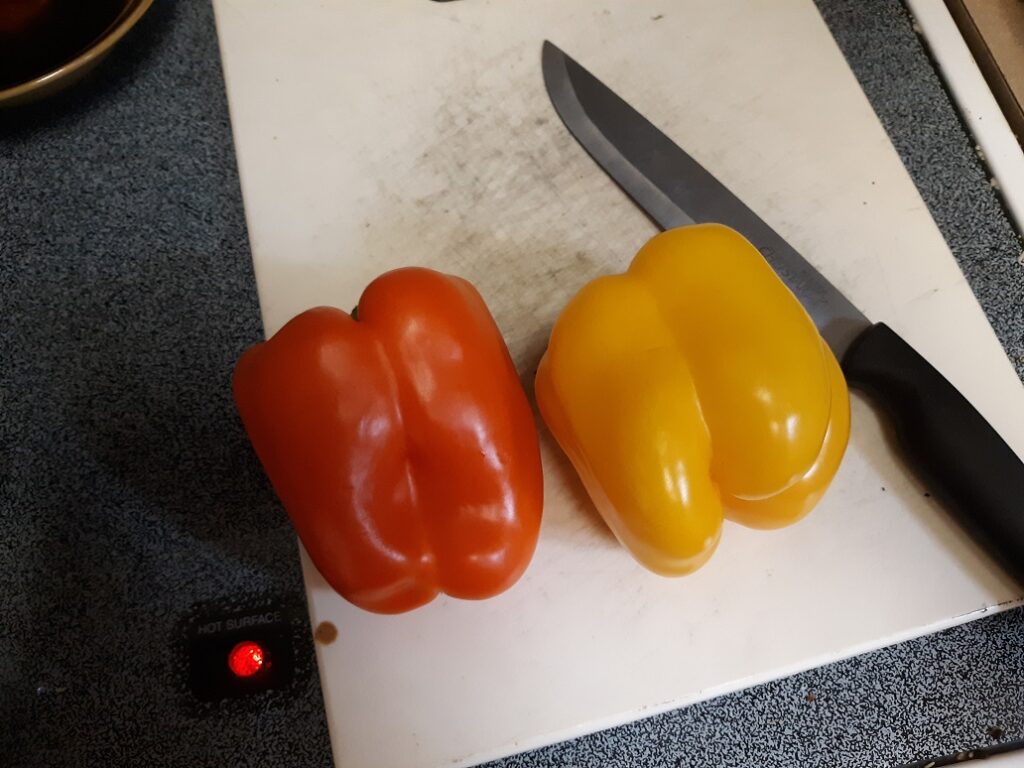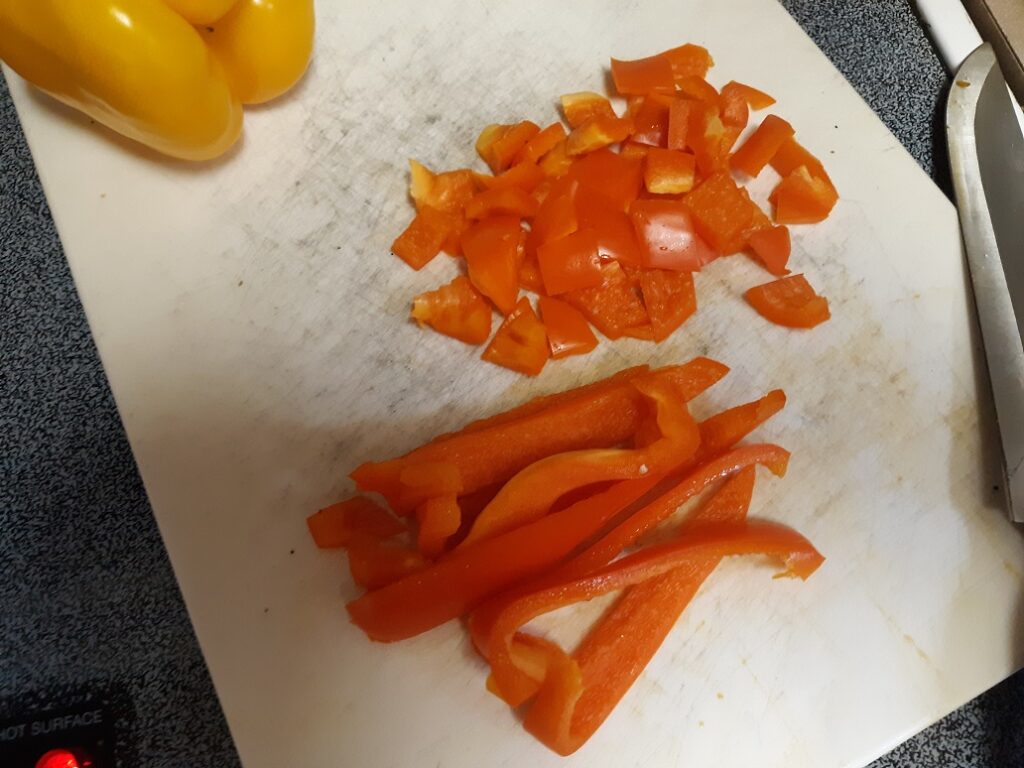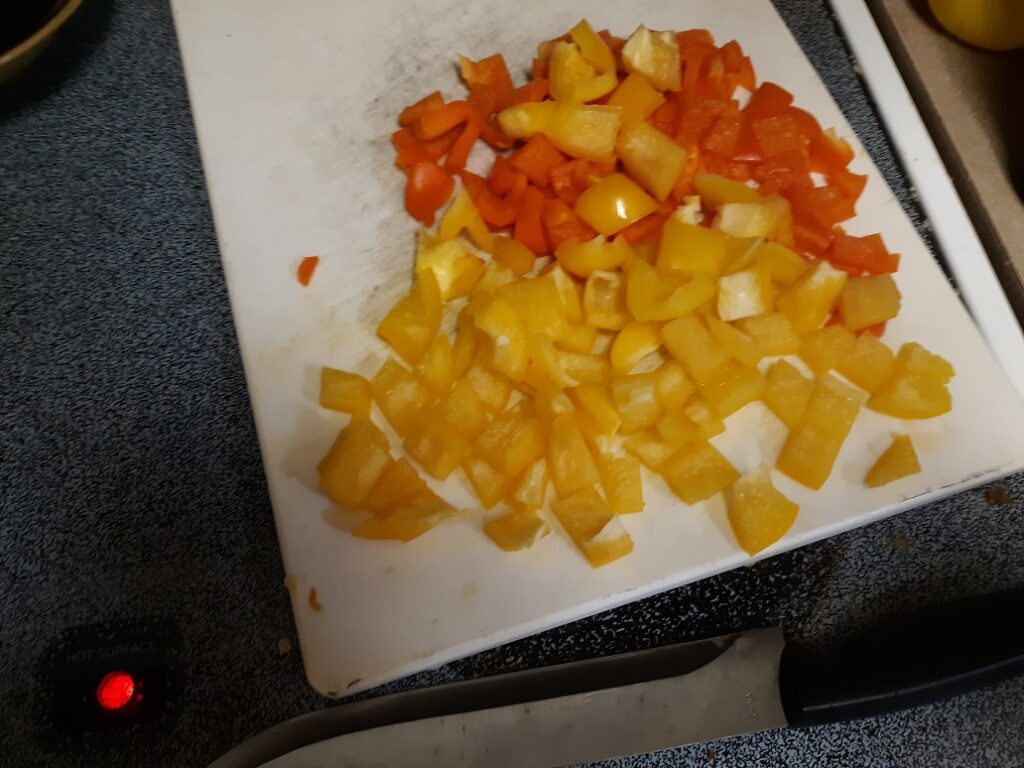 Then dump them into your sauce and give them a quick stir…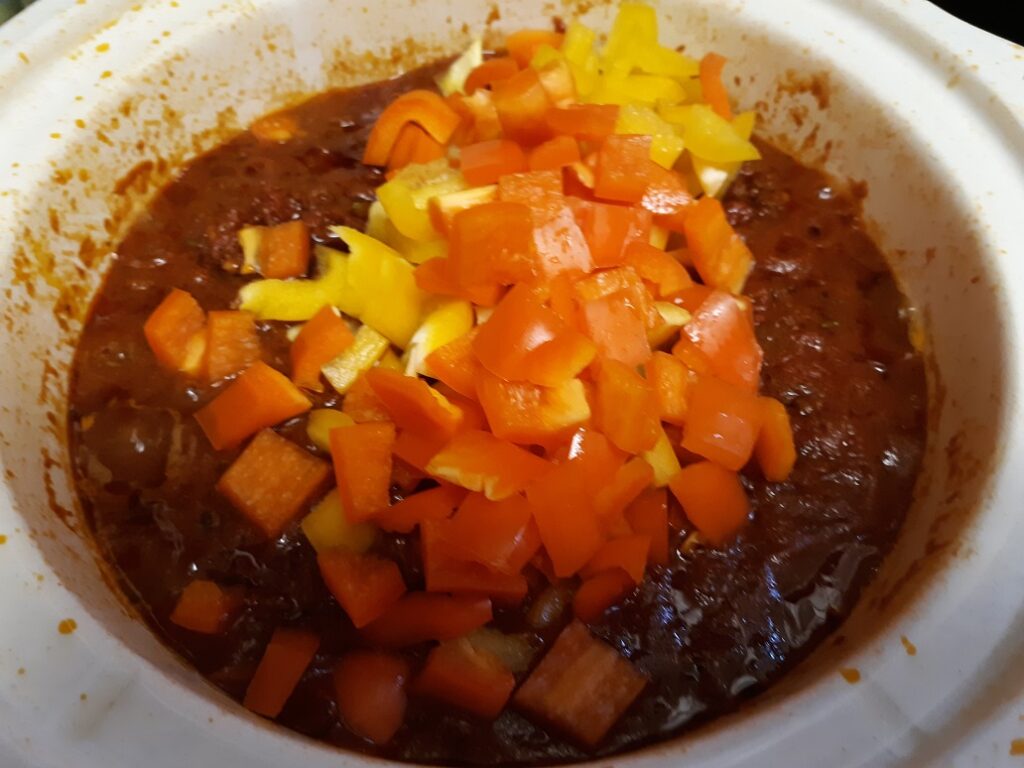 And then add your liquid gold pasta water into the sauce…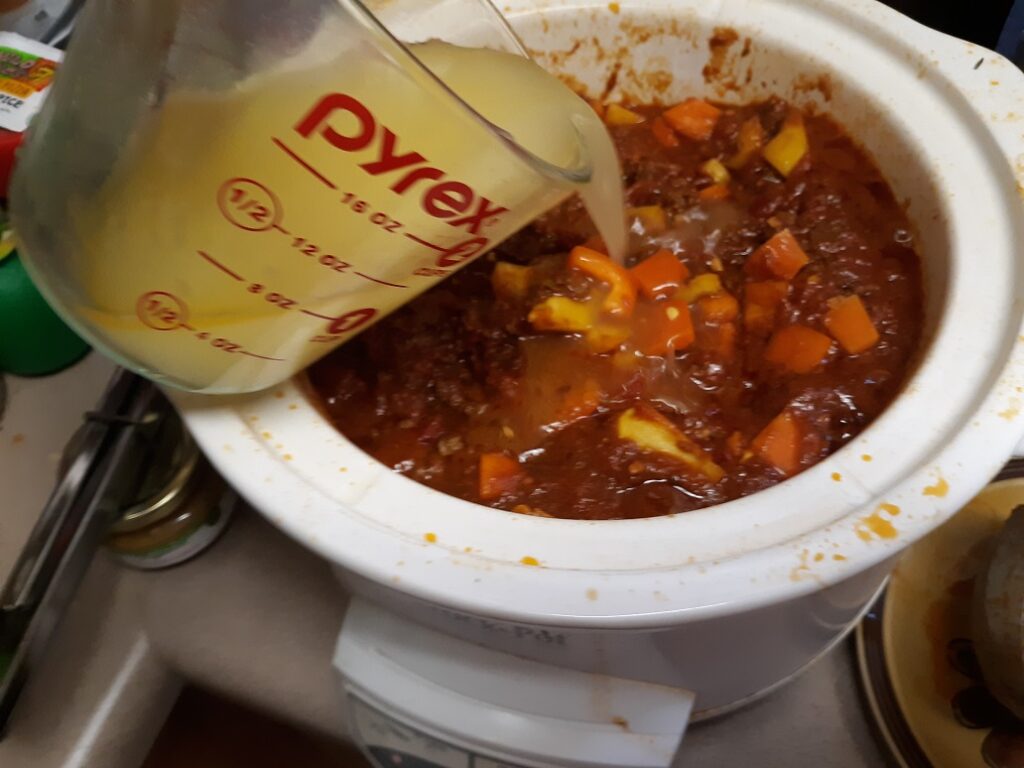 And then just stir the heck out of the sauce until you feel good about everything being stirred together.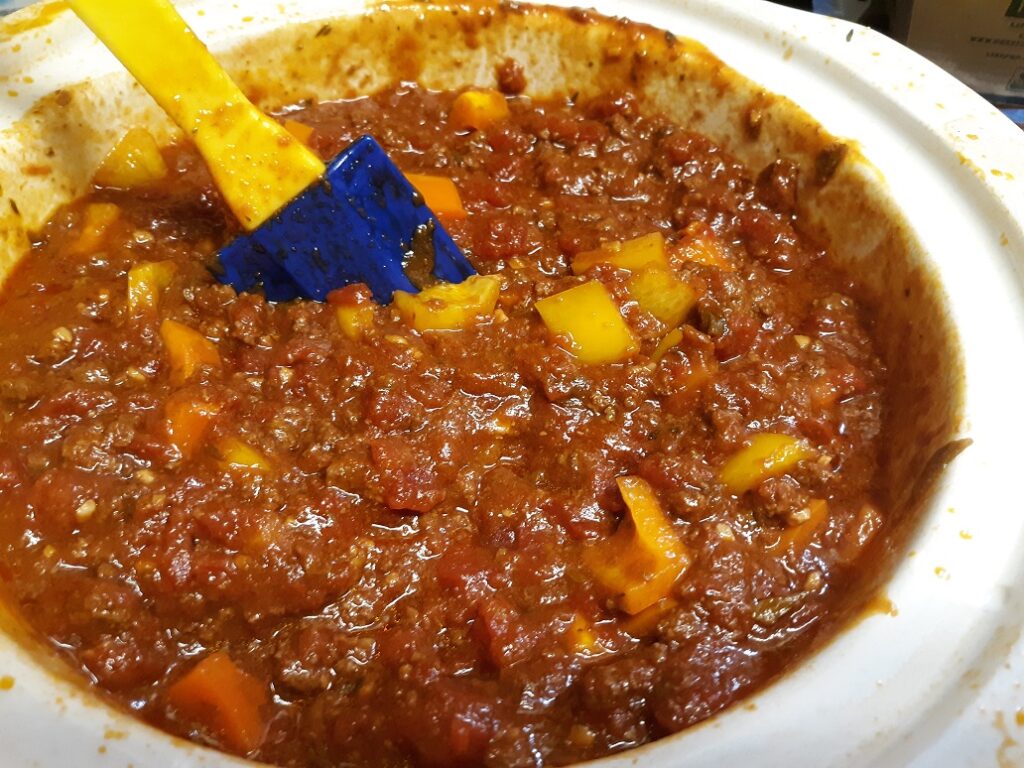 And NOW you have an awesome sauce suitable for spaghetti, suitable for pizza sauce, suitable for meatball sandwiches… seriously. THIS IS GOOD SAUCE.
So what we're going to do now is put some of our spaghetti in a plate… and put a ladleful of sauce on it…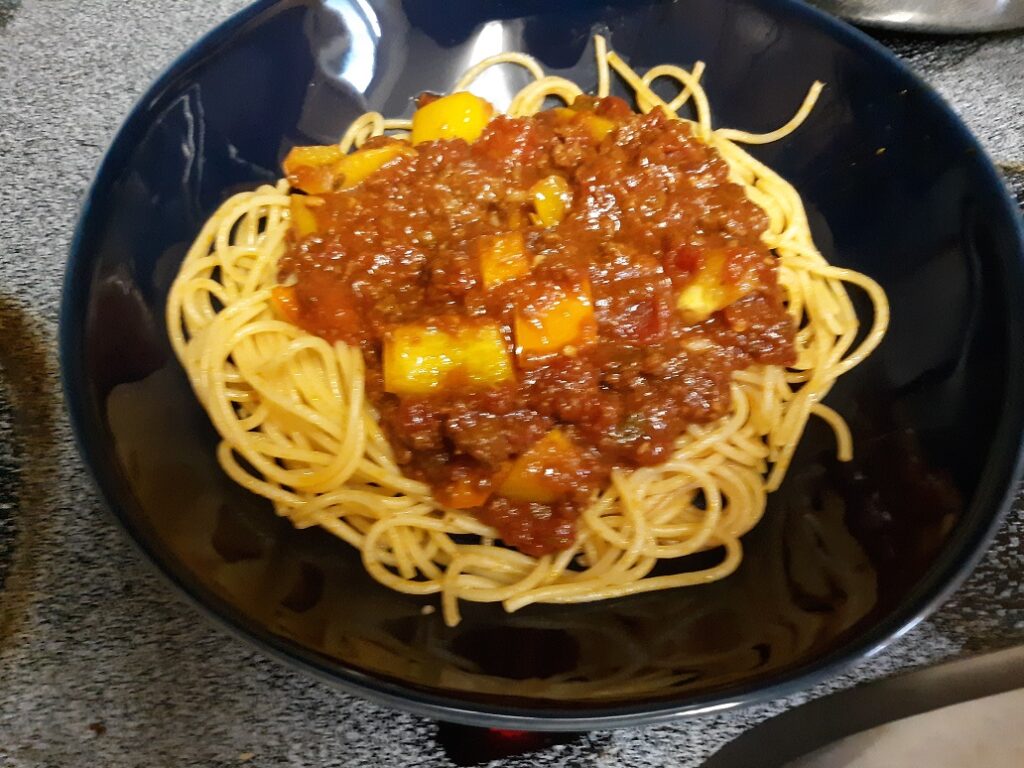 Sprinkle some of our finishing cheese on it…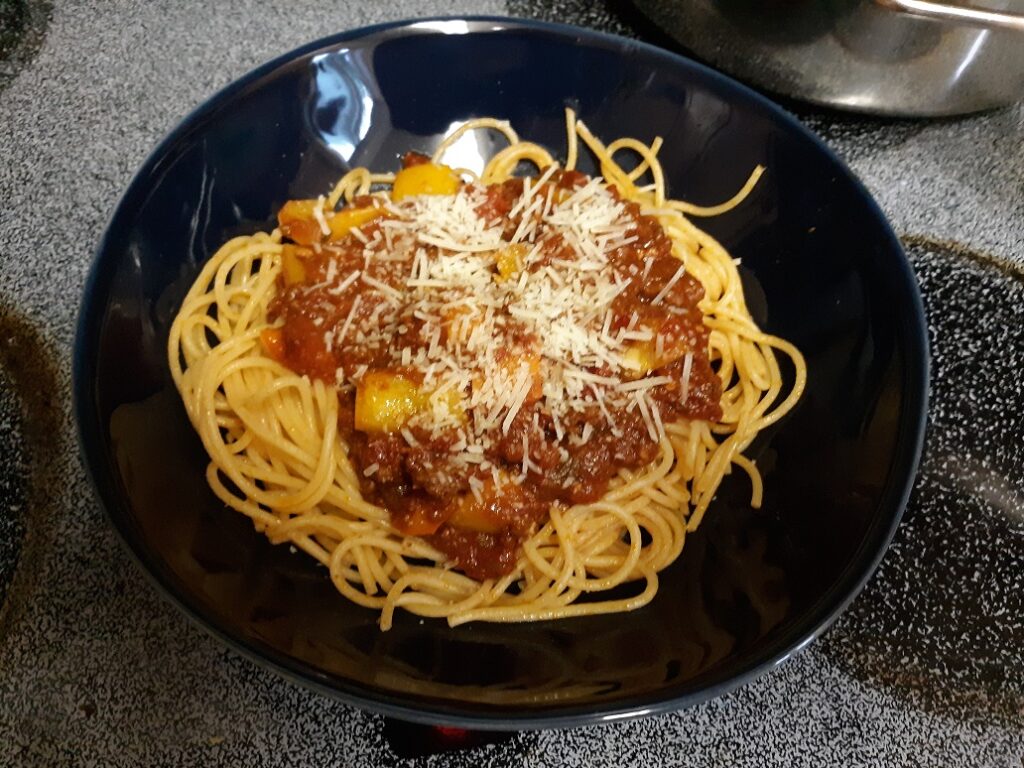 And NOW I hear you say "Hey, Jaybird! Didn't you have some fresh basil in your ingredients list?!?"
Indeed I did. Here is where we use it.
We get a leaf from the pack: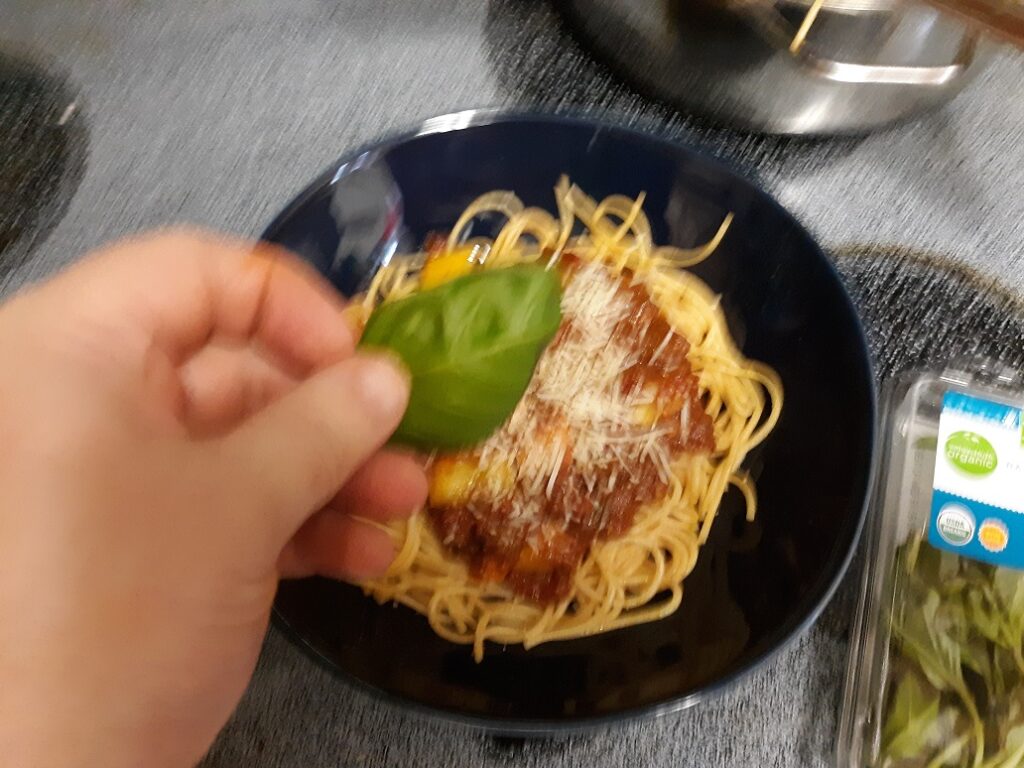 We get our kitchen scissors…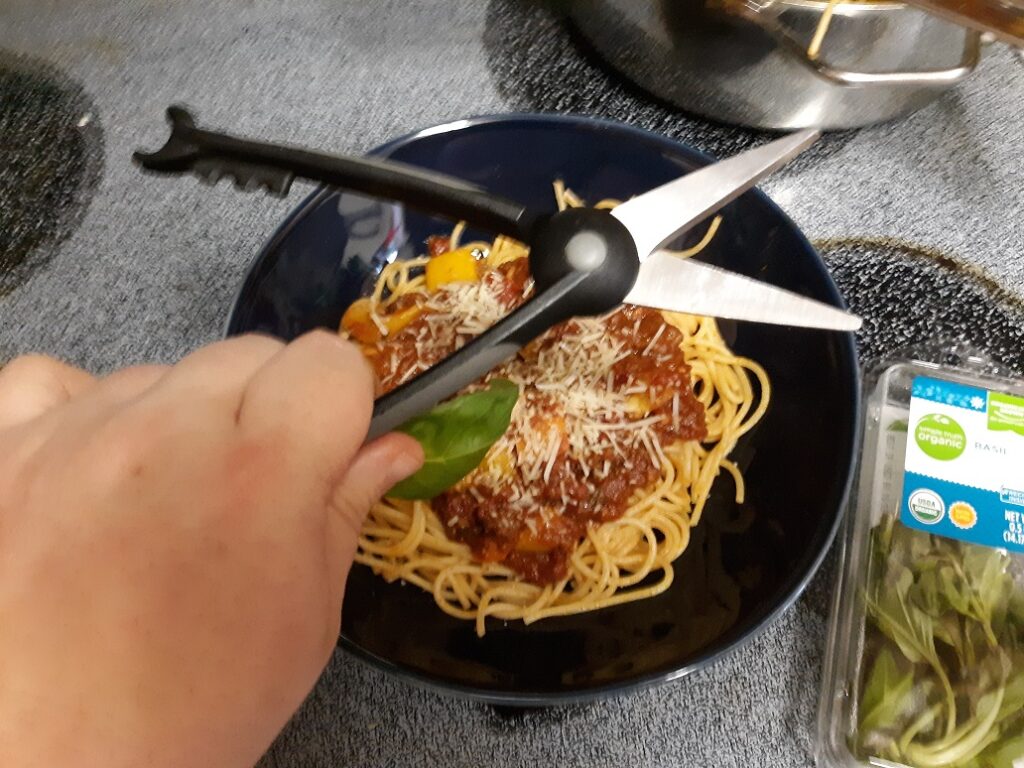 And we cut little strips of fresh basil on top of our spaghetti.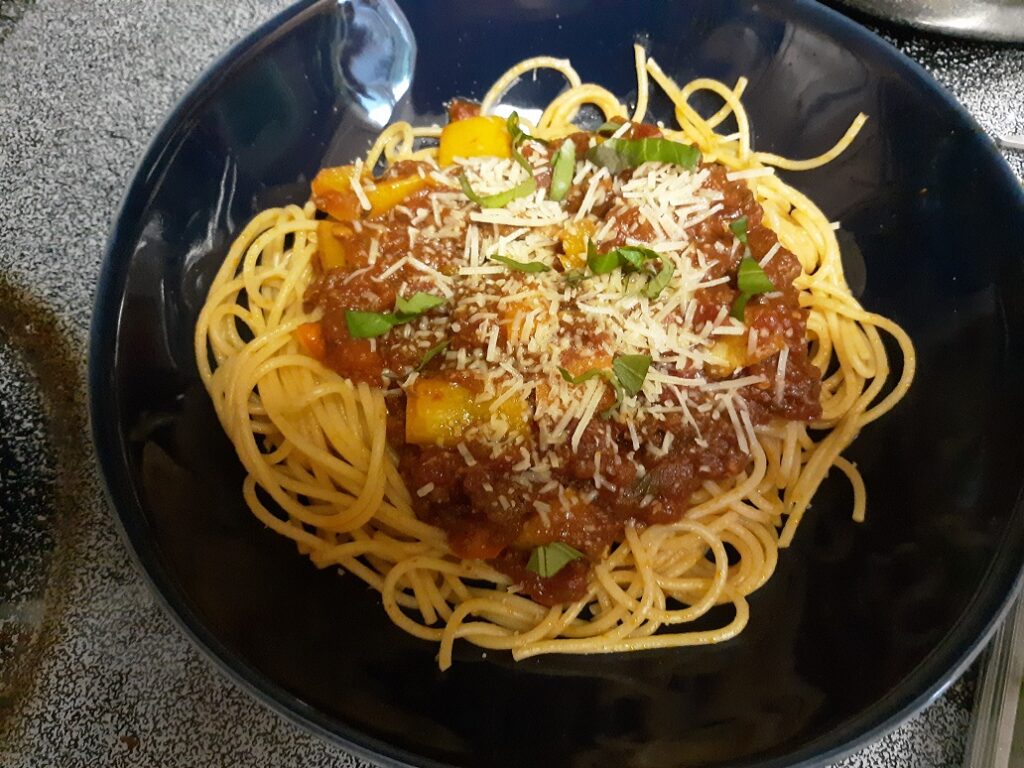 This bowl of spaghetti was, seriously, in the top three bowls of spaghetti that I have ever had.
When I made the pizza that may have been the best pizza I've ever had, I made a pot of spaghetti sauce much like this one to use as the pizza sauce.
This is, seriously, good sauce. If you like spaghetti and don't mind having a few liters of spaghetti sauce sitting in your fridge waiting to be used in different dishes, you should try this.
I made this last weekend and a ladleful has graced at least one meal every day since then. Seriously: It's good.
This weekend will involve both spaghetti and pizza thanks to this batch of spaghetti sauce.
So… what's cookin'?
(Featured image is the ingredients list. This, and all other pictures in the essay, taken by the author.)